As I write my Insanity MAX 30 review, all I can think is it's the hardest workout I've ever done.  I feel so proud of myself for pushing to new limits, and I feel so strong especially in my core after each workout.
Insanity vs Insanity Max 30
My husband, Jake, lost 40lbs with the original Insanity workouts and loves a challenge. The agility and total body moves remind him of football practice, and he doesn't feel like he's working out unless he's huffing and puffing.
See His Full 40lb Transformation & More about the Original Insanity Program Here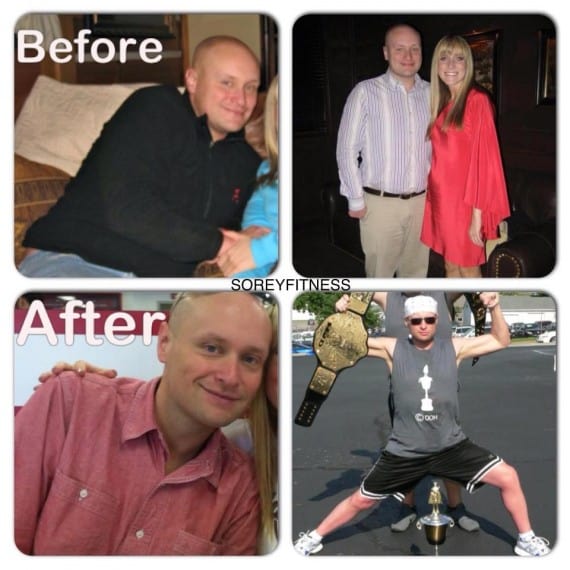 I, however, hated the original for a few reasons:
The workouts were 30-60+ minutes – I need 30 minutes!
The form of the moves was never talked about so you risked injury.
Shaun T was kind of mean in the original (didn't care for him at all!)
There was no modifier, and I really didn't care for Tonya (the girl at the front of the class).
With that said, my husband and I both LOVE Insanity Max 30.
He thought this new program would be easier since it's less time – but then he tried it. The Insanity Max 30 workouts are 30 minutes, but they are hard!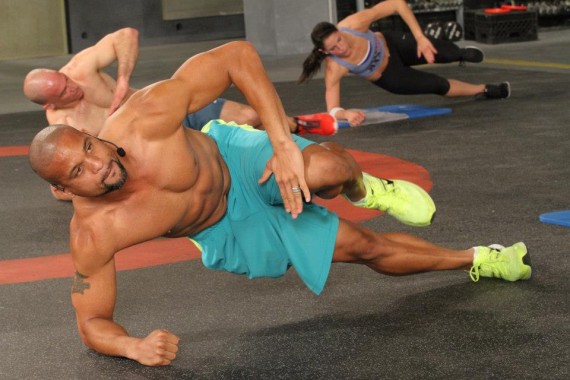 The 30 workouts Shaun T has put together challenge you beyond anything we have ever done before including the original Insanity program. While it's a Shaun T workout, don't expect it to be the same old routines in new packaging.
Unlike the original workout program, Insanity Max 30 doesn't just focus on max interval training.
Shaun T takes it to a whole new level mixing in Tabata and HIIT training at home. If you've ever researched Tabata before, it's like the level above traditional HIIT training. Some Tabata routines are only 7-10 minutes due to the intensity! In Tabata Power in this program, you go all out for 20 seconds and recover for 10.
You give it your all for as long as you can.
Other workout programs expect that you are going to keep up with the instructor for the whole 30 minutes. If you can get through a new workout without a struggle it's probably not challenging you though. Shaun T expects
Shaun T expects you to "max out" each day at say 5, 7, 10 minutes and so on. With each workout, you'll get more fit.
What happens after you max out?
When you start the workout, you want to give it 110% for as long as you can. Once you hit your wall and can't go at that level anymore, you write down the time you maxed out then continue at a slower pace until you feel like you can up the intensity again. I usually modify after I max out whereas Jake will catch his breath and jump back in weirdo.
You want to track your Max Out times to see how you improve throughout the 60-day program.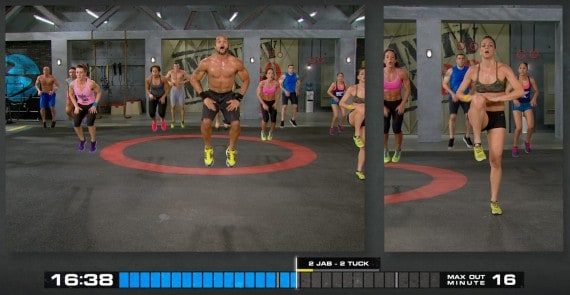 The modifications are great!
This is by far the best modifications Shaun T has ever given! The lack of directions on how to modify moves was one reason I never loved Insanity. This makes up for it. You can actually keep your eyes on the modifier during the whole workout.
The workouts will train your body. But Maxing Out will train your mind. [This] gives you the tools to push yourself to your limit every single day. That's what really delivers insane results. — Shaun T
Before you start, you should know…
This workout is not for someone that wants to have fun working out. It's not for someone that makes excuses. It's not for someone purely choosing this because it's hard and he has 25lbs+ to lose in a few weeks.
This fitness program is advanced. You are going to have to really commit to the workouts and challenging yourself everyday to make it through the 60 days. It will be worth it. If you love being challenged or sharing about how you can do an intense workout – this is for you.
This is NOT for beginners. If you need to lose a lot of weight and you're wanting quick results, I would look at the 21 Day Fix (men and women).
As soon as you adjust to month 1's  – he ups the intensity in month 2!
What do the Insanity Max 30 workouts look like?
Phase 1 and 2 are both 30 days. Each workout focused on intervals kind of like HIIT or Tabata training. The moves are simple to get the footwork, but the are really intense moves.
You will give each move your all, and after 3 moves you get a short break except for on Fridays. On Friday's you fight through the whole workout. The design of the whole program is to help you burn more fat than traditional cardio.
What if I don't want to jump?
You don't have to – the modifier doesn't jump either.
Do you need weights?
Nope! You will be using just your body. You don't need weights, and this also helps make the 30-minute workouts even more effective because you aren't losing the time to switch out your weights or grab equipment.
What should you expect?
You're doing a hard workout so you can bet you're going to see yourself get stronger. Each one includes functional fitness – which means you're using your body like you do in real life versus hopping on a machine. This also means you can expect to feel sore because you're using new muscles each day and challenging them to their maximum point.
Besides the outer changes, you'll also see increases in your strength, agility, and endurance! The first month was tough, but it wasn't until I saw month 2 that I could see how much you grow in the first 30 days of the program to be able to make it to month 2!
5 Tips to Getting the Best Insanity Max 30 Results
Do Your Best & Forget the Rest. The workouts are designed to challenge you. Don't expect to do every move at the same speed as Shaun.
Plan Your Workouts. When it's only 30 minutes, we tend to think it'll be easy to squeeze in and then something happens. Write it down, put it in your phone, and tell your family when your workouts are going to happen so you have no excuse.
Eat Healthy. You are working so hard, but the work continues into the kitchen. Don't undo everything you did in your workout with eating junk. While the workouts are just 5 days a week, the diet is 7 days!
Listen to Your Body. This workout has been described as the "hardest 30 minutes of your life." With that said, don't push yourself too hard. Listen to what your body is telling you whether it's slowing down, getting more sleep each night, or upping your calories. Listen to it.
It's OK to Miss a Day. Missing a day kills some mojo I know. This is an intense program if you miss a day you have 59 more to MAX out. Just jump back into the schedule and make it happen.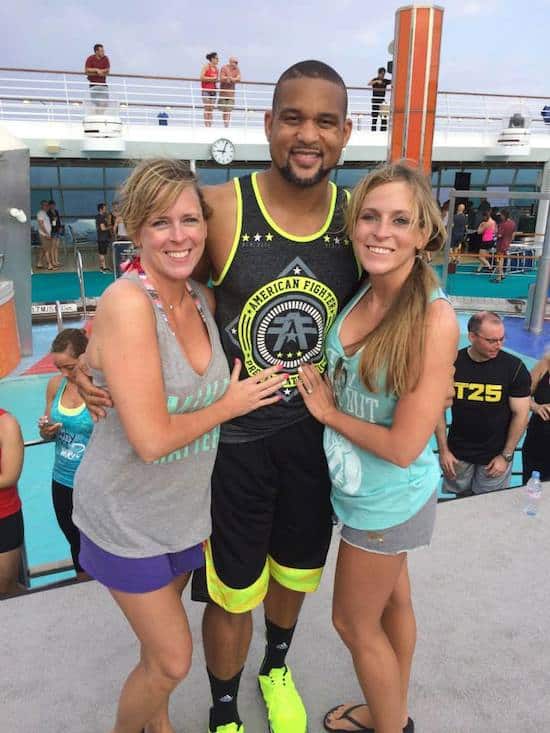 Where can you buy Insanity Max 30?
You can get the full program online from us or any Beachbody coach.
We'd love to help you get started and include you in our private 21 Day Challenge if you aren't working with a coach. If you'd like us to be your online support system to help with accountability, meal planning, and more just use any link in this post or email us at thegirls@soreyfitness.com.
Download the Insanity Max 30 Calendar Here
Insanity Max 30 Includes…
Besides access to our challenge, you'll receive 14 workouts to do over 2 phases (Each phase = 30 days).
Month 1 Workouts:
Cardio Challenge
Sweat Intervals
Tabata power
Tabata strength
Friday Fight: Round 1
Month 2 Workouts:
Cardio
Sweat
Power
Strength
Friday Fight: Round 2
Bonus Workouts
Pulse (flexibility)
Ab attack
You'll also receive the full nutrition guide which is perfect for someone like me that needs a flexible eating plan. In addition to the nutrition guide, the "No Time to Cook Guide" is included! I love it and use it a lot because I really hate meal prepping.
The Max Out Guide contains tips and help on learning what to expect when maxing out.
There is also a 30-day money-back guarantee, and you can get a T-shirt when you finish the program and submit your results.
The Challenge Pack also includes 30 days to be able to stream this program along with 1000s of other workouts through Beachbody On Demand. So if your spouse wants to workout with you, but he or she needs an easier workout – she can stream it anywhere! I play it on my TV all the time using a Roku or HDMI cord.
30 Days of Shakeology is also included in the challenge pack. The pack is little more expensive, but it does cover one of your meals with Shakeology. Plus the pack is discounted about 25% off compared to buying Shakeology and Beachbody on Demand separately.
A Look at Each Insanity Max 30 Workouts
The workouts are broken down into intervals. For example, you'll start maxing out for 20 seconds and then recover for 10. This breakdown continues for the length of the workouts. The cardio workouts will be a tad easier than the Tabata ones, but who are we kidding here? All of them are tough! The music in each workout really helps you push through too, though.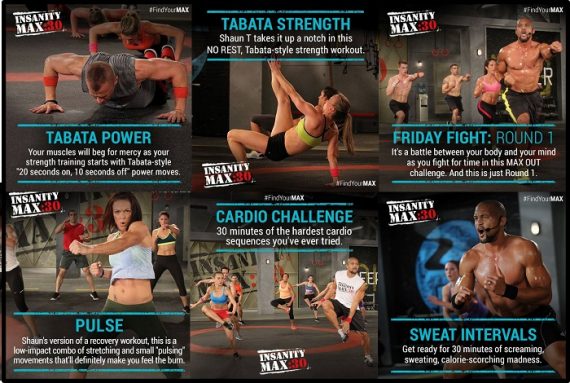 Month 1 Workouts:
Cardio Challenge – This is considered your fit test and focuses on cardio endurance. It's a lot of lower body moves to get the heart rate up.
Sweat Intervals – This one felt like I was also toning muscle, but there are only 3 breaks in the whole thing.
Tabata Power – You'll be using your body to strength train. Get ready for plyo exercises, pushups, and some killer tricep and ab moves.
Tabata strength – While you're working your whole body – you feel your chest, triceps, shoulders, and quads kick in!
Friday Fight: Round 1 –  Thankfully tomorrow is a recovery workout. This has plyo moves, push-ups, squats, and burpees!
Pulse – You'll be recovering with stretching, planks, and squats.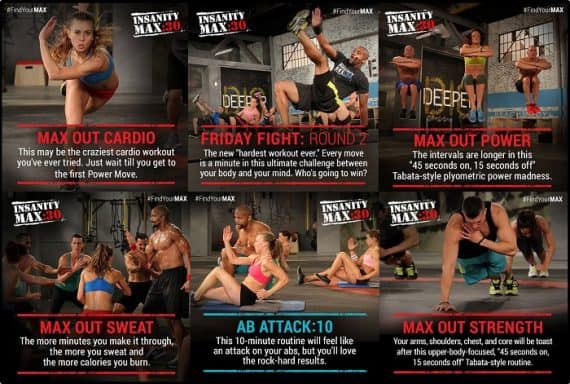 Month 2 Workouts:
Cardio – You do 3 moves for 30 seconds each with a break after. Power moves will kill you!
Sweat – You'll do exercises for 45 seconds with a 15-second rest. The resistance training is tough in it too.
Power – Hardest workout ever.
Strength – It's 4 rounds of doing a moves 45 seconds with a 15-second break. Expect lower body moves, push-ups and core moves.
Friday Fight: Round 2 – Again – it's better to let you be surprised, but there are only 2 water breaks.
If you struggle with month 2 too much, go back to month 1 and build up to month 2.
Remember you can modify every single move. This is not a beginners workout, though. If you're looking for results, but you're just getting started try T25 or 21 Day Fix instead. I promise neither program is easy or will let you down.
I also recommend getting a heart rate monitor for this workout! You're literally maxing out, and it's important to listen to your body. Your heart rate is a great way to track your progress.
What other questions do you have?
In Canada? We'd love to work with you! You can get started with the program or challenge pack here.
Download the Insanity Max 30 Calendar Here