I started looking into Shakeology about 5 years ago when they only had 2 flavors. I searched "How Much Does Shakeology Cost?" and saw on a college kid's budget it was about 1/4 of my food budget.  I decided to try it thought because of the empty-bag money-back guarantee. I took it out of my breakfast money and just budgeted for it.
I ended up loving it in replace of my Luna Bars I was gobbling up during college! I have been drinking it for a total of 5 years with the exception of just a few days!
I know it's pricey though – so let's dig into what you want to know: "How Much Does Shakeology Cost? And How Much is Shakeology As a coach?"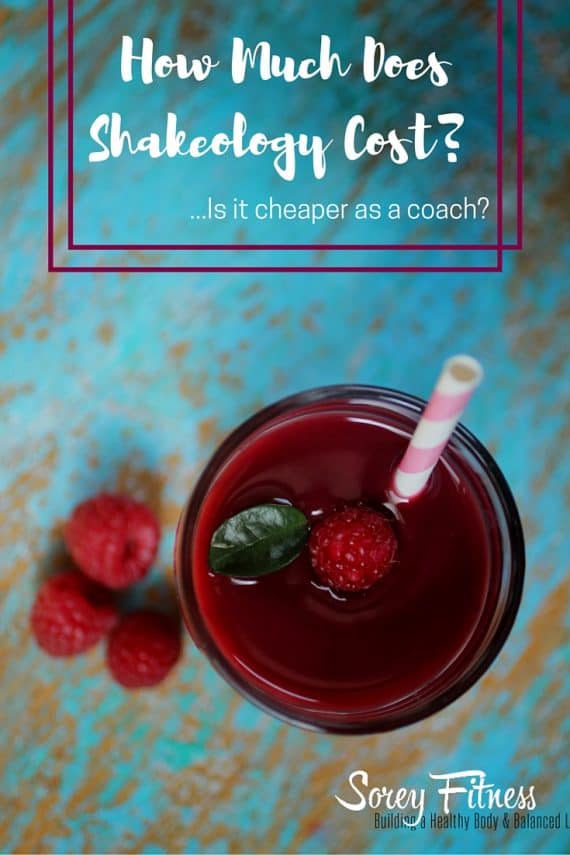 How Much Does Shakeology Cost?
Shakeology is approximately $4.35 a serving, and it comes in your choice of individual packets or a bag. The packets are great if you travel a lot – just ask Starbucks to blend it up and yum! If you're at home or have access to a blender most days, I love the bag because it includes 30 servings compared to the 24 packets in a box. Either option you choose is $129.95 plus shipping and tax.
You can choose any flavor at the price or even do a combination of flavors. I personally love the original Chocolate then the Cafe Latte. The vegan options are also $129.95 and use a pea protein. Out of those, I like the chocolate over tropical strawberry, but both are tasty.
The only flavors I don't care for (gasp!) is Vanilla and Greenberry. The vanilla is a little too sweet, and the Greenberry is just a little too green. :P But you can do a mix up to 3 flavors like Vanilla, Strawberry, and Chocolate to test out more flavors in 1 month.
Other Shakeology Posts You Might Like:
How Much is Shakeology As a coach?
As a coach, you get 25% off anything you order including your Shakeology. So it is approximately $97.47 as a coach for the same box or bag of Shakeology as a coach.  As a coach, you don't have to actively "coach" anyone or work the business at all, but it is $15.95 a month to maintain your coach status. If you're planning on staying on Shakeology though, the savings are more than that cost.
Can you get a discount any other way?
You can get 10% off anything as a club member. The club membership includes the 10% discount, Beachbody on Demand streaming, and customizable meal plans. So if you're worried about the coaching title (which no one even has to know you are listed as a coach if you go that route), the club membership is a good choice. You'd save about $13 each month with the 10% off plus have access to 100s of workouts on Demand.
The club membership is free for 30 days, and then it's $2.99 a week billed quarterly for $39.99.
You could also order a challenge pack which has Shakeology bundled in with a 30-day club membership and a full workout program. The packs usually range from 25%+ off
What about Amazon, Ebay, etc?
Unless it's from Beachbody or a Beachbody coach's website – there is no guarantee it's actually Shakeology. As scary as it is, it is very easy for someone to get the packaging and a sealing machine and put whatever they want in it or edit the expiration date on older bags and boxes. This is something you're putting in your body – in my opinion, don't chance it! You're buying this probably for better health so don't put your health in danger for a few extra bucks.
Is the Shakeology cost worth it? Is it a scam?
Check out my full Shakeology review here for a deeper look…but in short – no it's not a scam. It's a product – just like a hair straightener or power tool. Yes, you can buy cheaper options but they may break, fry your hair, or wish you had bought the right size screwdriver for the job.
Yes, it's worth it. If you're looking for a great multi-vitamin type supplement or even just a quick, healthy meal it's worth it. Even a Quest bar and a Dasani water at the store runs $4.50, and the drive thru and smoothies are going to be closer to $6. Plus, with Shakeology you know the quality will always be the same versus the drive-thru, and you're going to get in more nutrition than a Quest bar or a Lean Cuisine. I speak from experience when I say my digestion, skin, weight, cravings, and energy improved greatly after switching from bars and pre-made "healthy" meals to this.
Did this help you answer the questions: How Much Does Shakeology Cost? and How Much is Shakeology As a coach?
Have other questions on Shakeology? Email us at thegirls@soreyfitness.com
Other Shakeology Posts You Might Like:
These statements have not been evaluated by the Food and Drug Administration. This product is not intended to diagnose, treat, cure, or prevent any disease. 
You should consult your doctor before making any changes to your workout or diet. The statements above are just my own experience and opinion.