When the 21 Day Fix was introduced at our Leadership Retreat in California I about jumped out my seat and was hitting my mom in the arm like "This is it!! I'm applying!" I prayed over it and really just put all of my hope into the basket. It was exactly what I needed – simple meal planning, tough and short workouts, and effective. I still can't believe my results in the before and after pictures. (Read more information on the 21 Day Fix)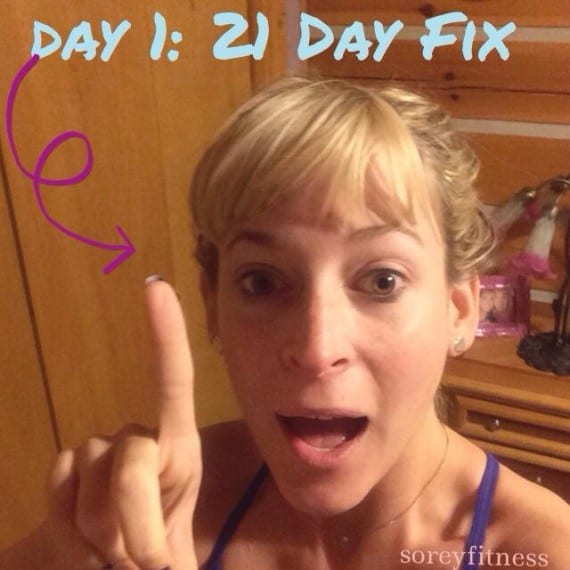 Out of 300 applications, I was chosen to be one of 12 coaches to be in the 21 Day Fix Test Group! I couldn't believe it. We received our workouts and nutrition plans a few days early, and we started on October 28, 2013. Just like the 30 Day Challenge my mom and I host, Beachbody allowed the 12 coaches to share our goals and meet each other.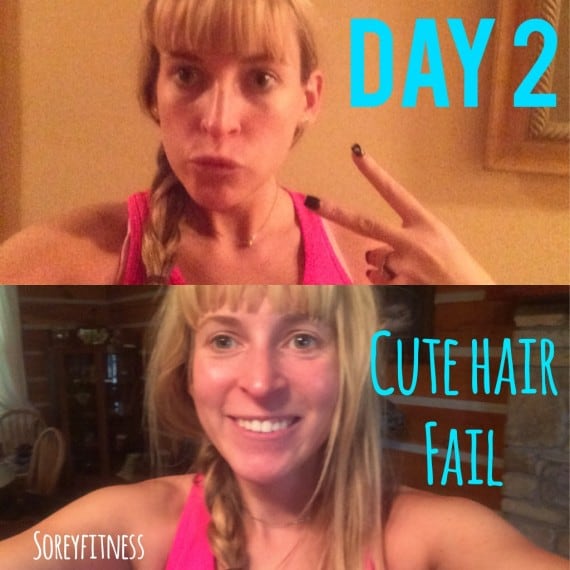 I cannot tell you how much I enjoyed the challenge group. I cannot wait to host my own in February when the 21 Day Fix is officially released. Within a day or two, everyone was already feeling, and in some cases, seeing the changes in their bodies. It was a huge motivation for me.  I'm very thankful to have been chosen and have taken on the 21 Day Fix with 11 other coaches I really admire.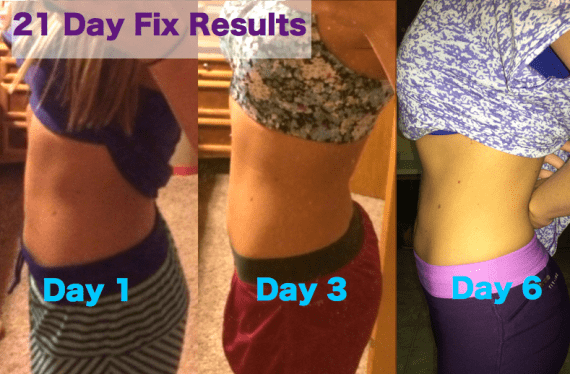 My results were really noticeable in the first week of the 21 Day Fix. My belly really started to flatten out (see the before and after just after 6 days!). I also never had one of those really bad, sluggish withdrawal days that I had the Ultimate Reset. It was a total different mindset, and the program really broke the nutrition and workouts down into very simple, easy-to-follow steps.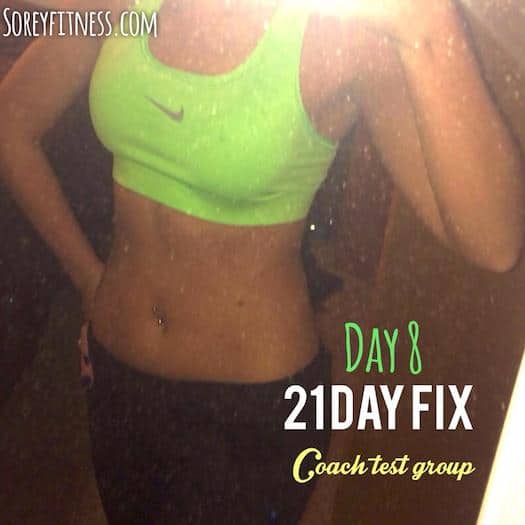 Everyday I felt like I was getting closer and closer to my goals, and I never felt hungry. I was constantly eating and fueling my body with the right foods.
By the second week, I was down more than 5 lbs and really able to power through my workouts.

Days 10-14 I kind of stagnated and felt my competitive side come out. I wanted to have results like the others!! That is when the challenge group really helped me power through and push myself. I stopped weighing myself and obsessing.
By Day 21, I couldn't believe my before and after pictures!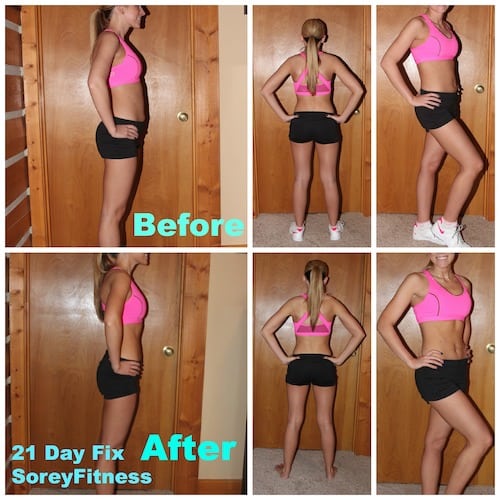 My waist is now a 24!!!
That is smaller than it was in high school! I also wore my tightest pair of jeans to the Justin Timberlake concert on Friday, and they were almost loose! Knowing I am in control and confident is an amazing feeling!
Another AWESOME part of this? I'm not DYING for a cheat meal! I woke up and started with lean protein and a fruit. YUM! Autumn Calabrese, the trainer behind the 21 Day Fix, has made a workout ANYONE can do! I don't care if you are a weights-junkie, cardio-lover, or someone that would rather be put through torture than break a sweat, you'll love the the 21 Day Fix.
Join My Test Group
I will be hosting my own test group in February for anyone that adds me as their Beachbody coach by ordering the program  or challenge pack from me. 
Just order from that email, and you will be all set for the test group starting in February! If you do not, we will have daily check-ins and have it set up similar to what I had to do to get you MAX results in 21 Days. Only 11 other coaches were in the original test group so it's a limited opportunity, and there will also be a prize awarded to the biggest loser at the end! If you have a coach already, make sure to reach out to him or her to find out what kind of challenge they are doing. They will probably be offering something similar and may know you and your goals better than me.
Also, I know it doesn't matter how easy I tell you the meal plan is, you may still wonder HOW easy.  Since I can't share details on the workouts or meal plan, I will share a few of my meal prep pictures.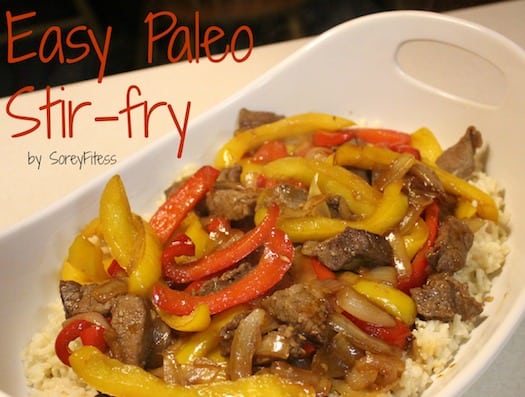 (Recipe)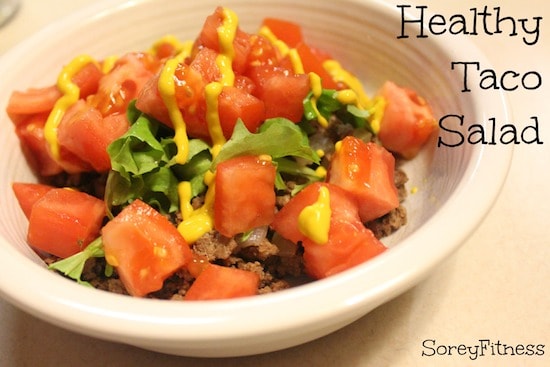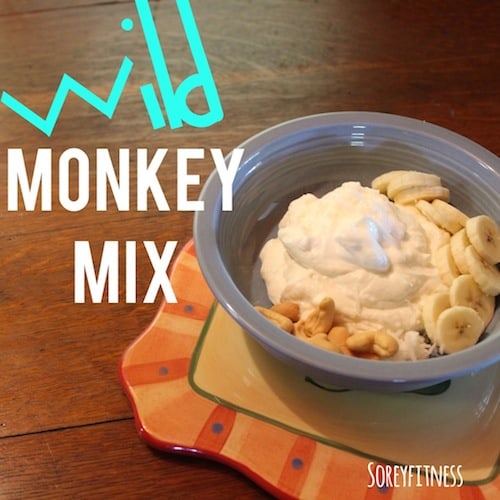 (Recipe)
I never felt deprived or hungry. The 21 Day Fix is so effective, but it is also so easy to follow. I think if you try this in February, you'll be amazed in the changes you see in just  3 weeks.  I know I was surprised by my before and after pictures!
Have you ever taken Before and After pictures? Will you try the 21 Day fix?
Want more information? Check out EVERYTHING I can share about the 21 Day Fix here!
You can now ORDER the 21 Day Fix & get an invite to join our group starting 2/17!
The Challenge Pack is on SALE right now for $140 You save $70!!
The Base Kit for the 21 Day Fix $59.85
You can also COACH for FREE if you order Challenge Pack! (the challenge pack will be listed on the 2nd page and should be available the afternoon of 2/3)