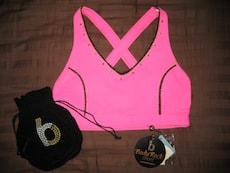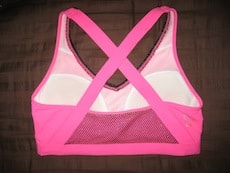 The Ruby Bra
This week I got to test out Kelly Dooley's 
BodyRock Sport's
The Ruby Bra
 from the Dim Your Headlights Collection! I cannot tell you how excited I was about this product review after seeing a pair of her shorts on 
Fitness'
 website. All of the bras on her site are so cute and high quality!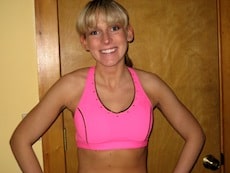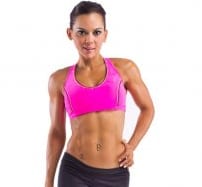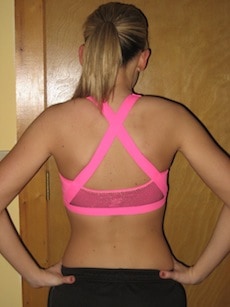 Pros:
Pretty, Rhinestones, Supportive, Durable, Supplex Fabric, Functional, 4 Lines of Bras to Choose From, Easy-to-Use Website, Lots of Product Details, Free Shipping, 100% Guarantee, Excellent Packaging, Personal Touch by the CEO (Kelly Dooley)
Cons: I am a 34C and fit perfectly in a Medium. I imagine if you are larger than a DD it may be hard to fit into one of these. I hope she will do a XXL in the future for those that have a hard time finding something cute.
When I began picking out my favorites, I noticed the bras are made of Supplex, a special fabric that is breathable and dries faster than cotton! It is also lasts longer than cotton bras; this was a huge pro for me because I am kinda bad about replacing them.
I was so tickled when my Ruby Bra came in such a cute velvet bag too. It was like Christmas morning, and I couldn't wait to workout in it! The cute bra turned into a functional, supportive piece of work during my high intensity interval workout! I never had to worry about falling straps, jiggling, or sweating through it.
Overall: I LOVE BodyRock Sport. When I workout, I feel so confident and sexy, but I've never found a sports bra that reflects that. Now, I finally found a brand that is created by someone like me. She isn't a celebrity (yet!), and she does a great job blending fashion and fitness into one!
Order a Bra Now (Make sure to pay attention to the sizing guide! They run smaller than most because of the great fabric)
Follow BodyRock Sport on Twitter
"Like" BodyRock Sport on Facebook
Watch BodyRock Sport on YouTube