I started ChaLEAN Extreme in 2010 when I was in college. Ever since, it has been one of my favorite workouts. Every strength training video is under an hour, effective, and challenging.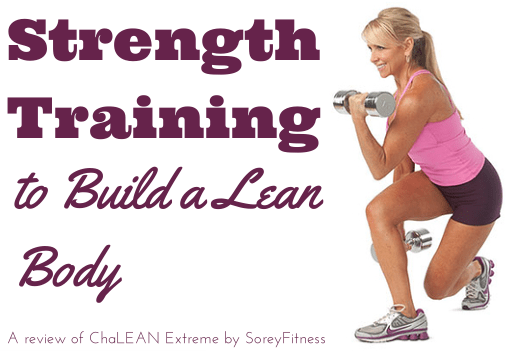 While Chalene Johnson is known for her cardio workouts , ChaLEAN Extreme is one of my favorite strength training programs. ChaLEAN Extreme is a 90 day workout program, and is broken into three phases to get your max results. Chalene teaches us that muscle burns fat and boosts your metabolism. She actually says you can lose up to 60% of your body fat using the program throughout the 3 months; however, I started noticing results in the first 30 days.
Since starting ChaLEAN Extreme, I have tried a lot of Beachbody's other workouts, and I have become a coach. If you have any questions on a program or need some help with staying motivated to workout, you can always Facebook me or email me at kalee@soreyfitness.com. Also, by purchasing ChaLEAN Extreme through this page, I will receive credit for your order, and you will have me as your free Beachbody coach. As a client, you will have access to our private accountability group. In the group we share recipes, tips, questions, our progress, and also do a monthly challenge and giveaway to someone crushing their goals. Even if you aren't ready for ChaLEAN Extreme, you can still Facebook message me and ask to be in the group.
Why I Love ChaLEAN Extreme:
ChaLEAN Extreme is under an hour. Unlike P90X, ChaLEAN Extreme are shorter strength training workouts. After about 45 minutes, I am finished with my workout for the day, and my muscles are shaking!  Chalene incorporates multiple muscle groups at once. For example, a sumo squat with a frontal raise with a 12 pound weight; this helps to burn more calories and tone several muscles in one move.
You lift heavy to see changes quickly. ChaLEAN Extreme focuses on 12 to 8 reps and using heavy weights in each phase of strength training.
The EXTREME! Sets — Studies have shown your muscles work the hardest when you are focused on them and lower them slowly. After you complete a set of one exercise, Chalene makes you go and do 3 more intense, slow reps to totally fatigue the muscle to see changes in your body faster.
It's strength training designed for women's problem areas –I have tried Cathe, Jillian, P90X, and more over the past 5 years, and nothing works my jiggly areas better than ChaLEAN Extreme. You do a lot of shoulder and tricep work to help give you toned arms that help your waist and hips look smaller.
3 Phases help me from getting bored. I love to switch up my workouts simply because doing the same workout feels like a waste of time. I do not feel like my muscles are getting the same challenge they used to only doing one strength training workout. ChaLEAN Extreme gives you 3 workouts per phase then after a month you get 3 brand new work outs. I love only doing the same DVD 4 times!
Personal Trainer. This may sound dumb, but I also like the "gym" they work out in. I tried P90X first, and the videos are so dark! I love the bright colors of the workout.
Easy, common sense food guide! My meal plans follow her eating guide.
It works!! I wish I had thought to take a before picture of myself when I started strength training, but I never imagined I'd see a huge difference since I was already close to my goal. Since I don't have a photo or a video though, I want to share Lori's Before & After video–SO awesome!
You can do the workout at any age & fitness level! My mom & I both do ChaLEAN Extreme and have seen great results! We are 18 years apart!
 I've mentioned P90X a little bit which is another strength training program. You can see a full comparison of P90X and ChaLEAN Extreme here.
I highly suggest
ChaLEAN Extreme
! Muscle is not going to bulk you up, and Chalene has created a strength program that will have you building a lean body every phase of the 90 day program.
Here is a clip of ChaLEAN Extreme
What kind of strength training do you do?
Have you tried ChaLEAN Extreme before?
If you are unsure about a strength training program, you can always comment below or 
email me 
. We have a ton of friends in our
 fitness team
 doing it right now too that would love to help as well. :)