Last week, I asked for suggestions to blog about. Within minutes, people were asking how to lose weight at a desk job! After teaching a year, while also coaching and getting my Masters, I know it is really hard to stay active when you're so busy. Ironic, isn't it?
It is possible to whittle your waist while you work though!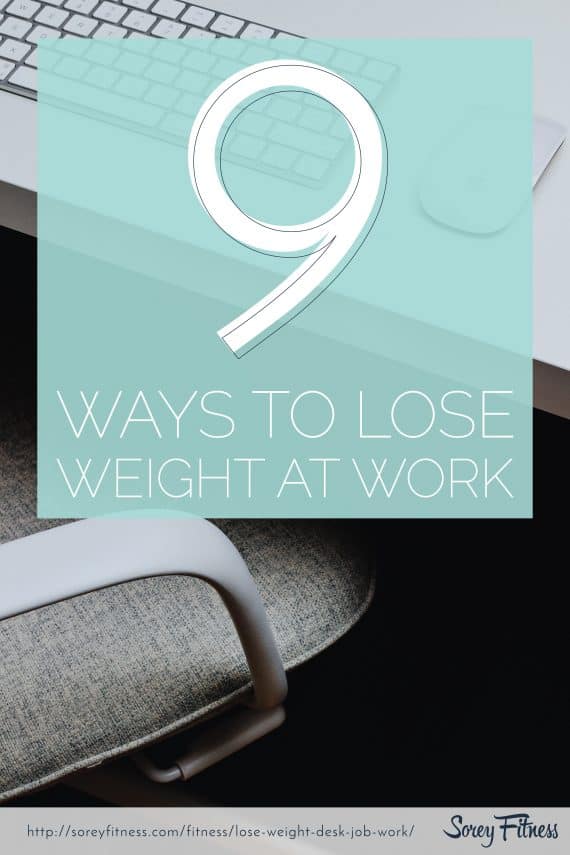 9 Ways to Lose Weight at a Desk Job
1) Remember it's 80% diet, 10% work out (the other 10% is genetics)
While I was working so much, I remembered that working out was only a small piece of my results. I needed to get in at least cardio 3 tough workouts a week to keep my heart healthy, and I liked 1 day of full-body strength training to keep my muscles toned. While getting in those workouts were tough, I knew I could do at least 2 of them on the weekend. That only left 2 more weekdays to workout.
My majority of my time went to meal prep. When I did the Whole 30 (while still drinking a Shakeology for lunch for my digestion), I saw major changes in my body. It was as simple as planning and prepping my meals out.
You'll notice a lot of workout programs are going to 10-30 minute full-body workouts and place a higher focus on food. It's because DIET triumphs workouts when it comes to weight loss (though you need to be working out for health benefits and better results). (My favorite short workout right now is T25)
2) Walk your memos instead of emailing
I cannot believe how little I walk during the day! I bought a FitBit in February when I was still teaching. Without trying, I walked about 7,000 steps, but the goal for a healthy life is 10,000 steps. I figured I was getting in more than enough steps, but I was 3,000 short! Then when I started working from home at a desk the majority of the day, my steps went down to as little as 1,000!!!! EEEK! Just walking will help your muscles stay flexible and keep your mobility strong. Plus, it is going to burn calories.
3) Eat your lunch away from your desk
I have been guilty of gobbling down my lunch without even realizing it until it was gone. You can't enjoy your food and let your body know it is being nourished if you are doing something else at the same time. Plus, it's been proven you are more productive when you have short breaks in between tasks. Go sit outside or somewhere away from your desk to take a minute to refocus and enjoy your meal.
4) Plan ahead  – late night at work? Pack snacks
Some days, I had have to go from school to an appointment, or worse…school. Always having snacks in my desk or closet helped me from being tempted to either pop my little head into the lounge for a cookie or stop somewhere for a junk.  Plus, snacks will save you money — no more vending machines to fill an empty spot in your belly. Put those $1's in a piggy bank for a year, and then buy something fun at the end of the year.
5) Stay away from the lounge
This brings me to my next point – stay.out.of.the.lounge! There are always so many temptations in there. Besides gossip, you will be exposed to muffins, doughnuts, and more. Stick to your goals both professionally and physically. Invite a friend for lunch somewhere other than the lounge.
6) Take the stairs
Shape that booty.
7) Use public transportation if possible
It has been shown that people that take public transportation are active more each day, and they also weigh less than those driving in. Typically someone taking public transportation has to walk a little, and they don't experience the stress of rush hour traffic which can lead you feeling famished and in need of comfort. Not only will you avoid a terrible commute, you'll make new friendships taking public transportation and possibly also save some moolah.
8) Remember your goals and to refocus on them throughout the day
This is one place I honestly sucked at while I was teaching. I hated it, and I always felt stressed out to get the next thing done. Then, I'd start analyzing my decisions throughout the day and be upset that some of them didn't align with my goals. Set an alarm in your phone to refocus your energy on your goals or ask yourself "does this help me get closer to my goal?" before making a decision. Don't forget it's okay to say "no, thank you" or "Let me check my calendar, and I'll get back to you." Checking your calendar allows you time to think over the decision and decide what is best for you.
9) Lessen your workload at home
One of the guys on our team offered to watch the kids while she worked out for an hour at night. Not only does she love it and is so excited to see her results, he also feels fantastic about letting her have some time for herself. Figure out what is taking your time or energy at home, and see if there is a way to lessen your load or to create a system where your family helps you out more.
People may notice, but you can also…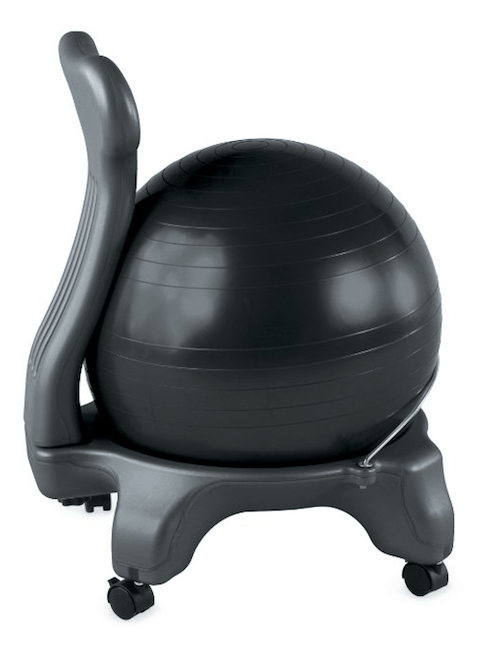 10) Get a Balance Ball Chair to help your core and balance
These chairs are so cool, but people will possibly notice you sitting on a stability ball 8 hours a day.
11) Set an alarm to do mini workouts by your desk
You could do jumping jacks, mountain climbers, walking in place, etc for 10 minutes 3x a day, and you'd have your 30 minutes of working out done before you got home!
Lastly, don't forget to not be too hard on yourself. Yes, you should be motivated to be healthier and live the life you want, but I don't want you killing yourself or putting yourself down to get there. Make small, measurable changes in your life consistently, and you will see a great improvement over time.
What are your tips to lose weight at a desk job?
If you loved this post, please consider pinning it on Pinterest!