This morning I got back on track with my Powered Up Oatmeal. While a bowl of old fashioned oats or steel oats is a great breakfast, I add a few power-packed goodies into mine to get in almost all of my daily fiber plus vitamins and omega-3s!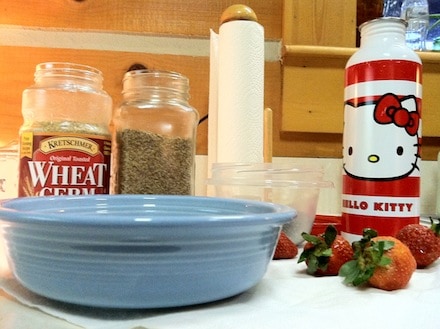 I add flaxseed and chia seed to get in my fiber, healthy fats and omega-3s. The flaxseed has a light nutty taste, but the chia seeds are completely tasteless! I also add wheat germ which is an excellent source of vitamin E and folic acid. The cinnamon helps your body metabolize sugar better, and the berries add in a little vitamin C. Plus, it's super yummy!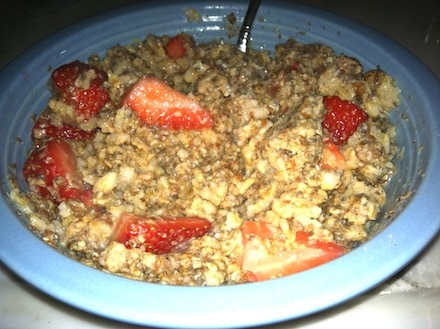 Powered Up Oatmeal
1/2 Cup Oats
1 & 1/4 Cups Water
2 Tbsp Flaxseed
2 Tbsp Wheat Germ
1 Tbsp Chia Seeds
5 Strawberries
Cinnamon to Taste
Do you add anything to your oatmeal?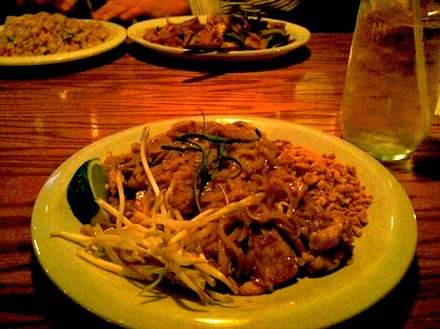 Not every meal can be powered up oatmeal though!
Trying Thai food was on my Life List so for our date night Jake & I tried it out. Even though I am trying to eat clean, I went for the restaurant's signature entree — Pad Thai. It was chicken, noodles, and bean sprouts in a peanut sauce. (Yum!!) I had heard from the teacher's at work Thai was really spicy, but this was sweet. Jake had the Delight Stir Fry which was onions, peppers, baby corn, and water chestnuts in a spicy sauce. It was really good, and I think I will get it next time even though I liked the Pad Thai.
Tonight we are going to a reception for one of Jake's friends. They got married on the beach, and now they are celebrating at home. I love that idea! Would you ever get married on the beach?