While I consider to be knowledgable in food & what it means to Eat Clean, I am always inspired (and slightly envious) by these so perfectly put together women that eat clean EVERY meal like Tosca Reno and healthy bloggers that make chickpeas a dessert like Chocolate Covered Katie. Don't get me wrong, I could eat everything they did, but I HATE having to plan out every meal and count the calories. I also don't really like to cook, so I typically eat anything healthy and easy to grab.
This month is about improving my health & aiming for maximum results! That means knowing everything I eat is healthy and going towards my fitness goal. For that, I had to PLAN….and plan a lot (5-6 meals a day!)! With that said, I have been a research fein the past few days! After reading Tosca's "Eat Clean" book, I looked at some of my favorite blogs & found things not only healthy but something I wouldn't dread to eat (Snickerdoodle Oatmeal–yes please!).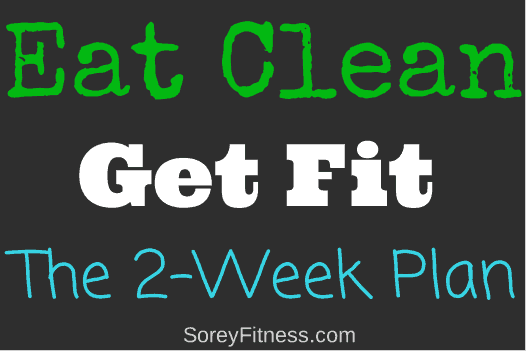 Below you will see every little piece of food I plan on eating for the next 2 weeks…goodness, that seems slightly nuts to me, but I know planning will help me eat only the best things for my body & results! I share them with you all as a way to keep myself accountable AND so you can benefit from my plan as well. I have 100% faith in this "Eat Clean" plan & cannot wait to do it. I will post my next 2 week plan of eats next week!
Anyone want in with me? Comment below or Facebook me if you are wanting a fitness buddy! I am not a medical professional or certified nutritionist by any means, but I'd love to help both of us stay motivated and excited through the 2-weeks.

Besides planning what I  will eat, I am also very excited to try hot water mixed with lemon juice first thing in the morning to help cleanse my liver. (I didn't know it was dirty until today!) Another thing that sparked my fitness ears was Adzuki beans. These beans can be eaten or put 1 cup in 5 cups of hot water for an hour. Scoop out enough of the water left and drink. It is suppose to have a healthy, detoxing effect.
2 Weeks of Meal Plans for Eating Clean
 Want more meal plans? Check out my full guide with recipes & ideas

 

Breakfast

Midmorning

Lunch

MidAfternoon

Dinner

Evening

M (1240)

Oatmeal w 2 flaxseed, 2 wheat germ; 2 egg whites  water & tea (230)

Greek yogurt; berries; water (150)

Carrots & Hummus (80)

Stuffed Potato w yogurt cheese chopped chicken(450)

Edamame (100)

T (1230)

Greek Yogurt with berries, flax, wheat germ, granola (300)

½ Wrap w hummus, turkey, tomato, avocado & feta (250)

½ apple or banana with ½ of normal nut butter (100)

½ sweet potato, chalene spinach chicken (350)

W (1235)

Omelette (2 eggs), onions, spinach & tomato on toast (290)

Grilled Chicken & green beans (150)

½ Ezekiel wrap with nut butter & banana (250)

Orange & 10 almonds (150)

Grilled chicken breast with fresh veggies in a wrap(395)

TH (1256)

Cream of Wheat, flax, wheat germ, bee pollen, & egg whites, cinnamon (300)

Edamame & Milk (180)

Grilled chicken breast with fresh veggies in a wrap(395)

Greek Yogurt (150)

Beef stew containing vegetables & potatoes(221)

F  (1030)

½ apple or banana with nut butter (150)

Beef stew containing vegetables & potatoes(221)

Orange & 10 almonds (150)

Spaghetti Squash (200)

S(1095)

Greek Yogurt with berries, flax, wheat germ, granola (300)

Hardboiled Egg & Tomato (100)

Tuna Melt (1/2) & ½ orange (175)

Spaghetti Squash (200)

S

French Toast (340)

 ½

apple or  banana with

½

 of normal nut butter (100)

 Chilli and a baked potato(300

 

Breakfast

Midmorning

Lunch

MidAfternoon

Dinner

Evening

M (1330)

Oatmeal w 2flaxseed, 2wheat germ; 1 egg, water & tea (290)

Greek yogurt; berries; water (170)

Carrots & Hummus  & 10 almonds (160)

sweet potato, green beans chicken (350)

Edamame (100)

T (1335)

Greek Yogurt with berries, flax, wheat germ, granola (305)

½ Wrap w hummus, turkey, avocado, tomato & feta (250)

½ apple or banana with nut butter (150)

Flank Steak with Onions & mushrooms chalene spinach (400)

W (1350)

Omelette (2 eggs), onions, spinach & tomato (290)

Amy's Minestrone Soup (180 for whole thing)

Orange & 10 almonds (180)

 

TH (1350)

Edamame (100)

5 Brazil Nuts (75) + ½ banana (50)

F (1310)

PB Toast (sprinkle flax), Banana (310)

Hardboiled Egg & Tomato (100)

Orange & 10 almonds (160)

S (1360)

Greek Yogurt with berries, flax, wheat germ, granola (300)

½ Ezekiel wrap with nut butter & banana (250)

½ apple or banana with nut butter (150)

S

French Toast (340)

 Orange & 10 almonds (180)

 Flank Steak with Onions & mushrooms chalene spinach (400)