Halloween candy is already starting to show up in stores. Walmart had theirs out a week ago when I went!
I know some people "only buy it for the trick-or-treaters," but I am always tempted by candy corn as soon as I see it. If you're going to the grocery weekly, you'll be seeing it for a whopping 6 more weeks; it's important to know how to keep the treats in moderation and crush the cravings.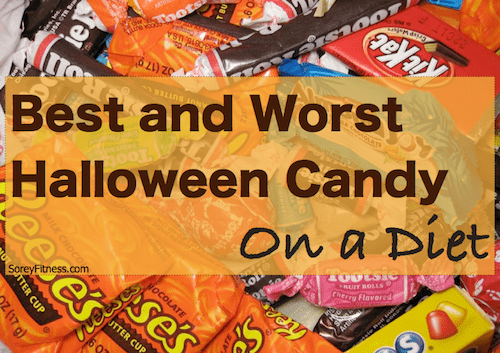 Remember Halloween candy is just the start of the treats of fall and winter. Decide your diet game plan and commit to it. (If you need help getting a game plan ready, check out the 30 day Fat Blast Challenge I host each month)
I have not been on a diet since I was in my teens, but I do watch what I eat everyday for my health.  I budget for the honey ham and pecan pie on Thanksgiving and cream corn, hashbrown casserole, and chocolate pie on Christmas. Halloween candy is easier for me to skip as long as it isn't in site than my grandmothers cooking.
#1 tip don't buy Halloween candy earlier than October 31st.

#2 Don't stock up on your favorite treats unless you are prepared to either resist or eat a piece or two in moderation.

#3 Tip keep the treats locked up on a tall shelf, in a dark bag, until you see kids coming up the drive.
That isn't to say, you can't enjoy a Reeses, but it will help you stop from OVER indulging in Reeses. 1-2 fun size are fine each day if you diet is good everywhere else (Why? Read my post on the 90/10 Diet)
Besides using moderation, check out this best and worst Halloween candy list from Men's Health.
Best Halloween Candies:
Lollipops – They are low calorie (about 20 calories) and last a long time.
Smarties – Each pack is about 25 calories.
Dark Chocolate – Soak up antioxidants with this sweet treat.
Worst Halloween Candies:
ButterFingers – The funsize bar packs about 80 calories!
Candy Corn – These kernels are pure sugar—usually the worst kind (high fructose corn syrup).  A handful is easily 100 calories.
Want to know how the other Halloween candy stacks up?
Joy Bauer
, the creator of the 90/10 Diet, recommends these Halloween treats that are small but satisfying in Women's Day.
Warning –In my experience, these treats only work if you follow the tip of hiding the candy after pulling out a serving!
Almond Joy
snack-size bar (17 g)
80 calories
Baby Ruth
fun-size bar (18 g)
83 calories
Butterfinger
fun-size bar (18 g)
85 calories
Kit Kat
miniature bar (10 g)
42 calories
M&M's, milk chocolate
fun-size packet (13 g)
60 calories
M&M's, peanut
fun-size packet (13 g)
70 calories
Milky Way
fun-size bar (17 g)
80 calories
Mounds
snack-size bar (17 g)
80 calories
Reese's Peanut Butter Cup
miniature (7 g)
36 calories
Skittles
fun-size packet (15 g)
60 calories
Snickers
fun-size bar (15 g)
71 calories
3 Musketeers
fun-size bar (15 g)
63 calories
Twix
fun-size bar (16 g)
80 calories
Twizzlers, strawberry
3 twists (29 g)
100 calories
Have a Halloween post? Link-it-up! :)
What is your favorite Halloween candy? Do you find yourself eating it each fall?
Comments
comments