Bloat can cause us to feel uncomfortable and our clothes to fit funny. Luckily, bloat can be blasted a lot faster than plain old weight gain. With these six tips you'll lose the bloat and your skinny jeans could be fitting great in just a couple of days.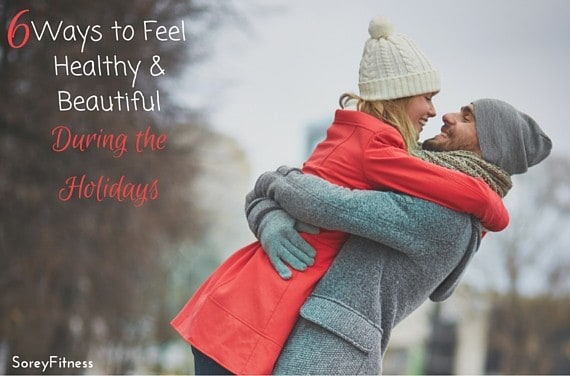 6 Ways to Lose The Bloat This Holiday
1. Drink Water —Water helps flush out toxins and hydrate your body which your belly desperately needs during the holidays. On top of that, dehydration can lead to constipation and bloat which create the big belly and uncomfortable feeling. Remember, if you feel thirsty–you are already dehydrated. Drink before your mouth gets dry.
2. Sip on Peppermint or Green Tea After Eating — How perfect for the holidays right? University of Maryland Medical Center found sipping on peppermint tea calms the muscles of the stomach and improves the flow of bile, which the body uses to digest fats. This is especially helpful with the holidays after all of the dressing and pie we eat. I like Celestial's Peppermint Tea after dinner.  Livestrong does suggest to not drink mint teas if you suffer from GERD or a hiatal hernia though.
Controlled studies have shown that green tea contains certain polyphenols, or plant-based antioxidants, that help break down fat, thus helping to lower your cholesterol level and BMI. Drink a cup in the morning to get your metabolism going or with your meals. Here is an affiliate link to a genuine green tea that I really like.
3. Limit the cocktails – Sadly, alcohol and cocktails dehydrate us. Plus, our favorite holiday drinks also turn straight to sugar which is hard to digest and can lead to weight gain. On top of it all — the mix of dehydration and sugar can make us look tired and actually older.  Stick to 1 and then sip on seltzer with fresh fruit or Kombucha. (Check out 4 Top Cocktails for Your Waistline)
4. Look for Foods Rich with Probiotics — Probiotics are bacteria living in our digestive tract. They can help reduce bloating, optimize digestion, improve immunity and add a nice glow to your skin. You can get your probiotics into your diet through Shakeology, organic yogurt, fermented foods, or even a probiotic supplement.
5. Eat Clean — Eating clean may sound impossible during the holidays, but small changes can make a big difference. Focus on eating clean 80% of the time while indulging in your favorite foods 20%. Your diet doesn't have to be restrictive or complicated; you just want to avoid processed foods and add in foods with little to no ingredients.
The rule of thumb: Clean foods either come from the ground or have a mother.
6.  Relax — Getting enough sleep and taking up a weekly yoga or stretching class will help your body recover from any stress from the holidays. Sound silly? When we are stressed out, our bodies let off cortisol which leads to belly bloat and later on even weight gain. Take time for you this season.
What are your tips to lose the bloat and stomach pains after holiday meals?