7 Tips to Get Motivated to Exercise – STOP Making Excuses
This post may contain affiliate links. All opinions shared are my own. As an Amazon Associate I earn from qualifying purchases. Click to view our full disclosure.
Having trouble getting motivated to exercise?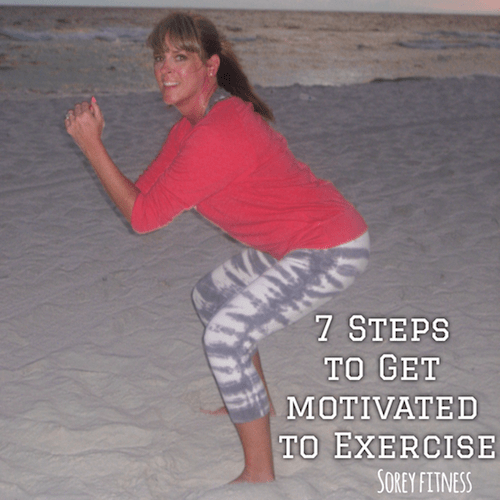 No matter who you are–your body requires movement and proper nutrition. No one escapes this requirement, and if you try to cheat it, your body is not going to function as well as it could. Your body is like a very high tech machine; it does not care if you are a CEO, busy mom, or fine with your current curves. If you do not use it, it will deteriorate and leave you fat, old, and tired.
I know that sounds harsh, but I have been on both ends of the spectrum. As a college student, I worked as a waitress, maintained a 3.8 GPA, and also started my first online website, BUHonorStudent, that eventually paid for my undergraduate degree in marketing and finance. I was zonked and living off of 4 Luna bars a day. While I accomplished a lot in those couple of years, my body was in a whirlwind of preservatives and my 115lbs of muscle was taken over by fat. The scale barely moved, but my energy and appearance in my hair and skin drastically changed.
So what can you do to keep your body performing like it should? I know getting motivated to workout can be tough, but these 7 tips will help you overcome any challenge.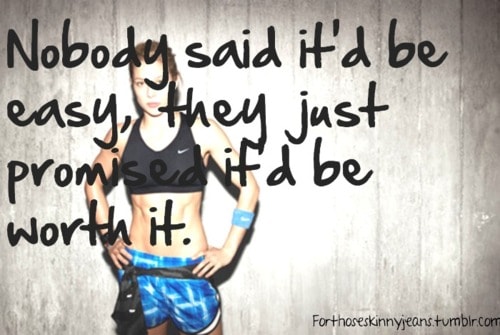 7 Tips to Get Motivated to Exercise
1. Stop making excuses — You know the health benefits behind exercising at least 3x a week for 20-30 minutes minimum if you have turned on the television in the past ten years.  You don't have time? Do you have time to be sluggish, lazy, and corrupted by a preventible disease? Your kids come first? Well, you should be a good role model for them. You don't have a gym around? Workout at home. You don't have the money for a trainer? Try a Beachbody workout where you get a free coach to help you with your goals. Yes, they do cost something, but they have a money-back guarantee. Your genese suck? Science shows genetics only make up about 10% of our total health. The other 90% comes from diet and exercise. STOP with the excuses.
2. Set realistic goals – Do you want to look good in a bikini, have more energy, improve your digestion, lower your blood pressure or cholesterol, or be able to play with your kids more? Maybe your goal is just to be healthy. The main thing is to chose a realistic goal for yourself. For example, if your goal weight is 50+ lbs away, set your goal to be 8lbs each month. Setting a smaller, realistic goal will help you stay motivated to exercise and achieve your long-term goals. The same mindset goes for your workout schedule as well. You should not choose Insanity if you hate intervals and only have 20 minutes a day to workout. If the workout does not fit your life, then it won't help you achieve your goals in the long run.
3. Have a plan – Decide what you want to eat and what workouts you want to do for the week or even the month. I write my meal plans in 2-week increments, and my workout hybrids are typically 10 weeks or longer. It takes the mind work out of the physical work you are doing. It also limits your excuses, and it allows you to consistently work towards your goals.
4. Track your progress – There are all kinds of free ways to track your workouts and calories daily. TeamBeachBody has an online gym where you can workout live and MyFitnessPal has a great app for your phone. BodyBugg and other heart rate monitors have great online trackers as well.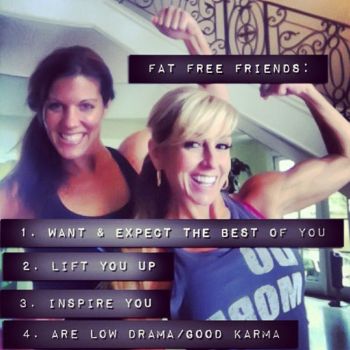 5. Join up with friends– I'm not sympathetic to anyone that says, "I don't have friends that like working out and eating healthy." I say–MAKE SOME. If you do not live in an area with gyms and community centers on every corner, you can always reach out online like you are doing right now. There are a ton of forums and fitness accountability groups. I started Team Engaged in October 2010 to help me stay motivated through Insanity, and I talk to the group daily still. We share our lives, workouts, diets, goals, and progress online. I feel like I am closer to some of them than I am with people I work with and see everyday. If you'd like to join our group, please send me a friend request and a message letting me know.
6. Remember why you are doing this – I like to post my goal somewhere I always see it. I've put my goal as my backdrop on my phone, posted on my dash in the car, and on my mirror before. You are putting in the effort to workout and improve your body everyday for a reason. What is that reason? Get motivated to exercise no matter where you are.
7. Reward yourself – Studies have shown even a small reward can help you stay motivated to workout. Here is a more in-depth article on the connection between working out and rewarding yourself.
Have you ever had a problem getting motivated to exercise? How did you fight it?