Working out at home is the only way I stay committed to my goals.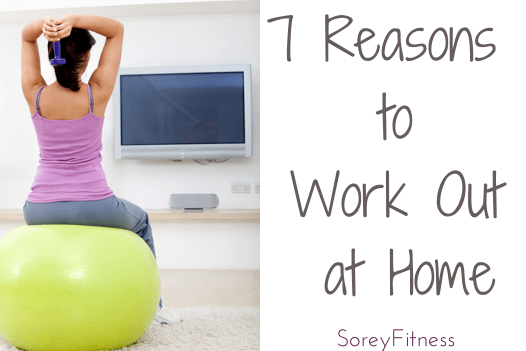 I've been working out at home since I was 17, and I wouldn't have it any other way. When I went off to college, I tried the gym in our apartment-style dorm. It was nice with about 7 treadmills, a bike, and an elliptical. I never could get motivated to workout in a gym though. I couldn't control the temperature, guarantee that the treadmill I liked would be available, or that the elliptical was going to turn on that day. Okay, their gym wasn't that nice, but still I ended up working out in my dorm room.  I just like being able to wear my dingy workout clothes and not have to worry about anyone looking at me.
7 Reasons You Have to Try Working Out at Home
No drive time. For me, a gym is about 30 minutes away so by the time I could drive there I could have a full workout done. Even if you live close to a gym you never know how the traffic or weather will be like.
It saves me money. I bought TurboFire for $119.95 and my Boflex weights for about $200 on sale about 2 years ago, and both are still part of my favorite workouts. Unlike a gym membership that renews every month, my favorite at home workouts are always mine.
It feels like you are getting one-on-one treatment. When you work out at home lift weights with a program like STS or ChaLEAN Extreme, you have a trainer telling you the proper form and what muscles you are working. I love free weights, but in a gym you don't have anyone telling you pointers to keep your form perfect to prevent an injury.
It's only me. I pick the workout; I pick the temperature. I can pause the DVD; I can workout at any time and at any temperature. I always have the best spot in class and access to the best equipment.
It's cleaner. While I'm sure most gyms take the precautionary measures to keep the equipment and facility clean,  there is only so much you can do when the gym is busy. One of my friends in college had to have a piece of her shoulder muscle taken out because of a Staph infection that she caught from the gym.
You can still get great results. Whether you are just beginning or kicking butt with advanced DVDs, you can burn calories, build muscle, and reach your goals working out at home. In just 21 Days I lost 11 lbs with the 21 Day Fix, and our test group of 6 people using T25 lost 48.5 inches in 21 days!
You always have a friend doing the same workout at home!! You can always join our FREE fitness team that is completely private on Facebook. We share meal plans, tips, recipes, our progress, questions on workouts/nutrition, and also host a monthly challenge and giveaway to keep everyone excited.
Do you prefer working out at home or going to the gym? What's your favorite class/dvd?