As I was showering the other day, the thought came to me with how much alike fitness goals, saving money goals, paying off debt goals, & losing weight goals are all so similar.  They all require a little pain of giving up what we want now for what we want later and consistency of doing the same thing over and over.  I guess that's why so many of us fail to hit that goal.  It's boring along the way, and it's so much more fun to buy that new purse or eat that Gigi's cupcake now.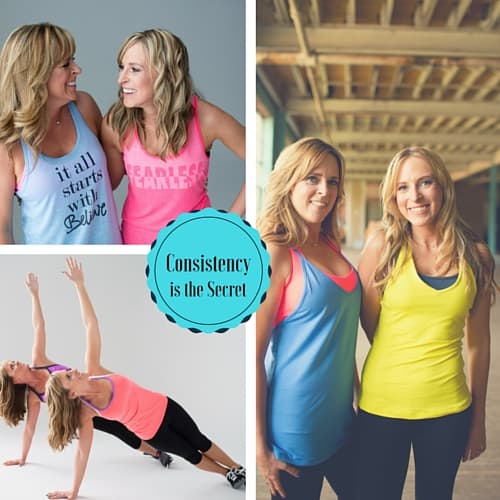 Fitness Goals Take Time & Effort
Think about it.  With a fitness goal or losing weight goal consistency is key. It requires showing up daily to that workout.  Period.  It is so exciting at first.  All that anticipation of how good you will feel, how good you will look, but then when you don't see your six pack after 6 days or even 6 weeks, most of us are ready to throw in towel.  We may even celebrate having worked out for 6 days or 6 months straight and decide to take a break or reward ourselves short of the ultimate goal.
I have no real concrete tip here.  I know, I am just full of joy and hope with this post, huh? LOL!!  I do want to suggest that knowing there's no secret, and consistency is where the game is won is the real concrete tip to take away.  You're going to have to be patient.  You can't give in when you want to.  You have to keep pushing play even on those days when you don't want to in order to reach your goal.
Weight-Loss Goals Require Consistency, Too
Consistency is key to getting that healthy body that you want and deserve.  I know you want to feel better and have more energy, so stop sabotaging yourself with unrealistic goals.  Stop quitting before you hit those goals.  Keep consistently showing up!!!
Same is true with food, guys.  I know you've heard it before, but just because you eat one healthy meal doesn't make you healthy and at goal weight.  Just like it took more than one fast food meal to gain weight.  You'll need a plan, and you'll need to mentally prepare yourself that it will take a while to reach your goal.  Do not give into the moment of self-entitlement, self-indulgence, self-gratification because "you deserve it."  You deserve to hit your goal. Period.
You are worth the effort the consistency!
You are worth the effort of watching portions and eating a balance diet.  Take the time to invest in yourself.  Please don't tell me you don't have time to.  Trust me, if you make your health a priority, then you will find time.  Even a quick PB&J is a better choice than sitting through the drive-thru at most fast food places.  Consistency is key here, too.  Consistently choosing yourself over convenience or temporary taste good will get you to your goal.  Not glamorous but it is what it is.
Saving Money and Paying Off Debt
Savings and paying off debt.  Once again consistency is key.  If you want to save money, you are going to have to make sacrifices that hurt…just like doing that workout you don't wanna do and just like not giving into that cupcake both hurt a little.  Yes, it sure is fun to buy those new shoes, new purse, new car, etc.  All of these things temporarily make you happy, but then you find yourself stressed out again with no money to save let alone any to put on debt.
So just like working out & losing weight require a plan which often deal with making some sacrifices whether it be giving up a tv show to workout or giving up that fancy coffee for a healthy tea, you're going to need a plan to save money and to pay off debt that will more than likely require some temporary sacrifices in even things you think you can't live without.
Making Sacrifices for Long-Term Goals
I know you think you can't live without Friday night pizza, but guess what, you can and that is $$ to save.  Maybe you think you just can't live without Dish, because durn it you work all week and you deserve it.  Guess what, you do deserve it, but don't you deserve to hit your savings and debt-free goal, too.  Which one is more important?  Which one will bring you long-term happiness??  Hit you savings goal, pay off that debt and then you'll  have some of that "disposable income" that you can use for your much deserved Dish.
Reality Check Time
I know rough reality post to write and read, but I want the best for you & me.  If that means temporary "pain" for long-term goals and happiness, so I throw this out challenge out there to you to stay consistent to your goals.  Set realistic goals within realistic timeframes and then re-set realistic goals based off where you are at that moment.  Yes, I know there is something to be said for making "wild, crazy, out of the world" goals.  I'm ALL for that, but you need some little ones that empower you to hit along the way.  You are so worth all the work that it takes!!!
Do you believe that consistency is the key?
Share below.