Can you tell a difference on the blog's looks? I updated it and my Facebook page. I felt like both were just a little disorganized and/or cluttered. Do you ever feel like that with a blog, Facebook, or even a room in the house? It's been a few weeks since I did a What I Ate Wednesday (WIAW)  link-up post with Jenn. The reason? While I eat healthy, my meals are pretty simple.
Another reason — I wasn't as strict on what I ate over the July 4th weekend. Jake was off Thursday-Sunday, and I loved every minute. I didn't eat terribly, but I did focus on little-to-no-prep meals. I never want to spend my time cooking food when Jake is off. I'd rather be out doing something! What about you?
I have to tighten up my diet (still healthy and eating 3-5 times a day) though because July 23rd is our engagement pictures!!! I'm so excited, but I have no idea what to wear. I'd like a dress, but we will be in a field for a pictures. Any ideas? PLEASE comment them below. Links would be even more amazing. ;)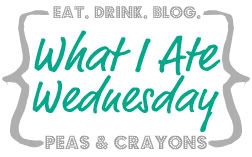 My meals may be simple, but they are happy.
This little guy showed up as I was cracking eggs for my mom and me. I added fresh berries and bacon to give the meal a balance of protein and fiber. I've been stuck on this breakfast since doing the Whole 30 2 months ago.
I've enjoyed being home for lunch!! It lets me have time to play with healthy smoothies. When I was teaching, I always did the same ole same: Tropical Shakeology with 1/2 cup frozen fruit and water. This was a welcome change!
Also, yes…that's Greenberry Shakeology in the recipe I used yesterday. If you've followed my blog, you know I HATED Greenberry. I would tell people to eat grass before drinking it. Luckily, Beachbody heard everyone with taste buds  it was not very popular either, and they reformulated it. It is much lighter now, and more "berry" than green. I like it, but my favorite right now is Vanilla Shakeology.
I mixed this one with 1/2 cup frozen peaches, 1 tablespoon of lemon juice and water. I added a little ice to the blender and topped with sprinkles (mostly for the picture). I can't wait to try Vanilla in protein cookies and as a cake-flavored shake!!
Jake and I also have been doing really good about eating healthy even when we eat out. Logan's Roadhouse's Health Nut menu is awesome! I had this plus a salad. I used just a tad of butter on my potato, and yum!

We did splurge on a bag of Nutter Butters and a glass of orange juice. The combo is amazing. I know it sounds weird, but trust me. It was worth every processed bite. Yum!
I think eating healthy 90% of the time and then having a treat together is good for our relationship. Our healthy goals give us something to share. Plus, the treat always tastes GREAT since it is in moderation compared to just binge eating on what's available.
Okay so as promised in the headline….3 questions!
1) Do you like the blog's new look? (I dropped a column on the side)
2)  Any ideas on what I should wear for engagement pictures?
3) Do you eat simple meals too, or are your meals What I Ate Wednesday Link-up pretty?