While I have posted my meals for the week, this is my first What I Ate Wednesday.
I think it's a great idea to look at everything we eat to see where we are doing good, where we could improve, and also where to mix it up. I'm guilty of eating the same thing everyday. What about you?
Jenn at Peas and Crayons host the link-up if you blog and want in on the action ;)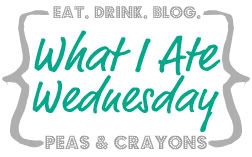 So here it goes, my first What I Ate Wednesday!
This is my signature breakfast. I love 1/2 cup Greek Yogurt with berries and toast. Local honey is the perfect sweetener, and it has been shown to help with allergies (which I need all the help I can get!!). I get honey from a friend that is actually a bee-keeper for fun, but Whole Foods also has local honey.

I am proud of my lunch. The teachers were given lunch today, and I resisted. Now, I'm never just too snotty to eat the food provided, but I do have to be careful what I eat in the middle of the day. (I also don't see the point in eating something only half way tasty and all the way processed.) Shakeology keeps me full without getting that too-full feeling or an upset stomach. I mixed in 1/2 cup of fruit with water and blended. Yum.
I found this on my desk this morning! :) We do Secret Pals at work, and mine got me a huge tub of fruit. I ended up eating a plum in it, and also a Hershey's Kiss our principal handed out.
Tonight's dinner is Edamame and Corn Succotash which I make a lot because it's easy and meatless. I am not a vegan, but I do like having a couple of meatless nights each week. (click above for the recipe)
After dinner, I am debating on my "free food" which helps keep me eating right all day long. I'm thinking 1/3 Cup Starburst Jelly Beans or a Reeses' egg from Easter.
So there it all is! I hope I didn't bore you with my food for the day, but I'd also love to know what you are munching!
Do you allow yourself a little chocolate each day?