4 Things to Healthy Living This Year
This post may contain affiliate links. All opinions shared are my own. As an Amazon Associate I earn from qualifying purchases. Click to view our full disclosure.
Most of us try to live a healthy lifestyle everyday, but our health doesn't end at working out and eating right every day. While those 2 habits are a huge factor into our overall wellbeing, we do have to factor in genetics, stress, and other lifestyle factors to maintain good health. These 4 things you should do for your health every year, should be habits you create for yourself and share with others.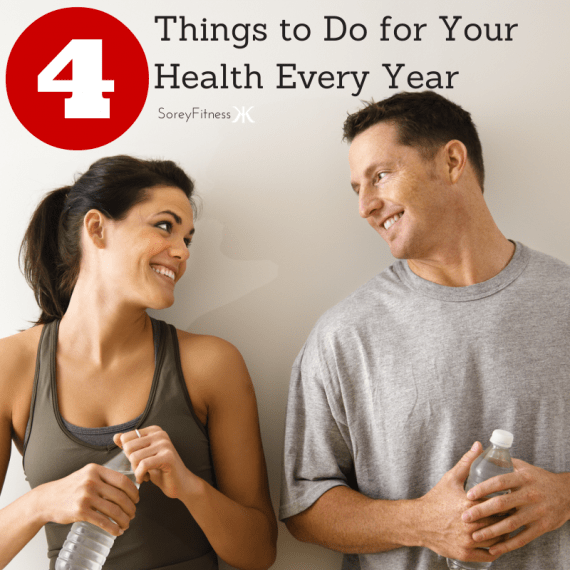 4 Things to Do for Your Health Every Year
1. Know Your Family History
While competitors and weight loss experts say our weight loss and fitness progress may only be 10% of our results, your family history holds much more value when it comes to diseases. By understanding and sharing your family history with your doctor, you can know what you may have a natural tendency to inherit and create a game plan to prevent it. Knowing your family history and asking your family questions can help better protect you from heart disease, stroke, cancer, mental illness and a variety of other health issues.
2. Get an Annual Check Up
An annual check up, especially for women, is a no brainer. Meeting with your gynecologist can help you identify any concerns and address any questions you may have from the past year. While I hate driving to the doctor's office, waiting in the waiting room, undressing, and then the whole rather-friendly appointment, it is vital to the rest of your year to make sure you are healthy.
3. Have a Skin Check
No matter how light or dark your skin is, everyone is at risk for skin cancer. Skin cancer is the most common form of cancer in the United States, and 1 in 5 Americans will have some form of skin cancer in their lifetime.
Skin cancer is one of the easiest cancers to prevent too. Even if you're using your sunscreen and being safe about being exposed to the sun, an annual skin check is usually covered by insurance or very affordable.
Love a good tan? Check out my sunless tan experience and tutorial here
4. Be Open With Your Doctor
Don't be quiet or shy with your doctor. They need to know about what you do that could affect your health, and they do follow a confidentiality agreement. Whatever you say to your doctor isn't going to leave that room, and it could save your life at some point.
They've heard it all, and they are going to see several patients even in the same day that you go and spill your guts. They aren't going to remember or judge you – a good doctor just wants to take care of you and make sure you know what to do to live a healthy life. Honestly, they aren't even going to remember the habit or question until they look back at your file the next time you go either so don't hold back. I'd hate for someone's pride, or on the other hand self-consciousness, prevent them from getting any kind of education or help they need.
What do you think is something you should do for your health every year?