Magic Bullet vs Nutribullet vs Nutribullet RX: Which is best? (2021 Comparison)
This post may contain affiliate links. All opinions shared are my own. As an Amazon Associate I earn from qualifying purchases. Click to view our full disclosure.
We compared three popular blenders: Magic Bullet vs Nutribullet vs Nutribullet RX. They are all at an affordable price point for personal use, but depending on your goals, one may be a better option for you. We look at the motor power, cup selection, and blade design to help you easily select one!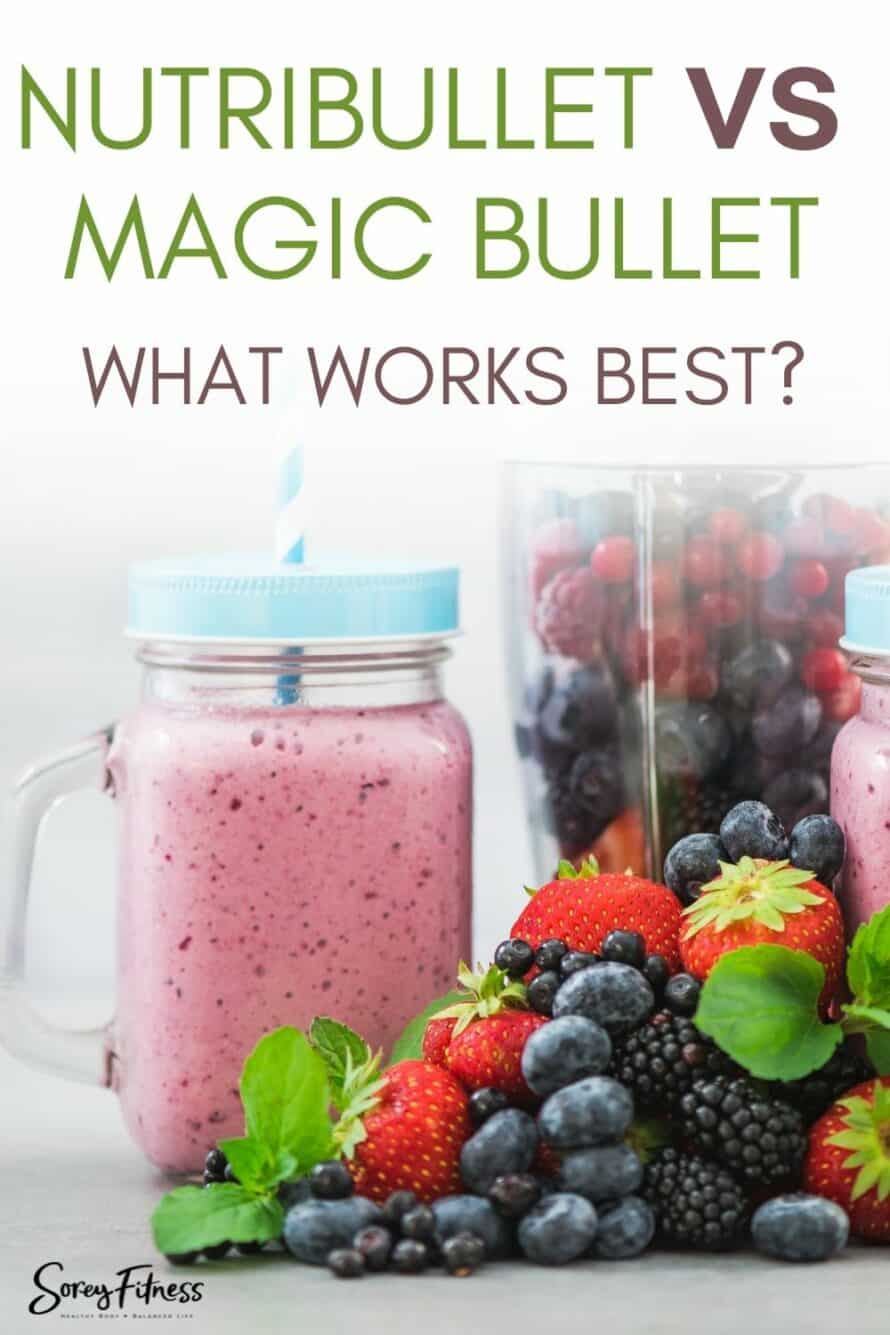 A compact blender is a quick and easy way to create healthy meals, healthy smoothies, and drinks in minutes! For this comparison we compared two of the most popular models on the market today — Magic Bullet vs Nutribullet.
In addition, we included the Nutribullet RX as a powerful all-in-one solution. Check out this comparison guide to decide which single-serve blender is right for you.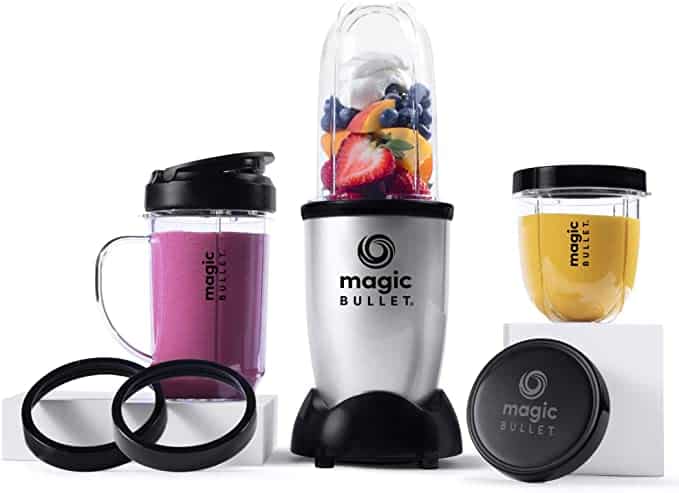 Magic Bullet Features
If you're looking for a budget-friendly small blender, a Magic Bullet is a great choice. The blending set comes with a power base, blades, mugs, and lids; allowing you to easily blend single-servings in a matter of minutes.
200-watt motor
12-ounce blending cup
22-ounce mug with flip top lid
Cross blade
Flat milling blade
Flip-top to-go lids
Recipe book
Additional models are available which come with additional short and tall cups and accessories. But the 200-watt base is standard among each package.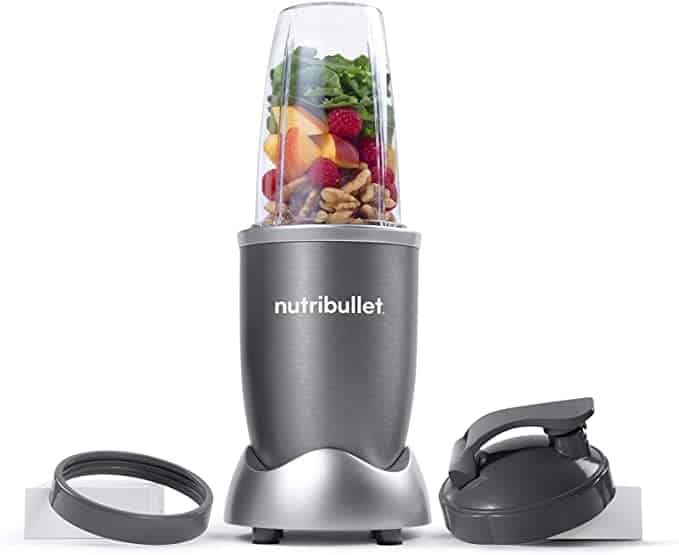 Nutribullet offers several different models to choose from — either the basic Nutribullet vs powerful Nutribullet RX.
The Nutribullet is the original model designed for single-serve blending. The compact blender comes with a powerful motor and refined blades designed for nutrient extraction. The blades allow you to blend whole foods into liquid in a matter of minutes.
600 watt motor
18-ounce cup with lip ring
24-ounce cup
Flip top to-go lids
Resealable lids
Nutribullet extractor blade
Milling blade
There is also a Nutribullet Pro with a 900 watt motor as well.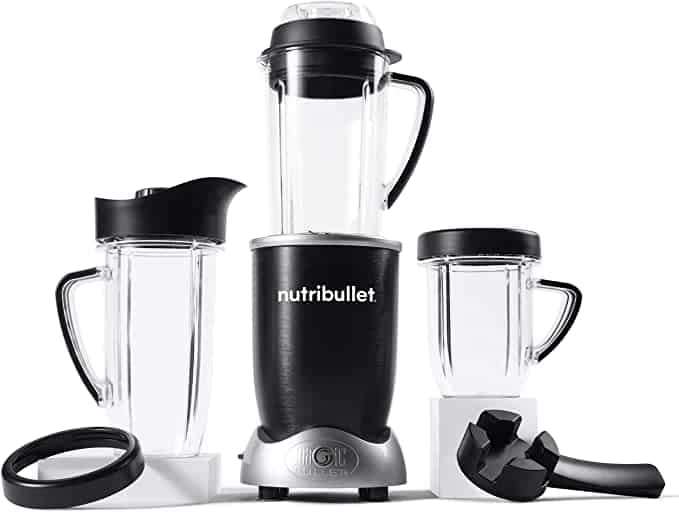 Need more power?
The more advanced Nutribullet RX is one of the best single-serve blenders on the market. With a strong motor, tough blades, and a large capacity, this blender has just about everything you'd want in an appliance.
Thanks to its high-powered motor and sharp blades, you'll see faster blending times and smoother blends, no matter what you put in to the cup. This high-tech blender also features a specialized heating function that allows you to blend and heat your soup in the same device.
This advanced NUTRIBULLET RX MODEL costs more, but you'll get:
1700 watts of power
Easy Twist Extractor Blade
Heated blending
30-ounce short mug with lip ring
45-ounce oversized cup with pitcher lid
SouperBlast pitcher
Resealable lids
Nutribullet VS Magic Bullet: 5 Things to consider
After taking a look at the standard features of each blender, you may have an idea of which models is the right choice for you. But before you make your purchase, let's compare each brand side-by-side to see how they measure up.
1. Price.
The first comparison point to consider is price. If you're looking for a budget-friendly model, the Magic Bullet is a great choice. Although it lacks the wattage and features of the more expensive option, it still provides you with a great way to blend quickly and easily. But if price isn't a huge factor in your decision, you may benefit from the extra power of the Nutribullet Pro or Nutribullet RX.
2. Design.
The design of both models is very similar. Both feature a compact, bullet-shaped base with plastic cups. The blades screw on to the top of the cups to seal the liquid inside. To use the blender, simply place the blade on the cup, flip it upside down and push it on to the base. Press the cup down to blend and release the cup to remove it from the base. With both models, the cups come with lids used to seal the blended ingredients in or lids you can use to drink the blended ingredients right out of the blender cup.
3. Power.
Out of the two compact blenders the Nutribullet RX has a lot more power with its 1700 watt motor! So it is going to be the better choice if you're wanting to use your blender as a food processor for hard vegetables, nut butters, or a baby food maker.
But whether or not you need that extra power depends on how you plan to use your blender. If you'll be blending dry foods like protein powder with almond milk or combining soft foods like fruit and leafy greens for green smoothies, a powerful motor may not be necessary. But if you plan on blending thicker, harder foods, that extra wattage is a must.
3. Capacity.
The Magic Bullet is designed for small-capacity blending, so its larger cup comes in at only 22 ounces.
But with a 45-ounce pitcher, the Nutribullet RX allows you to easily blend larger batches at one time.
4. Ease of transport.
Will you be blending drinks for on the go? You'll need to make sure your drinks can easily be transported from place to place. Both models come with blender mugs and to-go lids, making it easy to blend and enjoy your beverage without dirtying another cup.
5. Cleanup.
The elements of the Magic Bullet (cups and blades) are dishwasher safe and can also be cleaned with soap and water, making cleanup easy.
The cups of the Nutribullet RX can be washed in the top rack of the dishwasher, while the blades should be washed by hand with soap and water.
Summary of Magic Bullet VS Nutribullet
The best personal blenders are always going to be the ones that fit your healthy lifestyle and goals.
If you're just looking for a blender that doesn't take up too much space and makes quick smoothies, the Magic Bullet may work. With that said, my lowest priced option I would buy is the Nutribullet Pro. I just feel like 200 watts in the Magic Bullet isn't going to offer the smoothness I want from a blender.
Additionally, if you want something to make nut butters, ground coffee beans, or create soups – you're going to need something with enough power and motor speed for hard ingredients like the Nutribullet RX. While it's a higher price, it's going to be the better choice overall.