Must Have Kitchen Tools for Easy Meal Prep & Newlyweds
This post may contain affiliate links. All opinions shared are my own. As an Amazon Associate I earn from qualifying purchases. Click to view our full disclosure.
We're not chefs by any means, but even lazy girls have to meal prep! So we put together a few of our must-have kitchen tools! These are going to help you take your cooking to a whole new level AND keep meal prepping easy!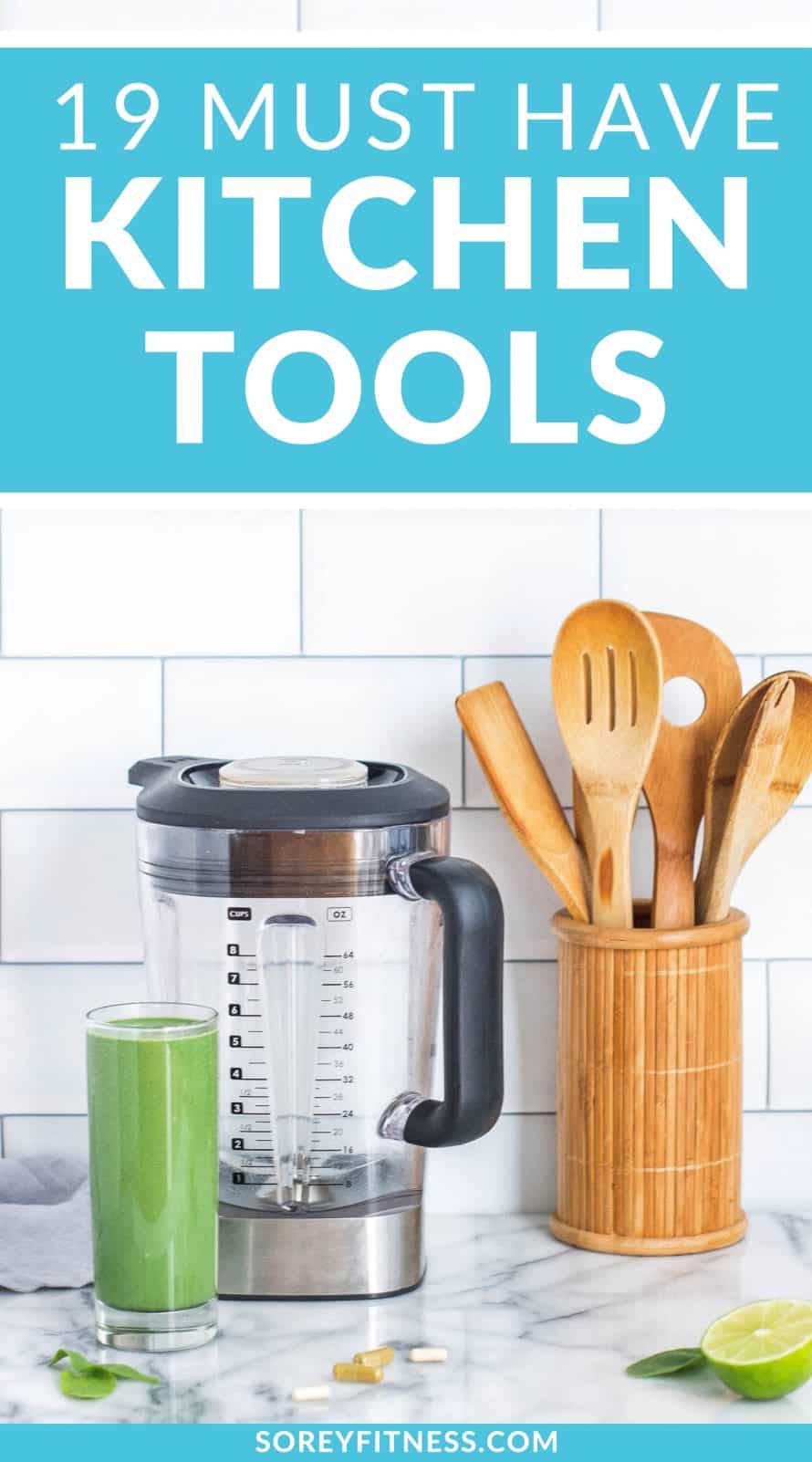 You may also like our review of the best containers and lunchboxes for meal prep!
Your 19 Must Have Kitchen Tools
A good set of knives come in handy all the time. I use them to cut berries and fruit, and I also chop meat and veggies with these. This particular set is under $50 too!
If you're using non-stick pots and pans, wooden utensils are must have kitchen tools! They keep your pots and pans from getting scratched up, and they're dishwasher safe!
The proper containers and lunchboxes are key kitchen tools for meal prep too! They make it easy to scoop out meals into portions for the week! In this article, we outlined the best containers & lunchboxes.
There are 1000s of crockpot recipes online, and we even have a crockpot meal plan for our email subscribers (get it here!!).
With that said, you can use a crockpot for just about anything! We love to throw chicken breast in it and then use it for shredded chicken all week. You can also make overnight oats in a crockpot! There are so many uses, and they last forever!
If you cook pasta or cook veggies on the stove, a colander is a must have kitchen tool! We love these collapsable ones too! Traditional colanders can be hard to store, but these rock!
A cutting board is essential for cutting veggies and meats. We use ours a ton for fresh summer veggies and chicken stir fry! You want to choose a plastic cutting board over wood because wood can absorb some of those germs from meat!
For just a little over $10 you can have both measuring spoons and cups. These are a must if your following any kind of recipe!
I use these instead of a knife to cut chicken tenders for stir fry. They're also handy for chicken out of the crockpot.

I received these as an unexpected wedding gift, and I absolute love them! I use them for cake and brownie mix, popcorn, and mash potatoes all the time! The plastic is dishwasher safe, and they are so light to work with!
A light-weight skillet is perfect for anything from making a grilled cheese to cooking hamburger or meat for pasta! This non-stick skillet is a must have kitchen tool because its so versatile!
Speaking of versatility, baking sheets are great for more than just cookies! You can use them to roast veggies or even stack them on top of each other to create a grilled cheese in the oven!
A good corkscrew can make any party just a little better!
When we got married, we were given a Kitchen Aid hand mixer and a standing mixer. I was so proud of that standing mixer, but reality set in. I don't make breads or pies daily. This hand mixer does everything I need and more!
I love the beaters on it as well. They are light and dishwasher safe!
Never buy another plastic Ziplock again! I started looking into these when a few Ziplock slider bags wouldn't zip or unzip. They are a better investment, easier on the environment and so convenient!
I love Carrie Elle's meal planners (above) because it's plenty big to write in. I also love to look back at past meal plans I've created for inspiration!
We also received a nice Kitchen Aid blender when we got married, but it was so heavy and didn't fit under our cabinets. It lasted a week. I ended up buying this Ninja Single Serve and a few extra cups. I LOVE it, and it's still super powerful.
It's pricey though — so you may like this cheaper one if you're not a smoothie queen.
I also love my Ninja food processor! I use it for everything – including sauces and chopping onions! It's so easy to assemble too which I feel like most processors aren't.
What are your must have kitchen tools? Did you find any you liked here?