Beachbody Coach Discount: How Much is Their Beachbody on Demand & Shakeology?
This post may contain affiliate links. All opinions shared are my own. As an Amazon Associate I earn from qualifying purchases. Click to view our full disclosure.
Did you know you can sign up as a Beachbody coach purely for the discount? Below we'll outline how much the Team Beachbody coach discount is, and how much Beachbody coaches pay for Beachbody on Demand and Shakeology.
It's also always free to cancel your membership, and no one has to know you're a coach. There are also no sales quotas or requirements as a coach!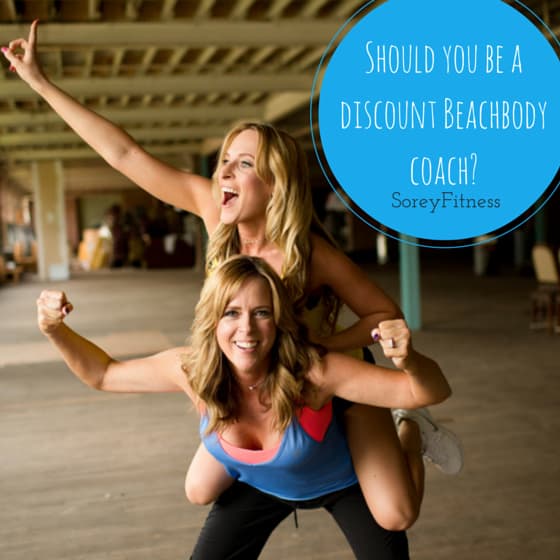 How Much is the Beachbody Coach Discount?
Each Team Beachbody coach gets 25% off! It can be a workout program, Shakeology, the performance line, Beachbars or really anything, and you can 25% off.
The only things not included is clothing, Beachbody on Demand and challenge/completion packs. The packs are already discounted 25% for everyone.
This is a huge savings if you're drinking Shakeology or using the Performance Supplements. You'd get 25% off every time you ordered!
So How Much is BOD if You Sign up As a Coach?
If you were to do the Annual Beachbody on Demand Membership, it would be about $75 plus tax. The retail price is $99 so you save about $25 as a coach. You could also get the Beachbody on Demand Challenge as you're signing up to coach which is $160, and it gives you Beachbody on Demand and Shakeology.
How Much is Shakeology if You're a Coach?
Shakeology is regularly $129.95. With the Beachbody Coach discount, Shakeology costs $97.47 plus shipping and tax. Yes – coaches save $32.48 every month on Shakeology!
The Beachbody coach discount works on any flavor of Shakeology as well – so you can do Cafe Latte or Vegan Chocolate or mix it up every so often! You'll still save 25%!
If every Beachbody coach saves 25% – there has to be a reason why everyone isn't just a coach, right? Let's break down the costs and benefits.
How Much Does it Cost to Be a Beachbody Coach?
It's $39.95 to sign up to be a Team Beachbody coach. Then there is a Beachbody coach monthly fee of $15.95 that covers your websites and online office. This fee is still charged even if you are coaching purely for the discount. If you're using the products, often times this fee is more than covered with what you save with your discount. The one time sign-up fee of $39.95 is waived if you purchase a challenge pack.
Challenge packs include Beachbody on Demand or a DVD workout program and your choice of supplement like Shakeology. These packs are also discounted already.
How Much Commission Do You Make as a Beachbody Coach?
Every Team Beachbody coach makes 25% commission on every customer order. If you're ordering for yourself, you see this 25% as your discount. There is no limit to how much commission you can make.
How Much Does a Coach Make On Someone Buying a Challenge Pack?
Since a Beachbody Coach makes 25% commission off every order, they would make 25% of the challenge pack price. Therefore, if a friend bought a 21 Day Fix Challenge Pack for $160, the coach would make $40 in commission.
If you have any other questions – we'd love to chat more. If you'll use the application below, we will reply within 24 hours.