What is the Best Beachbody Program? [Comparison]
This post may contain affiliate links. All opinions shared are my own. As an Amazon Associate I earn from qualifying purchases. Click to view our full disclosure.
Find the perfect Beachbody workout program for you and get access to hundreds of workouts including 80 Day Obsession, Barre Blend, Insanity Max 30, P90X3, and more! We're sharing our favorite fitness and nutrition programs to help you hit your goals at home!
(updated September 2022)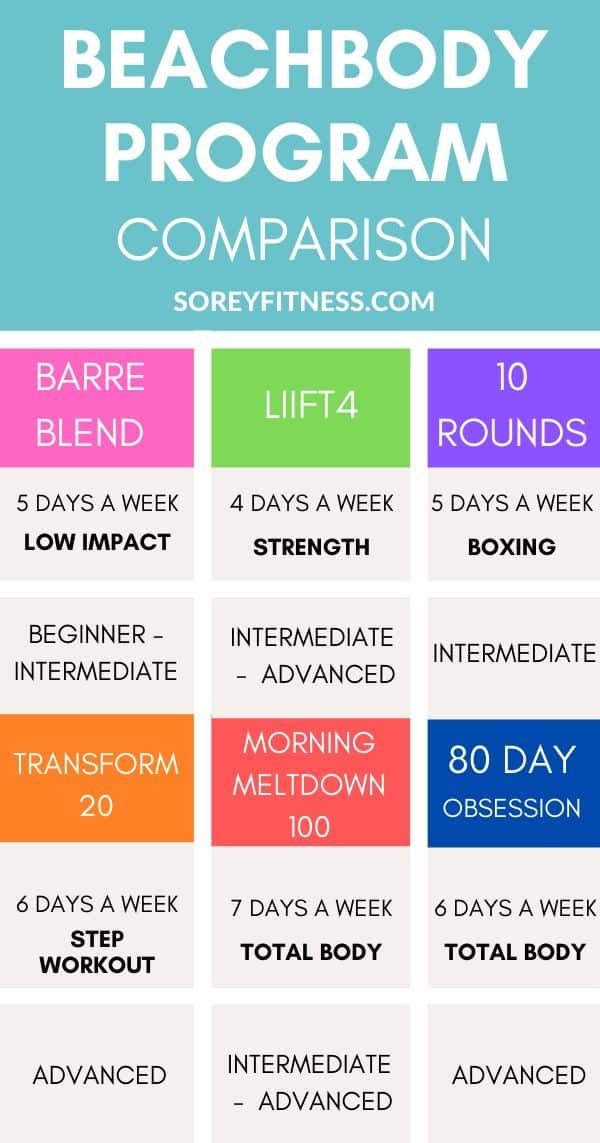 Does Beachbody have workouts for every fitness level?
Yes, whether you're just getting started with your weight loss journey or want to get strong and build muscle, there is a Beachbody workout program for you!
Beachbody on Demand includes:
access to 100s of workouts across 45+ programs organized by length, goal, and fitness level!
workouts for every personality including strength routines, dance, barre, cardio, circuit training, and yoga!
nutrition plans to help you get maximum results outside the gym!
ability to stream to your phone, laptop, desktop, or TV with a streaming device!
Plus it's super affordable at $119.88 a year or $74.97 per quarter.

Are Beachbody workouts effective?
Absolutely! Beachbody has helped millions of people get healthy and fit over the past 20 years!
They're the mega-brand behind popular programs like P90X, Insanity, TurboFire, Morning Meltdown, and the 21 Day Fix just to name a few.
How long are Beachbody workouts?
The length depends on the program, but Beachbody workouts are usually around 30-45 minutes.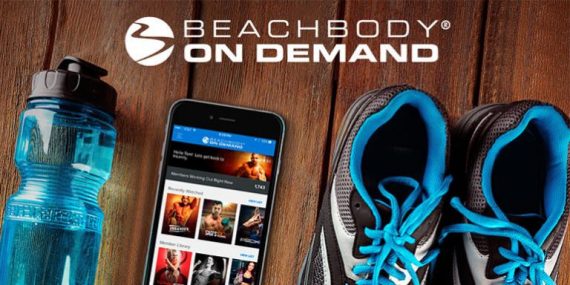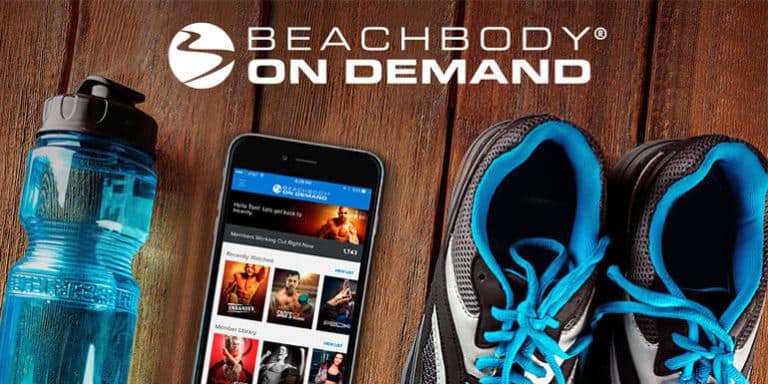 How does Beachbody on Demand work?
Beachbody on Demand allows you to stream hundreds of workouts from anywhere with no limitations! You can even download workouts!
You can stream from your phone, computer, or with a streaming device to your tv.
All you have to do is choose a monthly, quarterly, or annual Beachbody on Demand membership to get started!
How much does it cost to do Beachbody?
With Beachbody on Demand, it's $119.88 a year or $74.97 per quarter.
You can also get a free 14-day trial here! (when you choose the 3 month option)
With the trial, you'll be signed up for the quarterly membership every 3 months if you don't cancel.
The DVD options, if available, are usually about $60.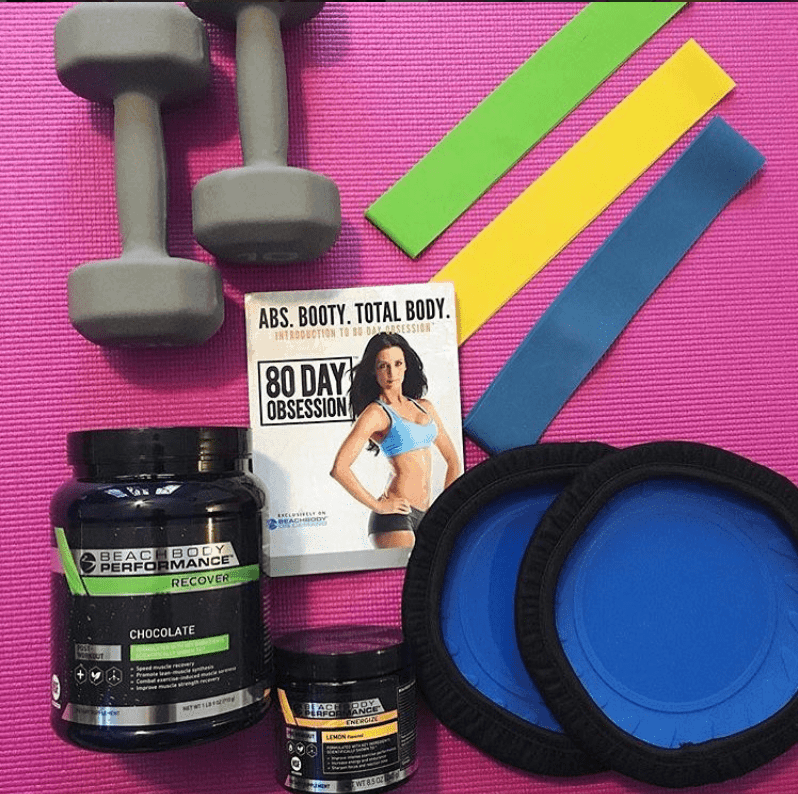 Do I need any equipment to do Beachbody Workouts?
In our list of Beachbody workouts below, you'll see what equipment you'll need for each program.
For most programs, you'll just need a set of weights.
We really like our Bowflex Selecttech Dumbbells because they're adjustable!
Where should I buy my equipment for at home workouts?
In the list below, you'll see we've outlined any equipment a workout takes, and also linked to it on Amazon.
We've found that they typically have the best prices! Plus, it's super convenient!
Best Beachbody Workouts for Anyone!
We compare popular Beachbody fitness programs and outline which home workouts are best for weight loss, strength training, and maximum results.
We also outline what each workout program is like and who will enjoy it the most.
The workouts listed below are included in the annual Beachbody on Demand Membership for $119.88.
The only exceptions are brand new workouts; these require you to buy "early access" for the first few months their available, but even those programs will be added to your membership as they get older.
Other Beachbody Workout Questions
We started helping people with their health and fitness goals back in 2011 with our 21 Day Challenge!
Here are a couple of the most frequently asked questions!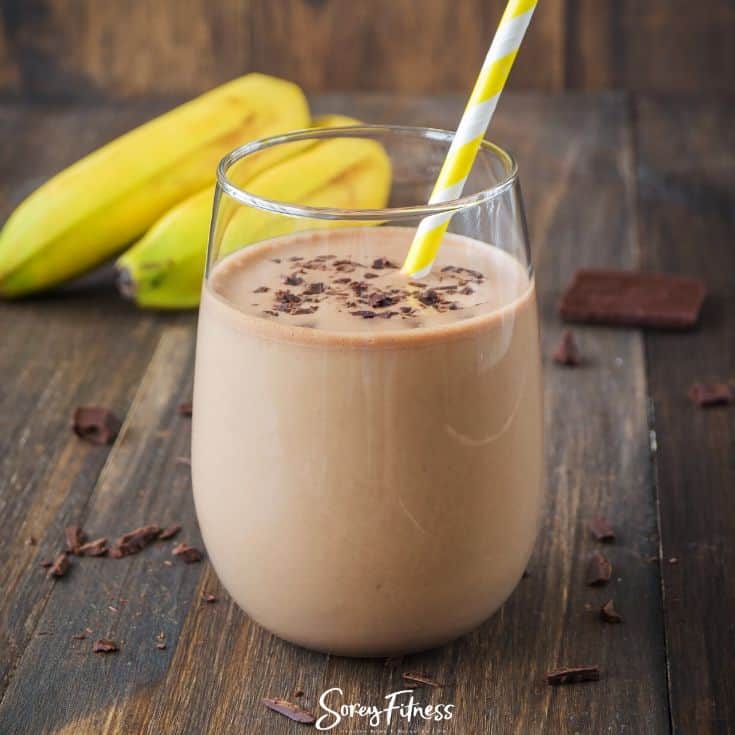 Do I really need Shakeology?
Shakeology is Beachbody's superfood shake that includes protein and fiber to help you stay full and fight cravings. With that said, it's totally up to you if you want it.
We've found it to be helpful for our digestion and getting in our vitamins and veggies. We tend to look for EASY meal options and aren't big on cooking. So the shakes make sense for us.
If you love to meal prep, you can always skip it as well.
Our Shakeology review might help you decide if it's worth it too.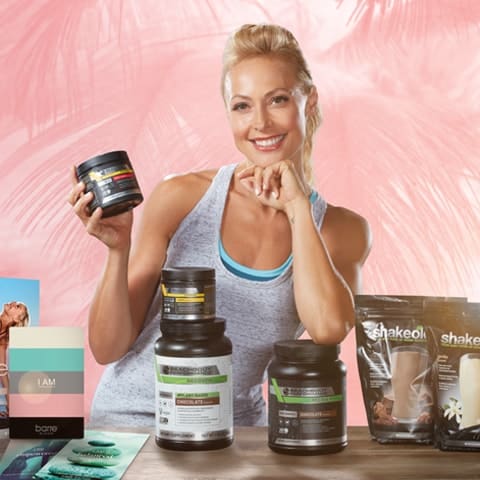 Should I buy the workout supplements too?
Beachbody's workout supplements are also optional and up to you. For us, Energize and Recover are non-negotiables!
Energize gives us a pep as our pre-workout, and Recover helps with our muscle soreness after lifting weights.
You can learn more about the Beachbody Performance Line here.
How can I save money?
You could choose just to do Beachbody on Demand if money is tight.
If you wanted one of the supplements or Shakeology, choosing a Challenge Pack helps you save about 25%.
A challenge pack includes a supplement of your choice and Beachbody on Demand.
Can anyone try an advanced workout?
Sure! A beginner or intermediate exercise can always try an advanced workout and modify it. With that said, you should always listen to the trainer's cue, not push yourself too hard, and give yourself time to build up to a harder program.
The great thing about Beachbody workout programs is that you can always find something no matter your current fitness level!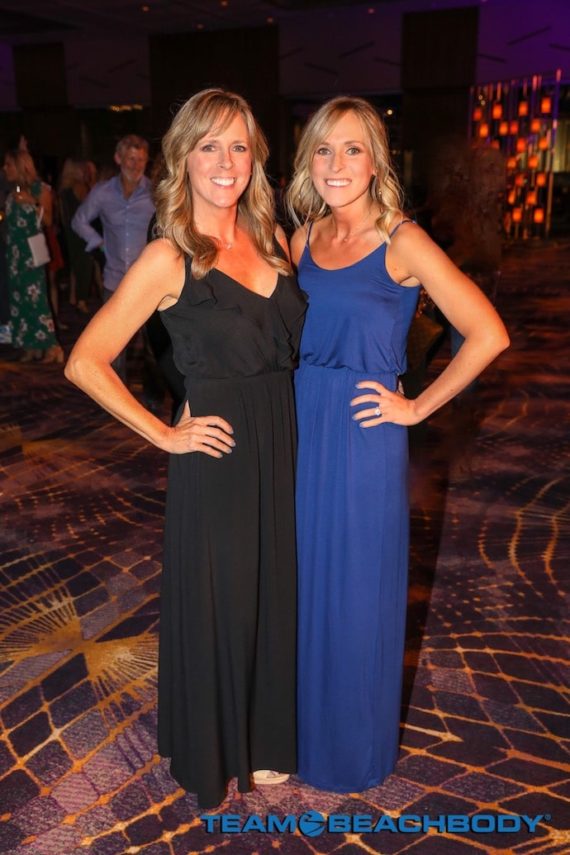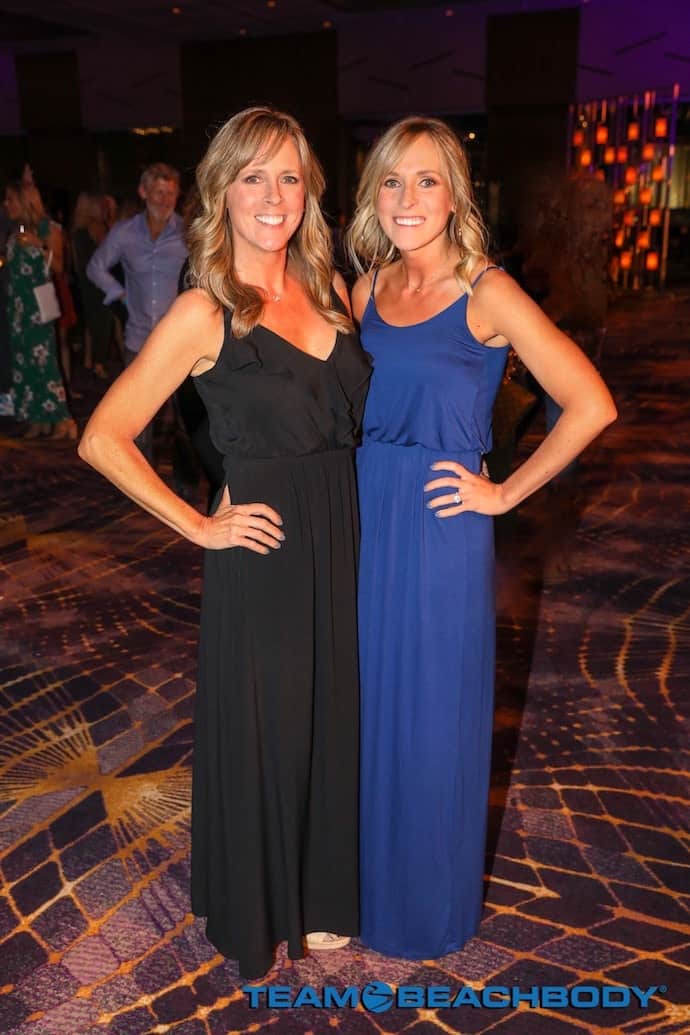 What if I usually lack motivation or don't follow through?
All of these Beachbody Programs also include a coach!
My mom and I are both full-time coaches and have done most of these programs! We can help you choose the best workout for your goals and lifestyle.
We have helped people:
lose over 80lbs+
gain lean muscle
compete in competitions
get the baby weight off
stop emotionally eating
learn simple tricks to better nutrition
We'd love to learn more about your goals and have you join our accountability group.
If you'd like to get in touch with us you can email us at thegirls@soreyfitness.com or fill our a questionnaire for our 21 Day Challenge.
Before you write off having a FREE coach, read our article on how a Beachbody Coach helps you!!
You may also click better with one Beachbody trainer over another. Luckily, most of them have more than 1 program, and it's totally okay to repeat a program!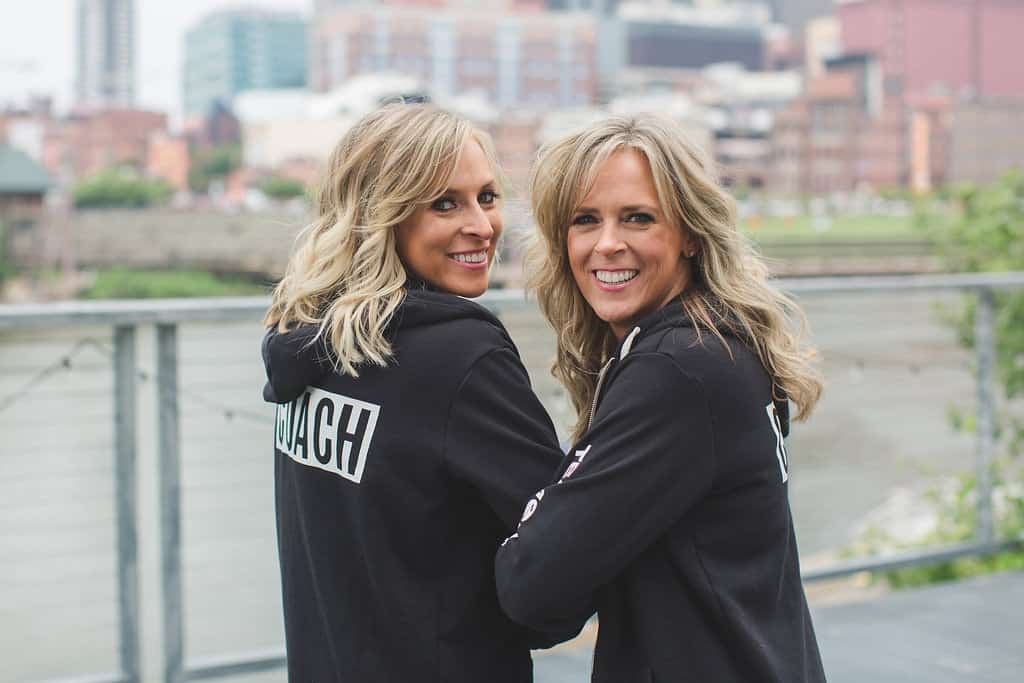 How We Got Started
We signed up to coach after trying out several programs and falling in love with the high-quality videos & calendars!
We also wanted the 25% coach discount on Shakeology and to make an extra income.
That was in 2011.
Since then, we've built a community of over 4,000 clients and coaches!!
We're an Elite Beachbody Coach Team, and coaching is what we do full-time.
While it's not necessary to coach, if you love a few of these programs – why not try it?
Still not sure which of the Beachbody programs are right for you?
You may also like:
These statements have not been evaluated by the Food and Drug Administration. Consult your physician and follow all safety instructions before beginning any exercise program or nutrition plan, or using any supplement or meal replacement product. See our terms of service here.