#MBF & #MBFA Honest Review & Results
This post may contain affiliate links. All opinions shared are my own. As an Amazon Associate I earn from qualifying purchases. Click to view our full disclosure.
Beachbody's #MBF and #MBFA helps you build lean muscle, burn a ton of calories, and transform your body in 6 weeks! Learn what you need to know about the workouts and nutrition plan and see the before and after results!
We actually had the opportunity to interview the trainer, Megan Davies, recently on our podcast! She dished about the workouts, her go-to foods, and willpower.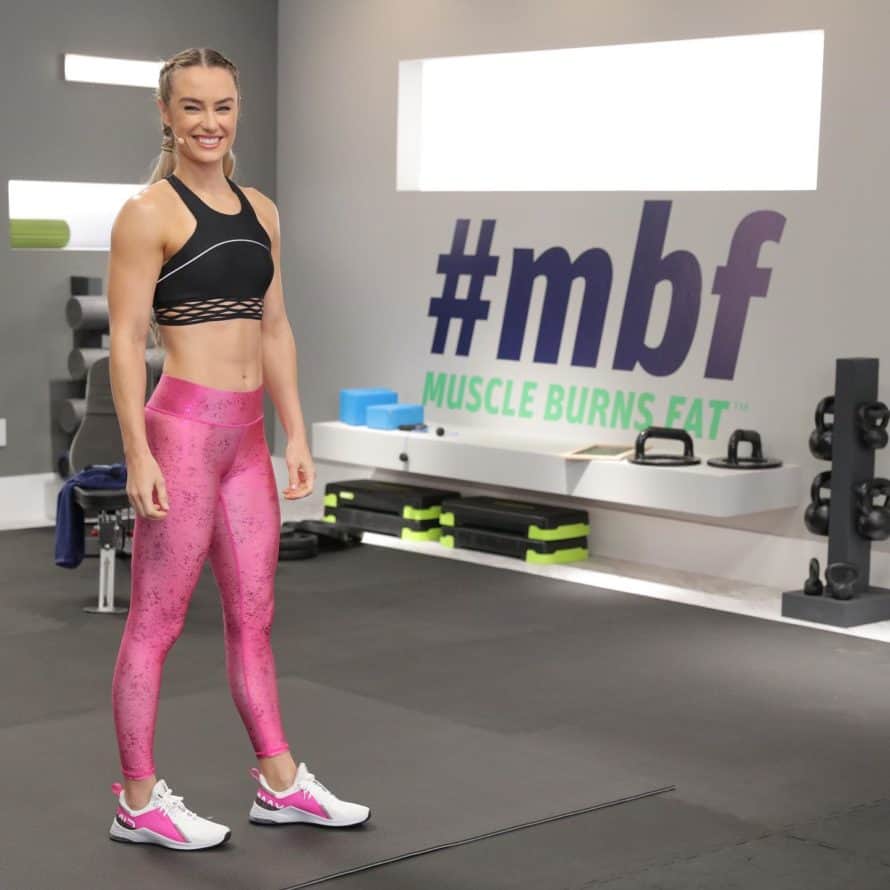 What is #MBF and #MBFA?
#mbf (Muscle Burns Fat) and #mbfa (Muscle Burns Fat Advanced) are two separate workout programs designed to be done back to back. Each workout is unique and helps you get lean, strong, and healthy as your boost your metabolism and burn fat!
"I created both programs to be done back-to-back," Megan explains. "Ideally, you'll start on a Monday, and commit to finishing 21 workouts. Crush the first three weeks, and you can move on to the advanced program, where I dial-up the intensity and really push your results to the next level!"
What We Loved
This workout program does a great job combining strength training and cardio. The moves were simple to understand, got our heart rate up, and Megan's cueing is great!
We also love that none of the workouts repeat, and the music kept us pushing to our limits.
They workouts were also a lot of fun!
Who will love this program?
Men & women looking to lose fat and gain muscle
Anyone looking for 25-40 minute workouts
Someone that loves lifting heavy and doing circuit-style training
All fitness levels are welcome!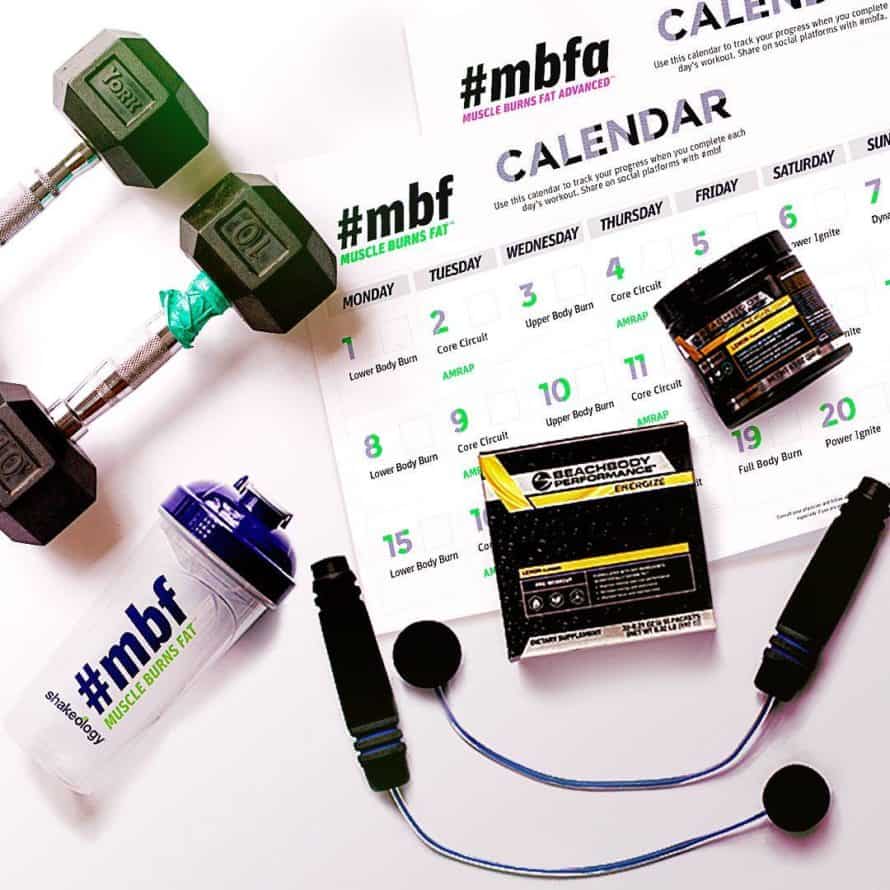 The #MBF and #MBFA Workouts
You'll workout 7 days a week, and the workouts range from 25-40 minutes. Each day includes a new workout, and you'll never repeat the same workout twice!
Monday, Wednesday, and Friday are your strength workouts. You'll do asymmetrical training where you'll use one weight instead of two. This type of training helps to challenge your body and balance more — thus burning more calories and getting the max out of each workout!
Tuesday and Thursday are cardio workouts where you'll do as many rounds as possible (AMRAPS) of 4 moves. An example of an AMRAP circuit would be skier jumps, wide out punch, double cross jump, and then jumping rope.
Saturday workouts follow a different pace called, EMOMS (every minute on the minute). These workouts are short, but they're tough! You'll be doing one move for a minute straight. An example of a move from this workout would be an inchworm to a push-up.
Sunday focuses on recovery and stretching.
There are also 10-minute bonus workouts you can add on! They are Core, Lower Body Ignite, Upper Body Ignite and Full Body Ignite.
#MBFA is very similar, but she adds in "Megan Minutes" at the end of each round. This is essentially a burn-out minute to blast more calories!
You also shouldn't expect to bulk up with this program. If you're looking for a bulking program, we'd first recommend Body Beast.
Is there a modifier?
We believe there will be a modifier in both programs because it's designed for beginner and intermediate exercisers.
Is #MBF on DVD?
No, neither 3-week program is available on DVD. They'll be exclusively on Beachbody on Demand.
If you haven't tried streaming with it yet, it's really easy to use! You get access to hundreds of workouts, can download a week, and even stream to your TV with the right device. You can start a free trial now!
Learn more about streaming with our Beachbody On Demand Review.
What equipment is required?
For this 6 week program, you'll only need: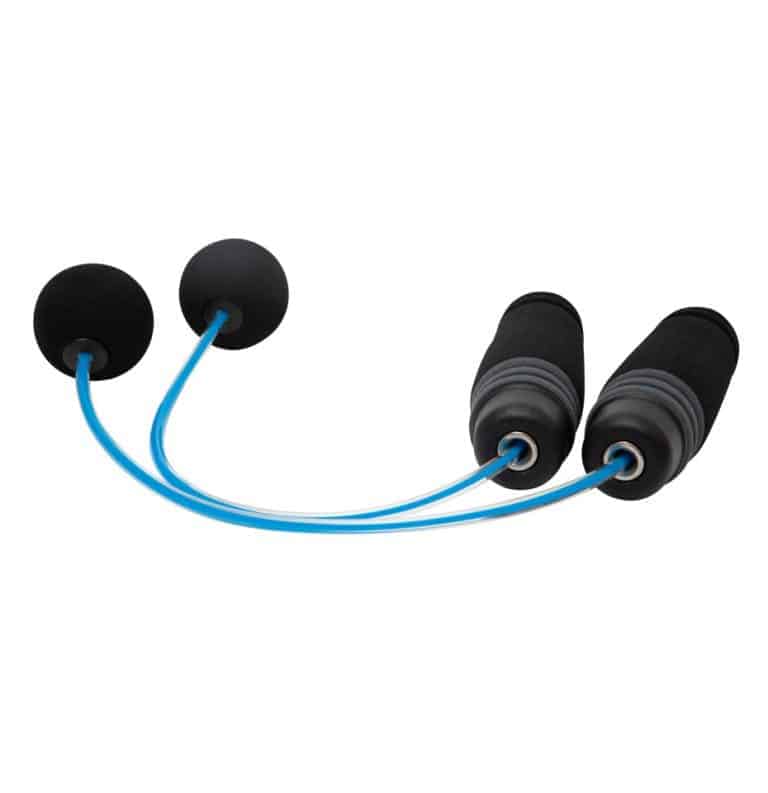 What if the BOD Rope is sold out?
BOD Rope is Beachbody's new innovative cordless indoor jump rope. Due to demand, we expect the rope to be sold-out or back-ordered at points. If this happens, you can always get a similar cordless rope off Amazon.
The #MBF and #MBFA Results are truly amazing.
The Muscle Burns Fat before and after photos blew us away!! We haven't seen results like this since the 21 Day Fix! You'll see that the test group got results in just 6-9 weeks!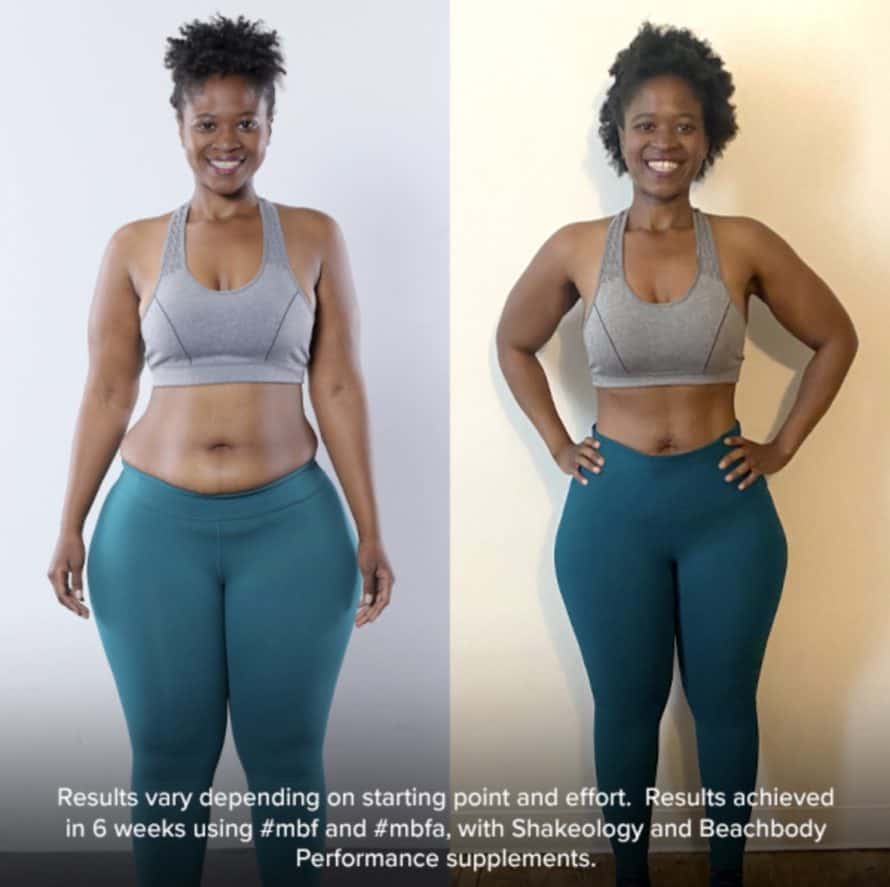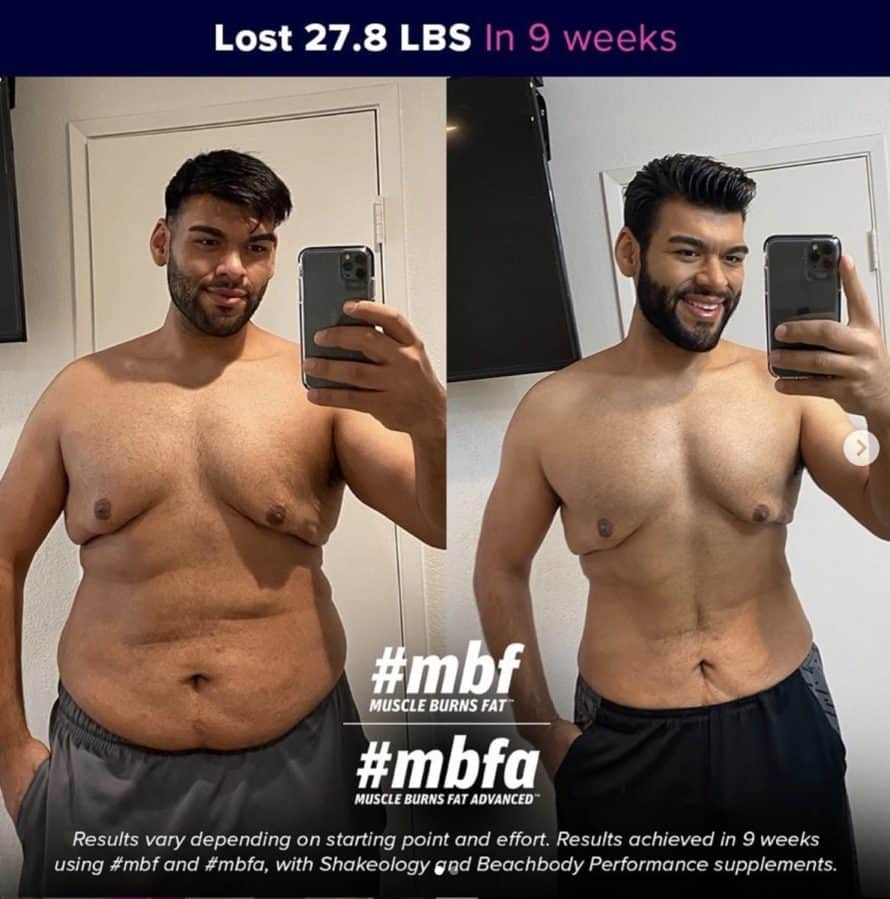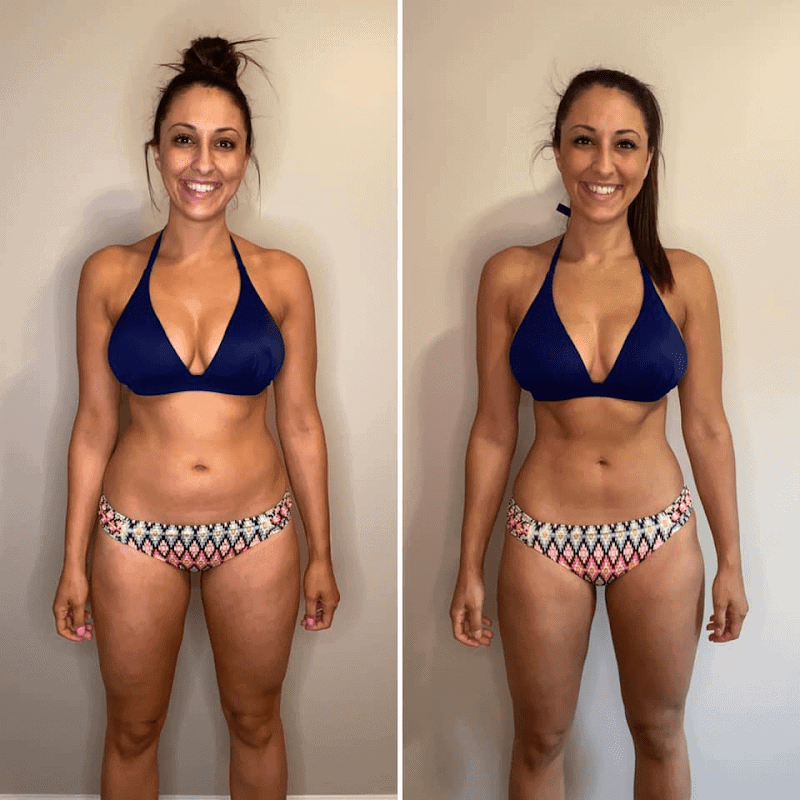 #MBF and #MBFA Meal Plan
Fueling your body is key! One complaint we have about the program is that the provided nutrition guide is kind of generic. While it has some eating ideas, we really recommend using either 2B Mindset, Ultimate Portion Fix (Containers), or The Girls Guide to Getting Strong Macro Guide.
Megan, the trainer behind the program, also uses and recommends:
Shakeology,
Energize,
Hydrate,
and Recover.
Shakeology is a great on-the-go option that provides a ton of nutrition all in one smoothie. You can grab our Shakeology review for more details, but it's ideal if you're not big on meal prepping or eating your vegetables. We prefer chocolate Shakeology, and the Cafe Latte' is great for coffee drinkers!
Energize – can help improve your performance, recovery time, and delay muscle fatigue. It also doesn't have artificial ingredients or junk in it – so we feel strong not jittery. (The Beta Alanine in it can make you tingle a bit though!) You drink it 30 minutes before your workout.
Hydrate – You drink hydrate during your workout to help refuel your body of its electrolytes.
Recover -You drink Recover right after your workout to help repair the muscle fibers you just worked. Both the chocolate and orange flavors are super tasty, and we definitely feel less sore the next day after drinking it!
You can also learn more about the Beachbody Performance Line before deciding it they're right for you!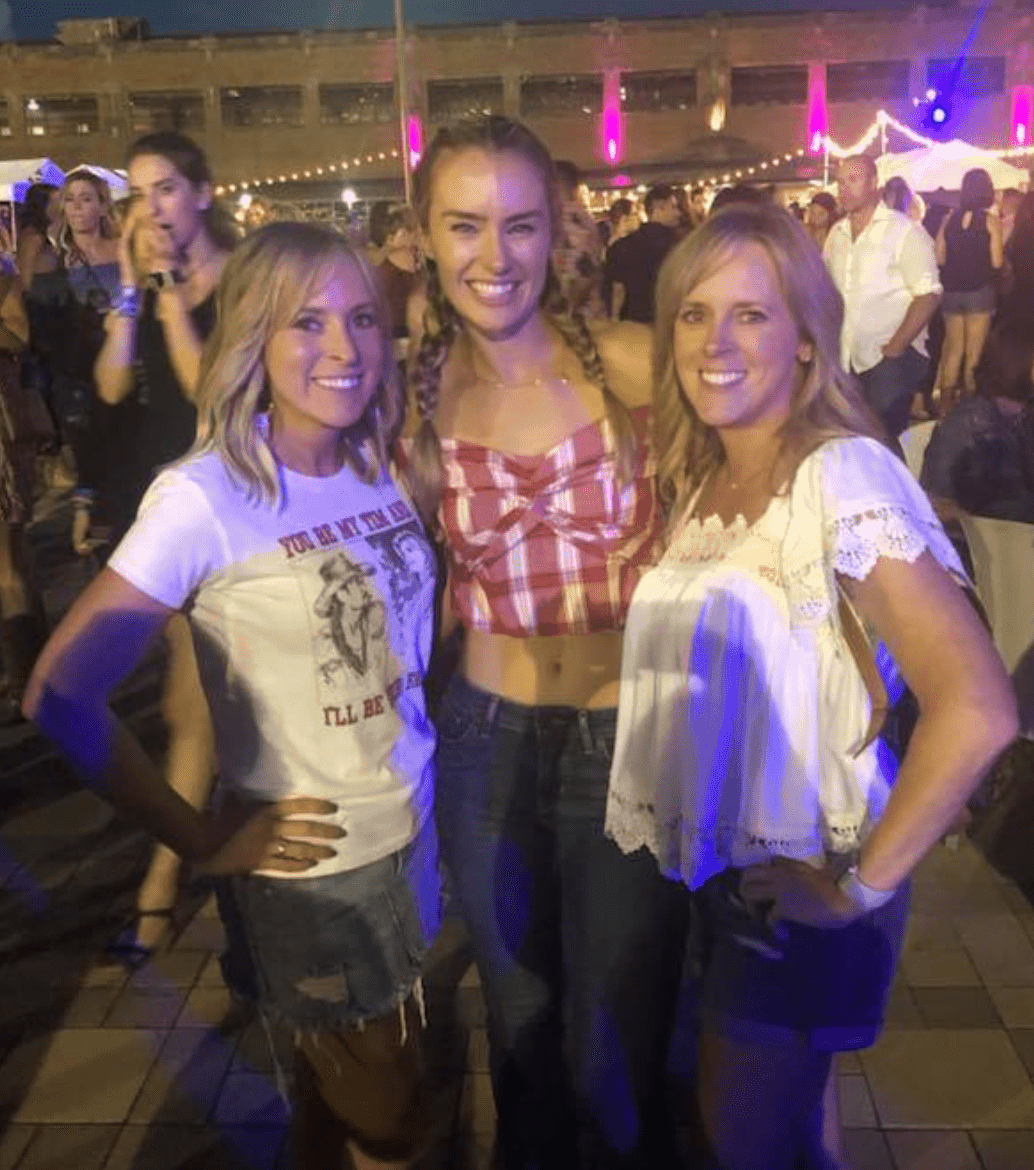 Who is Megan Davies?
Megan Davies is the Beachbody super-trainer behind Clean Week, #MBF, and #MBFA. Before becoming a super-trainer, she was a sought after personal trainer and actually opened her own gym! We love that she's super nice, motivating, and meets you where you are in your fitness journey.
What's included?
You can stream both programs with any Beachbody on Demand membership starting December 18, 2020. If you don't have BOD, you can get started with a membership or a challenge pack if you'd like the workouts plus the supplements. The pricing varies on which option you choose.
Here are the 4 ordering options:
Should You Be a Beachbody Coach?
If you're already using Beachbody on Demand or some of the supplements we listed above, have you thought about coaching? Beachbody Coaches get 25% off their orders, make 25% off referring orders, and get first access to try new workouts like 9 Week Control Freak! It also free to sign up with a challenge pack and easy to cancel at any time. Another perk is you don't have to have inventory; you'll get a website to refer people to. We offer training to help you get started as a coach, too!
If you're interested in something like that, use the form below or learn more about coaching.
We're also happy to help with any questions! Email us: Thegirls@soreyfitness.com We're happy to help and are an Elite Beachbody Team.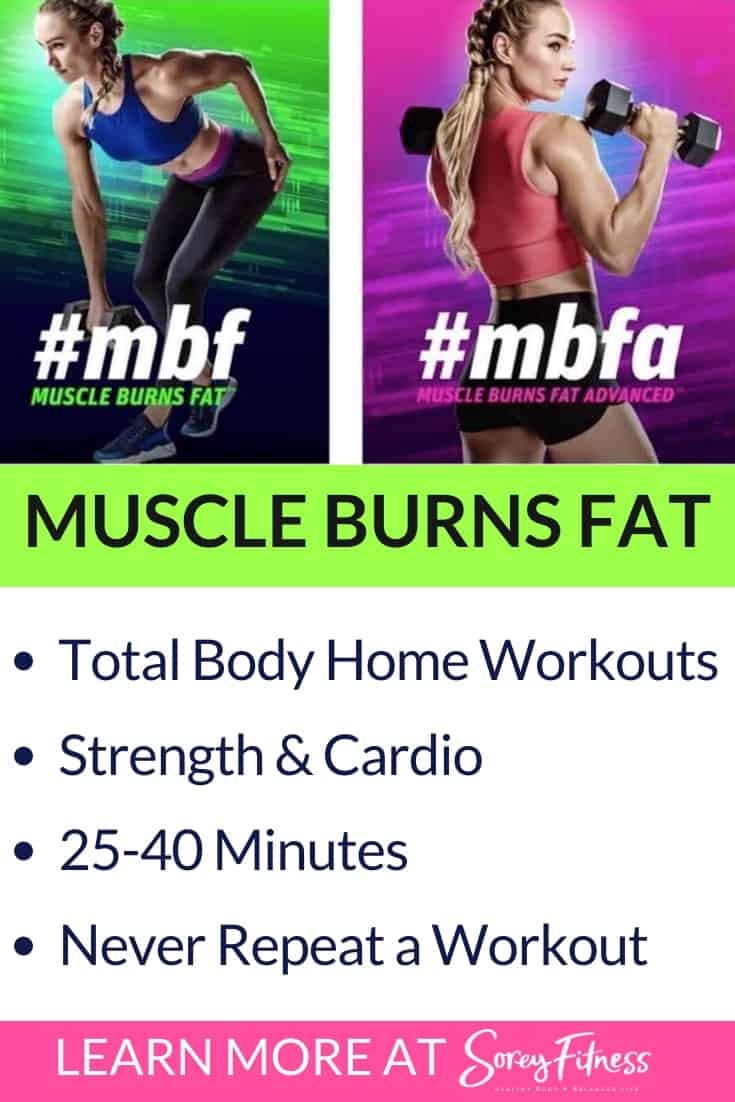 To Recap:
#mbf consists of two 21-day programs —Muscle Burns Fat and Muscle Burns Fat Advanced— designed to be done back-to-back. Megan Davies is the super trainer that will help you build lean muscle mass and burn fat with her 20-40 minute workouts.
Program Length: 3 weeks, 7 workouts a week, and all of the workouts are unique!
Intensity Level: Beginner-Intermediate
Equipment: Dumbbells, mat, and BOD Rope
Meal Plan: Includes a generic plan – You can also add on 2B Mindset or Ultimate Portion Fix
Get in touch:
Want some help on your health and weight loss goals? Let us know using the form below!