How to Get Beachbody on Demand On Your TV (& Have Multiple Users)
This post may contain affiliate links. All opinions shared are my own. As an Amazon Associate I earn from qualifying purchases. Click to view our full disclosure.
We switched to streaming our workouts about a year ago, but I was hesitant to start streaming in the beginning though. I wasn't sure which devices supported Beachbody on Demand, and if it would be easy to use.
Luckily, it is very user-friendly, and there are several devices to pick from. These devices are important because they allow you to stream Beachbody on Demand to your TV.
We'll look at how you can stream Beachbody on Demand to your TV with your choice of device and provide details on having multiple users on your account.
Currently, Beachbody on Demand is available online through your Internet browser and across several platforms including Amazon's Firestick, Roku, Chromecast, and Apple TV. You can also get the app to track your heart rate with an Apple Watch or Wahoo TICKRX heart rate monitor!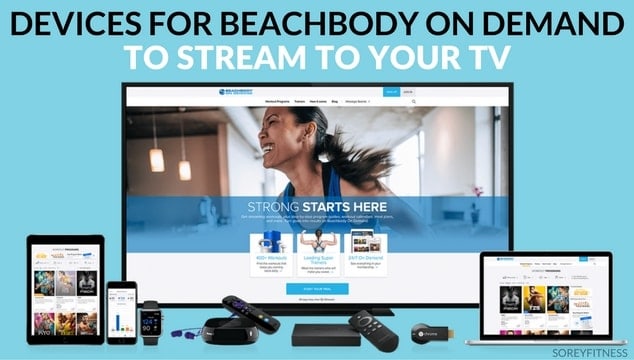 This post contains affiliate links; see our full disclosure here.
What Devices Support Beachbody on Demand?
You'll can stream Beachbody on Demand to your TV using these devices:
Amazon's Firestick and Fire TV
Google's Chromecast
Apple TV
iPhone and iPad
Apple Watch
Below you'll find the detailed specifications for each brand:
Amazon*
All Firestick and Fire TV devices are supported.
Roku*
Roku 2 (2400X/EU, 3000X, 3050X, 3100X/EU, 4210X)
Roku Streaming Stick (3400X, 3420X)
Roku 3 (4200X/EU, 4230X)
Roku Streaming Stick – HDMI (3500X and later)
Liberty (5000X)
Google
Google Chromecast
Chromecast
The Chromecast stick
Apple TV
4 generation Apple TV ONLY

AirPlay streaming supported on all platforms.

Mobile
iPhone (iOS 9 or later) and iPad.
Heart Rate Monitors
Apple Watch.
Wahoo TICKR X.
*Roku, Apple TV, & Amazon Fire TV/Stick currently don't work in Canada.
*Chromecast is on Mac, Windows, & iPhone with the Beachbody On Demand App
Each device should have a free app you can download. Then, you'll need to log in with your membership to access the workouts and more.
5 Steps to Get Beachbody on Demand On Your Device (Apple TV, Firestick, Etc)
These 5 steps will connect your device to your Beachbody on Demand account so that you can just open the app and workout each day. The set up is easy and just a 1-time thing.
Turn on your choice of device and search Beachbody in the app store
Select Beachbody on Demand's app or channel and install
Launch the app and sign into your Beachbody account.
For Roku and Fire TV users, you'll need to activate your account. This is an ONE-time thing, but you'll want your computer close to connect your account to your device.
Start working out!
Can You Access Beachbody on Demand From Your Computer?
Yes! It's helpful to be able to access it from your computer when you're wanting to print off a workout calendar or nutrition plan. I also like the option when I'm traveling.
If you don't have one of the devices above, you could also buy an inexpensive HDMI cord to connect your TV and laptop to see Beachbody on Demand on your TV screen.
In addition, we also have had clients access it by going to the Intenet on their Playstation 3+ and logging in through the browser. Though it's definitely a better user-experience through one of the devices above.
How Many Devices Can Be Logged Into Beachbody on Demand?
As of right now, there is no limit on how many devices are logged in your Beachbody account.
For example, you could use it in your home-gym, and your spouse could workout in the garage with a Roku.
Multiple devices can be logged in at this time; however, Beachbody reserves the right to restrict access if this is being abused.
My rule is to treat it like a Netflix account – sharing just within the family. Plus, as you workout – you'll receive weekly updates on how you did each week. If you're sharing your login across a ton of devices it messes up your stats and could raise a red flag.
Are you streaming yet?
If you're researching Beachbody on demand, we highly suggest checking out our full guide:
It's not just a few programs, you literally get access to hundreds of Beachbody workouts. In addition, you can download each program's nutrition guides, calendar and more.
With Beachbody on Demand, working out at home is affordable. You're able to stream 700+ workouts from your laptop, phone or one of the devices below for $39 a quarter.
If you're ready to try it – for free – click the link below!
You may also like: