It's exciting when you fall in love with living a healthy lifestyle. We loved working out at home and sharing nutrition tips with friends, but it wasn't until we started researching Beachbody coaching we realized it could be a real way to make an income too. In this post, we'll break down our personal Beachbody Coach review, as well as, look at how coaches make money.
But that's not all.
We'll also look at the start-up costs and frequently asked questions how to become a Beachbody Coach.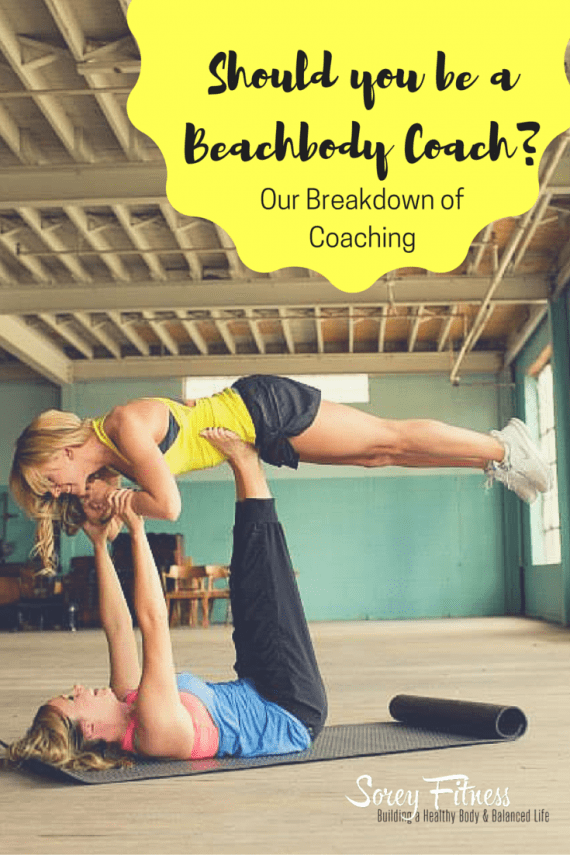 But first -who are we?
We're a mother-daughter team. We work together as a pair, and we've been coaching full-time since 2012. We've been given titles of Success Club Legend, Elite, and 5-6 Star Diamond, however, our biggest accomplishment is helping over 4000+ people get healthier.
During a very uncertain, stressful time – coaching helped us stop feeling trapped financially and excited to start helping others.
When we started coaching we were a MESS financially. We had over 54,000k in debt, and we had recently lost our home. Talk about stress!
It's a wonder that we even signed up to be a Beachbody coach during all of that.
Within 2 years of coaching, our lives looked completely different. We had paid off a lot of our debt, made 3x+ what we did in 2011 as teachers, and were able to help people on a daily basis.
Along with the income side of things, Beachbody coaching has allowed us to make new friends, encourage others, and sticking to our own health and fitness goals each day.  We've been also been able to meet the CEO of the company, top trainers, and more.
5 Questions about the Beachbody Coaching Opportunity
What does a Beachbody Coach Do?
A coach is someone who helps and motivates others to achieve their health and fitness goals. We love working out at home and trying new things, so it made sense for us to coach.
You can also choose to grow a team of coaches like we have. Most of our coaches are actually customers of ours that saw amazing results.
Some coaches just want to do it for accountability or some mad money while others (like us) wanted to turn it into a business. We can help you with whichever level you'd like to be.
Beachbody coaching is now offered in the United States, Canada and the UK.
How much does it cost to be a Beachbody Coach?
There are a couple of options to become a Beachbody Coach.  You can choose to sign up with a Challenge Pack or for $39.95.
A challenge pack includes a workout program of your choice or a year membership to Beachbody on Demand – Beachbody's streaming service similar to Netflix. Plus you'll receive Shakeology with your pack.  With the challenge pack, you save about 25%, get discounted shipping and have access to your Beachbody Coach Starter Kit.
Whether you choose to sign up for $39.95 or with a pack, you'll receive materials and training to help you get started right!
You never have to worry about inventory, sales quotas, or overhead when you are a coach. You also can cancel with no penalty at any time.
And that's not all:
You also get access to an online office that we use daily with training, 3 websites for people to order from you, and access to all of our team training.
Are there any other Beachbody Coach Fees?
It's $15.95 a month to maintain you Beachbody coach membership, and that's usually covered from one sale.
Beachbody Coach Military Discount
You can sign up to coach for free if you or your spouse is either active or retired military. You basically can coach purely for the discount without paying any sign-up or monthly fee.
Can Become a Beachbody Coach just for the Discount?
Yes! You get 25% off any of your personal orders. No one has to know you are a coach, and you'll still be invited to our client groups.
If you are already drinking Shakeology every day, you will save approximately $30 every month on it just with your discount! That's $360 a year or about $170 after the monthly coaching fee. You also get 25% off any supplements or workouts.
Learn more about the Beachbody Coach Discount here.
How Much Do Beachbody Coaches Make?
A Beachbody coach's income varies from person to person, but we all make an income the same way.
Beachbody coaches make money through commissions and team volume. Coaches can also qualify to earn monthly prizes, quarterly bonuses, and trips.
Every coach makes 25% commission off orders, and each coach has the equal opportunity to grow a team of coaches like we have.
When you have 2 people on your team, you can begin to earn a team bonus. In the beginning, your commissions may be the biggest part of your income, but as your team grows the largest part may become team cycle bonuses. You can learn more about Beachbody Coach Ranks here.
Coaches can also earn quarterly bonuses starting at the Diamond rank. They may also earn the title of Elite Beachbody Coach like we have which has additional perks.
The trips are also something coaches can earn including their hotel and some travel expenses. There are 2 trips offered each year – one based on a sales goal and the other more on rank.
We've also provided a more detailed approach to Beachbody Coach's Compensation Plan or here's a video to explain the 4 ways to earn.
What are the benefits to being a Beachbody Coach?
For us, Beachbody coaching has changed our entire lives. It's affected our mindset, communication skills, friendships, health and financial status.
We couldn't be more grateful for this opportunity. The benefits can be as small as the 25% discount or as large as your dreams allow. 
Here's the deal:
It all depends on what YOU want to accomplish and what YOU put into it.
How can you be a Beachbody Coach on Our Elite Team?
You can apply to join our team below or apply using this form. From there, we'll reach out to you to answer any questions you may still have and help you game plan what your goals will require.
If you decide to join our team, you'll receive:
14 Basic Training Lessons
Support messages and 1 on 1 call to discuss goals
Private accountability group with new and very established coaches for brainstorming and accountability.
Weekly Team Calls and Recordings
Access to our Monthly & Daily Calendars
A password-protected, training website with additional resources
Latest training from Beachbody's leaders. We attend every Beachbody live event including their Leadership Retreat which is only open to the top 1% of coaches.
Not only have we grown a strong business, we've helped others do the same.
I can still remember the day I hit the "Coach" button on Kalee Sorey's page. It is funny, I did not have one doubt I was going to have fun and learn a lot along the way. Kalee and Kimberly have become somewhat like family to me. A  lot of coaches approached me to join their team but none of them felt right. I have not ever regretted joining their team. I learn every day from the both of them, and I love the way they create a "team" feeling. — Judy Malone, Diamond Coach
"I am part of this team. I love how they support me and give me new ideas. Their great example is what made me think I could be successful in this business! Thanks, Kalee and Kim." – Beverly Mockford, Beachbody Coach 2012
Just make sure it shows Kim as your coach, if not you can do a Coach Lookup using the ID 301223.
We will send you a Welcome Email and help you get started once you're signed up.
How Can You Actually Do This?
Beachbody coaching is not one size fits all. We can help you strategize a game plan to help you hit your specific goals and lifestyle.
I started coaching in college because of the flexible hours and freedom to grow an income. My mom started in her 40's, and we have successful mom's, teacher's, nurses, and more all on our team.
If you have questions on finding the right Beachbody Coach for your health, fitness or business needs – check out this guide or feel free to email us at thegirls@soreyfitness.com.
You May be Asking "Why Should I Become a Beachbody coach?"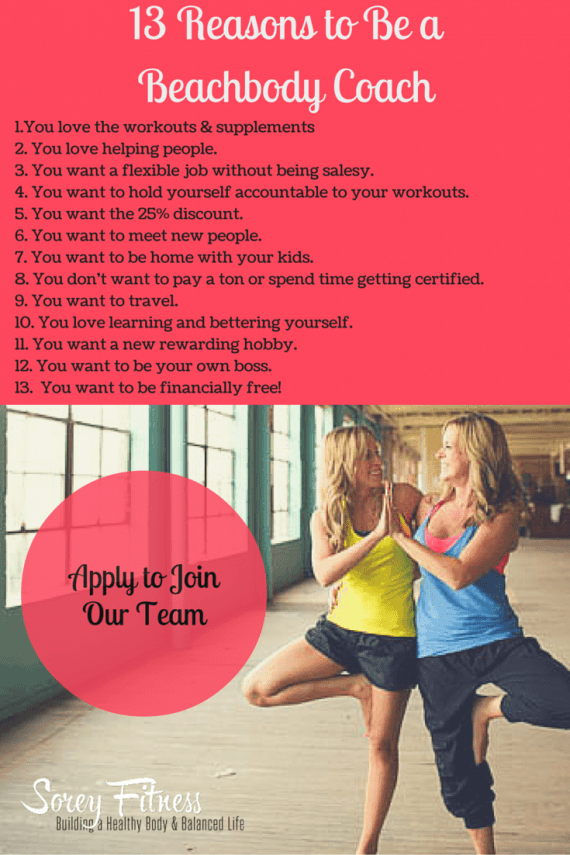 We know you are busy enough already, but maybe you are drawn to this opportunity like we were.
For a simple guideline, we recommend having at least an hour a day to commit to coaching if you'd like for it to be a significant income.
Just like any job or business – it will take work. It's not a get rich quick kind of thing. No secret sauce. If you'd like to learn more on the income side of coaching check out this post. When we first started, we broke up that hour into 15-minute chunks, and our training is also always online and in bite-size lessons so you can customize them for your schedule.
Other Questions Asked
Do you have to be in super great shape?
As a coach, you don't have to be ripped or even at your goal weight. Some of our top coaches are just starting their journey to healthy living. They added the title of coach for extra accountability! People really relate to their story and progress.
You also do not need to be certified in anything to coach. You aren't creating a meal plan or workout for someone – Beachbody already has had the top nutritionists and trainers do that. A coach just helps someone actually USE those tools versus letting a program sit on a self.
Do I have to sell to my friends? I'm not a salesman!
I must say: we are not big salespeople. We are both pretty shy and a nerd when it comes to health, but people need someone just like them to help them stick to their goals. 1/4 of America is obese, and they may not know what it is to live a healthy lifestyle versus dieting.
Can a Blogger Monetize their Site or Brand with Beachbody Coaching?
In short- totally! We've seen our blog's traffic and income increase because of reviews we've done on Beachbody products. Since coaches don't have inventory, you can link directly to the product on your website and everytime someone buys with you as their coach you earn a commission.
You can also decide to grow a team, or you might be perfectly happy with the commission coming in. We've broken down our traffic and monetization using coaching here.
Why Be a Beachbody Coach Versus Becoming a Personal Trainer?
We chose to coach because we loved the products. We had looked at being a trainer as well, but then your working odd hours and limited to a number of people you can train.
If you decided to open up another business like a gym, you're looking at crazy start-up prices too.

Here is just a rough estimate of the income you can make in a traditional fitness field. We are able to make more money, help more people and have flexible hours as coaching. Plus the overhead is much less!
How do I find my first clients and coaches?
We walk you through step-by-step how we grew our business. If you decide to join our team of coaches we provide you with a daily email lesson or a Coach Basics Bootcamp to help you get started. We provide examples, how-to videos, and everything you need to be successful.
I honestly know if two shy girls can do it, anyone can! Plus we will be there to help support you if you decide it's a good fit.
What if I become a Beachbody coach and don't like it?
It's super easy to cancel, and we'll still be your coaches for any health or fitness questions you have. It's also free to cancel.
Things to Remember:
This is NOT a get-rich-quick scheme. It's a business that you'll need to be passionate about and work on daily.
You don't have to be at your goal weight to be successful. People love connecting with a coach in the same place they are.
In just an hour a day, you can start your coaching business. We even broke it up into 15-minute segments!
Since we teach you how to use Internet marketing, you don't have to be limited to your local area. We have clients in the United States, Canada, and the UK!
You also don't have to be an expert! Beachbody is the expert – and you're the real person cheering someone on!
So Now What?
We've thrown a lot at you! Now, it's your turn.
We'd love to talk about your questions and goals by email. We're happy to help you find the right workout, talk about hesitations or brainstorm a game plan for your goals. We have an amazing team of coaches as well, and we'd love to have you be apart of our community!
So if you're ready:
Just make sure it shows Kim as your coach, if not you can do a Coach Lookup using the ID 301223.
We will send you a Welcome Email and help you get started once you're signed up.
Did this Beachbody coaching review help you?
If you're still thinking it over, we put together a quick video breaking down what we do and how we make a living here. If you have any questions, just let us know on the application below. Can't wait to talk to you soon!
If you have questions about this Beachbody Coach Review – we'd love to chat more. If you'll use the application below, we will reply within 24 hours.
Beachbody does not guarantee any level of success or income from the Team Beachbody Coach Opportunity. Each Coach's income depends on his or her own efforts, diligence, and skill. See our Statement of Independent Coach Earnings located in the Coach Online Office for the most recent information on our Coaches' actual incomes.
The Statement of Independent Coach Earnings can be found at 
http://www.beachbodycoach.com/uploads/fckeditor/mdbody/File/downloads/statement_of_independent_coach_earnings.pdf