As a part of our complete Beachbody on Demand guide, we'll be looking at which programs are included and if you can download them.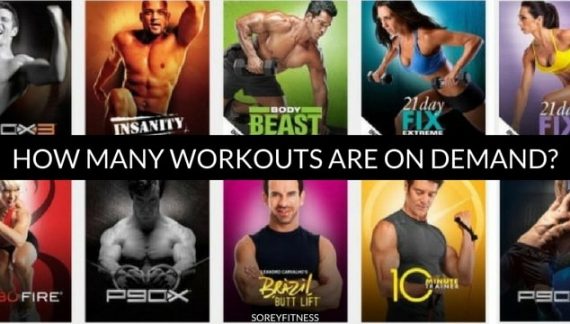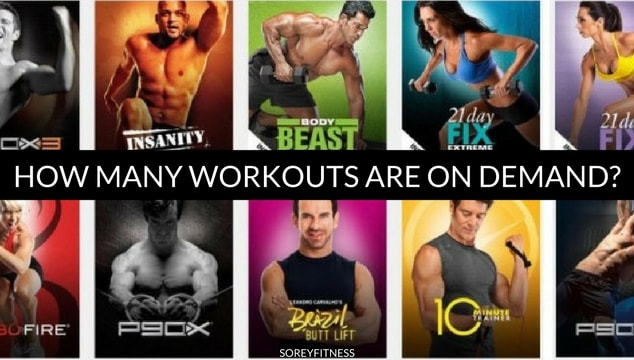 Do you get access to every program on Beachbody on Demand?
Yes, you get access to every workout program with any level of membership. You also receive each program's meal plan, calendar, and any extra guides offered. In addition, you'll also have access to any sneak peaks to new programs, Autumn's cooking show, and exclusive BOD workouts.
How many workouts are on Beachbody on Demand?
There are over 700 workouts on Beachbody on Demand currently, and new workouts are continually being added each month. Members will see these new workouts automatically added to their library as they are released.
Exclusive additions include Clean Week, Beachbody on Demand's Yoga Studio, Shaun Week and 80 Day Obessesion.
Beachbody On Demand Workouts
You'll receive access to every Beachbody workout with your membership; however, here are some of our favorite programs.
Shift Shop
21 Day Fix
CIZE
PiYo
Country Heat
Core de Force
22 Minute Hard Corps
21 Day Fix Extreme
Focus T25
The Master's Hammer and Chisel
Body Beast
P90, P90X, P90X2, P90X3
TurboFire
Brazil Butt Lift
10 Minute Trainer
INSANITY, The Asylum and INSANITY MAX: 30
Tony One-on-One
Hip Hop Abs
Tai Cheng
Rev Abs
Rockin' Body
Slim in 6
Turbo Jam
Total Body Solution
Yoga Booty Ballet
Ho' Ala ke Kino
Power Half Hour
Great Body Guaranteed
Get on the Ball
Project You
ChaLEAN Extreme
Along with these programs, you also have exclusive Beachbody on Demand workouts. These include 21 Day Fix "REMIX" workouts, live workouts by certified trainers, Autumn's active maternity workouts, Clean Week, and more! Also, the bonus workouts you normally receive from a coach are also included!
Curious about at home workouts? Check out our guide to at home workouts!
Here's a quick review of Beachbody on Demand as well!
Can you download Beachbody on Demand?
Yes, You can download workouts on your iPhone or iPad through the Beachbody on Demand app. You can download up to 7 workouts, and they last for 14 days! From our experience, we haven't been able to delete them before then. Because of this reason,  we prefer to use our iPad versus our phone because each workout takes up space.
Here's a quick video tutorial outlining how to download Beachbody on Demand Videos:
This video mentions the "library" but now all memberships include all of the workouts.
Steps on How to Download Beachbody on Demand Workouts
Download the Beachbody on Demand app onto your iPhone or iPad
Go to the program & workout you want to download
You'll see the download option on the far right
Choose your download size
Once it's downloaded, go to the gear icon on the top left and click Offline.
There's your workout(s)!
If you want to see the downloaded workout on a TV versus your phone or iPad, you could use an HDMI cord (affiliate link) if your TV has a port.
Where Can You Stream Beachbody on Demand?
You can access BOD from your laptop, iPad, or iPhone, and if you have Wi-Fi there is no reason to download the workouts. You can stream them right from your device.
How to Stream Beachbody on Demand To a TV
I personally like to see my workouts on my TV. Streaming with BOD is so simple too! You have a couple of options to get BOD on your TV.
HDMI Cord – This is a cord that connects from your computer, phone or tablet to a port in your TV. Most new TVs have 2-3 HDMI ports. This can be messy and inconvenient though.
PlayStation 3+ or Similar Item with a Browser Option – You could use a PS3+ or similar system with a browser to search BeachbodyonDemand.com and stream that way – also kind of a pain.
BEST OPTION: Choose a Device – Beachbody on Demand is now available across several platforms including Apple TV,  Roku, Google Chromecast, and Amazon Fire and Firestick.
We both personally use our Apple TV, and it's so simple! You set it up in about 5-10 minutes, and then you're set!
If you're still considering streaming your workouts, you might also like: