How Much Does Beachbody on Demand Cost [Plus Get a Free Trial]
This post may contain affiliate links. All opinions shared are my own. As an Amazon Associate I earn from qualifying purchases. Click to view our full disclosure.
Beachbody on Demand's pricing can be a bit confusing. If you're researching the streaming service, this post will help outline how much Beachbody on Demand costs plus 2 ways to try it free!
With Beachbody on Demand (BOD), you receive access to 900+ workouts, bonus workouts, and new releases. You also have access to program's workout schedule, nutrition guide, and hybrid calendars.
You also receive access to sneak peeks of new workouts and a Beachbody coach like us!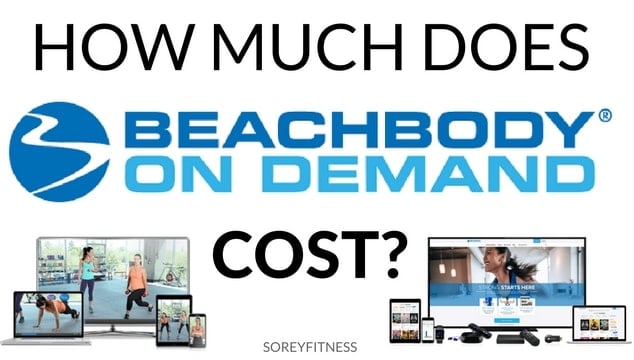 How much does Beachbody on Demand Cost?
You may have noticed already there are several different choices and prices associated with BOD. The reasoning behind it is to allow you to choose the best option for your budget and supplement preferences.
Whatever option you select includes unlimited streaming to all of the workouts.
If choose a Beachbody on Demand membership without a supplement, you can choose a 3-, 6- or 12- month membership option. It costs about $9.50 to do Beachbody on Demand a month on average.
Beachbody On Demand Pricing

3-Month Membership
6-Month Membership
12-Month Membership
14-day free trial
30-day money-back guarantee
30-day money-back guarantee
$39; billed after the trial
$59; billed on day 1
$99; billed on day 1
Another Look About Beachbody on Demand Cost
The 3-month membership includes 14-day free trial and is $39.95 each quarter after that. The average per week spent is $3.
A 6-month membership is $59 and includes a 30-day money-back guarantee versus the 14-day trial. It's $2.27 per week.
The annual membership is the best deal for $99 with the 30-day money-back guarantee. It breaks down to $1.90 a week.
You'll see all 3 options plus a Challenge Pack option with a supplement added in using the link below. If you choose the 3- or 6- month option you may need to scroll down a little to see it.

Beachbody Challenge Packs – BOD and Supplements Pricing
The pricing information above didn't contain any supplements. Below, we'll look at how much Beachbody on Demand is when it also includes a supplement of your choice in a challenge pack.
With the challenge packs, you receive unlimited streaming as well. You can choose the quarterly- or annual- pricing. If you choose annual, your membership will renew a year later and quarterly would be 3 months later.
Beachbody On Demand Challenge Packs Cost

Annual Membership
Quarterly Membership
$160 U.S. or $186 Canada
$140 U.S. or $164 Canada
Renewed in 1 year at $99
Renewed in 3 months $38.87
For simplicity sake – from this point on, we'll look at Beachbody on Demand Challenge packs as if they all include an annual membership.
If you aren't sure about the supplement lines, we've received each of them for you.
Each Beachbody on Demand (BOD) Challenge Pack includes either Shakeology, Daily Sunshine or the Performance line for max results. All 3 supplements are deeply discounted in the pack and are put on auto-ship. The auto-ship can be canceled at any time once you've received the product.
Your Annual Beachbody on Demand Challenge Pack Options:
Don't know what 2B Mindset is? Check out our 2B Mindset review!
We also just did a podcast about our Beachbody workouts and whether or not it's worth it! You can listen below or on any podcast app under The Kim and Kalee Show!
Is there a Beachbody on Demand Free Trial?
Yes! You can try Beachbody on Demand for free for 14 Days!
The Beachbody on Demand free trial allows you to have access to everything a member has! You can use it just like a member would. It does sign you up for the quarterly plan after the trial is over IF you don't cancel it.
If you decide it's not for you, you can call 1 (800) 470-7870 or chat to cancel it. I personally like the chat option the best, and I've found it to be easy to use!
Is Beachbody on Demand Worth it?
We love streaming though! Beachbody on Demand allows you to choose the best workout and meal plan for your lifestyle and goals. You could be 5lbs or 100lbs from your goal weight, and you can find the perfect program for you. Besides unlimited streaming of your favorite workouts, BOD also includes nutrition guides, exclusive bonuses workouts, a cooking show, and printable recipe guides, quick start guides and workout schedules.
What Does Beachbody on Demand Include?
900+ Workouts Include 21 Day Fix, Core de Force, Shift Shop, PiYo, Insanity, Hammer and Chisel & more!
Bonus Workouts from Beachbody Celebrity Trainers
Workout Calendars
Bonus Hybrid Schedules
Meal Plans for Each Program
Quick Start Guides for most programs
You can stream everything from your computer and download the printables. You can also stream Beachbody on Demand to your TV using several different devices listed here.
There is a Beachbody on Demand Special!
I know – what is better than a 14 Day Trial?
What about a free trial that doesn't require a credit card!
Just click "Do Clean Week for Free" for the FREE 7-day trial!
Did this post help you understand the different Beachbody on Demand prices?
If you have questions, don't hesitate to reach out to us!
You may also like: