Daily Sunshine Smoothie – A Healthy Food Allergy Friendly Kid Snack
This post may contain affiliate links. All opinions shared are my own. As an Amazon Associate I earn from qualifying purchases. Click to view our full disclosure.
Beachbody's Daily Sunshine is a healthy, 3-in-1 smoothie for kids! We love that it's organic, offers balanced nutrition, and is so easy to make, but we had to make sure kids liked it too!
Surprisingly enough — even the pickiest of eaters loved the taste of these strawberry-banana and chocolate smoothies! (Updated February 2020)

So whether you are cleaning up the pantries or finding food allergy friendly snacks, Beachbody's Daily Sunshine smoothie could be the perfect fit.
Below we'll outline our Daily Sunshine review, as well as, its ingredients, nutritional information compared to other snacks, and much more!
Daily Sunshine contains:
Organic fruits & vegetables (apple, strawberry, acerola cherry, blueberry, banana, sweet potato, spinach)
Organic pea protein (naturally dairy-free)
Healthy fats (ALA omega-3 fatty acids)
Fiber and probiotics to help with healthy digestion
It also has calcium and Vitamin C, D, and E. The formula is pediatrician approved and taste tested by kids.
Also, it does NOT contain any:
Artificial flavors, sweeteners, and preservatives
high-fructose corn syrup
fillers or binders
Plus, it has a 30-day money back guarantee!
Why Should You Try This Smoothie?
It's a super-clean snack that is balanced in nutrition to help you and your kids stay full. Both the chocolate and strawberry banana flavor can keep you both full and your kids growing.
It's also gluten-free, organic, soy-free, non-GMO, and dairy-free with only 3 grams of cane sugar added for taste. Any other sugar is naturally occurring in the fruits.

How Do You Make Daily Sunshine?
It's as easy as mixing it with 8 oz of water and shaking it up. You can also mix in a milk of your choice and fresh fruits and veggies with ice if you wanted as well!
Will My Kids Actually Drink Daily Sunshine?
The smoothies have been rigorously taste-tested by the toughest critics… kids, and it was only released after getting two thumbs up from picky eaters!
You can also use the shake mix to make a yummy fruit dip!

How Daily Sunshine Compares to Other Kid Snacks
Unlike other kid snacks, Daily Sunshine contains healthy fiber and probiotics.
What Flavors Are There?
Daily Sunshine comes in 2 flavors: chocolate and strawberry-banana.

Daily Sunshine Ingredients
The ingredients are similar in both the strawberry-banana and chocolate flavors. Above is the nutritional label for Strawberry-Banana.
You can also view the chocolate nutritional label here.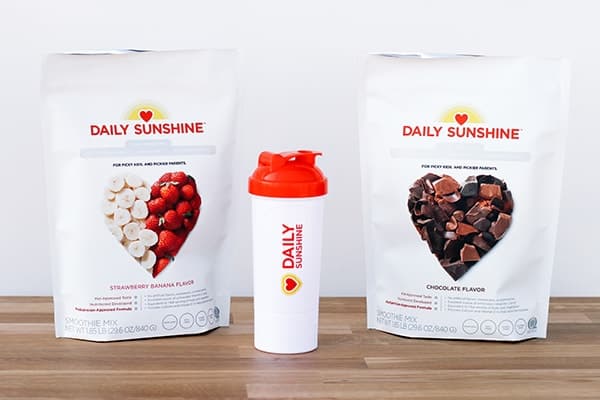 Where Can I Buy It?
You can only buy Daily Sunshine online at this time. The good news is you can get a sampler so that you and your kids can try both flavors!
The best news though? It includes a 30-day money-back guarantee!
So you can try it risk-free!
How Much Does Daily Sunshine Cost?
Daily Sunshine is around $3 per smoothie – so similar to a Smoothie King or Starbucks drink.

Can Parents Drink It?
Totally – nothing is in it that adults can't have. Plus, this is easier to blend than a Shakeology which is a major selling point to me. I LOVE my Shakeology for lunch, but I like a blender for it. This is designed to just shake and drink.
Should I drink it with Shakeology?
As an adult, you totally can. Shakeology can be a meal replacement whereas this smoothie should be a snack or healthy treat.
Since some of the ingredients overlap, you won't want to mix them into one shake though – it would be better to space it out (and cheaper too!).
Related: What is Shakeology? Our Review
What does Daily Sunshine count as on the 21 Day Fix?
It's considered a 1/2 green, 1/2 purple and 1/2 red. Both flavors are 120 calories per serving.
It's a great snack option, especially for kids with food allergies, but it can also help the whole family stay on track.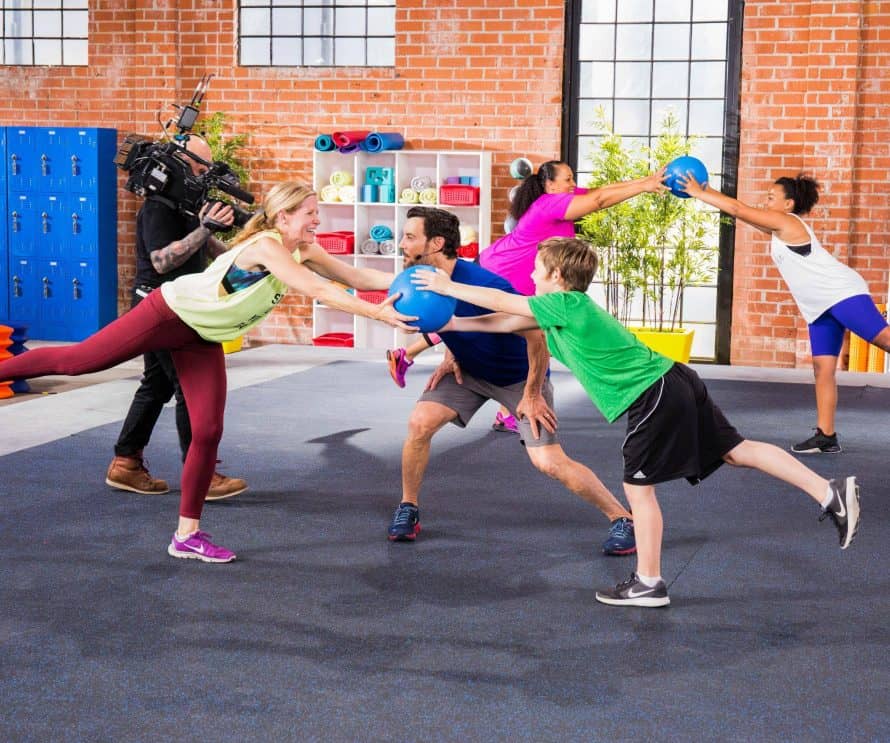 One More Option: Try DoubleTime with Your Kids
Tony Horton from P90X recently created DoubleTime – a fun at home workout – for parents and kids to get active!
You can actually get it with Daily Sunshine at a discounted rate!


What are your favorite food allergy friendly snacks?