Beachbody's The 21 Day Fix Review & Amazing Results
This post may contain affiliate links. All opinions shared are my own. As an Amazon Associate I earn from qualifying purchases. Click to view our full disclosure.
Autumn Calabrese's 21 Day Fix program combines at home workouts and portion controlled containers to help you commit to a healthy lifestyle no matter your current fitness level. Below, I review the popular fitness program with 30-minute workout videos, color-coded containers, and share my before and after photos! (Updated March 2021)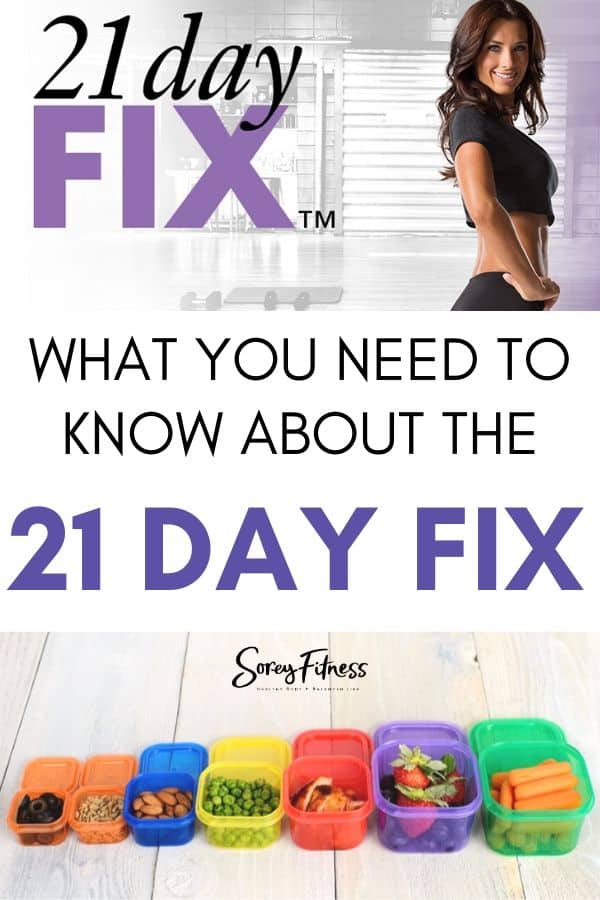 What is the 21 Day Fix?
Beachbody's 21 Day Fix combines home workouts and portion healthy eating through portion-control containers. The quick 30-minute workouts are convenient and offer modifications for people new to fitness. The meal plan is really easy to follow too! You'll find your calorie goal and then focus on eating healthy foods and proper portion sizes using the containers.

Quick 21-Day Fix Review:
30-minute workouts
Good variety in type of workouts
Simple nutrition plan using colorful containers
3 Treats allowed per week
7 workout days
Prefer to listen? Here's Our Quick Recap
21 Day Fix Review
SPOILER ALERT: This is my favorite Beachbody product for beginners because it's an effective workout plan and focuses on healthy eating without anything being completely off limits. You can even have fast food on it! Of course the best way to see great results is to 21 Day Fix plan to a T. We have a free 21 Day Fix diet meal plan with a simple grocery list of whole foods if you'd like it!
You may also like our web story on the workout program!
The 21 Day Fix Workouts
Each day of the week is a unique type of workout. My only complaint was that you have to repeat the same workout each week. For example, every Tuesday is Upper Body Fix. Since it's original release, Beachbody created 21 Day Fix & 21 Day Fix Extreme Real Time though! These "Real Time" workouts never repeat! So you have a brand new workout every day! These are available with a Beachbody on Demand membership or Challenge Pack.
In the original program, there are 8 unique workouts with the option to add in deluxe routines.
Your 21 Day Fix workouts are:
Total Body Cardio Fix – A total body workout using light weights.
Upper Fix – A mix of body-weight and free-weight exercises to tone your arms, chest, back, and abs.
Lower Fix – A mix of floor moves and free-weight exercises to tone your lower body.
Pilates Fix – An active recovery workout that will tone your whole body.
Cardio Fix – A calorie burner using your own body weight to tone your body.
Dirty 30 – A total body resistance workout.
Yoga Fix – A relaxing yoga class to end the week.
Abs Fix – 10 minutes of different floor exercises with no rest.
Each workout is 30-minutes long and easy to follow. They also include a low-impact modifier which is very helpful for beginners.
You don't have to be an athlete to do the workouts either. The moves are simple to learn, but they are challenging!
The workout schedule is also something you can keep using forever. I like to challenge myself to get more reps or pick up heavier weights every time I workout with Autumn.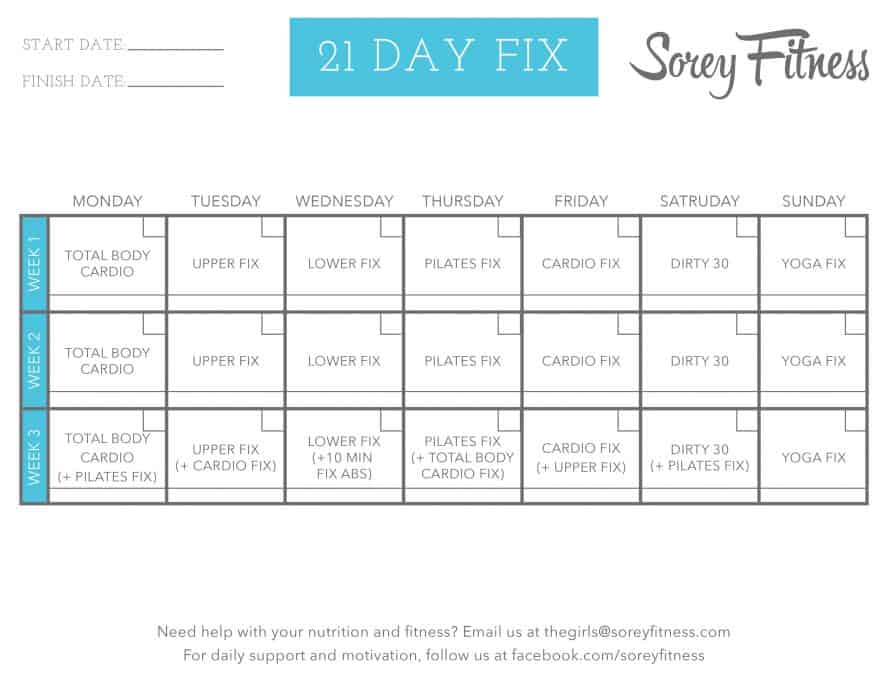 The schedule includes one 30 minute workout every day for 3 weeks. You can choose to add an additional workout in Week 3 and do a 3 Day Quick Fix in the last 3 days for MAX results.
What equipment do you need for the 21 day fix?
Is the 21 Day Fix for beginners?
Absolutely! These 30 minute workouts and simple meal plans are perfect for beginners wanting to lose weight and tone up at home!
Is there a modifier?
Yes! There is a modifier in every workout, and her name is Kat. She shows you proper form, and Autumn explains each modification very well.
Plus, Kat looks like a normal person (versus a fitness competitor) working out which motivated me to keep going. If she can do it, I can do it.
Is the 21 Day Fix for Men?
Yes! In every workout, there is at least 1 man doing the workouts sweating too! The workouts don't include any silly music or girly moves. Men will follow the same meal plan based on their weight and goals. They may need to up their dumbbells to feel challenged.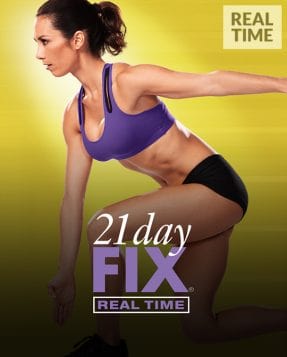 What is the difference between 21 Day Fix and the "Real-Time 21 Day Fix"?
The original workouts were so popular that Beachbody & Autumn released 21 unique workouts for Beachbody on Demand. So the real-time workouts are newer and include variations each week!
Try a Free Real Time Sample Workout
Real Time Sample Workout from Kalee Dillard on Vimeo.
The new real-time workouts are only available to stream on Beachbody on Demand, whereas, the original workout program is available to stream and on DVD.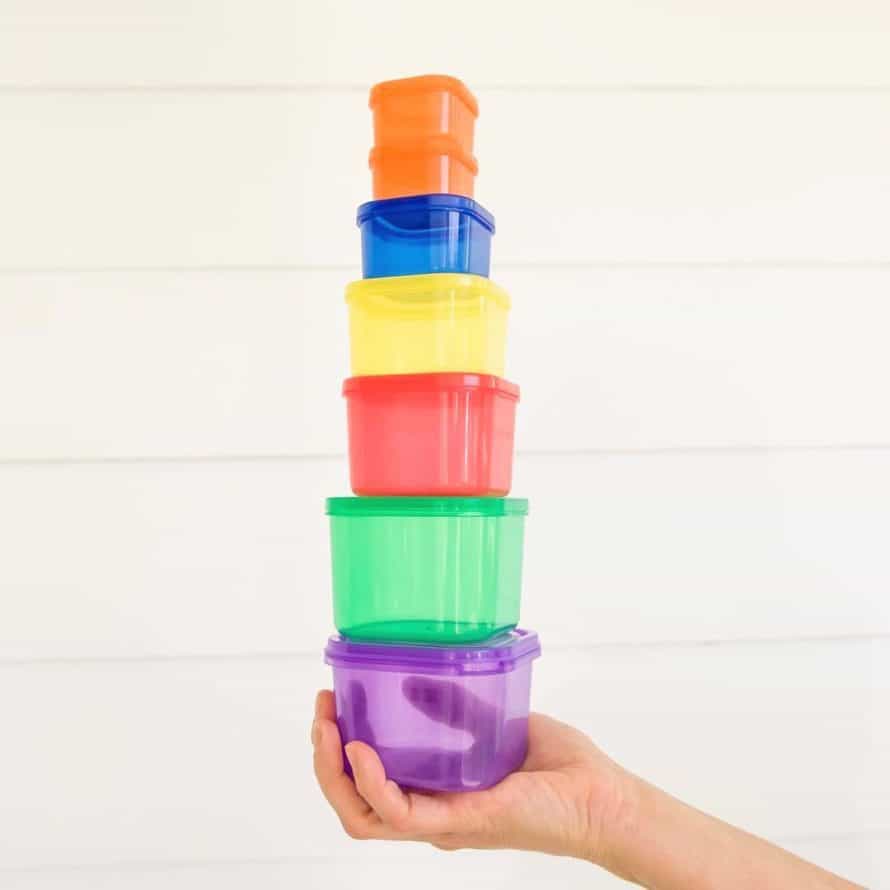 The 21 Day Fix Meal Plan
The eating plan is based on portioning your macronutrients. Autumn Calabrese used the container system as a fitness competitor and new mom.
While you could track macronutrients and weigh everything, that takes a lot of knowledge, effort and time. The meal plan really breaks it down into simple color-coded containers for you to use.

Here are a few quick things to know about the meal plan:
No food is off limits (view the 21 Day Fix food list)
The program also includes the Portion Fix containers
You don't count calories
You have the flexibility to choose when and what you eat
It's also customizable to fit breastfeeding, food allergies, and other dietary needs
Can you take First Thing and Last Thing on the 21 Day Fix?
Yes, you can take First Thing and Last Thing on the 21 Day Fix. Both are considered free foods.
Beachbody 21 Day Fix Colored Containers
The containers are at the base of this program, and I think it's why it works so well. All you have to do is trust the meal plan for 3 weeks and use your containers.
The containers are all different sizes and each color represents a food group.
Green containers

are for Vegetables

Purple containers

are for Fruit

Red containers

are for Protein
Yellow containers are for Starches & Treats

Blue containers

are for Healthy Fats (Nuts, Avocado, etc)

Orange containers

are for Healthy Fats as well (dressings & seeds)
The meal plan clearly outlines how many containers of each color you eat per day.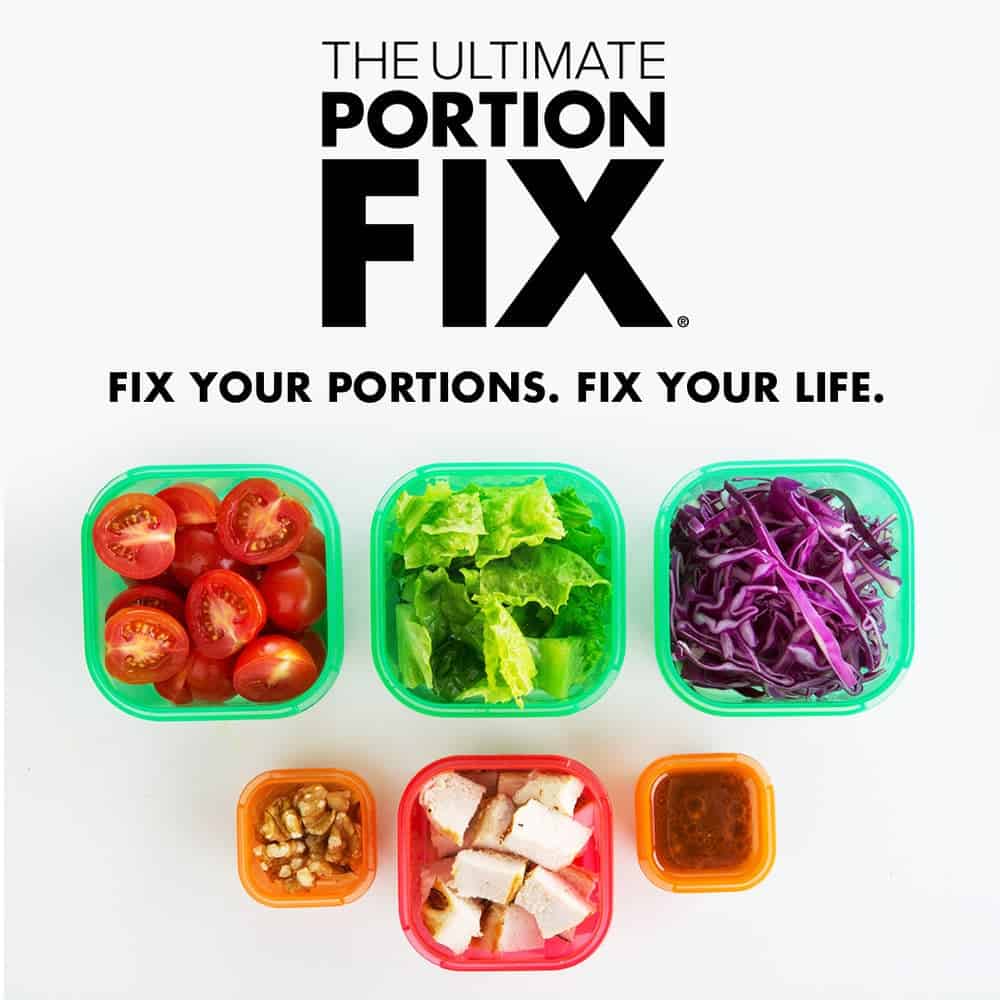 The Ultimate Portion Fix
Since the color-coded containers were so popular, Beachbody also worked with Autumn to create a standalone nutrition program, Ultimate Portion Fix, with more details and options.
Whether you're looking for max results or just a proper diet that gets fast results, you may like the Ultimate Portion Fix as an add-on to your workouts.
If you add it on, you'll get the full nutrition program which includes 100+ recipes, nutritional videos with Autumn, and much more when you stream the 21 Day Fix.
You can get the nutrition program on its own or with Beachbody on Demand and/or Beachbody performance supplements too!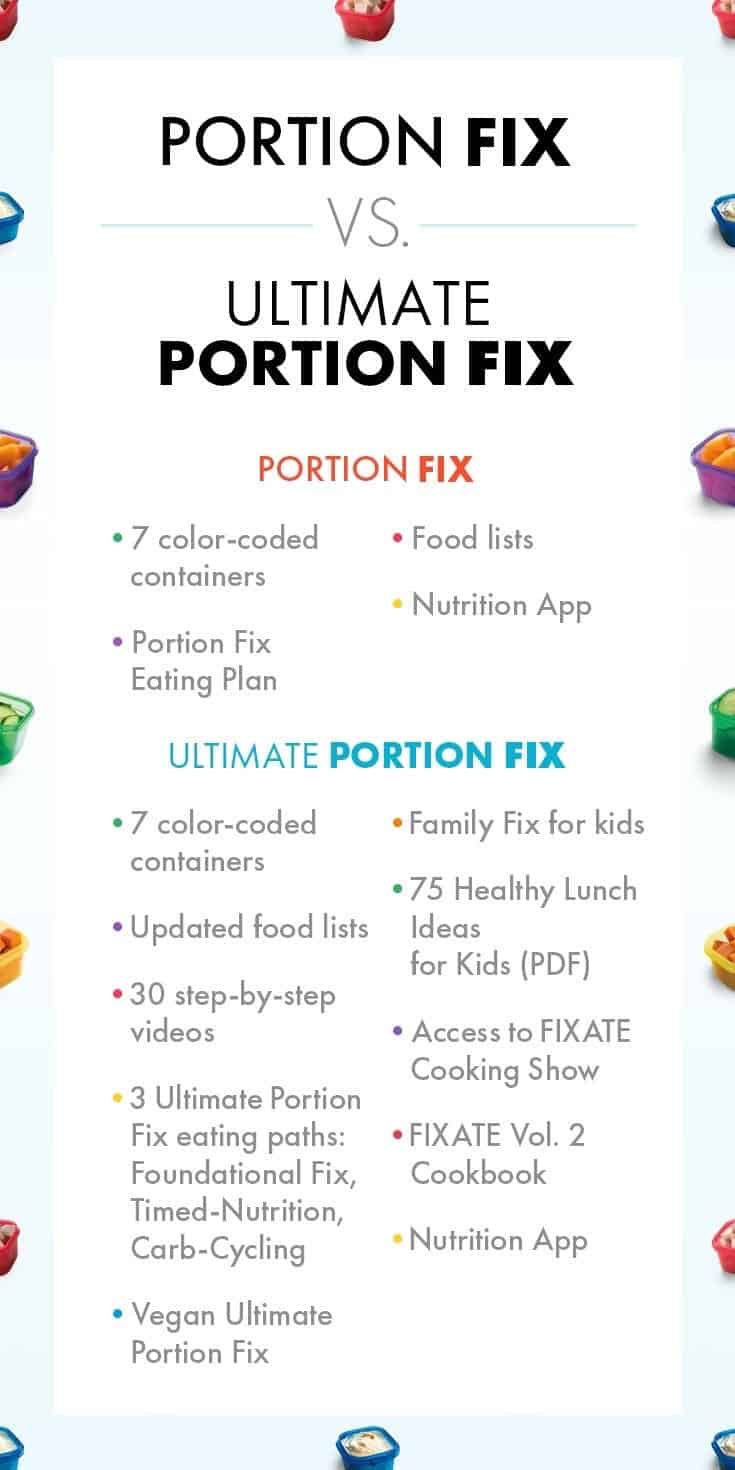 You can also order Ultimate Portion Fix (UPF) here:
FAQS on Portion Fix
what does Shakeology count as on the 21 dAY fIX?
On the 21 Day Fix meal plan, Shakeology counts as a red container (protein). Shakeology is Beachbody's meal replacement shake essential vitamins, minerals, and super foods. The nutrient dense shake includes 16-17 grams of protein and is an excellent source of fiber and a good source of Omega 3's.
Can you have treats on the 21 Day Fix diet?
Yes, you can have treats on the 21 Day Fix up to 3 times a week if you budget for them. For every 2 yellow (Starch) containers you don't eat, you get a 100-250 calorie treat like a glass of chardonnay or a small popcorn.
How do you follow recipes using the containers?
The original meal plan includes a few recipes that list container breakdowns. This helped me figure out what my other recipes might be. There is also a cookbook now to go along with the program called Fixate. It has 101 recipes in it!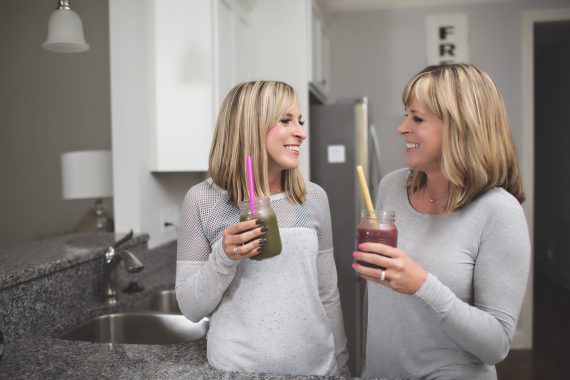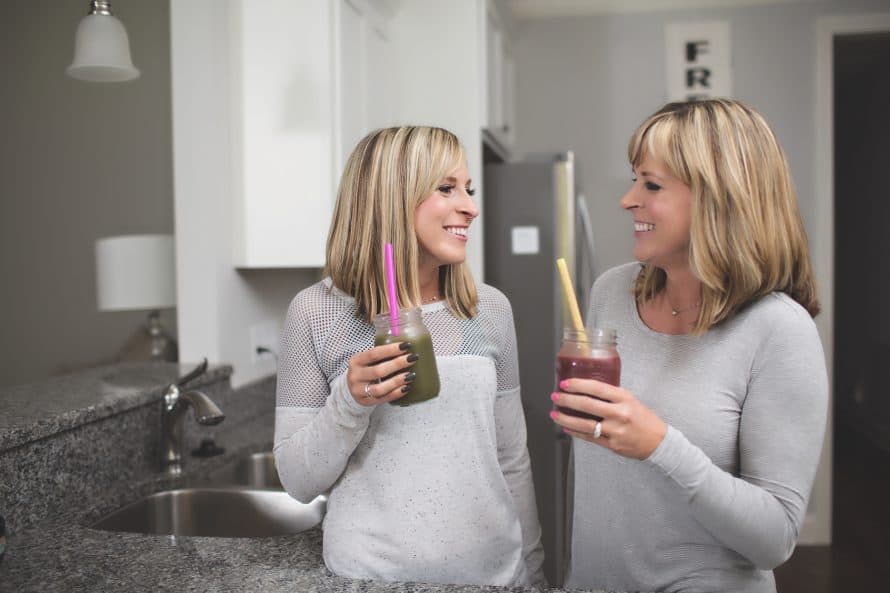 Other Notes on the Meal Plan:
Each container is BPA-free, microwave, and dishwasher safe, and has a lid.
I honestly never felt deprived or hungry on the plan.
It's important to always get in every container.
There are vegetarian options.
If you want a harder diet plan look at the 21 Day Fix Extreme Countdown to Competition option.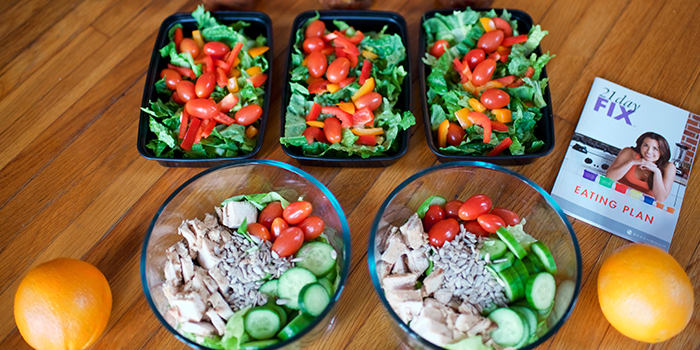 Meal Plan Resources:
Does the 21 Day Fix Actually Work?
Yes, the workouts and meal plan are extremely effective! You'll not only burn calories and challenge your body each day with the workouts, but the meal plan helps you lose weight as well!
I lost 5.5 lbs and 11 inches on the 21 Day Fix!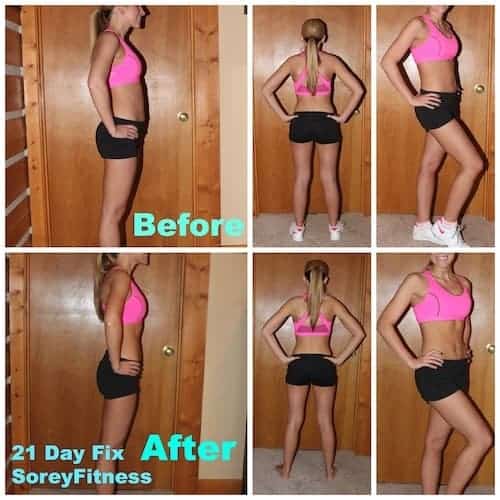 My 21 Day Fix Before and After Photos
I couldn't believe my 21 Day Fix results! I had 5.5 pounds of weight loss, better muscle definition, and my waist shrank to 24 inches! I also wore my tightest pair of jeans to a concert, and they were almost loose! Another awesome feeling was that I wasn't craving a cheat meal.
It's been the best results I've ever gotten, and it just took 3 weeks!
My first time doing this exercise program, I just used the workout DVDs, but moving forward I will use Beachbody on Demand. Streaming with Beachbody on Demand gives me access to the bonus workouts and Autumn's newer Real Time workouts! It was a simple plan to follow, and it gave me better results than other 90-day programs. I used the 21 Day Challenge Pack with Shakeology (Beachbody's meal replacement product).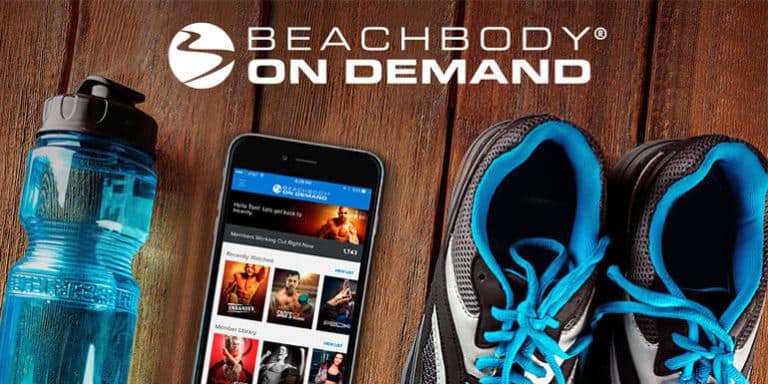 What is included with the 21 Day Fix?
You'll receive 7 workouts plus your nutrition guide, workout schedule, the 3 Day Quick Fix guide, portion control containers and our support.
On top of the workouts, you'll also receive the awesome meal plan. If you choose the challenge pack, you'll also receive Shakeology which we highly recommend as a protein (Red) on the plan.
You can also get the Beachbody 21 Day Fix DVD Kit for $59.95
Streaming Your Workouts
Beachbody on Demand allows you to stream your workouts from anywhere. You can even download up to 7 workouts a time if you're not around good Internet. With the streaming service, you have access to the full program including the deluxe workouts!
You'll also have access to 800+ other workouts including 21 Day Fix Extreme and a full Yoga Studio. You can also download and print out any meal plans and calendars. Learn more by reading our full Beachbody on Demand review.
There is a free 2-week free trial if you'd like to stream your workouts!
After that, it's $39 per quarter after ($13 a month). You can also cancel at any time including during the trial!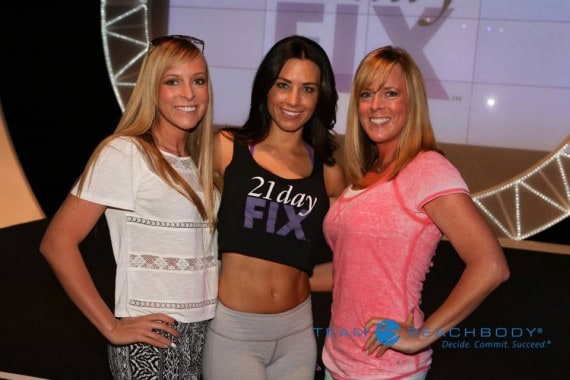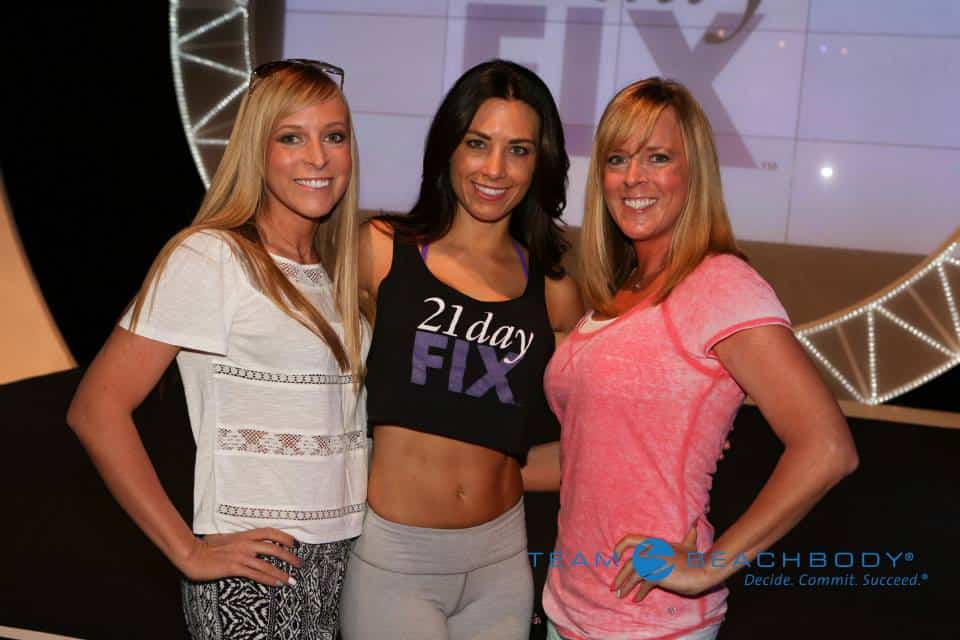 Daily Support and Tips
If you decide to order this after reading our 21 Day Fix review, we'd also love to be your coaches. We're mother-daughter and are Elite Coaches!
Our coaching service is totally free, and we'd love to be as involved as you'd like us to be. We offer monthly accountability with meal ideas, tips, and more!
To have us as your coaches, just make sure to use this link to order & make sure it says Kalee Dillard is your coach.
If it doesn't, you can look me up with a coach ID of 1001548. You can also email thegirls@soreyfitness.com after you order to confirm we're your coaches.
How do I get started?
It's easier than you think to get started with your fitness journey!
It's 4 easy steps!!
Choose either the

Challenge Pack, DVDs,

or to stream the workouts with

Beachbody On Demand
Then, find our guide to create your 21 Day Fix Meal Plan
Print your workout calendar
Get started! If you need help – email us at thegirls@soreyfitness.com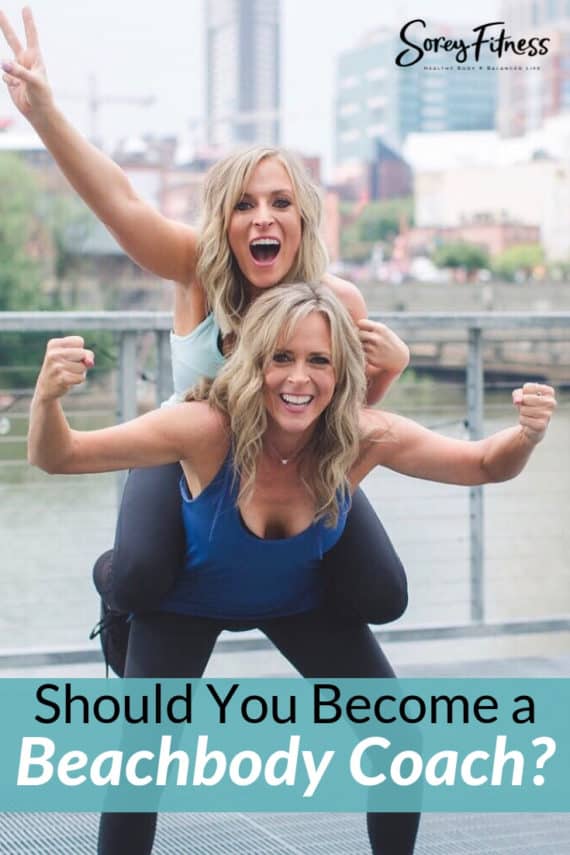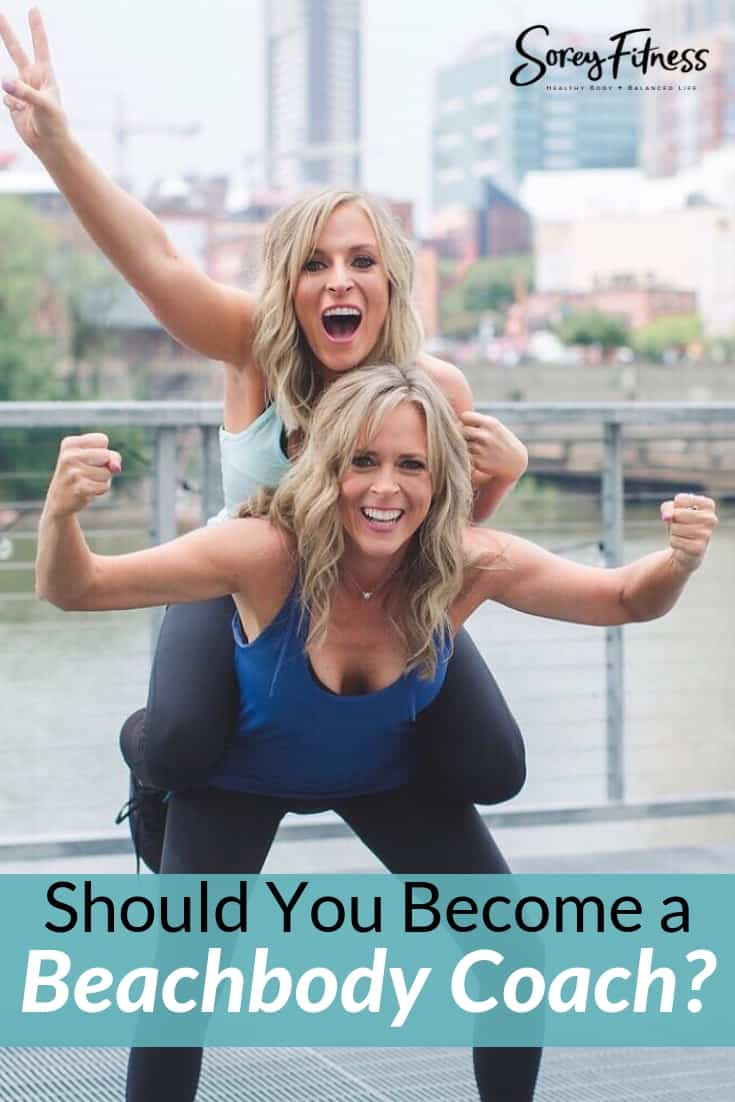 Should You Consider Becoming a Beachbody Coach?
Beachbody coaches make 25% from any order placed through their site and get 25% off their personal orders. We also never have to have inventory on hand or hit a sales goal. It's also free to cancel at any time.
You'll see the Ultimate Portion Fix + 21 Day Fix as an option to purchase as you sign up to coach.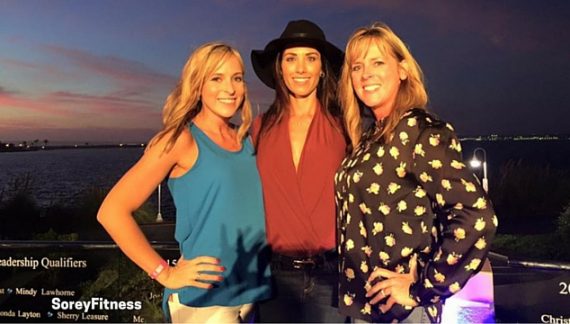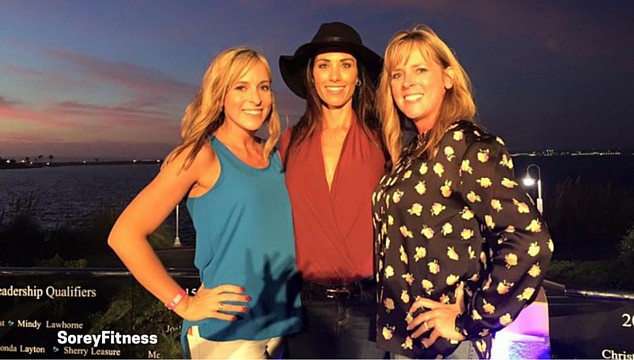 There are also events through the year where you could workout live with Autumn or even meet her!
So if you've been thinking about coaching – right now could be the perfect time!
You may also like:
Important Note: You should always talk to your doctor about your fitness goals – especially if you have a medical condition. They can provide safety instructions and advise you on your calorie intake based on your current weight. This post is just for informational purposes; advice of a healthcare should always be prioritized.