Approved 21 Day Fix Food List for 2021 + Printable
This post may contain affiliate links. All opinions shared are my own. As an Amazon Associate I earn from qualifying purchases. Click to view our full disclosure.
The 21 Day Fix Food List has been updated! I thought the program had a ton of options before, but you'll find more variety now! Grab our free printable food list to simplify meal prep!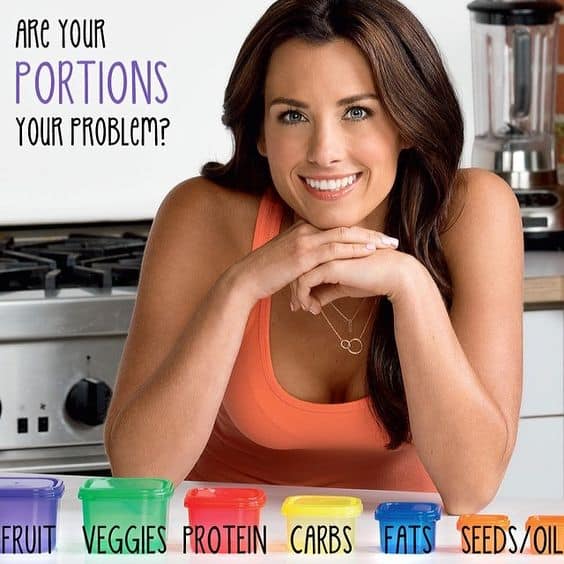 New 21 Day Fix Food List Additions:
Mayo
Butter
Applesauce
Beef & Chicken Broth
I'm really excited about the updates because I've been doing a lot of bone broth lately. I don't drink 8 cups though, so I usually either don't count it or count it as a half of a container.
The 21 Day Fix foods really range from in nutrition. The most nutritious 21 day fix approved foods are listed at the top of the list. For best results, eat the 21 Day Fix foods listed at the top of each container. Find out how many containers you're allowed of each here.
The Updated 21 Day Fix Food List

You can click the image above to make the 21 day fix approved foods' list bigger.
The way you'll calculate your calories and containers hasn't changed though. You can view the formula on our original 21 Day Fix Review post.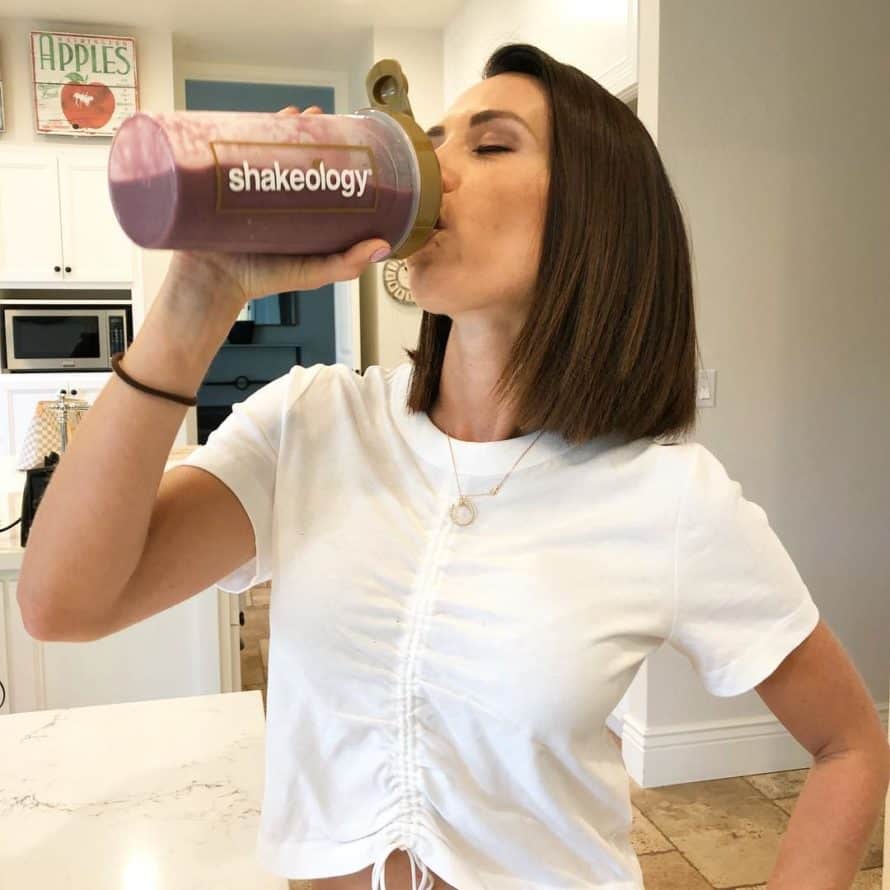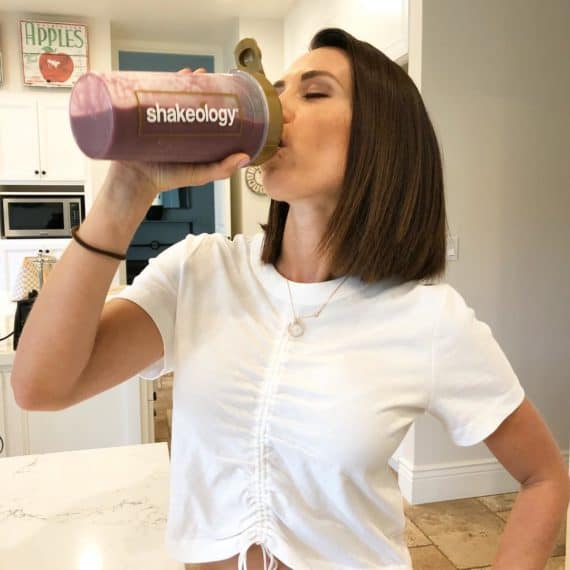 Want to know more about Autumn's personal nutrition?
The Ultimate Portion Fix is your answer! She goes into timed nutrition, carb cycling, counting macros, and how she actually eats each day! Learn More About Ultimate Portion Fix
More 21 Day Fix Resources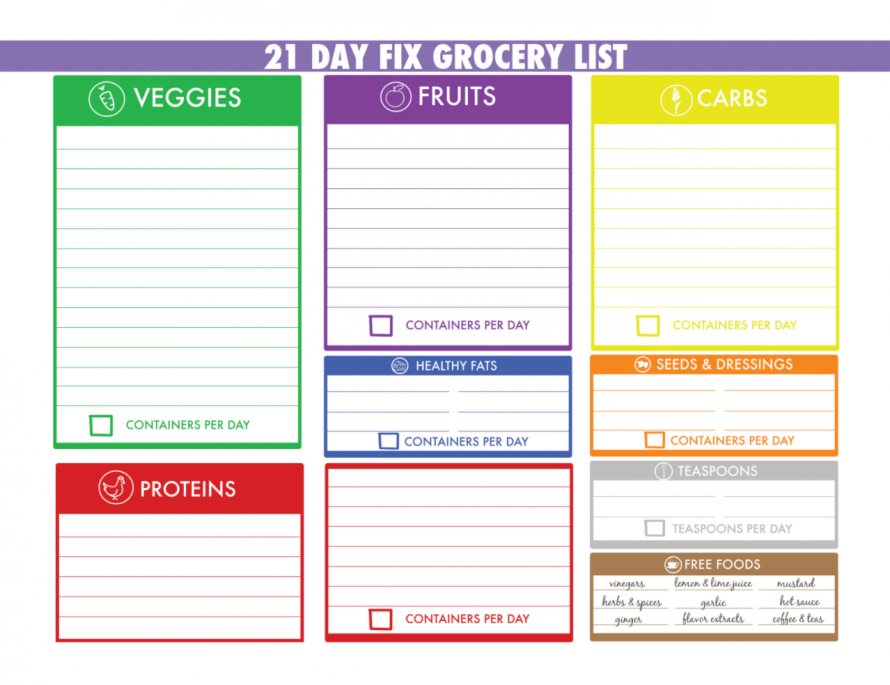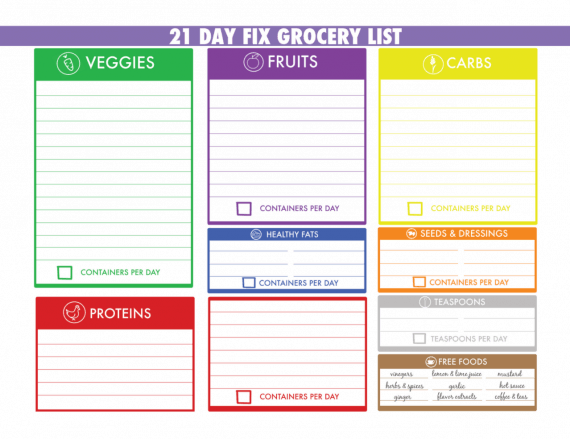 11 Keys for Your Simple 21 Day Fix Grocery List
We love simple, quick options on the go. If you've done the 21 Day Fix as much as us – you love mixing it up too! Along with these 11 tips, we have 51 snack ideas that are 21 Day Fix approved you might like!
Choose pre-prepared meat from the deli section. We love a rotisserie chicken.
Pick up canned tuna or shredded chicken to pack protein in salads.
Opt for pre-washed and cut fruit.
Frozen veggies and steamer bags are a lifesaver for getting in a quick green container.
Hard boiled eggs are also a quick way to get in a red container. We make about a dozen and use them through the week.
Throw your sweet potatoes in the crockpot and make enough for the week.
We also will go ahead and cook enough rice and quinoa for the whole week.
Most groceries have veggies pre-cut as well! Look for colorful peppers, mushrooms, and other raw veggies to mix into eggs or salads.
Mornings can be NUTS so we love overnight oats or the egg cups in the Fixate cookbook.
Always carry a snack like walnuts or almonds.
Choose fruit you can eat on the go like berries, apples or bananas.
If you're looking to save money on groceries, We love Ibotta to save! It allows you to clip digital coupons for things like Halo Top, fresh produce and more (even wine!). You can get $10 just for signing up here.
Going Beyond 21 Day Fix Containers
We love our color-coded containers, but sometimes you have to carry your food with you in something bigger! Here are a few of our favorite ways to carry our 21 Day Fix Foods
Favorite reusable snack bags: Stasher Bags
Stasher bags are so cool! You can throw in your blues or purples into a reusable bag and be on your way in no time! You can also freeze, microwave and bake in these little baggies too! They're also petroleum-, PVC-, and latex-free!
We fell in love with this bag while clients were doing the 80 Day Obsession meal plan. It works great for the 21 Day Fix meal plan too though! It has 3 containers and an icepack all in one, and it fits snug but not too tight. We love how durable it is and the extra compartment for a shaker cup! It also includes a love-it guarantee!
We love how cute and convenient this lunchbox is! Plus the front pocket is perfect for keeping your napkin and utensils clean and dry! It also comes in more colors and patterns! Just click here to view them!
This is perfect if you have pre-measured your containers and just want to throw them in a quick lunchbox to stay warm or cold.

Are you excited about the updated 21 Day Fix food list? What is on your grocery list?
Have you seen our clients 21 Day Fix results yet? Just click here