Is Bone Broth the Fountain of Youth or a Fad?
This post may contain affiliate links. All opinions shared are my own. As an Amazon Associate I earn from qualifying purchases. Click to view our full disclosure.
Bone broth benefits are popping up everywhere! But can it really have miracle-like effects? We share our personal bone broth review, why we use Kettle & Fire, and answer FAQs we get often!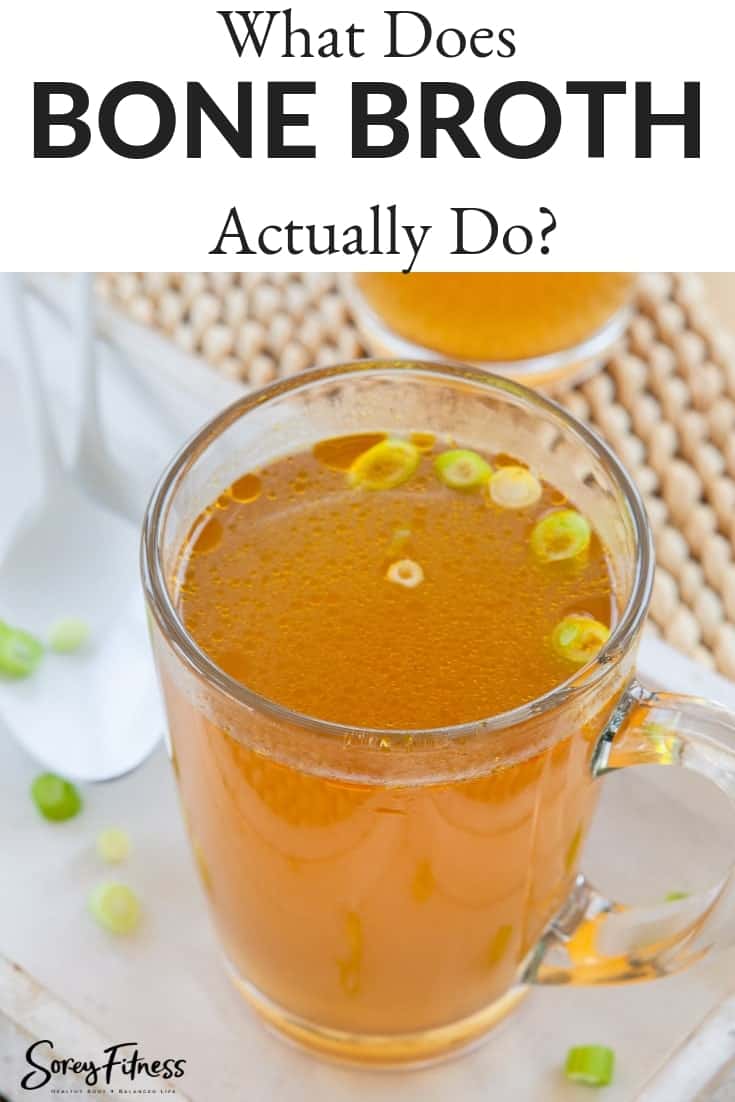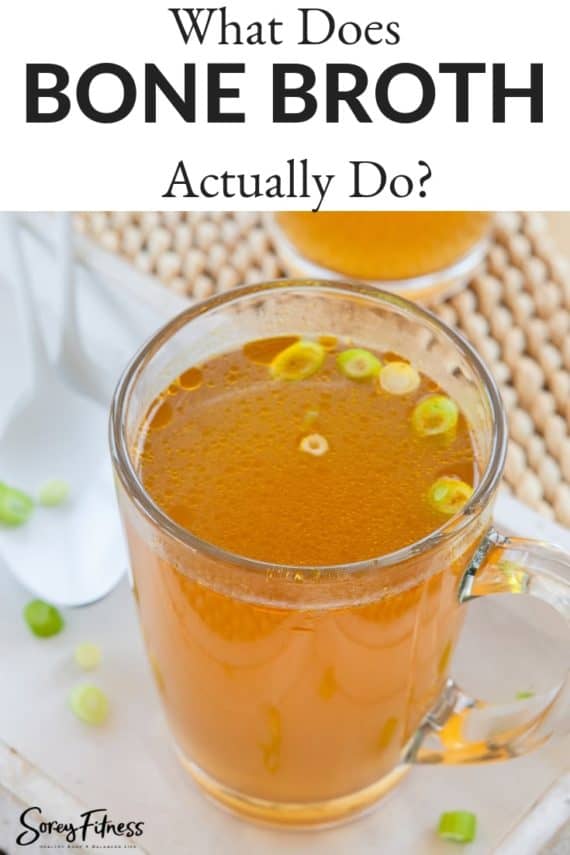 While you can find bone broth in grocery stores now, we didn't find any in our small, Southern town a few years ago.
We also didn't want to make own own. It takes a while to cook, and it's just so convenient to buy online.
It's all grass-fed, organic, and Whole 30 approved. Plus it is shipped right to your door!
Once I received it, I anxiously awaited my first cup of this cure-all concoction!
Why do we drink bone broth?
We love that it's not a new trend in wellness. It's all-natural and something our grandparents, or great-grandparents used all the time in their soups and gravies.
Now more than ever, we need to get back to the basics.
This is the first time in history that the average person's diet is artificial, packed with added chemicals and antibiotics and untested.
That is very scary to me – so even if it isn't the fountain of youth, it's been a staple for good health for centuries and an easy addition to my diet.
What does bone broth taste like?
It doesn't taste bad at all – it tastes like soup. The taste isn't bad. I just had to remind myself to drink it since it was a new habit.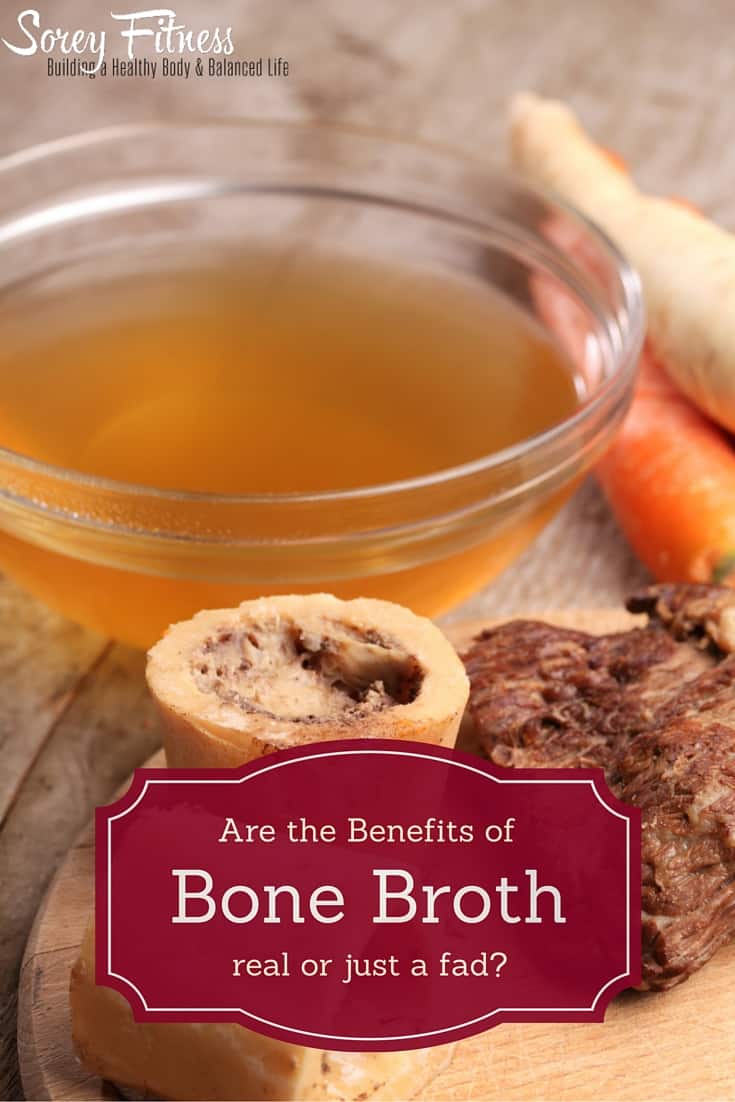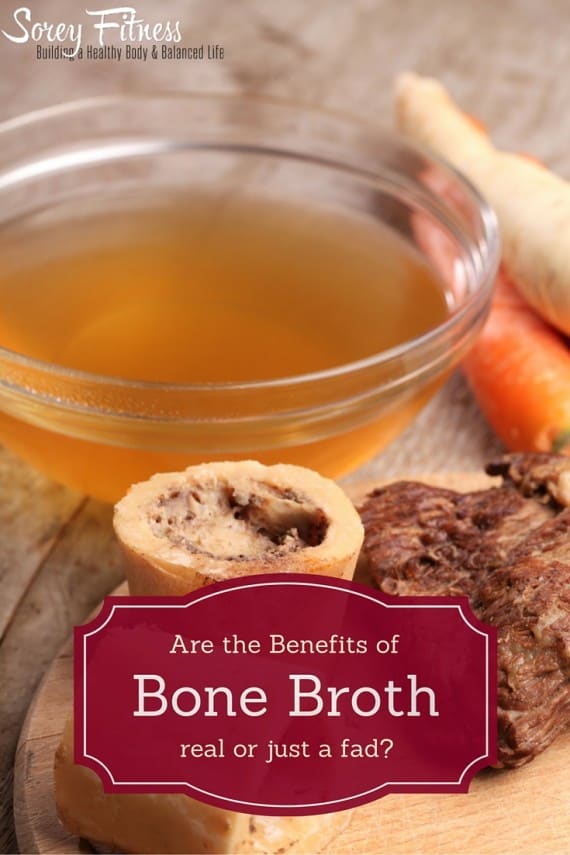 What are the benefits of bone broth?
As I researched, I found all 9 of these possible benefits listed across platforms:
alleviate join pain

boosts your immune system

helps enhance, clear and brighten skin

helps with cellulite

improves your hair

protects and rebalances gut flora (and helps with leaky gut syndrome)

improves your sleep

detoxifies the body

improves your digestion

strengthens your bones
Since I do have had gut issues in the past and allergies galore, my doctor suggested I eat foods to help restore my gut flora.
Apparently, gut flora can help several of those things listed above as well! (read more on prebiotics and probiotics here)
Does bone broth really heal the gut?
Bone broth could be a tool towards healing the gut. With that said, it's not a cure-all. We love this article about how to heal leaky gut syndrome.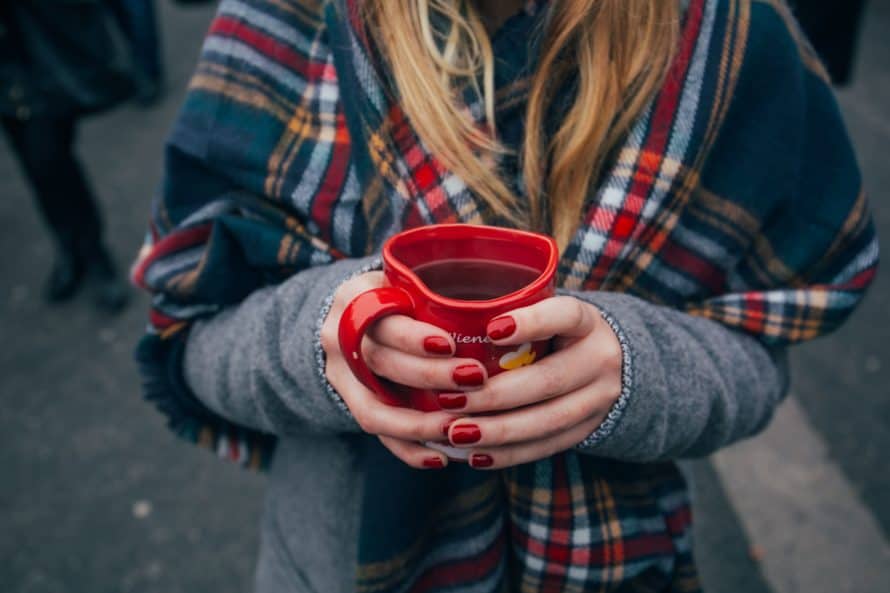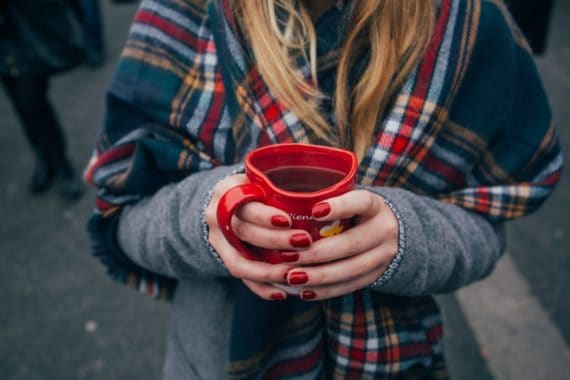 What to look for in a bone broth:
There are beef, chicken and fish bone broths. All of which have similar benefits.
You want to find grass-fed beef bones. That's why we chose Kettle and Fire.
Grass-fed is important because the bone marrow is the only ingredient really. So you're getting a highly concentrated level of whatever that cow ate.
If you're using a bone from an old, chemically enhanced, antibiotic cow, you can expect to get a highly concentrated bit of everything he or she was fed. No fun!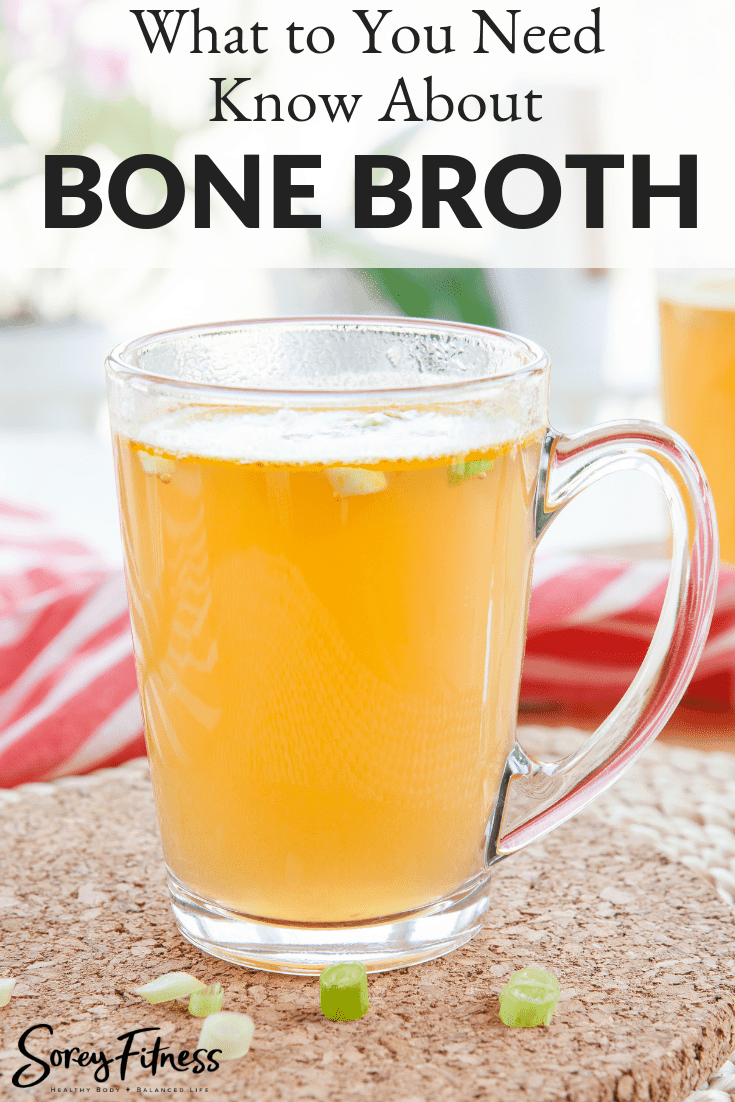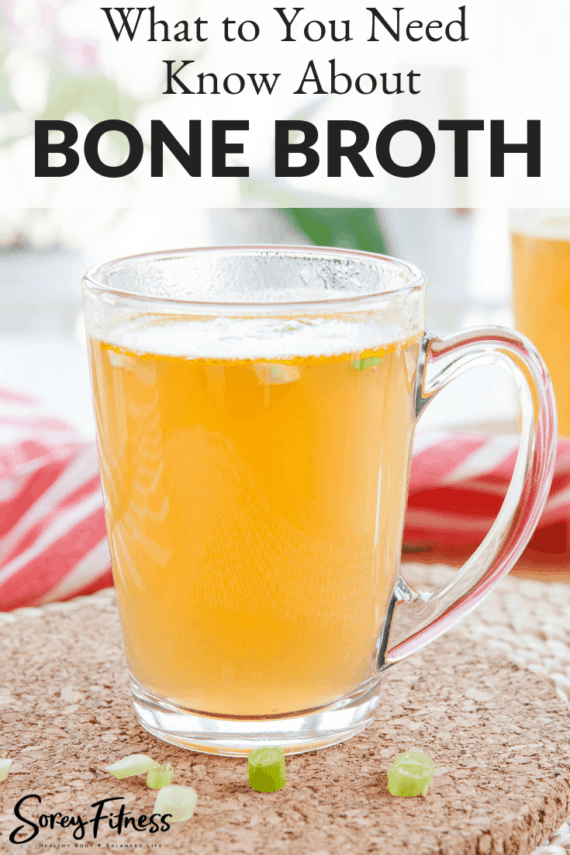 Bone Broth FAQs
We wanted to take a moment to answer the questions we've received over the past few months.
When should I drink bone broth?
You can have it anytime of day. We like it first thing in the morning, before a meal, or after dinner.
We also use it in our soups!
How much bone broth should I drink per day?
Typically people recommend 8-12 ounces a day, but in our opinion – you can't over do it.
Kettle & Fire also suggests 16-32 ounces per day for 1-4 weeks to help halt inflammatory progression. Then you could drop down to 8 ounces a day.
How often should I drink bone broth?
You can have it as much as you'd like.
We like swapping it out for your morning coffee or having it before any meal.
You can drink it warm, cold, or room-temperature. We like Kettle & Fire warmed up for about 30 seconds in the microwave.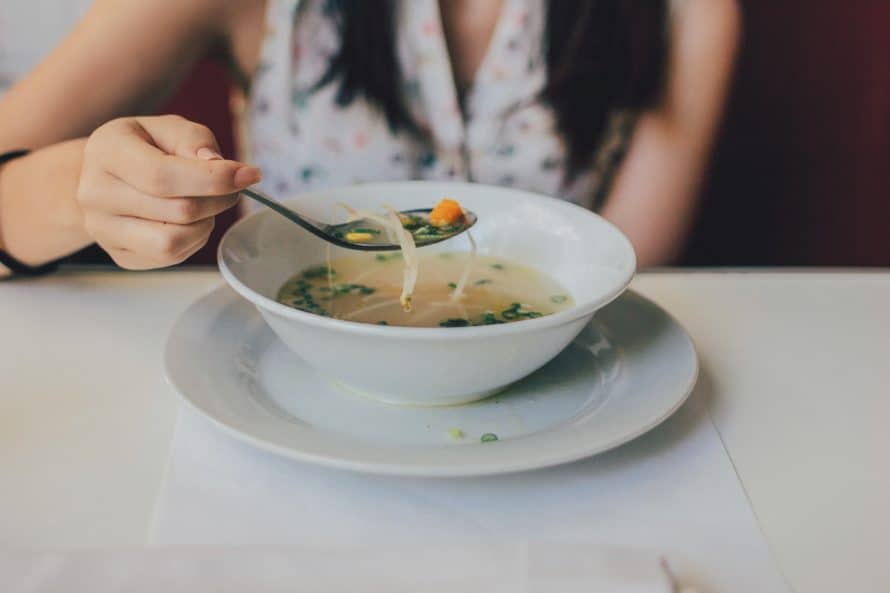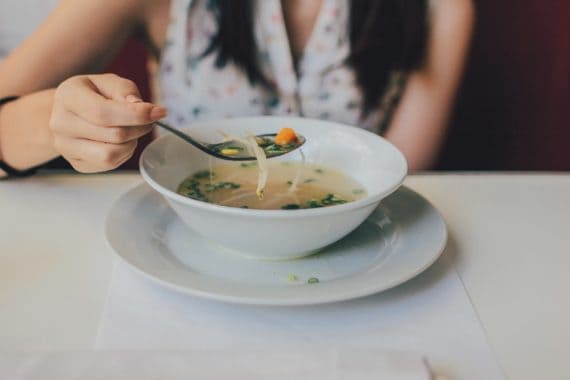 Do you just drink bone broth?
We drink it on its own either warm or at room-temperature. It can congeal at colder temperatures, so you may need to warm it up.
You can also use it to sauté vegetables, in soup or just your everyday cooking.
Can I buy bone broth at the store?
Yes, you can find it at several stores now. You can also find it on Amazon or order through a supplier like Kettle & Fire.
Does bone broth have protein?
Yes, bone broth contains a good amount of protein. For example, an 8-ounce cup can contain 6-10 grams of protein.
We love Kettle & Fire's chicken or beef bone broth. The chicken option contains 10 grams of protein and beef has 6 grams of protein per serving.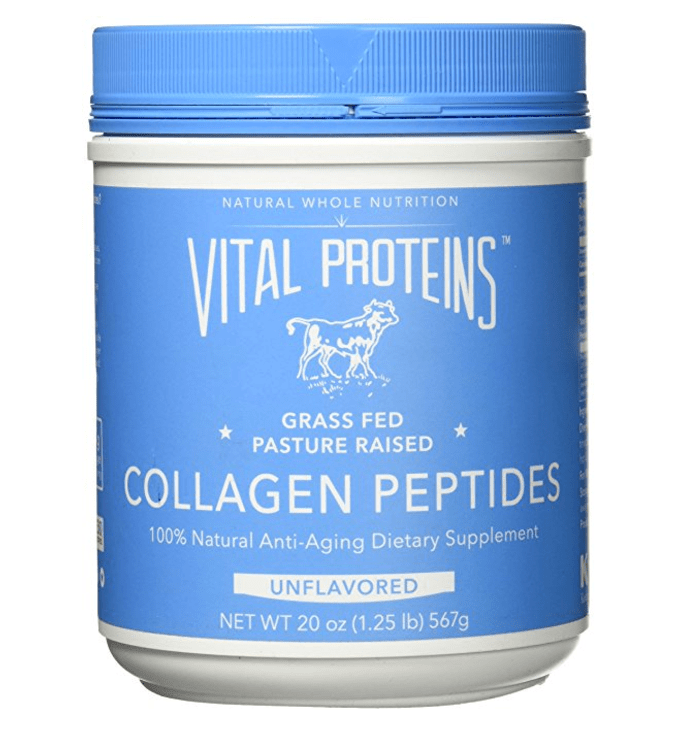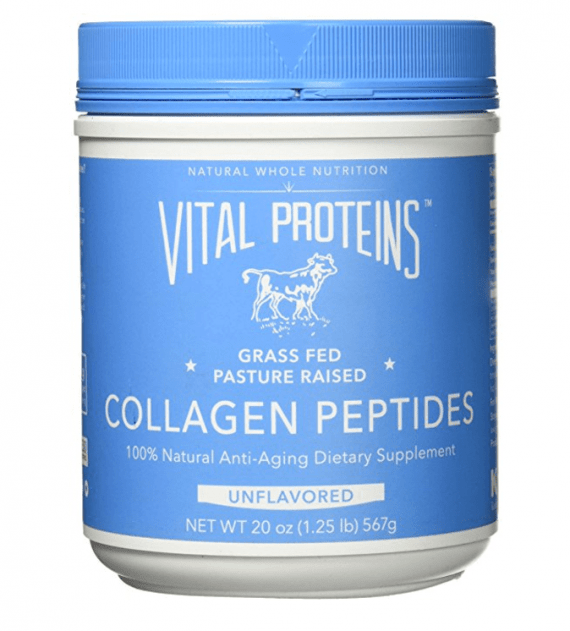 Does bone broth have collagen?
Yes! Bone broth does contain collagen.
With that said, if collagen is your primary focus, you may be better off with a high-quality protein supplement like Vital Proteins collagen peptides.
What is the difference between bone broth and collagen?
Bone broth offers a wider array of nutrition, and then collagen is one piece of bone broth that can be hydrolyzed to create a higher concentrated collagen powder like Vital Proteins collagen peptides.
Bone broth offers not only collagen but minerals and friendly glycosaminoglycans (GAGs) when cooked the right way.
Collagen supplements typically offer larger doses of collagen and collagen-specific aminos which can help keep your joints healthy, heal your gut and improve your digestion.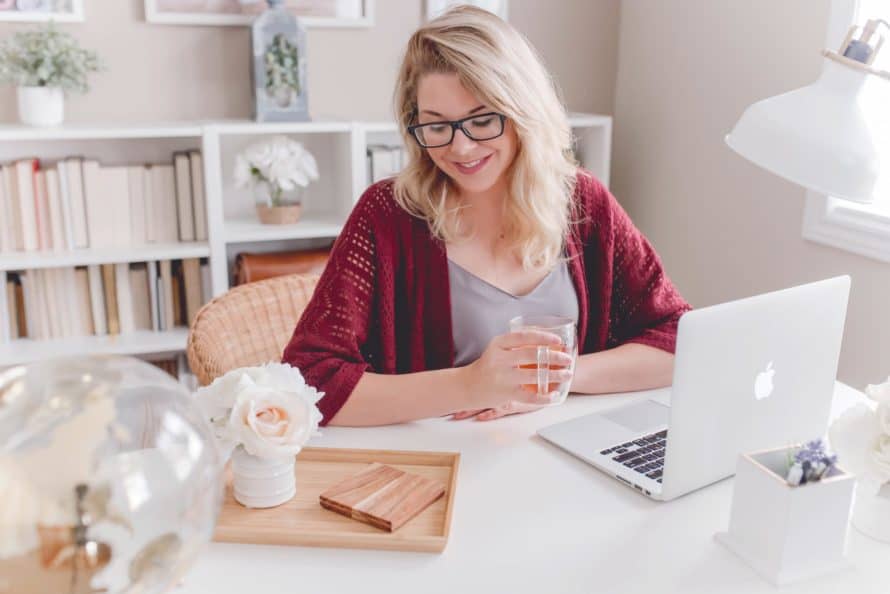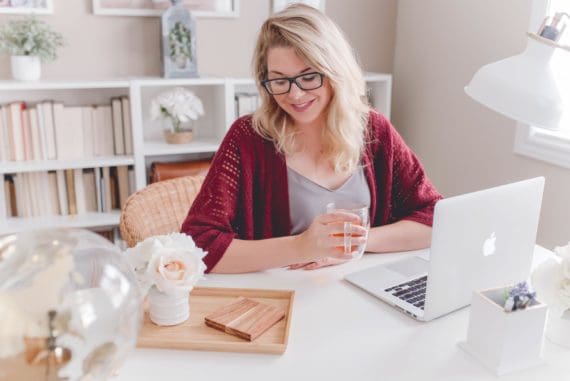 What is the difference between bone broth and stock?
Essentially, bone broth is a stock. Bone broth's ingredients, cook time and lack of seasoning is why it is different than a traditional stock.
In addition to this, traditional stock is made with more actual meat versus meat-stripped bones.
Which is better chicken bone broth or beef bone broth?
It really depends on what you're looking for. Chicken and beef are both great choices; they just vary a little bit.
Chicken bone broth is a lighter taste, has a higher amount of protein, and is easier to digest.
Beef bone broth gives you more energy and has more minerals in it.
You can learn more about the benefits of each type here.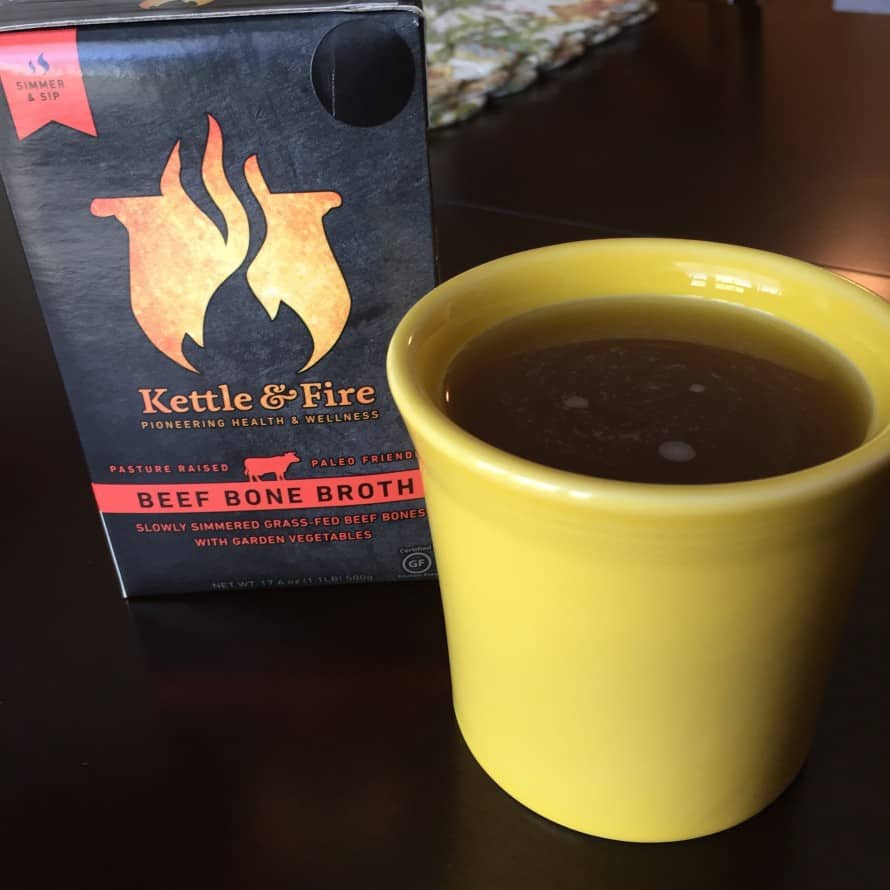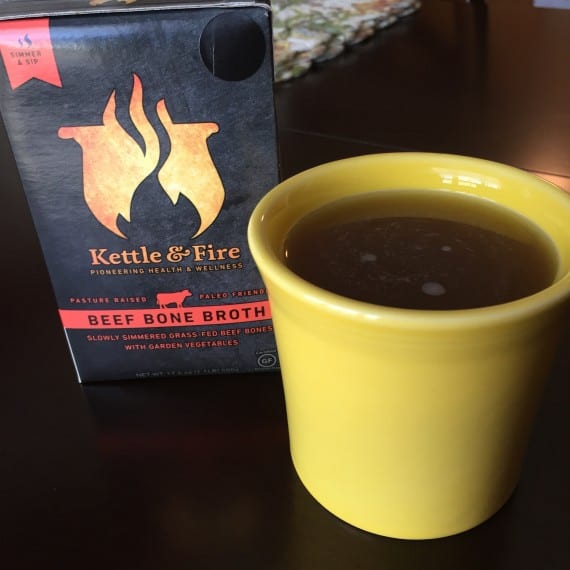 Why I like it and subscribed for a monthly option:
We personally love Kettle and Fire. It's high-quality broth, and they offer a ton of variety. They also have an amazing customer service team, and it just feels personal!
It's also so convenient just to buy it versus making our own.
It's about $4 a serving which if you're adding veggies and serving it as supper it's very affordable. (I like The Stash Plan's recipes).
It's also just 30 calories a serving so it's not going to be a meal, but it's nice before heading out for a meal out.
We chose to continue my Kettle and Fire subscription and actually did 10 boxes (20 servings) this month.
Why does bone broth have such strong benefits?
Grass-fed bone broth contains phosphorus, magnesium, and calcium which helps with our bones and sleep. Magnesium is one of those missing nutrients that most of us aren't getting enough of in our diets.
This fountain of youth cow-cocktail also contains 2 powerful amino acids – proline and glycine.
Glycine helps the body synthesize collagen, heal wounds and even release good growth hormones. So a natural, food way to get in a growth hormone boost without all that random crap and horror stories you hear about.
Proline, the other amino acid, helps to build strong cell structures. This is why advocates say it helps with gut flora, cellulite, and skin.
The Stash Plan's Laura Prepon said she was even reported as having a face lift after changing her diet and adding in grass-fed beef bone broth to her diet!
To wrap it up…
We hardly think it is the fountain of youth or the cure-all, but we think it's very beneficial to add into your diet.
We believe it can help with all 9 benefits listed above if it's implemented with a healthy lifestyle. Just meaning – We don't think adding in bone broth while eating double cheeseburgers, fries and candy will fix your tummy or cure cellulite.
Like anything, it all works together. Just like our bodies different internal systems, our nutrition, lifestyle choices, and mentality all affect our health. This is just an added piece like working out, choosing the healthier alternative for dinner or ridding yourself of negative thinking.
Do you drink bone broth regularly?
These statements have not been evaluated by the Food and Drug Administration. This product is not intended to diagnose, treat, cure or prevent any disease. Always consult with your doctor before starting something new.