What Can You Eat on the Whole 30 Diet? Your Guide & FAQ
This post may contain affiliate links. All opinions shared are my own. As an Amazon Associate I earn from qualifying purchases. Click to view our full disclosure.
My first round of the Whole 30 diet was a few years ago. I'll be the first to tell you – I really wasn't too sure on giving up an occasional glass of wine or piece of pizza. I typically eat healthy, and I have had a history at labeling foods good and bad.
So I was hesitant to try a diet that removed grains, dairy, sugar, and beans. After a few friends swore by it, I decided to pick up the book.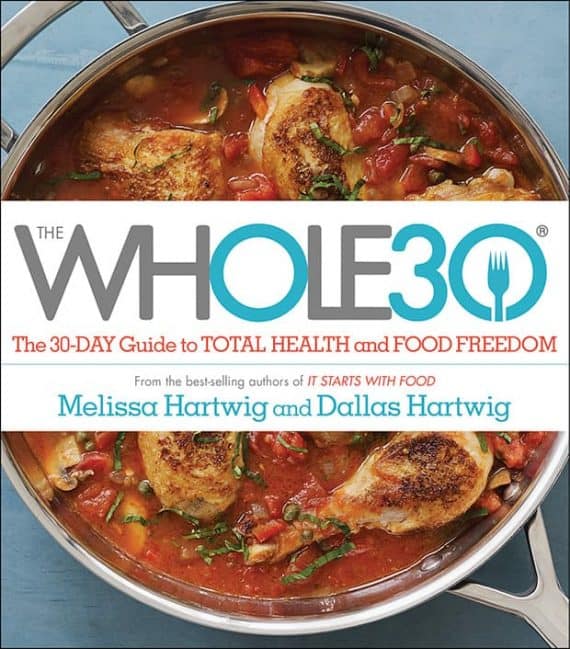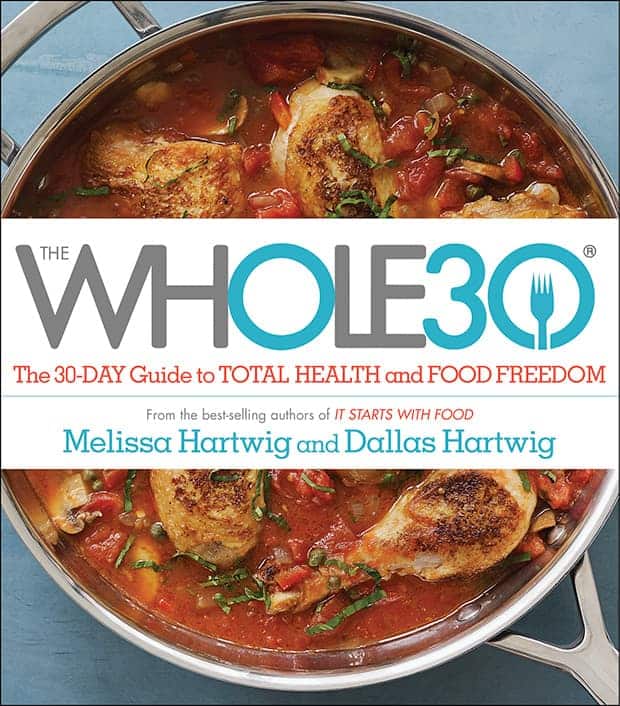 Get All the Details in the Whole 30 book
I think I found it at the perfect time for me too. I was feeling sluggish. My digestion was all over the place. I had also gained about 5lbs since starting a new teaching job, and I rarely ate enough vegetables.
Plus, my family history is full of auto-immune issues and inflammation problems. The Whole 30 diet focuses on removing foods that cause inflammation and helps identify food allergies.

Just a few benefits association from the Whole 30 Diet are:
Reduce inflammation
Clearer skin
Improved sleep patterns
Less cravings
So after finishing reading the book, I decided to try the plan for a month with my mom and husband.
You might also like 3 Ingredient Paleo Pita Bread
What Is Whole30?
In a nutshell, the Whole 30 is a 30-day elimination diet. At a glance, it's low-carb and high protein. You'll notice the foods included on the plan are fresh and high-quality. I ate a lot of fresh, organic vegetables, grass-fed chicken and beef, and healthy fats like avocado and nuts.
As you start eating more of those foods, you do have to eliminate several other foods. On the Whole 30 diet, you aren't allowed any grains, dairy, soy, legumes, sugars, artificial sweeteners, added sugars, or alcohol. There are no cheat days or meals. If you cheat – you have to start all the way over. Harsh, but true.

You might also like Whole 30 Avocado Chicken Salad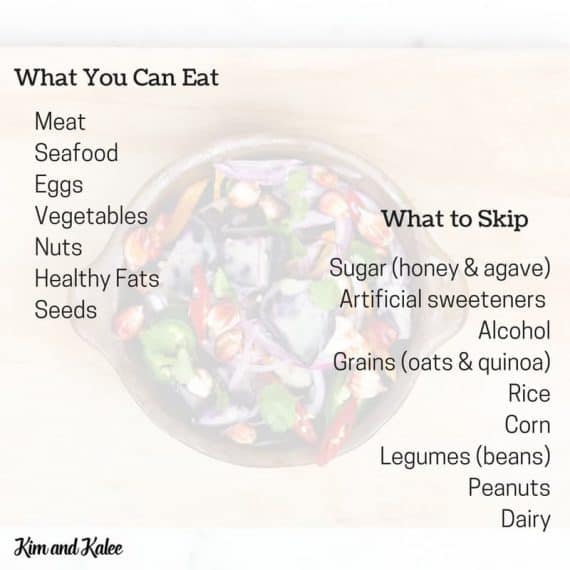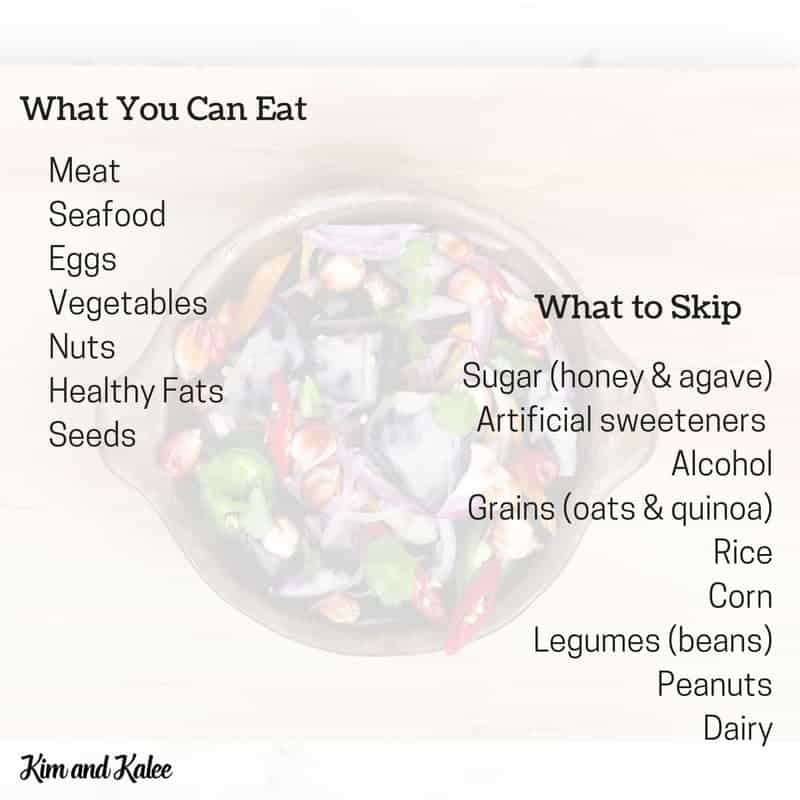 Why Do I Have to Give Up Certain Foods?
The Whole 30 diet is designed to help you find out what foods leave you feeling less than stellar. The only way to truly know that is to eliminate the most common suspects. The foods eliminated have been commonly connected to inflammation, hormonal imbalances, digestion problems, and more. After the 30 days, you'll be able to add in 1 food at a time to see how it does with your system – so just because cheese isn't on the menu this month doesn't mean you'll never eat it again.
After the 30 days, you'll be able to add in 1 food at a time to see how it does with your system – so just because cheese isn't on the menu this month doesn't mean you'll never eat it again.
This isn't a weight-loss diet.
Many people will lose weight on the program, but it isn't designed to be a "weight-loss diet". A couple reasons people lose weight on the Whole 30 is because:
They're eating fewer calories than they were eating before starting the Whole 30.
Their bodies' are performing better – giving them energy to be more active and hormones are balancing out.
You might also like 5 Low Carb Diets: Which One Works for You?
When Do You Eat on the Whole 30?
On the program, you get 3 meals per day with no snacks. I enjoyed having a set breakfast, lunch and dinner though, and I never felt hungry. It was also a relief to not have to count calories, measure out my food or weigh myself for the full 30 days.
This is just a summary of the Whole 30 Diet from my personal knowledge and experience. I highly recommend the Whole 30 book, as well as, It Starts with Food before you start your own 30-day journey.
Going Paleo Versus Following the Whole 30
The Whole 30 is a paleo-approved diet, but it's more restrictive and meant only for a short time. On the other hand, someone could choose to eat Paleo for a lifetime. Also, Whole 30 diet doesn't allow for sugars like honey or goodies created with almond or coconut flour whereas a Paleo diet does.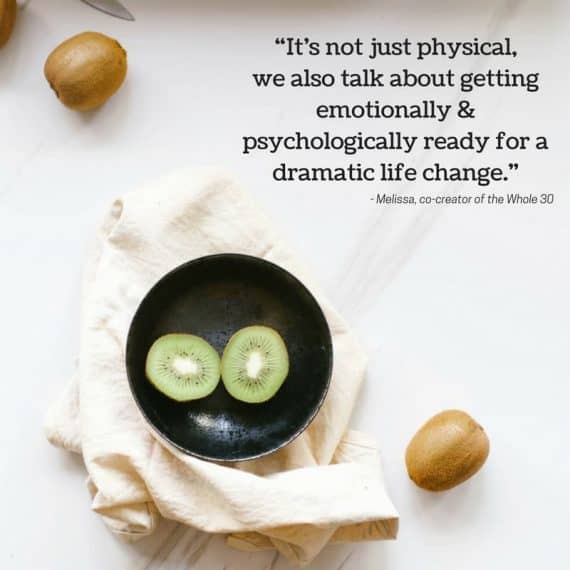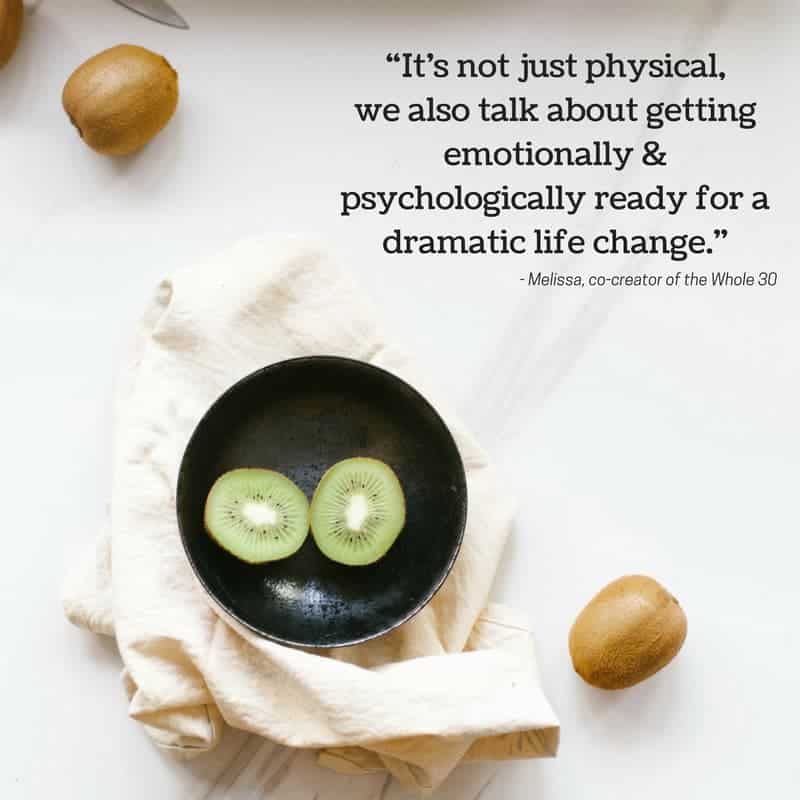 Why I Decided to Try Whole30
As I mentioned before, my family history, energy levels, and current eating habits were all reasons I decided to do the Whole 30. My husband had some weight to lose too, and while it wasn't a "diet" I thought cleaning up his fast-food habits might help him lose a few pounds. (It did too! He lost 40lbs in that month!).
I also loved that it was just 30 days versus following a restrictive diet forever. By the end of the month, I knew I would be able to see and feel a difference. If I didn't have any results, it was just a month of different food – no harm in my mind.
On top of the physical things I hoped it could help with – I knew it would make me address my emotional relationship with food as well. This quote from the creator of the program really struck me.
"You're not eating things [for] emotional reasons, or because you're of out of control with cravings. You're not white-knuckling your way through the day resisting every candy dish — you feel in control," Melissa says. "When you do make a choice to eat something that's not healthy, but you decide is worth it, you eat it and savor it and there's no guilt associated with making that food choice. You make a deliberate decision and move on."
So I jumped on board.
You might also like Butternut Crust Quiche with Sausage, Tomatoes & Kale Whole30 Recipe
Preparing to Start the Whole 30 Diet
This is not something you decide to commit to at 11pm on a Sunday night after overindulging over the weekend. Getting prepared physically and mentally for the Whole 30 takes focus and time.
The program does provide a book, grocery list, a blog, an online group message board, and even tips on preparing for traveling and going out to eat. But you have to look over all of it and really understand it. It's a true commitment for that month.
On the physical side, you'll be amazed when you grocery shop. There are so many products with added sugars and processed ingredients you'll need to avoid.
For example, it took a lot of effort for me to find bacon without added sugar. Who knew bacon had sugar?! What about mustard?! So nuts!
On top of the food groups being removed, I had to check labels for carrageenan, MSG and sulfites. Carrageenan is often in almond milk, and sulfites are in a lot of lunch meats.
You also have to be aware of how things are prepared and served if you go out to a restaurant. Getting a steak and green beans still may contain added sugars or processed ingredients.
For me – the mental part of it was the hardest.
Remembering it was only 30 days and for my health helped me stay on track. I had to know that constantly being focused on my food at each meal could change how I felt every day of the rest of my life, and that these habits would become easier – even second nature – with time.
My mind wrapped around it pretty well by looking over the resources mentioned above, having 2 people doing it with me and also reminding myself it was just 30 days helped me.
The hardest part was learning to accept the unexpected treats I couldn't have. My favorite cookies my dad brought home as a surprise, the Coke Zero my secret pal at work left me and a birthday party were seriously challenging for me. I didn't want my food rules to come between me and people – but if I indulged once I had to start all the way over…I had to make it!
How It Went
The meal prep took a lot more energy than I thought it would. At first glance, I was like it's just 3 meals per day. No big deal! But when you're preparing each meal – it can take time!
I ate a lot of eggs with bacon and fruit for breakfast. Dinner was either simple like a lean meat and veggies with ghee or a pot of something like chili. Lunch was my downfall for creativity and time. My best tip is to make enough dinner that you can have it the next day for lunch.
Some people really enjoy making a ton of recipes, but I liked using recipes from 1 or 2 books and repeating them. The Well-Fed 2 Chocolate Chili is so good, and I loved the Against All Grain book as well. Though neither book is not completely Whole 30 so you have to check each recipe. There is also a Whole 30 Cookbook now, but I haven't tried it.
Week 1 was definitely the hardest, but I never felt hungry or weak. I just felt tired and a little grumpy without my Coke Zero. By Week 2, I noticed fruit was tasting sweeter, and my taste buds towards healthy fats like avocado and coconut oil were changing. I loved having my healthy fat at each meal. By Week 4, I was feeling the energy and power that people talk about.
Things That Didn't Happen
While I felt better and still follow some of the principles even years later, I didn't gain abs overnight. I also wasn't one of those lucky people that just "never crave sugar anymore".
But I did live through the 30 days. No one cared that I skipped the cookies or Coke Zero, and I was proud I finished it.
Would I Do It Again?
I think so! I know it sounds stupid excuse, but it's hard to find a full 30 days without a birthday, holiday or vacation to throw it into though. It's not that I couldn't adjust for those events, but why would I when I know what foods irritate my system?
I have made it to a point where I know what works for me (moderately low-carb, high protein with a few complex carbs mixed in). Since it's not a diet program, I don't see a reason to return to it immediately. Now if I start noticing a food sensitivity symptom, I will be right back on it though. I know it works!
The Whole 30 Reintroduction Phase
For me, day 31 was the hardest for me. I didn't physically crave that large pizza that mom, Jake and I dug into – but I mentally felt like I deserved it. After doing so well for 30 days, why not "treat me?"
I can't tell you how weird the first Coke Zero tasted after the Whole 30. I wish I had never let myself have another one – now I'm back to having them occasionally. Ugh!
The proper mentality would be to reintroduce one ingredient at a time back into your diet to see what is causing you to not feel great. I still think this is possible even if you indulge like I did because I could feel the difference, but it definitely makes sense to call it something like the Whole 50 or Whole 60 as you start reintroducing foods one at a time versus throwing your body into a shock like I did. Just plan ahead for it.
Also, while it is a short-lived program, it's important to find what you liked about it and stick to similar habits. If you go back to old habits – you'll have the same problems you started with before you did all that hard work!
7 Tips for a Successful Whole30
Read the book, It Starts with Food
Pick a start date and tell people…get that support!
If in doubt, keep it simple. There are all kinds of fancy recipes out there. Some of these aren't allowed on the Whole 30 anyways, but if you find ones that are approved…they may still be complicated. If in doubt, plan for mostly easy meals and mix in 1 meal per week that takes a little extra work. You don't have to be having mashed cauliflower and zoodles every day.
Find things you do love to eat. By looking at the Whole 30 as a way to try new foods, I felt less deprived. Aim to make it fun!
Hide your scale from yourself.
Plan Plan PLAN. You should have a plan for each meal, but that sometimes isn't enough. A surprise errand, a long meeting or a relative in town can throw you off. I always kept a lunchbox of snacks and made sure to know what was allowed at a restaurant too.
Have the mindset if you cheat you start all over.
Working Out with the Whole30 program
You can totally workout with the Whole 30 diet.
I chose to do a strength workout that I had done before. That way I could compare my results when eating more protein and fat compared to my normal diet that includes dairy and grains plus some chocolate most days.
I'll tell you this – my results while on the Whole 30 diet were awesome.
We put together our favorite home workouts earlier here.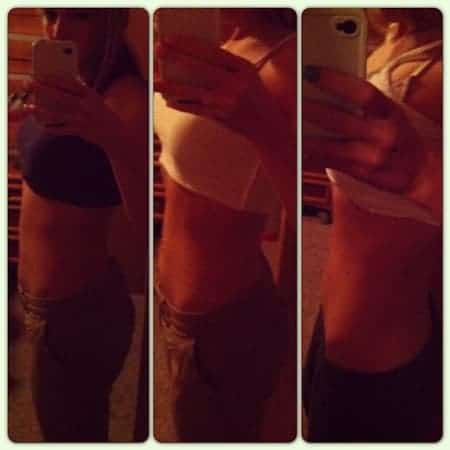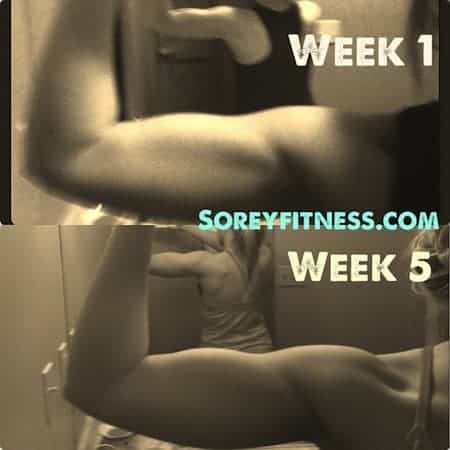 However, intense cardio was harder without my grains. I've also been reading paleo-based diets are too hard for runners' bodies.
I honestly never could have predicted the amount of muscle definition I gained and saw during the 30 days. I started the program for health benefits more on nutrition – but my fitness results were a welcome perk!!
What I Ate on the Whole 30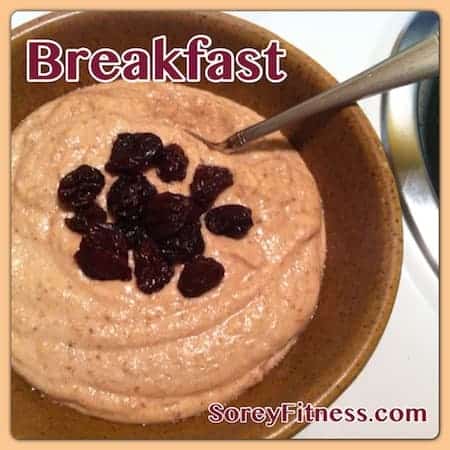 I really miss my oatmeal, and I needed something to fill the void. I found that this Banana Nut Porridge really hit the spot though. It was pretty easy to fix and also really good! It is cashews, almonds, and pecans with coconut milk and a banana.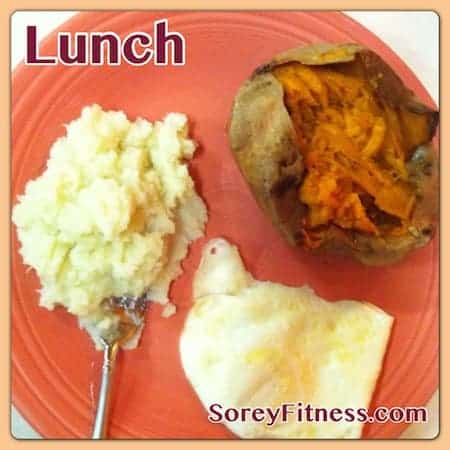 For lunch, I had mashed cauliflower, a fried egg, and a sweet potato. It sounds like a weird mixture, but it was tasty. I also love being able to do leftovers from dinner too.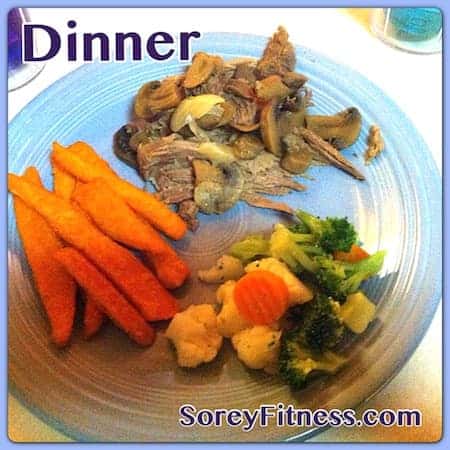 Dinner was baked sweet potato fries, steamed veggies (from a bag), and a long grain roast with onions and mushrooms. It was so good, and the program has really helped me get in more veggies!!
The only downfall? I really missed my snacks. Even though the Whole 30 diet says not to eat between meals, I bought some strawberries to have right after dinner for something sweet during week 1.
Have you ever done the Whole 30 diet? Would you?
Books referenced —
All of the opinions above are my own and from my own experience. I'm not a doctor or nutritionist – I'm only sharing my experience. The links for each book are affiliated with my Amazon account.
Want support, resources and more in your inbox without the spam? Get our VIP resources on our newsletter!!