Healthiest Fast Food Options Plus Tips to a Quick Homemade Dinner
This post may contain affiliate links. All opinions shared are my own. As an Amazon Associate I earn from qualifying purchases. Click to view our full disclosure.
The healthiest fast food options can help you stay on track even on a busy day. While it would be great if we could always adapt to life's crazy circumstances with a fully prepped meal of chicken breast with green beans and quinoa, most of us don't live like that.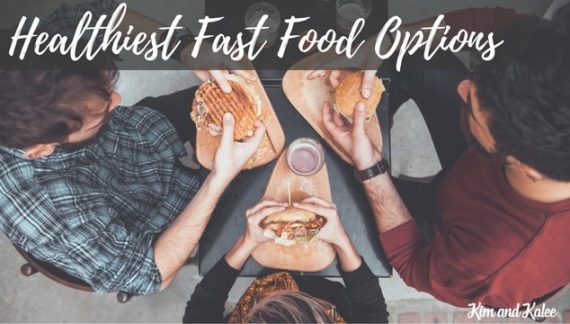 So it's important to weed through marketing and choose the best options in the drive-thru. For example, you're better off eating a Big Mac and some fries versus Subway's Bacon Ranch Footlong even though Subway is marketed to be healthier. Same goes for places like Panera Bread. Just because they have a certain branding tactic doesn't mean their foods pack the best bang for your buck.
What's on the list?
This list actually started as a print-out for my dad. He's a realtor and always on the run. He also was about 265lb when I made this printable for him. Since then he's lost 100lbs and maintains about a 75lb loss.
With it being a list for him, I knew I couldn't just include salads or expect him to go to a restaurant somewhere. So you'll see a lot of burgers and sandwiches even a pizza or two!
I included Chick Fil A, Wendy's, Taco Bell, Sonic, Pizza Hut and Subway because they are his favorites. The nutritional information I included was calories and fat to maintain a healthier choice, and I also included fiber and protein to keep him feeling full.
What if it's not on the list?
There are awesome tools out their now on your phone. I love myfitnesspal as an app or a website to see what my best choices would be. You can also see the calories for various healthiest fast food options now right on the drive-thru menu.
Two More Tips
It's important to remember fast food is typically composed of cheap ingredients that need to taste good and also stay fresh a long time. The way these big companies do that is with sodium. With just 1 or 2 of these options, a person will meet his or her daily allowance of sodium.
Which leads me to my second point – even the healthiest fast food options are still fast food. They aren't going to contain the same nutritional value of real, whole foods.
A few quick snacks you could have to tide you over from the drive-thru could be:
almonds with a mozzarella stick and cherry tomatoes
apple with peanut butter
popcorn
hummus with carrots.
2 Healthy Ready-to-Go Dinners
Instead of swinging into the drive-thru for dinner, I will often times go to the grocery store instead to pick up ready-made options. I will do a rotisserie chicken with Bob Evans' pre-made mash potatoes and a side of frozen veggies I can microwave quickly.
Another option is getting pulled pork. I can't tell you how many times we've had local barbecue with vinegar sauce and Popchips for dinner.
Are their healthier options out there? Of course! This is just all about finding what will be the best when you're tired, craving something good, and just don't have the time or energy to cook.
If you're curious on the health side effects of fast food, Fast Food Nation is a great book and Super Size Me is a great movie.
Even the healthiest fast food options should be used sparingly and can't make up for a good diet. I follow this meal plan, and it still allows me the freedom of a Chick Fil A sandwich or Snickers bar here and there.
Healthiest Fast Food Options
Chick Fil A
Chick-fil-A® Chargrilled Chicken Sandwich 270 Calories 3.5 Fat 3 Fiber 28 Protein
Chick-fil-A® Chicken Salad Sandwich 350 Calories 15g Fat 5 Fiber 20 Protein
Chick-fil-A Chick-n-Strips® (6- count) 310 Calories 15g Fat 1 Fiber 28 Protein
Spicy Chicken Cool Wrap 410 Calories 12g Fat 8 Fiber 35 Protein
Chargrilled Chicken Cool Wrap 410 Calories 12g Fat 8 Fiber 34 Protein
Chick-fil-A Chick-n-Strips® Salad 400 Calories 20g Fat 4 Fiber 34 Protein
Chick-fil-A® Southwest Chargrilled Salad 240 Calories 8g Fat 5 Fiber 25 Protein
Chick-fil-A® Chargrilled Chicken Garden Salad 180 Calories 6g Fat 3 Fiber 22 Protein
Sides
Fruit Cup (medium) 70 Calories 0g Fat 2 Fiber 1 Protein
Carrot & Raisin Salad (small) 170 Calories 6g Fat 2 Fiber 1 Protein
Cole Slaw (small) 180 Calories 21g Fat 2 Fiber 2 Protein
Chicken Salad Cup 270 Calories 18g Fat 4 Fiber 19 Protein
Desserts
Icedream® Cup (small cup) 240 Calories 6g Fat 0 Fiber 6 Protein
Icedream® Cone (small cone) 160 Calories 4g 4protein
Wendy's
If you're craving something sweet a Jr. Frosty! is about 160 calories for Chocolate and 150 calories for Vanilla. If you can, it's best to skip the fries. A small fry has 330 calories in it!
Single with Everything 430 Calories 20gFat 2 Fiber 25Protein
Ultimate Chicken Grilled Sandwich 320 Calories 7gFat 2 Fiber 28Protein
Spicy Chicken Filet Sandwich 440 Calories 16gFat 3 Fiber 28Protein
Homestyle Chicken Filet Sandwich 430 Calories 16gFat 2 Fiber 25Protein
Crispy Chicken Sandwich 360 Calories 14gFat 1 Fiber 16Protein
Ham and Swiss Fescata 460 Calories 19gFat 4 Fiber 27Protein
Turkey and Swiss Fescata 470 Calories 20gFat 4 Fiber 25Protein
Fescata Club 430 Calories 17gFat 4 Fiber 22Protein
Baked Potato (Plain) (with butter add 50) 270 Calories 0gFat 7 Fiber 7Protein
Large Chilli (Crackers add 25– cheese add 75) 330 Calories 9gFat 8 Fiber 25Protein
Taco Bell
You can pretty much order 1 of any other item. Just be careful of your sodium intake or don't eat here everyday.
Bean Burrito 320 Calories 7gFat 9 Fiber 12 Protein
7-Layer Burrito 380 Calories 8g Fat 9 Fiber 13 Protein
Crunch Wrap Supreme 560 Calories 9g Fat  5 Fiber 17 Protein
Nachos Supreme 450 Calories 9gFat 14 Fiber 26 Protein
Sonic
Skip the milkshakes and try a vanilla ice cream cone instead. Your best drink choices are a Fruit Tea (5-10 calories) or Limeade (around 170).
Jr. Burger 320 Calories 16g Fat 2 Fiber 15 Protein
Corn Dog 250 Calories 15g Fat 2 Fiber 5 Protein
Grilled Cheese 390 Calorie 17g Fat 2 Fiber 14Protein
Grilled Chicken Wrap 380 Calories 11g Fat 4 Fiber 27Protein
Chicken Strip Wrap 480 Calories 20g Fat 5 Fiber 20Protein
Jumbo Popcorn Chicken-SNACK size 370 Calories 21gFat 2 Fiber 19Protein
Ham, Egg, and Cheese Breakfast Bistro 430 Calories 21gFat 2 Fiber 25Protein
Bacon, Egg, and Cheese Breakfast Bistro 470 Calories 27gFat 2 Fiber 21Protein
Burrito 370 Calories 20g Fat 3 Fiber 11Protein
Small Tater Tot or Fry 220 Calories
Pizza Hut
Ham and Pineapple Personal Pan 570 Calories 26g Fat 3 Fiber 28Protein
Pepperoni and Mushroom Personal Pan 600 Calories 15g Fat 2 Fiber 5Protein
Subway
Skip the cheese, mayo and ranch dressings because they pack a lot of calories and fat. Your best bread choice is Italian or wheat, and each of your choices below are for a 6″ sub.
Ham 290 Calories 5g Fat 4 Fiber 18Protein
Oven Roasted Chicken Breast 310 Calories 5g Fat 5 Fiber 9 Protein
Roast Beef 290 Calories 5g Fat 4 Fiber 24Protein
Subway Club 320 Calories 6g Fat 4 Fiber 19 Protein
Sweet Onion Chicken Teriyaki 370 Calories 5g Fat 5 Fiber 26 Protein
Turkey Breast 280 Calories 4.5gFat 4 Fiber 18 Protein
Turkey Breast & Ham 290 Calories 5g Fat 4 Fiber 20 Protein
Veggie Delite 230 Calories 3g Fat 4 Fiber 9 Protein
Italian BMT 450 Calories 21gFat 4 Fiber 23 Protein
Steak & Cheese 400 Calories 12gFat 5 Fiber 29 Protein
What is your main go-to meal? Do you go to the drive-thru often?
In the fall and winter, I will make a lot of crockpot recipes and large pots of chili (3 variations lol!), vegetable soup, and stews because we will have leftovers for a few days too. This has really helped us cut down on the temptation to "just stop and get something." It's also saved a ton of money because an average fast food run costs us about $10-20 just for 2 people! Yikes!
What are your favorites from this list of the healthiest fast food options?