Meal Plans For a Healthy Body – Eat Clean Meal Plans
This post may contain affiliate links. All opinions shared are my own. As an Amazon Associate I earn from qualifying purchases. Click to view our full disclosure.
While I would love to be super toned and 10% body fat, that dream doesn't align with my other goals of being their for my business and family. That's not to say someone else couldn't do it, but it wasn't right for me.
What can I say? I'm a 90/10 girl that is healthy and happy eating healthy 90% of the time and splurging on my favorites in moderation.
With that said, I still want to be healthy and have a strong body. I also want to look great in my clothes! It's all possible though.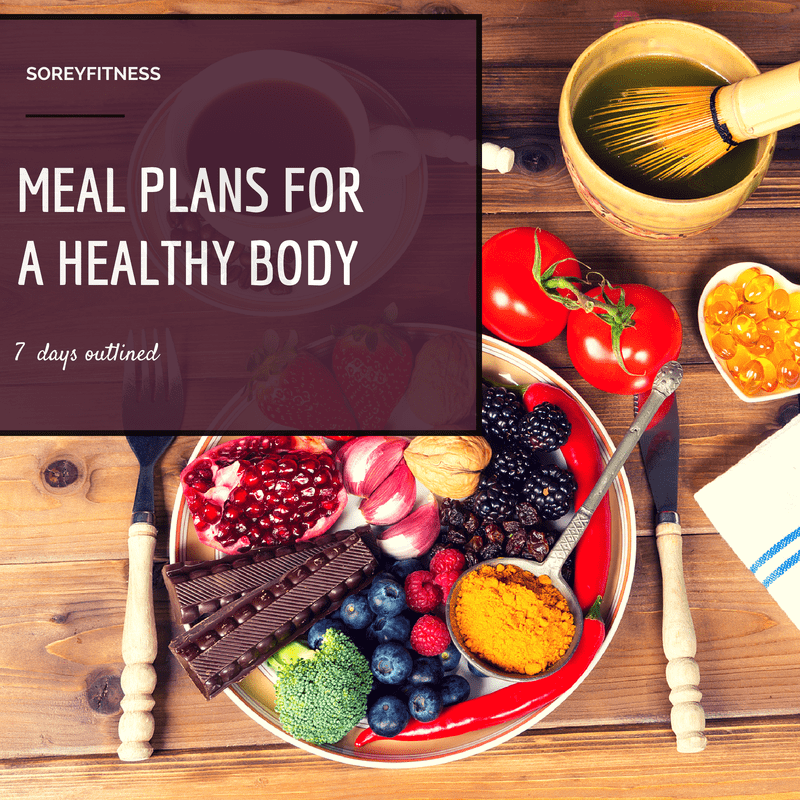 Here's my meal plans for building a strong body and balanced life. I'll stick to a 1400 calorie diet (I'm 5'3″ 115lbs) and allow a small cushion for a treat here and there whether it be a small craving or a date night out.
Keep in mind, the meal plans' calorie limit is still below the average woman's recommended 1600 calorie diet so feel free to add clean foods to your plan, however, if you are a smaller frame and short (5'4″) like me…you may want to stay at this level. You may calculate your calorie intake here, but remember you are what you eat–use your calories on clean foods to get the full benefits!
Below is my meal plans for the next week. I'm not a doctor or nutritionist, but I love being able to share and compare meal plans with everyone. Happy Eating!
My Meal Plans For a Healthy Body
| | | | | | | |
| --- | --- | --- | --- | --- | --- | --- |
| | Breakfast | Midmorning | Lunch | MidAfternoon | Dinner | Evening |
| M (1385) | | Greek yogurt; berries (150) | Shakeology with milk (230) | Almonds 12 (75) | Stuffed Potato w yogurt cheese chopped chicken(450) | FREE FOOD (250) |
| T (1330) | Greek Yogurt with berries (170) | Shakeology with 1/2 orange & 1 cup water (210) | ½ Wrap w hummus, turkey, tomato, avocado & feta (250) | Hardboiled Egg & Tomato (100) | ½ sweet potato, chalene spinach chicken (350) | FREE FOOD (250) |
| W (1340) | Omelette (2 eggs), onions, spinach & tomato on toast (290) | Edamame (100) | ½ Ezekiel wrap with nut butter & banana (250) | Orange & 10 almonds (150) | | FREE FOOD (250) |
| TH (1380) | Cream of Wheat, flax, wheat germ, bee pollen, & egg whites, cinnamon (300) | Walnuts 12 (150) | | Greek Yogurt (150) | Chicken Wrap with Hummus & tomatoes (230) | FREE FOOD (250) |
| F  (1400) | ½ Ezekiel wrap with nut butter & banana (250) | ½ apple or banana with nut butter (150) | Amy's Black Bean Soup (approx 350) | Orange & 10 almonds (150) | | FREE FOOD (250) |
| S(1330) | Greek Yogurt with berries, flax, wheat germ, granola (300) | ½ apple or banana with ½ of normal nut butter (100) | | Shakeology with milk (230) | Spaghetti Squash (200) | FREE FOOD (250) |
| S (see notes) | Ezekiel French Toast (240) | Shakeology with milk (230) |  ½ Ezekiel wrap with nut butter & banana (250) |  Carrots &Hummus (80) |  Chili and baked potato (300) | FREE FOOD (250) |