11 Surprising Portion Control Tips to Hit Your Goal Weight
This post may contain affiliate links. All opinions shared are my own. As an Amazon Associate I earn from qualifying purchases. Click to view our full disclosure.
Wine, chocolate and chips are never going to be completely out of my diet so portion control is key for me. Sure, I've tried taking out the "junk" for a few weeks – but that just isn't the way I want to live my life. I get a little too anal and stressed out about food if I start limiting myself to only certain foods, and my 6-pack wouldn't be worth the anxiety.
To my benefit, portion control has been found to be one of the best ways to lose and keep off weight. I think the reason is because as long as you are eating the right portions, nothing is off limits. It allows you to lose that diet until X date mentality!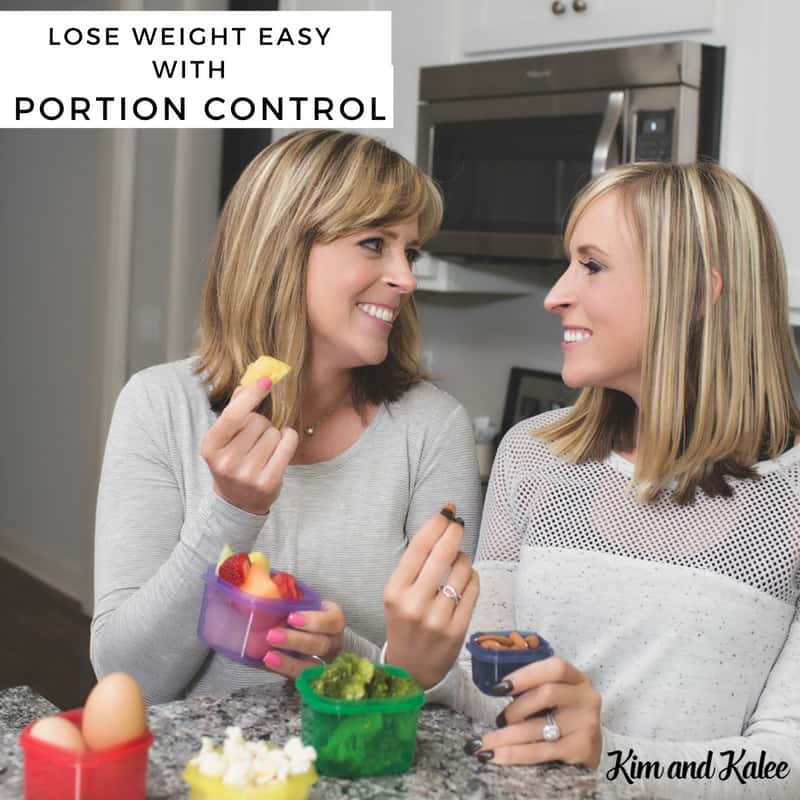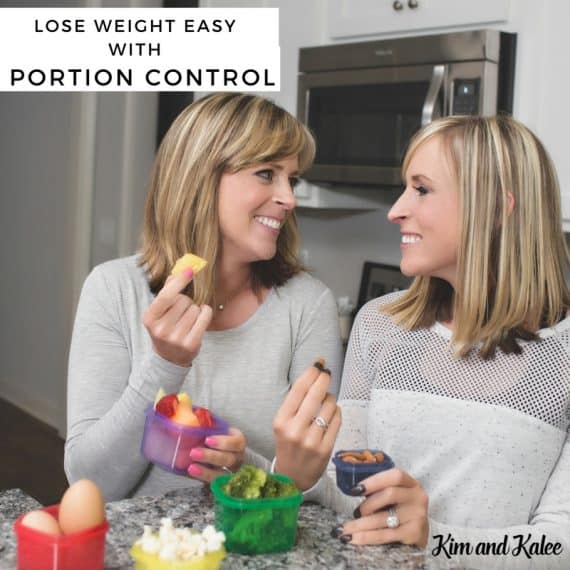 Did you know the portions given at restaurants are 2-4 times larger than the recommended serving amount. That got me thinking about portions versus servings.
How much is a portion?
A portion will vary among food groups. For example, vegetables are measured in cups usually. About 1 cup of raw vegetables is a portion. A portion of fresh fruit is about 1 cup whereas a portion of dried fruit is much less due to the sugar content.  An easy way to learn your portions is using portion controlled containers because it's all pre-measured for you.
What is the difference between a serving and a portion?
A food label may list how many servings are in a bag and how big each serving is. It varies from item to item. In contrast, a portion is how much you choose to eat of a food in one sitting. Often times serving sizes and portion sizes will match, but sometimes they don't. For example a large banana may look like 1 serving, but it's actually 2 portions.
11 Surprising Tips to The Portion Control Diet
Don't Skip Meals – Being HANGRY makes your willpower go out the door. Hunger makes it tempting to eat more or choose a less than stellar option. I keep protein bars or these 51 snacks handy.
Plan Your Meals – The best way to not skip a meal is to plan out your meals ahead of time! Take 30 minutes on Sunday to think about what your week holds and what might work best for you. For me, I do something simple in the morning and lunch and then dinner is usually something that feeds us at least 2 nights.
Measure Your Food – Just because something looks like it's in a 1-serving bag or box doesn't mean it is. Even natural whole foods may contain more than 1 serving; for example, a large banana may be 2 servings. You can check labels, weigh your food or measure it out with portion controlled containers. I personally use the containers all the time. It's simple and since a lot of my foods aren't processed I don't have a label to check. I just throw it in the container and go. This meal plan even lets you know how many portions you need per food group each day based on your weight and goals.
Know Restaurants – Their servings are typically 2-3x what we should actually eat. Stock up on a lean protein, healthy fat and a vegetable when you can. I usually do a grilled chicken breast with a sweet potato with butter and green beans. I eat about 1/2 the breast and sweet potato and have the butter on the side. Here's our guide to fast food.
Take a Look at Calories When You're Out – One of the perks of portion control is not having to watch calories so I know this tip may seem counterintuitive. The reasoning I have behind it is since 1980 the amount of calories in an item have nearly tripled! For example a Turkey sandwich in 1980 was 320 calories compared to a whopping 820 now! A side of Fries used to be 210 and now can be closer to 610! So just because Wendy's says it's a medium fry doesn't mean it's an adult portion.
Drink Your Water & Skip the Other Stuff – Water will help you stay full and fight cravings. On the other hand, sodas, juices, and even fancy waters like coconut water can pack extra sugars and calories. Nothing is off limits so if you want that Coke have it – but it should be in moderation just like any other treat.
Make Your Portions Powerful – I really am not a vegetable girl. I don't like them to start with, and in Tennessee your options 8-9 months out of the year are very slim pickings. Using the portion control diet though, I know veggies can leave me feeling full and because they are low in calories and high in fiber the serving size is a lot bigger! So I get creative with soups and stews using frozen veggies in the winter, and I grill summer vegetables!
Stock up on Whole Foods – By skipping a lot of heavy carbs, high sugar and highly saturated fatty foods – you'll get more for your "buck" per say in a portion control diet. You'll get 3x as much fruit as say a serving of almonds.
Make SMALL Changes – Just because you're watching your portions doesn't mean pizza goes out the window (thank goodness!). You can still have pizza but not the whole thing. If eating 1-2 medium size pieces and counting it towards your alloted servings for the day doesn't sound like your cup of tea – make small changes to it. Instead of thick crust choose a thin crust. Top it with veggies versus a ton of meats and extra cheese.
If you want a treat…. – I love my wine and cupcakes, but I don't keep any treats in the house. It makes having a treat more special when I do, and it also keeps me from mindlessly grabbing one (or 5) from the pantry. Plus the fresh treats like baked goods usually taste better and are of a higher quality than the bigger boxed stuff so I get more out of it.
Know How Much to Eat & What to Eat – Just because you know what a portion of ice cream looks like doesn't mean you need 3 portions of it each day. Which is a silly example I know, but the same goes for almonds or coconut oil. You might think "hey, these are healthy! I can have a bunch!" But they are two foods to still get in but at a limited amount due to their fat content and calories.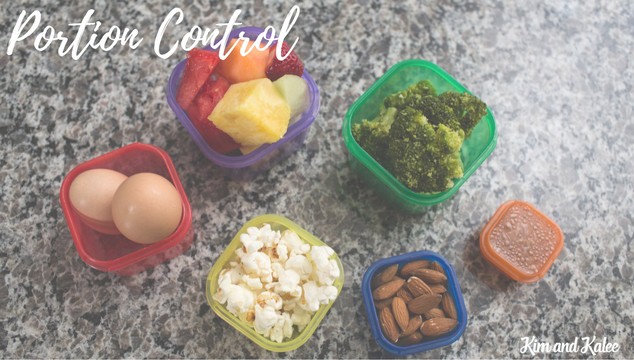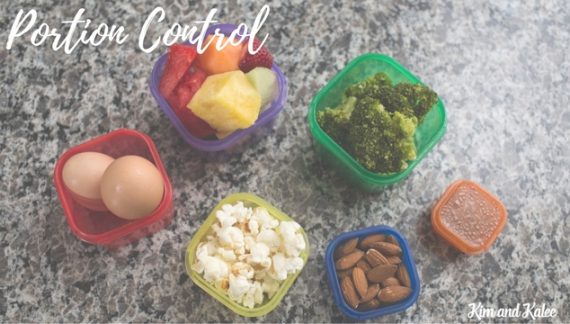 Figuring Out Your Portion Sizes & How Many Portions to Eat Daily
Along with portion sizes, the amount of portions of each food group is important and varies on weight and your goals.
My favorite guide to portion control is the Portion Fix Eating Plan. The reason I love it is because it offers a clear, simple plan.
You receive portion control containers outlining your:
Vegetables

Fruits

Proteins

Carbs

Healthy Fats

Seeds and Dressings

Plus up to 3 treats per week!
It includes 100s of foods you can eat along with recipes. So you don't feel like you're having to eat a container of protein then a container or carbs. For example, 1 piece of pizza is a vegetable and carb.
The other cool thing is the food groups are outlined by colors versus "carb, protein" etc. So you may say I have 3 greens, 2 purples, and 4 reds to still get in today. It just makes it easy to remember and track.
There are also vegan and vegetarian options on the Portion Fix.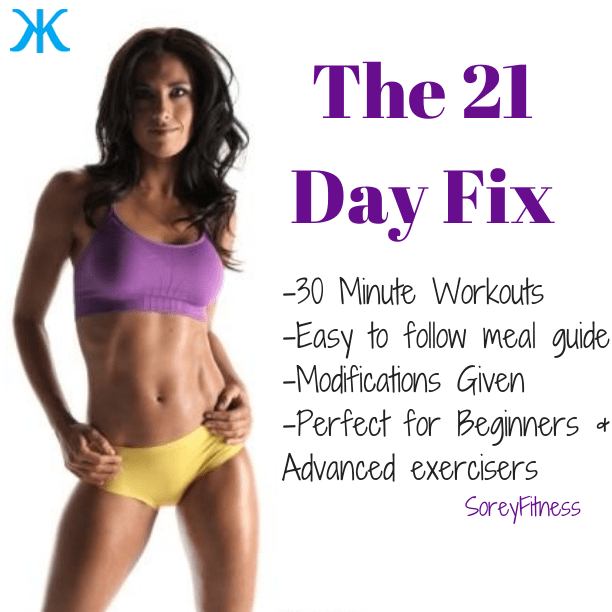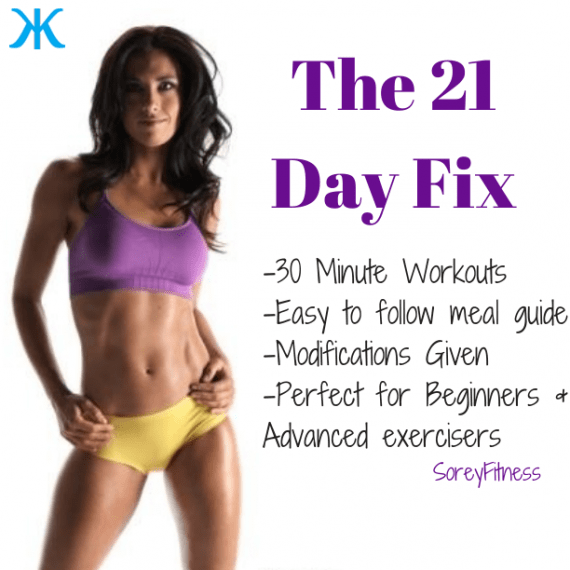 Get a Workout with It
For just a little bit more you can get a workout program with the Portion Fix. You could choose the 21 Day Fix, Cize, or Country Heat (a new line dancing workout).
My favorite out of the 3 is the 21 Day Fix. It's perfect for all levels of fitness! It offers modifications to help tailor it to your level of fitness.
I've seen other containers out there, but I can't guarantee anything about them.
I haven't tried any of the new knock-off brands of containers. I chose the portion fix when it first came out, and I loved that the containers' lids went on smooth and everything was BPA free. Plus they are dishwasher safe.
Do you follow a portion control-type diet?