Diet Food Doesn't Have to Taste Like Cardboard – Healthy Pizza Recipe
This post may contain affiliate links. All opinions shared are my own. As an Amazon Associate I earn from qualifying purchases. Click to view our full disclosure.
I hate the term "diet food."  It just sounds miserable and unsatisfying. Instead of chowing down on nasty diet food because you want to lose weight, pick some of your favorites and make healthy choices.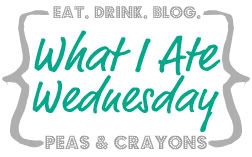 For me, that meant learning about labels and using food as fuel. Different foods help your body shred fat, spark your metabolism, reduce inflammation, make your hair pretty, and so much more! But diet food like Special K or the Master Cleanse doesn't have all of those perks.
So I've been focusing on super foods and healthier options to stop feeling deprived for What I Ate Wednesday (WIAW).
To start off the morning, I had 1 cup Greek yogurt with 1/2 a banana, a handful of cashews, and about 1 tbsp coconut flakes.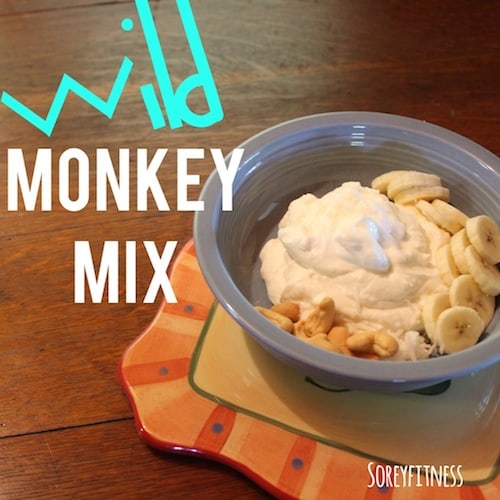 I had been wanting to try Monkey Mix (same as above without yogurt), but it was so dry. Adding the yogurt make it more of a meal over a snack.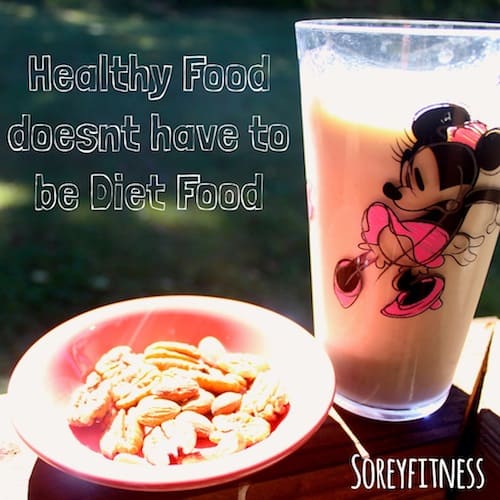 For lunch I did 12 oz of water with 1 tsp of almond butter in my Shakeology. Yum!
Dinner is always the toughest for me. I don't want to feel like I'm eating traditional diet food, and for me — baked or grilled chicken is the same as eating cardboard. I don't know if I don't bake/grill it right, but it never tastes good. I decided to make a healthier option pizza.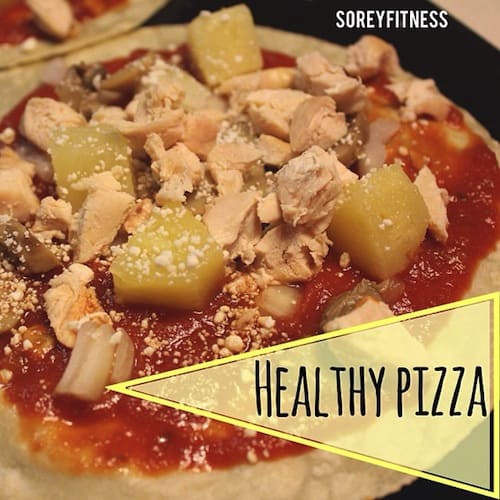 It turned out really well! It was really tasty, probably a 1/3 of calories and fat of 2 pieces of Papa Johns, and so easy to make. I used a tortilla so it wasn't very thick, but you could use a whole grain pita bread as well for a thicker crust option.
Healthy Pizza Recipe
Ingredients
1 large whole grain Ezekiel  tortilla (or Kangaroo Brand Pita would work too)
2 Tbsp Barilla's Marina & Roasted Garlic Sauce (look for low sugar; this one was under 10grams and 70 calories)
2 Tbsp chopped onion
1/4 cup canned pineapple chunks
3 oz cooked chicken
1 Tbsp mushrooms (canned or fresh)
1-2 Tbsp low fat goat cheese
Directions
Cook your chicken through either through baking or grilling. Then, preheat the oven to 375 degrees for the pizza. Open your tortilla or pita, and add your toppings. Then cook for 10-15 min or the cheese is melted and sides are a little brown!
Super easy! If you want a more organic, healthier option — look for organic sauce or make your own with fresh tomatoes, basil, and garlic. You could also find organic chicken; remember organic and natural are different. The term "natural" on chicken or dairy really holds no merit nutritionally. You want to find antibiotic-free, grass-fed, or organic chicken if you are looking to avoid chemicals.
What did you eat this week?
Do you do "diet foods"?

Receive your free beautifully smooth 6 piece gift with $35 Philosophy purchase at macys.com! Offer valid 10/17-10/29