Halo Top Ice Cream Review
This post may contain affiliate links. All opinions shared are my own. As an Amazon Associate I earn from qualifying purchases. Click to view our full disclosure.
Halo Top Creamery changed the world when they released their low-calorie pints! Our Halo Top Ice Cream review focuses on the creamery's flavors, nutrition, ingredients and price. Plus, we'll compare it to Enlightened Ice Cream and other popular ice cream brands!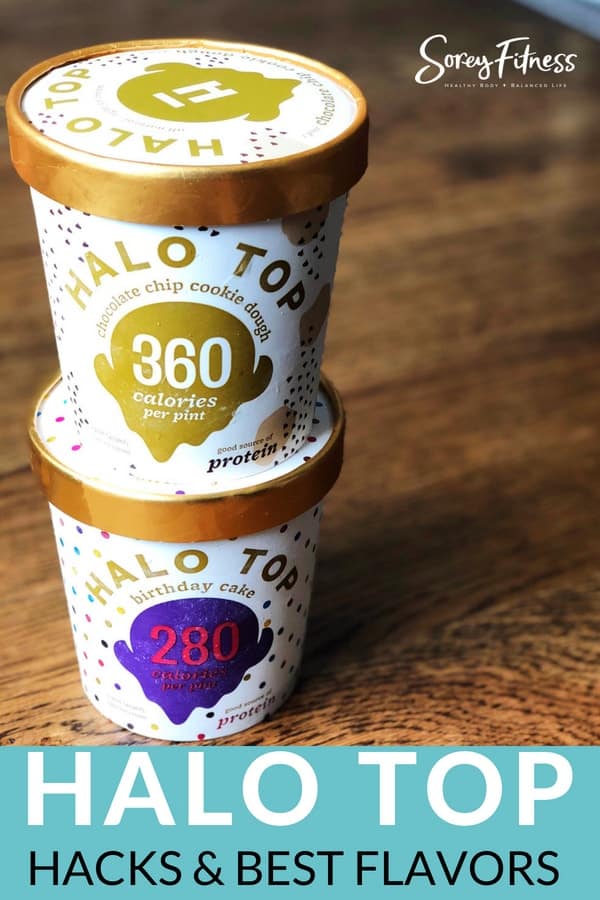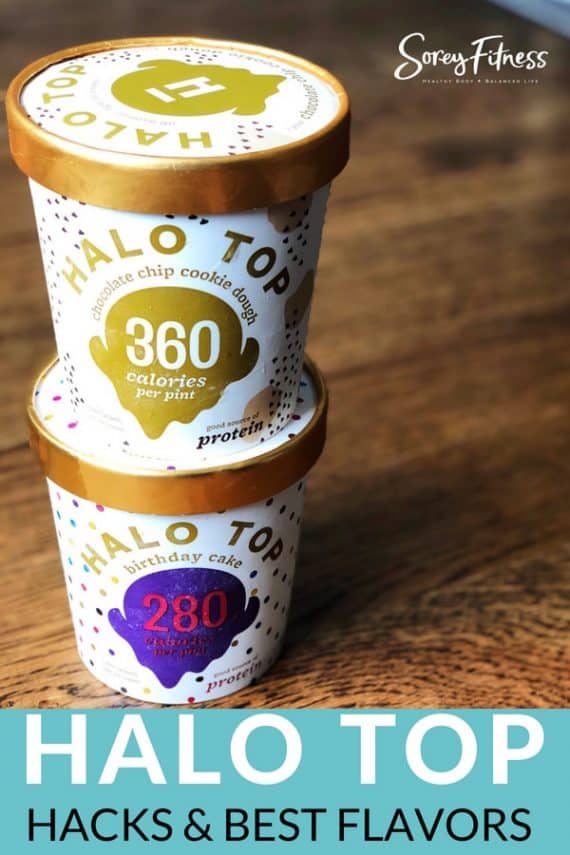 Halo Top Ice Cream Review
Halo Top has become a household name because of its low-calorie treats. With that said, there are pros and cons to it.
| | |
| --- | --- |
| Love | Hate |
| Low Calorie | Expensive |
| Lots of flavors | Needs to Thaw |
| Low-Fat, High Protein | Not Super Creamy |
It's sweetened with stevia and erythritol which helps keep the calories low.
Is Halo Top Ice Cream Healthy?
Whether or not Halo Top is healthy or not, depends on who you ask.
The brand is able to keep their calories, fat, and sugar down while upping their fiber and protein. It just contains higher levels of sugars (stevia and erythritol).
For us – we eat it like normal ice cream.
So in short – in moderation.
The idea of a purely Halo Top Diet is crazy talk, but we love it as an occasional treat.
We even down the whole pint.
If you're looking for a low carb or keto ice cream, check out our review of Rebel or Enlightened's Keto Line!
Halo Top Nutrition & Ingredients
The ingredients may vary across the different flavors, but most of the dairy-flavors contain:
Skim milk
eggs
erythritol
milk protein concentrate
cream
organic cane sugar
prebiotic fiber
roasted almonds
vegetable glycerin
carob gum (organic)
guar gum (organic)
stevia leaf extract (organic)
There are 25 Halo Top Flavors
Vanilla
Chocolate
Lemon Cake
Strawberry
Mint Chip
Chocolate Mocha Chip
Birthday Cake
Chocolate Chip Cookie Dough
Peanut Butter Cup
Cookies & Cream
Sea Salt Caramel
S'Mores
Pistachio
Oatmeal Cookie
Chocolate Almond Crunch
Black Cherry
Red Velvet
Cinnamon Roll
Pancakes & Waffles
Chocolate Covered Banana
Mochi Green Tea
Rainbow Swirl (Sherbet)
Candy Bar
Caramel Macchiato
Blueberry Crumble
Plus Halo Top Dairy Free Flavors
Halo Top also offers vegan ice cream flavors made with coconut milk. These are also soy and dairy-free.
These flavors are also still low calorie (280-360 calories per pint).
Dairy Free Flavors of Halo Top
Chocolate
Chocolate Covered Banana
Caramel Macchiato
Cinnamon Roll
Oatmeal Cookie
Peanut Butter Cup
Sea Salt Caramel
Birthday Cake
Candy Bar
Chocolate Almond Crunch
Chocolate Chip Cookie Dough
Pancakes & Waffles
Toasted Coconut
Vanilla Maple

Best Halo Top Flavors
Our favorites are Birthday Cake, Chocolate Chip Cookie Dough and Candy Bar.
Unfortunately, Candy Bar can be hard to find. Also, we've only tried the dairy options at the time of this post.
Halo Top Birthday Cake Review
The Halo Top Birthday Cake is a 280 calorie pint with 20 grams of protein. We love it because it's sweet and contains sprinkles.
It is one of the sweeter flavors we've had, but cake is sweeter than coffee or pistachios to start with. So you kind of know what you're going in for.
If you like Marble Slab or Maggie Moo's Birthday Batter, you're going to probably like this one as well!
Between this one and Enlightened's Birthday Cake — Halo Wins!

Halo Top Chocolate Chip Cookie Dough Review
The Chocolate Chip Cookie Dough is a bit higher in calories – clocking in at 360 calories for the pint and 20 grams of protein.
We love this one because the vanilla ice cream is light, and the cookie dough runs pretty heavy! Some have said that the dough is kind of gritty – but we think regular dough is kind of gritty because of the sugar…so we're giving it 2 spoons up!
Between Enlightened's Chocolate Chip Cookie Dough and this brand – Halo Wins!
Honorable Mentions
We love the Candy Bar, but it's hard to find.
The Red Velvet is also great and perfect for splitting a pint because it's really rich.
The mix-ins in both flavors are so good!
Where to Buy
We've seen it at Walmart, Kroger/Ralphs, and Publix.
You can also search for a local store – or even shop by flavor – on their website!
Getting it Cheaper – Coupons
If you go to their website above, you can usually score a $1 off. They also will send contests by email. They rarely do coupons after the first one though.
Grocery stores like Kroger and Ralphs will typically run them on sale from time to time too. Regular price is about $5, and you can sometimes get them for about $3.
Ibotta also has Halo Top Coupons!
Ibotta, a cash back app for groceries, features $1 or $1.50 off coupons a lot. It's not all the time, but you'll see Halo Top coupons, as well as, Enlightened Ice Cream pop up often.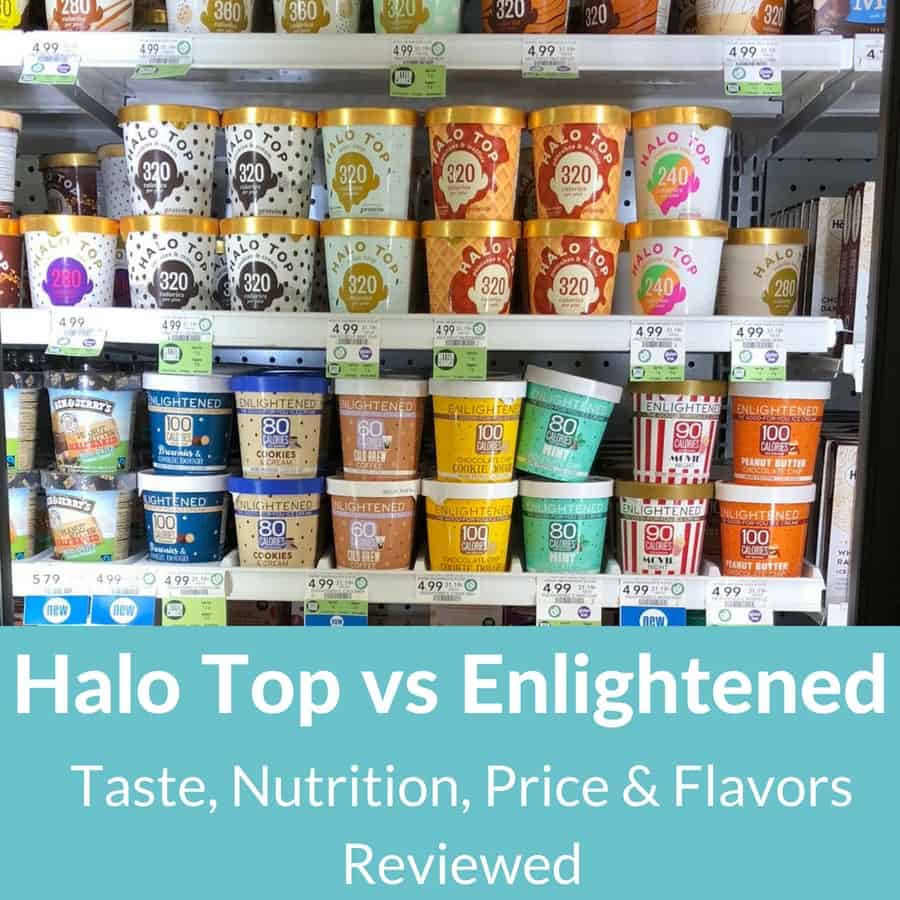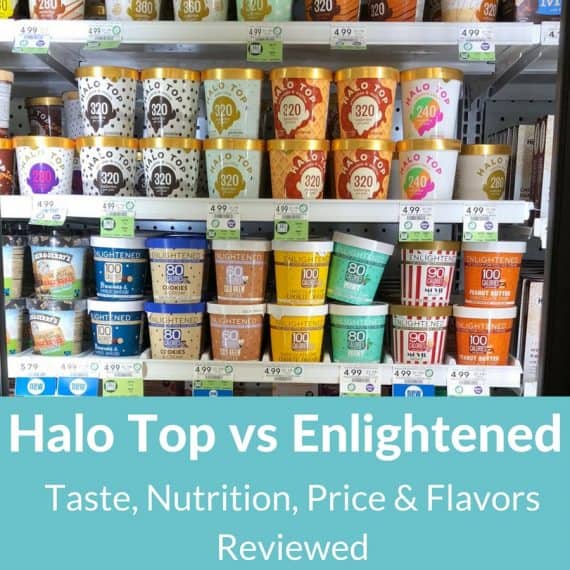 Halo Top vs Enlightened Ice Cream
We also did a review on Enlightened Ice Cream earlier.
If you've been looking for a low-calorie ice cream – these two are direct competitors.
The price, ingredients, number of flavors and calories are VERY similar.
With that said, Enlightened doesn't have Stevia in it, and it's also a bit creamier.
Verdict:
Out of the two, Halo Top is our favorite. Enlightened has an aftertaste; however, we do love how creamy it is!
We also have tried Pro Yo (yuck!), Chilly Cow (popsicles over pints), and Breyers Delights (Yum!).
Also, we did a live taste test comparing 3 of the top brands' cookies and cream below!
Do you eat low-calorie ice cream? Do you have a favorite flavor?