Rebel Ice Cream Review – Low Carb, High Fat Keto Ice Cream
This post may contain affiliate links. All opinions shared are my own. As an Amazon Associate I earn from qualifying purchases. Click to view our full disclosure.
Since we've been following a low carb diet, we've been looking for a store-bought keto ice cream. We found a creamy one that comes in 8 flavors – one of which is our favorite, cookie dough! Grab our Rebel Ice Cream Review and learn if it's a good fit for your sweet tooth below!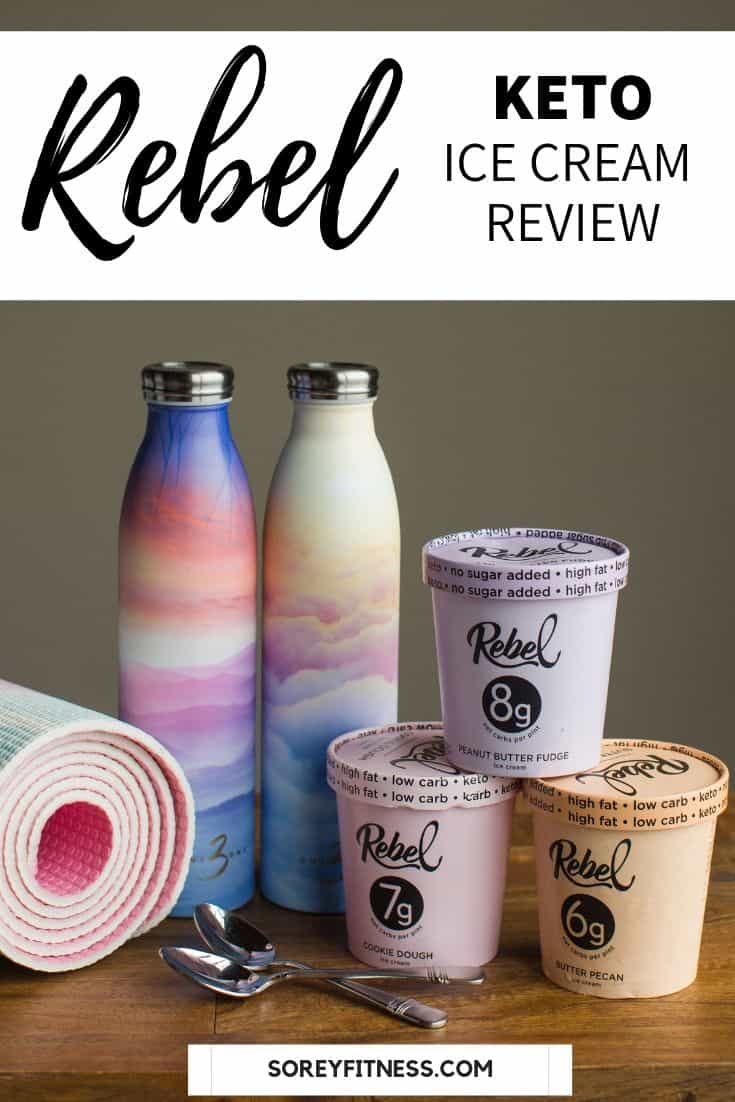 For our Rebel Ice Cream review, we chose to try out Butter Pecan, Peanut Butter Fudge and Cookie Dough from Publix. They were about $6 and were right beside Enlightened and Halo Top.
There is one major difference between Rebel and low-calorie ice cream brands though.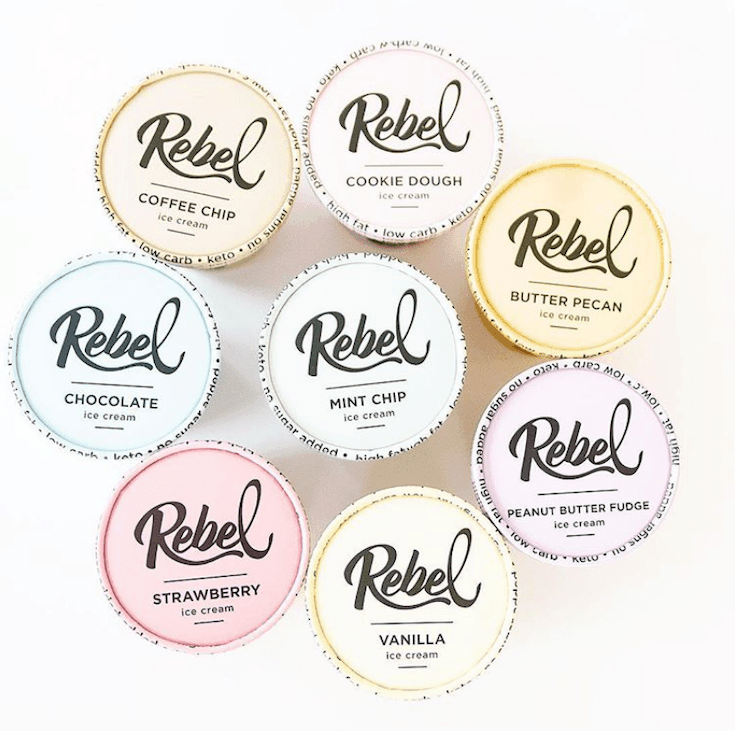 What is Rebel Ice Cream?
Rebel Ice Cream is keto and so good! We are obsessed with the cookie dough! It's so creamy and has 0 grams of sugar. Instead it uses erythritol to sweeten flavors. For a no-sugar, 2-5 carb experience, it's the best treat on a low carb diet!
Quick Keto Summary
If you're unfamiliar with keto, you basically eat 60-80% fat, 15-30% proteins, and very few carbs. This can put your body into ketosis which in normal terms just means you're using fat instead of glucose (sugar) for energy. People following a keto-diet also typically follow intermittent fasting in some way.
A serving of Rebel Ice cream is between 150-200 calories and contains 14 grams of fat, 2-3 grams of protein, and 10-14 grams of carbohydrates depending on the flavor.
What We Liked & Disliked
We love that Rebel Ice Cream is super convenient and low carb. The Peanut Butter Fudge and Cookie Dough were also really tasty and something we'd look forward to eating.
With that said, we don't like that a pint can be around 800 calories! You could argue that calories aren't as important as carbs on a keto diet, but these calories are still just empty of nutrition. It would be better to find healthy fats and whole foods even on the keto diet.
We also don't like how much erythritol it contains. This sweetener can cause digestion issues.
With that said, we'll still enjoy it every now and then!
Is Rebel Ice Cream Keto Friendly?
Yes, Rebel Ice Cream is keto-friendly at 1-2 net carbs per serving. It contains high amounts of fats with moderate protein and low carbs.
Are there other Keto Friendly Ice Cream Brands?
Yes! We love Enlightened's keto ice cream line as well!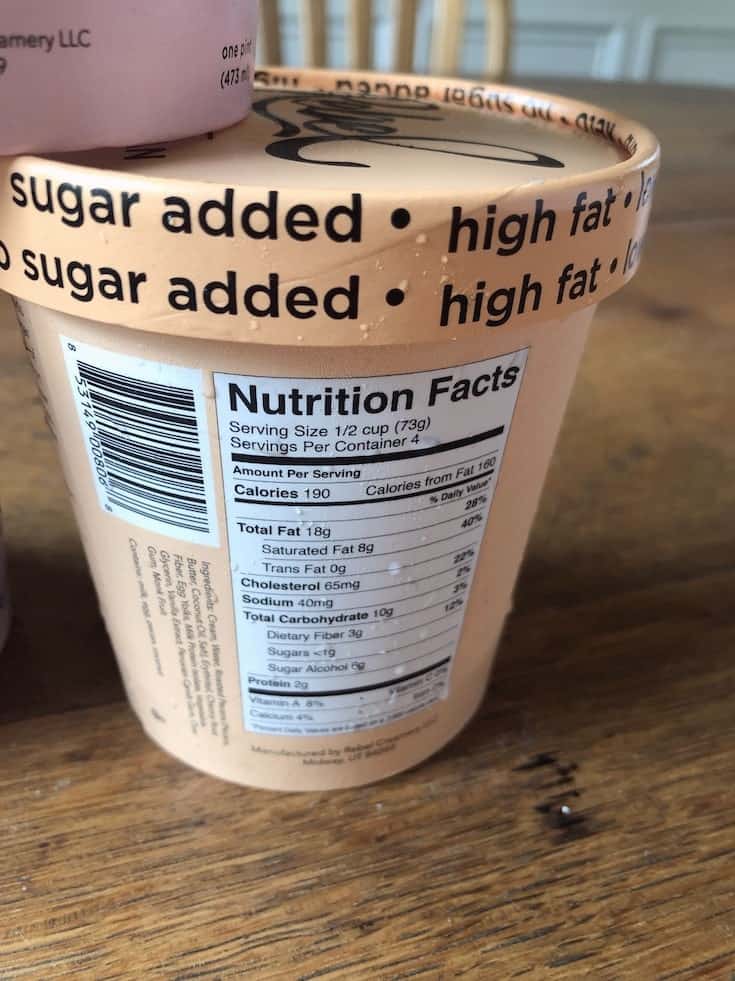 What are the Ingredients in Rebel Ice Cream?
While the ingredients in Rebel Ice Cream may vary by flavor, here's Cookie Dough flavor as an example:
Cream, Water, Cookie Dough (Almond Flour, Erythritol, Palm Oil, Water, Natural Flavors, Baking Soda, Salt, Sunflower Lecithin), Chocolate (Coconut Oil, Cocoa, Erythritol, Sunflower Lecithin, Salt, Dutch Cocoa, Natural Vanilla Flavor, Monk Fruit) Erythritol, Egg Yolks, Vegetable Glycerin, Chicory Root Fiber, Milk Protein Isolate, Vanilla Extract, Peruvian Carob Gum, Guar Gum, Monk Fruit. Contains: milk, egg, almonds, coconut
How Many Carbs Are in Rebel Ice Cream?
Depending on the flavor, a serving of Rebel Ice Cream contains 1-2 net carbs. A pint of this keto ice cream would be between 4-8 net carbs.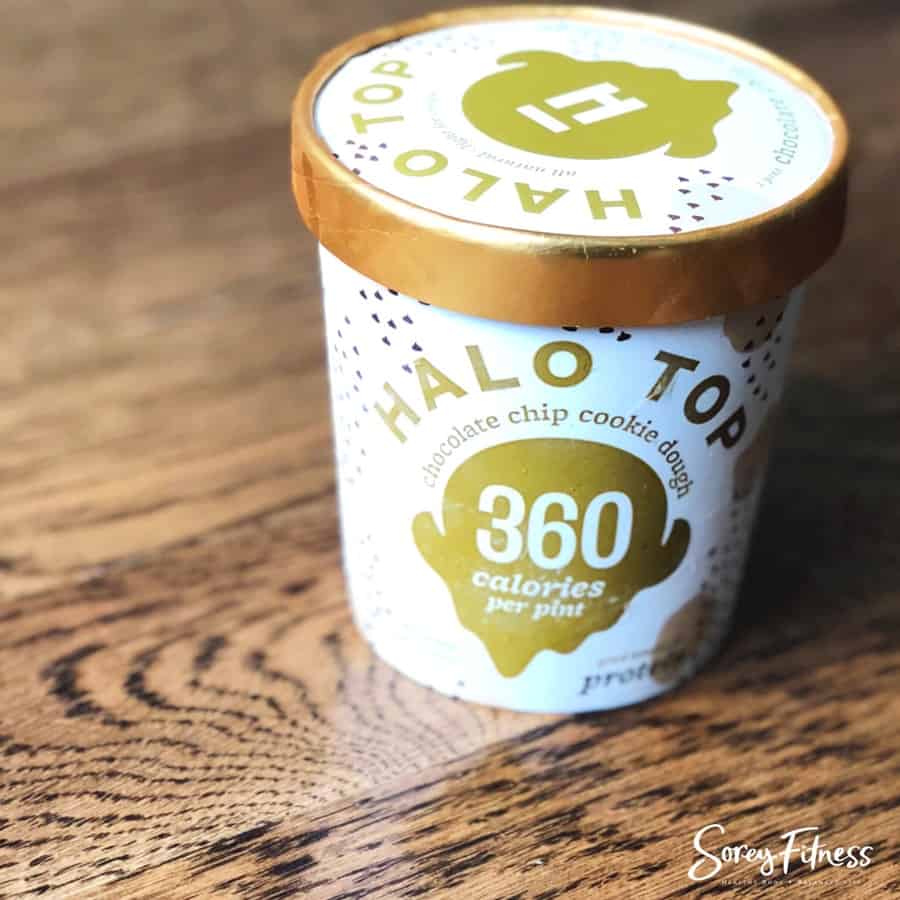 Halo Top vs Rebel Ice Cream Review
As you know, we love our low-calorie Halo Top ice cream. With that said, it has 14-16 grams of carbohydrates per serving compared to Rebel's 1-2! While Rebel Ice Cream is higher in calories, if you're tracking carbs, this brand wins hands down.
Differences
The texture of Rebel Ice Cream is creamier than Halo Top, and unlike Halo Top it doesn't have to be stirred to make it creamy.
Obviously, if you're tracking calories Halo Top will be the winner, and if you're looking for a keto ice cream, Rebel wins!
Similarities
Both brands do use added sweeteners. They also both require time to soften up – either 15-30 minutes sitting out or about 30 seconds in the microwave.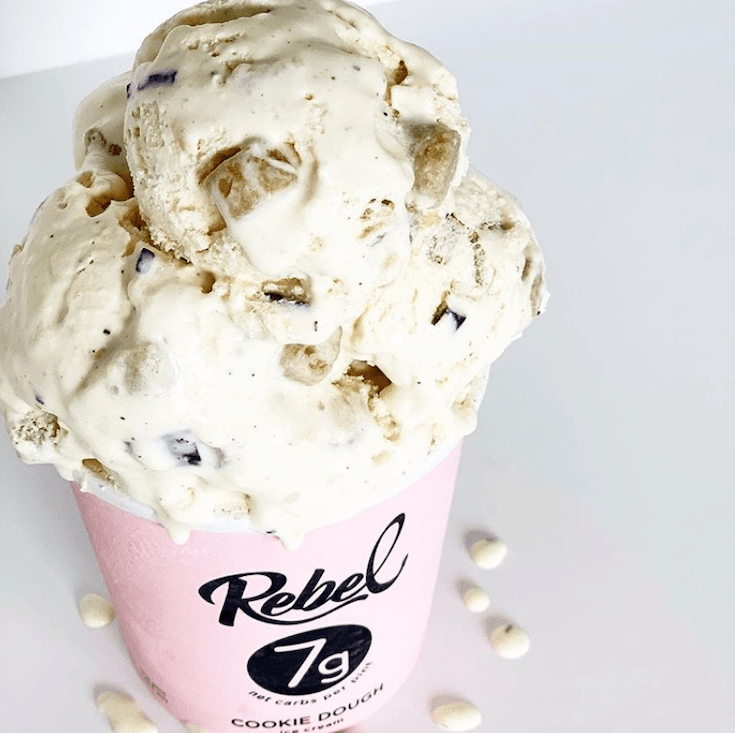 Rebel Ice Cream Flavors
Currently, there are 8 Rebel Ice Cream Flavors. They are:
Peanut Butter Fudge
Mint Chip
Butter Pecan
Cookie Dough
Strawberry
Coffee Chip
Chocolate
Vanilla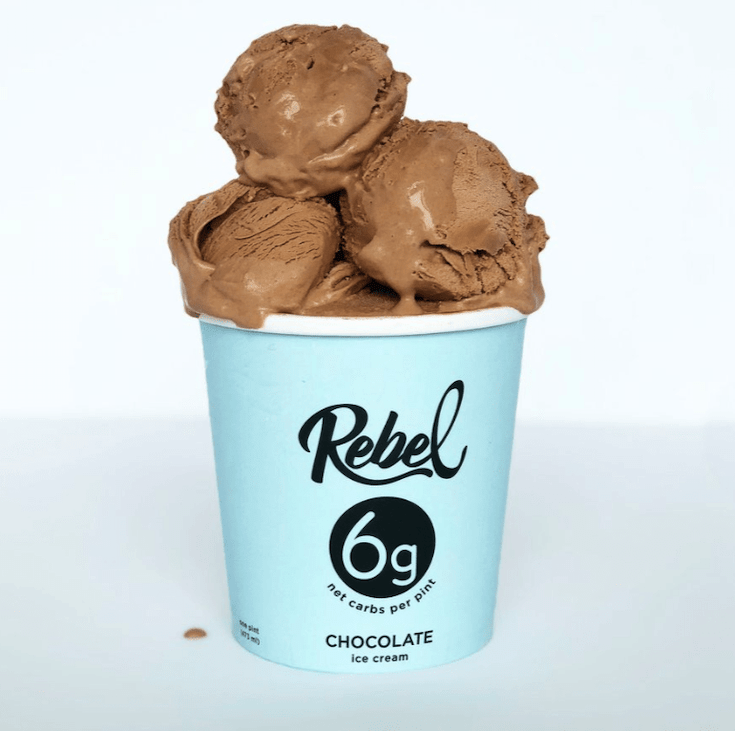 Where Can I Buy Rebel Ice Cream?
For our Rebel Ice Cream review we found the pints at Publix around the other pint-size ice creams.
You can also order it sometimes off of Amazon.
You should be able to find Rebel Ice Cream at:
Publix
Market Street
Lassens
Central Market
H-E-B
Rouses Markets
Price Chopper
Whole Foods
Giant Martins
Jewel Hy-Vee
and Shop Rite
You can also use their store locator here.
How Much is it?
Rebel Ice Cream is about $5.99 a pint in most stores and online.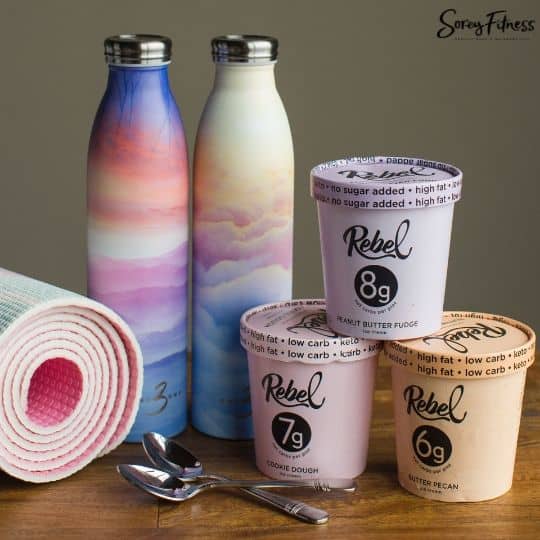 Would We Buy It Again After Our Taste Test?
Absolutely!! Since we try to watch our carbs and calories, we're planning on keeping it only as a treat.
While the net carbs are super low, the pints can be around 800 calories! So we'll stick to a serving (or two!) as well.
Another reason we'll only eat it in moderation is because of the erythritol in it. This sweetener can be really tough on your digestion so if you struggle with digestion or gut issues, research the effects of erythritol as well!
Have you tried Rebel or another Keto Ice Cream? What did you think?