Enlightened Ice Cream Review
This post may contain affiliate links. All opinions shared are my own. As an Amazon Associate I earn from qualifying purchases. Click to view our full disclosure.
When it comes to ice cream, I'm one to take a spoon and dig in. So when these low-calorie ice creams became popular I was all over it! Our Enlightened Ice Cream Review covers the taste, texture, nutrition, price and best flavors.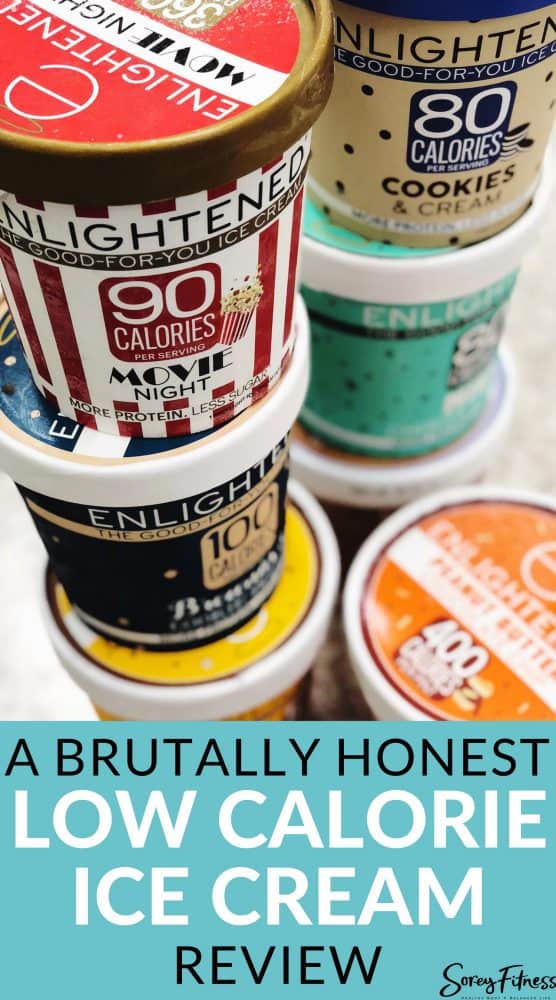 As a general rule – the popular low-calorie ice cream is about 60-100 calories per serving.
Are you looking for Enlightened's Keto Ice Cream?
Enlightened Ice Cream Review: At a Glance
| | |
| --- | --- |
| Love: | Hate: |
| Low-calorie | |
| Lots of flavors | Different texture than regular ice cream |
| Hight Protein | Some flavors taste too sweet |
| Natural Ingredients | Needs to Thaw or Microwave |
The Secret
When we first tried Enlightened, or really any low-calorie ice cream, we hated it. We had no idea that you needed to let it thaw for 30 minutes.
We're impatient!
If you're like us, you can pop a new pint into the microwave for 25-30 seconds. Then stir. It'll help get the ice cream super creamy!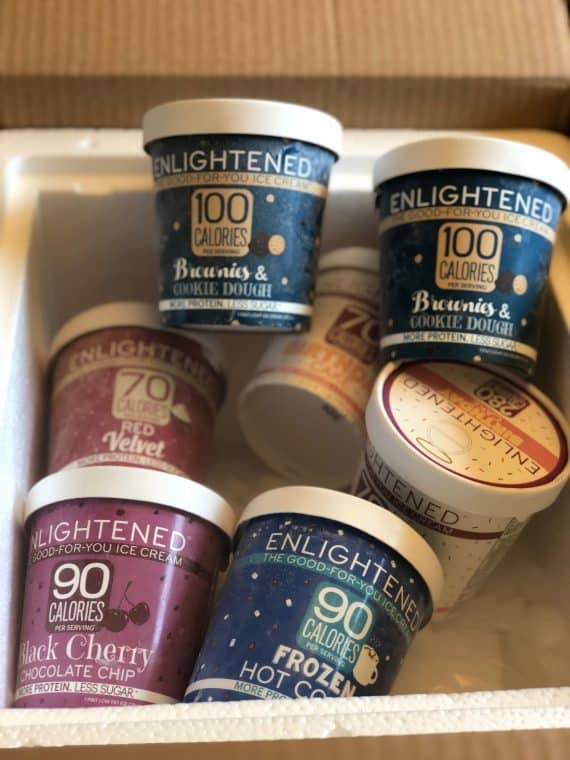 Enlightened Ice Cream Flavors
As of May 2018, there are 27 Enlightened Ice Cream flavors!
We tried the flavors marked with an asterisk.
Chocolate*
Vanilla
Butter Pecan
Cookies & Cream
Birthday Cake*
Marshmallow Peanut Butter
Movie Night
Brownies & Cookie Dough
French Toast
S'mores
Glazed Donut
Sea Salt Caramel
Chocolate Peanut Butter*
Red Velvet
Mint Chocolate Chip
Cold Brew Coffee
Peanut Butter Chocolate Chip*
Chocolate Chip Cookie Dough*
Fudge Brownie
Black Cherry Chocolate Chip*
Triple Chocolate
Snickerdoodle
Strawberry Cheesecake
Caramel Oatmeal Cookie Crunch*
Frozen Hot Chocolate*
Toasted Almond
Bananas Foster
The thing we found with the flavors is that you'll likely love many of them or none at all. They all have a similar base flavor, and then the toppings make them a little more fun.
To us, they are all a little sweeter than normal ice cream.
They are sweetened with Erythritol which is why. Some people do very well with it, and it's found in nature. For others it's too sweet and can cause some stomach aches.
The Texture
Out of all of the low-calorie ice creams, Enlightened is by far the creamiest we've found!
You do need to let it thaw or microwave it for a few seconds, but after that….yum! It's like straight frozen cream.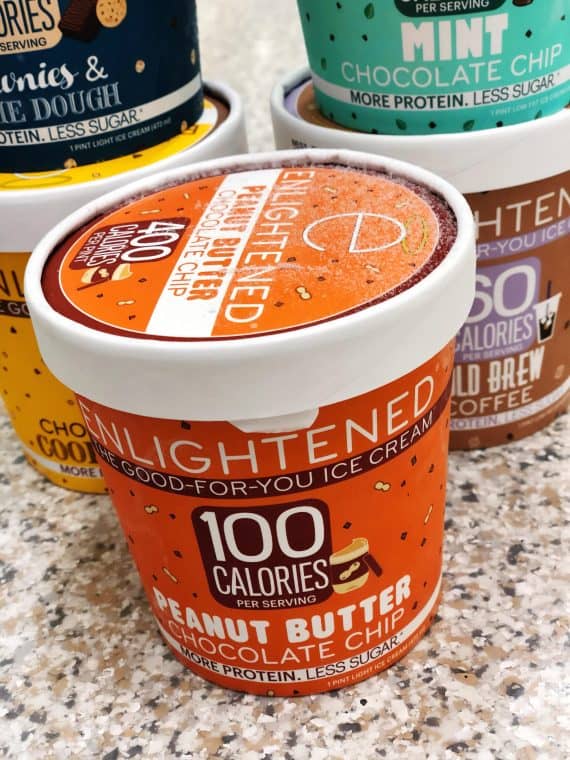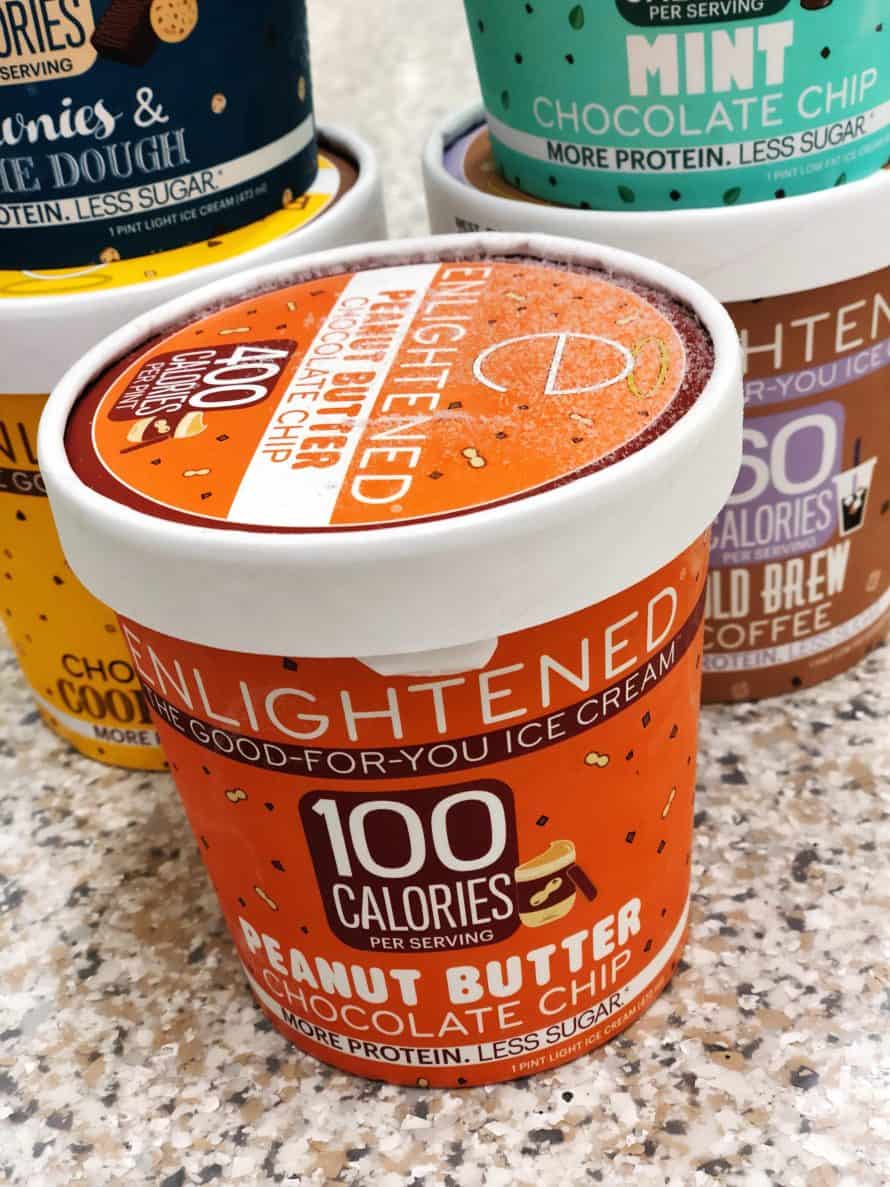 Enlightened Ice Cream Price
Enlightened Ice Cream costs about $5.50 a pint. Since one of the selling features is that you can eat the whole pint without guilt, this habit gets expensive quickly!
With that said, they have coupons often!
Ibotta, a cash back app for groceries, features $1 or $1.50 off coupons a lot.
Grocery stores like Publix do buy 1, get 1 a lot as well.
You can also get a coupon on their website.
Enlightened Ice Cream Ingredients
Each flavor varies in ingredients; however, most of them contain:
Skim Milk
Milk Protein Isolate
Erythritol
Non-GMO Soluble Corn Fiber
Cream, Sugar
Enlightened Ice Cream Nutrition
They claim to use higher quality ingredients than their competitors, but this will vary from low-calorie brand to low-calorie brand.
Enlightened Ice Cream contains higher protein and fiber than other ice creams and treats on the market though.
They also contain less fat, sugar and calories than even other low-calorie ice creams like Breyer's Delights or Halo Top.
Where to Buy
You can actually order your ice cream online if you want!
We've found it at Publix, Kroger, Sprouts, Ralphs, Walmart and even boutique grocery stores!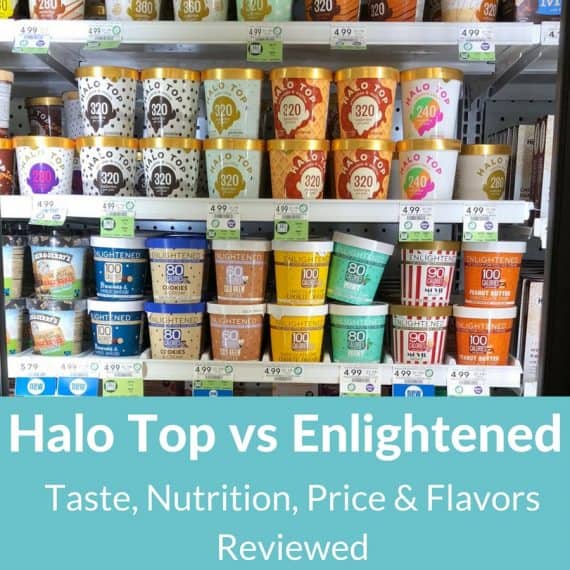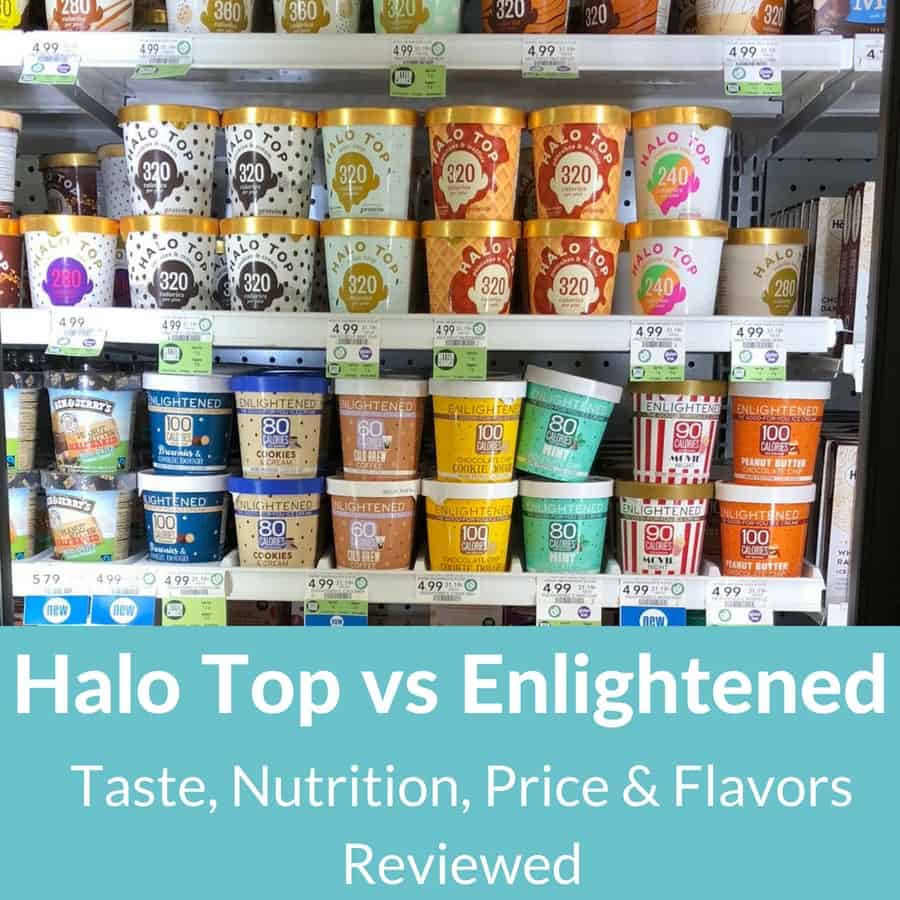 Enlightened Ice Cream vs Halo Top
If you're looking for a low-calorie ice cream – we recommend trying both. People will typically lean towards one brand or another.
Price: Same
Number of Flavors: 25 Halo Top, 27 Enlightened
Dairy Free Option: Only Halo Top
Sweeteners: Enlightened is Natural
Calories: About the same depending on flavor
We also love Chilly Cow and Breyers Delights! They aren't available in as many places though.
You can also skip ProYo and Yasso in our humble opinion ;)
We actually did a taste test of Halo Top vs Enlightened Ice Cream vs Breyers Delights around Christmas:
In the Enlightened vs Halo Top battle:
| | | |
| --- | --- | --- |
| Enlightened Ice Cream | Halo Top | Both |
| Creamier | Better Taste | Similar in Price |
| More Flavors | More Toppings | Needs to Thaw |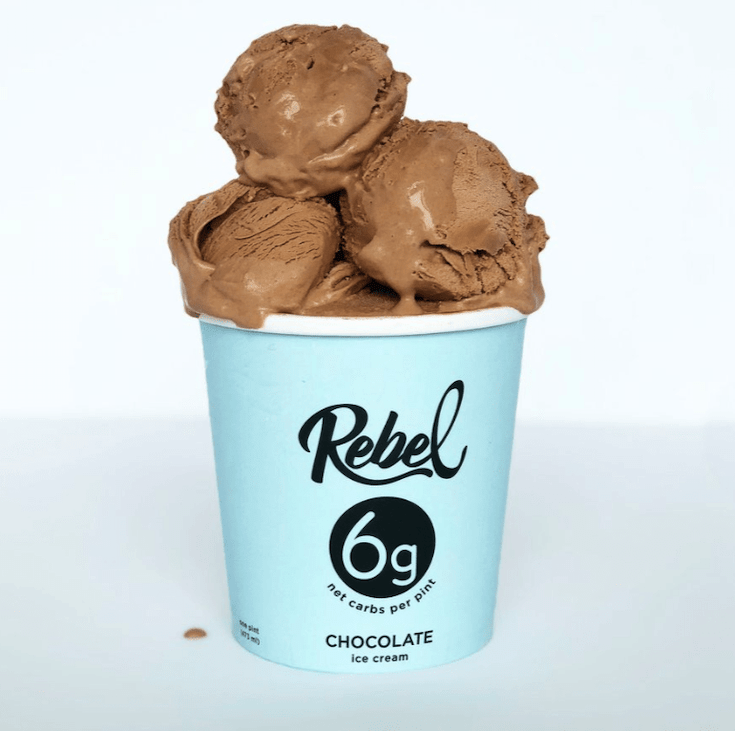 Looking for A Keto Ice Cream? Check out our Rebel Creamery Review!
It has only 1-2 net carbs per serving!
Other Enlightened Ice Cream Products
Enlightened Ice Cream also now sells:
Ice Cream Bars – Similar in calories, ingredients and taste. These are just great if you need to watch your portions!
Roasted Broad bean Crisps
Have you tried low-calorie ice cream before? What's your Favorite?
If you love low-calorie ice cream, what about low carb wine??
Check out our FitVine Wine Review!