Low Carb Wine We Love – FitVine Wine
This post may contain affiliate links. All opinions shared are my own. As an Amazon Associate I earn from qualifying purchases. Click to view our full disclosure.
Low carb wine brands are exploding with Keto growing in popularity. Even before that diet trend took off, we had fallen in love with FitVine Wine.
See, we're the type of girls to focus on healthy living, but we also are never going to give up our wine. Part of healthy living – is enjoying your favorite things in moderation!
We even allow for it in our 80/20 diet.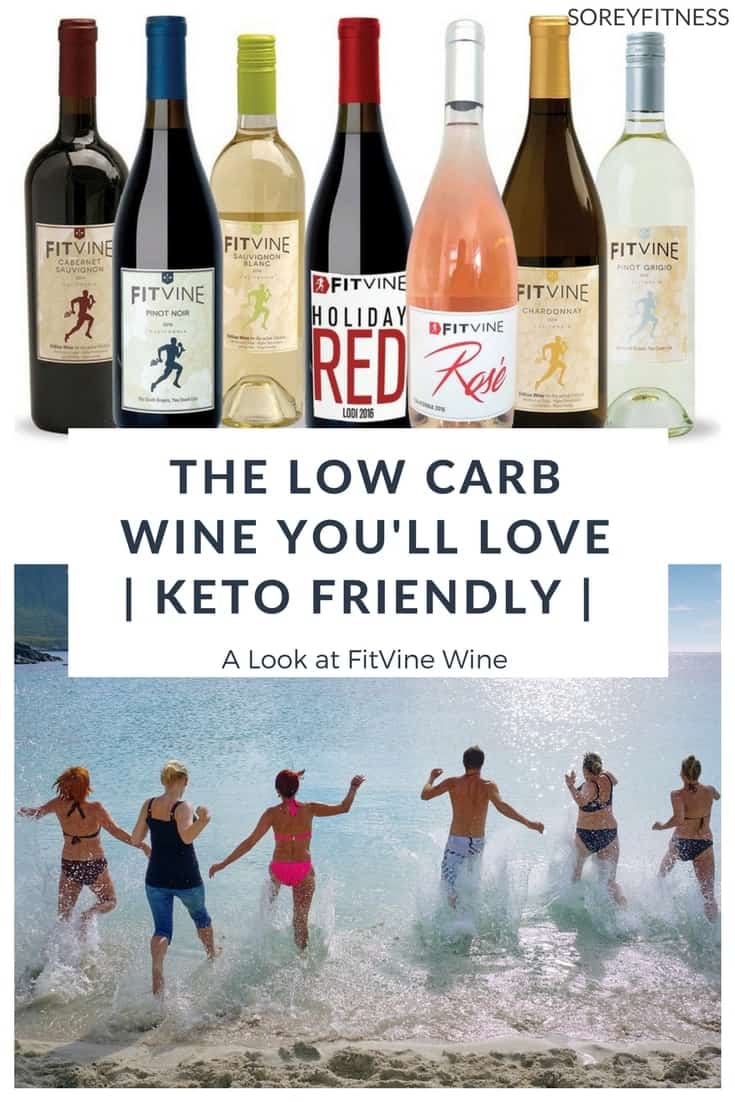 So when we heard there were people out there making WINE for people passionate about healthy living — we had to talk to them. Those are our kind of people! From there, Mark Warren, their co-founder sent us a case to taste test.
(Yes, most days we really do have the best job in the world!)
We absolutely fell in love with their wines – especially the Pinot Grigio.
The Best Part?
FitVine Wine is More Than a Low Carb Wine!!
FitVine wines contain 2.5 to 3.9g of carbs per serving and 12.4-13.9% alcohol.
Their wines also contain:
higher antioxidants
less residual sugar (average ~0.2g per 5oz glass)
fewer calories
less sulfites
vegan-friendly
no GMO's
full body flavor

FitVine Wines' Selection
Below we'll outline this low carb wine's nutrition.
The numbers are based on an average analysis per 5oz glass.
Cabernet Sauvignon 0.06g of sugar, 117 calories, 3.9g of carbohydrates, 13.9% alcohol
Pinot Noir 0.03g of sugar, 118 calories, 3.7g of carbohydrates, 13.9% alcohol
Chardonnay 0.04g of sugar, 115 calories, 2.5g of carbohydrates, 13.4% alcohol
Pinot Grigio 0.09g of sugar, 109 calories, 2.5g of carbohydrates, 13.9% alcohol
Sauvignon Blanc 0.09g of sugar, 114 calories, 2.7g of carbohydrates, 13.4% alcohol
We also have loved FitVine's newest varieties: Rosé, Prosecco and Syrah now too!

Our FitVine Wine Review
Before FitVine, every low carb wine we tried was pretty wimpy. It was like the brand watered it down. If we wanted a wimpy wine, we could add ice to it ourselves!
Then, we heard about FitVine's different fermentation process through a friend. (Who also loves their reds!)
From there, we did a LIVE taste test – where no facial expressions could be hid!
Here's how it went:
SPOILER ALERT:::: We loved FitVine!
Forget it being lower in carbs, it's just a GOOD wine. If you took it to a party, everyone could enjoy it whether they are into healthy living or not.
Its price point is also what we typically spend on a bottle as well (Pinot Grigio was $17.99).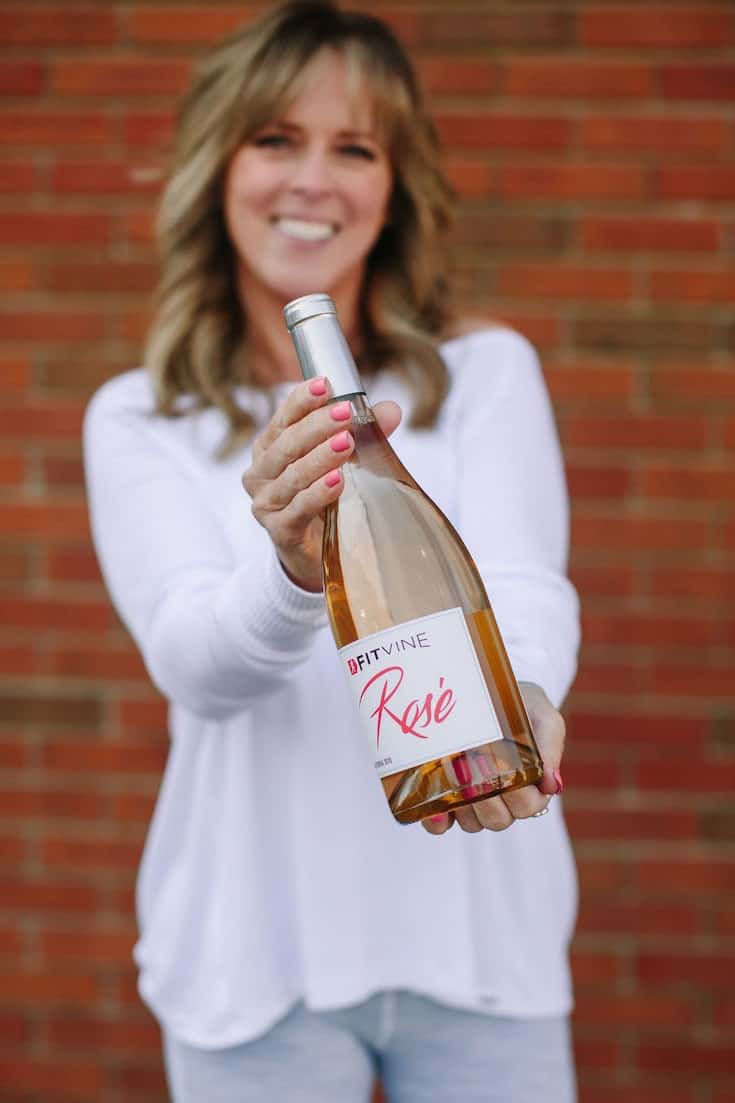 What Makes FitVine Different from Other Low Carb Wines?
They didn't set out to make a low carb wine; it just happened naturally. I think that goes a long way. They weren't trying to figure out how to lower something –
They just wanted to make a clean wine active people could enjoy without guilt.
Their wines go through a different type of fermentation process and uses only high quality grapes.
As an effect, the wines have 1/2 the sugar of an
average dry wine!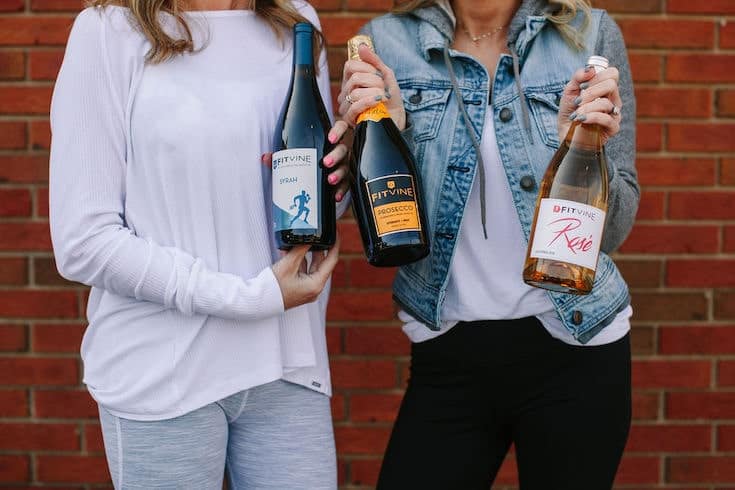 Other Cool Perks
They also lab tested all of the wines with the industry leading lab of the last 40 years. The lab found the wines to have and NO traces of pesticides, molds or arsenic.
FitVine Wine also has minimal sulfites, less than 35ppm compared to the average, 75ppm-150ppm (parts per million).
They did all of this without sacrificing the level of alcohol or taste.
Now I know, you're probably saying it's easy for us to try each type of wine with that case. Well, guess what?
FitVine Wine offers a 60-day 100% money back guarantee on any purchase.
That's how much they know you're going to like it.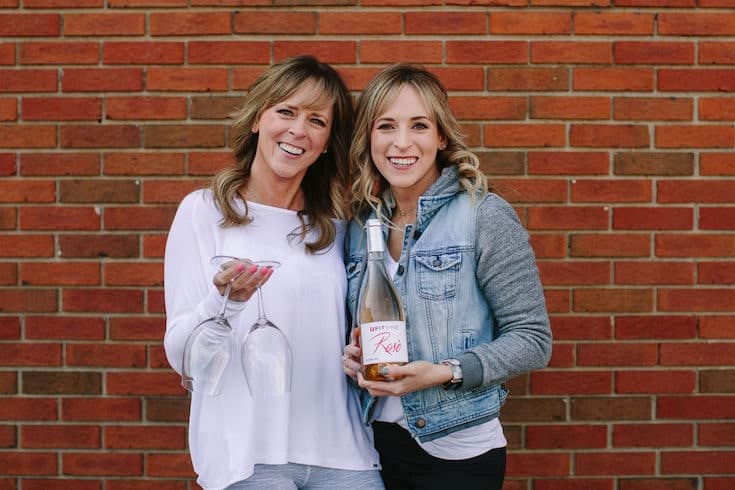 Where do you get FitVine Wine?
You can order through their website, or several stores are carrying it now!
Some of the stores you can buy FitVine at include: Whole Foods Market, Kroger, Central Market, Fresh Marker and HannaFords. You can find out where you can buy it locally using this store locator.
Wine Club
Unfortunately, FitVine doesn't offer a wine club; however, we have reviewed Winc's Wine Club!
What is your favorite type of wine? Do you drink low carb wines?
If you're drinking low carb wine because you're starting a low carb diet, you may also like our Keto Quick Start Guide for Beginners!