I am a Beachbody coach, but I admit I was a little nervous about this 21-Day Detox program.  I was unsure about this 21-day program when I first heard about it (detox?? really?! How many toxins could I have?), but one of my friends tried it first and loved it. After watching her experience I had to try it!!
Below is my personal research I did on the Ultimate Reset and links to order it if you would like. I will receive credit for any orders placed, but please look over the information to make sure it's a good fit. I outline who the program could help, and who may do better with another program.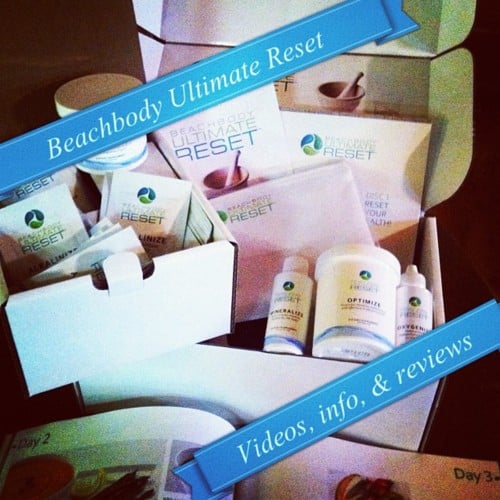 The Ultimate Reset was a splurge for me to buy 2 years ago, but it was well worth it.
Therefore, I wanted to share a little bit about my experience, my results, and who the Ultimate Reset could help. If you have any questions, please feel free to email me or Facebook message me.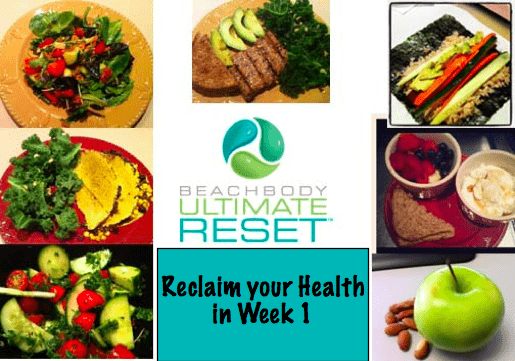 What is the Ultimate Reset?
The Beachbody Ultimate Reset is a scientific 21 day detox that helps wean your body from craving unhealthy foods and prepares it for change. During the Reset, your body will release toxic compounds that are clogging your cells and help restore your metabolism back to normal. How? The diet is designed to be a nutrient-dense with the right amount of enzymes and probiotics your body needs on a daily basis. Typical "cleanses" can do as much harm as good—by starving your body of exactly the nutrients it needs. On the Ultimate Reset, you'll eat better than you have in years and actually eat 3 full meals and possibly a snack.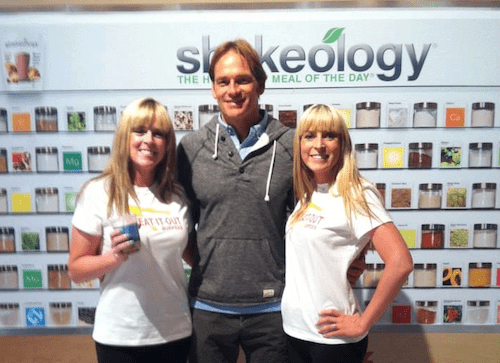 Who Made The Ultimate Reset plan?
The Beachbody Ultimate Reset was created by wellness experts Isabelle Daikeler and Darin Olien, with help from board-certified, former Presidential nutritionist Dr. Bill Wheeler.
We met Darin last summer when we tried
Vanilla Shakeology
which he helped develop. I had to personally thank him….because no crapping you (no pun intended)….Shakeology changed my digestion drastically for the better. Since meeting and talking with him, I know he really cares about what he puts in his body and what he promotes.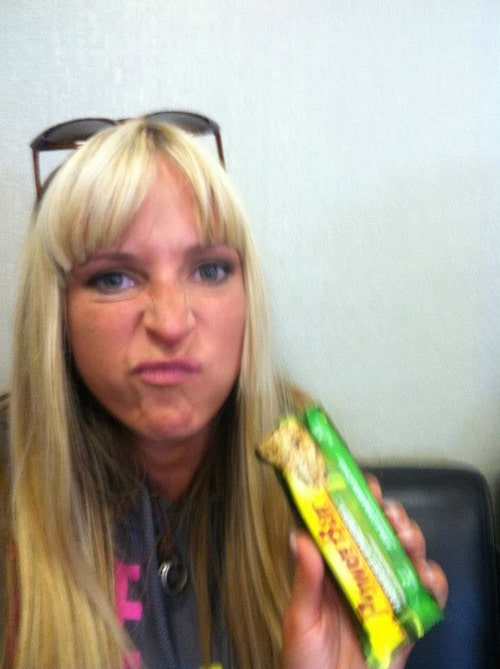 Why I tried the Ultimate Reset in 2012 
(Borrowed from an earlier post I wrote on the Reset in May 2012)
I was really tired of the "healthy" foods I was eating; do you know how much junk is in a Power Bar?
My digestion has always been very bad. By 17, I had been to several doctors and had many unpleasant tests ran. Since drinking Shakeology and being on Amitiza (an IBS-C medicine), I have been doing better; however, I just stopped taking Amitiza. If there is a way to be off any medicine I want to do it because I want to correct the program not hide it.
I have gained 5 pounds since my "After" shot. :( I am ashamed to even admit it, but it just hasn't been easy to come off because I've been eating like a pig on the weekends and am addicted to sugar.
The Beachbody Ultimate Reset has been scientifically formulated and participant tested. Plus, the meals are created by famous chefs. It is the best, most planned thing I could possibly try. It should break my sugar habit in the easiest way!
I wanted to know how I will feel at my healthiest. I want to know how I will feel at my strongest. The Beachbody Ultimate Reset is only 21 days; I knew I could do anything for 21 days!!
I was starting my Master's and working full-time so I had no time or energy to workout. The Ultimate Reset encourages you to only do light workouts (pilates, yoga, walking, etc.). I hope it will help me get back into the mode of looking forward to working out, and I love walking Izzie as a good workout. :)
The Reset comes with cooking skills and meal plans I can keep using over and over again! It is teaching me a way to eat instead of just being a scary cleanse that (thankfully) only lasts a few days.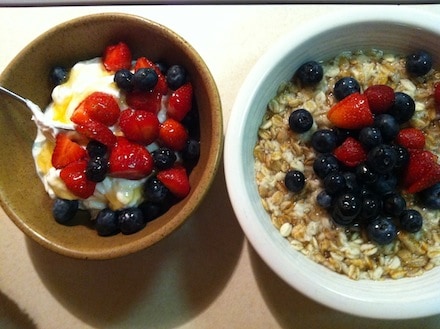 My Ultimate Reset Experience
I started the Ultimate Reset May 14, 2012. Within the first week, my skin looks more even in color, and I lost 3.5 lbs. I am also sleeping better. Now, just like any program, you are going to gain the weight back if you go back to junk foods.
I like the program because the recipes are so easy that I will be able to incorporate them into my normal diet I have had greek yogurt, fruit, veggies, fish, chicken, peanut butter, tacos, oatmeal, and all kinds of normal super foods while on the Ultimate Reset! The difference between this program and just eating healthy is the specifically designed supplements and daily nutritional information. I kind of feel like I am eating like a celebrity–a famous chef has created the meals and scientists have put them together and arranged them to help me get the most from them. Every meal is outlined for you, and there is a daily guide including videos for those doing the Ultimate Reset. I really loved the daily video journals from people because I felt like we were in it together (Click here to view the website; you get access to more of it when you order the Ultimate Reset though)
By week 3, I will be completely vegan which is kind of exciting. I do not plan on continuing a vegan diet, but it will allow me to test new foods each day and see if they upset my body's balance. That way I can avoid foods that disagree with my stomach (which has always been a problem). I really do believe the program is worth it, and that's why I am sharing my experience with you!
Our Challengers' Experiences
" I DEFINITELY feel that it was worth it and I'm glad I did it. I am SO MUCH MORE conscious of what I'm eating, and I swear that eating seems so much simpler, now… Cool stuff. I felt pretty great on it, and am still feeling well."

" So far woking with you I have lost 14.5lbs. thanks for all the motivation and great tips. You guys are the best!"

Who is the Ultimate Reset For?
The Ultimate Reset is great for anyone that feels like they need to detox in a natural way and still eat 3 to 4 times a day. It will help you lose weight because you'll be eating healthy, but it is doing so much more than that. It is ridding your body of all of the toxins and free radicals we come into contact with on a daily basis.
One thing I really noticed when using the Reset was that I slept better and felt my hormones (oh I know TMI?) balance out.
If you are wanting to regain your body's balance before taking a pill for something that a healthy diet and exercise typically help I would highly suggest discussing the Ultimate Reset with your doctor. It can help lower your cholesterol, help inflammation, and improve your energy.
The Ultimate Reset is also great for anyone that has felt like they may have a food allergy but haven't been able to identify it just yet.
It's great for someone that wants to take the steps to live a healthy life, but who doesn't have time to workout. You do not workout during the Reset because you want to rid your body of stresses and pressures. You can incorporate Tai Cheng, yoga, or walking though.

I would not recommend

the Ultimate Reset to someone that feels like they have to workout because it  goes against the product's suggestions.

I would not recommend

the Ultimate Reset to someone without the ability to cook or prep their meals ahead of time. While I loved eating healthy in college, this program would be tough for a college student living in a dorm.

I also would not recommend

the Ultimate Reset to someone that may have an allergy to some grains like quinoa because the plan does incorporate vegan based meals including whole grains.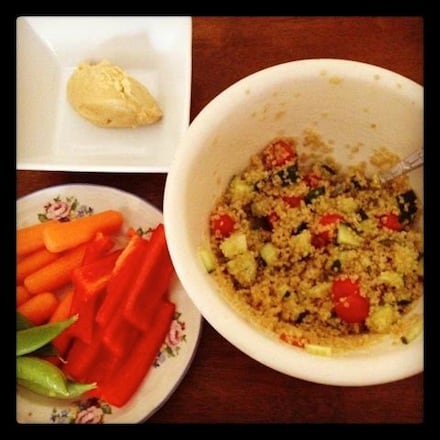 What Does the Ultimate Reset Come With?
It comes with a full meal plan for 21 days, 6 supplements, and the tools to create the meals and stick with the program. My favorite thing so far is the participant website. It is so organized and has testimonials and cooking tutorials for each day. It even has a shopping list made out for you for the 21 days (based on when you will need it, how much you need, and what you may already have!). It's really thought out, and I love that I don't have to make a list myself. Just print and shop.
FAQ's from you….
Can I drink Shakeology on the Ultimate Reset?
Can I workout during the Ultimate Reset?
So yes, you can workout to a low-impact, low-intensity workout. Here is a sample of my workout plan:
Monday — AM 20 minute Walk / PM 10 minutes of core work
Tuesday — AM 20 minute Walk / PM 10 Minute Trainer's
Wednesday — AM 20 minute Walk / PM ChaLEAN Extreme's Recharged!
Thursday — AM 20 minute Walk / PM 10 minute Walk, 10 core work
Friday — AM 20 minute Walk OR TurboFire's Stretch 40
Saturday — AM 20 minute Walk / PM off
Sunday — Off
More on the Ultimate Reset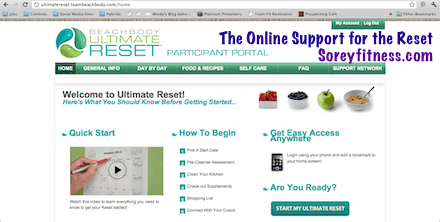 My mom and I also offer a private accountability group for anyone on our team doing the program if we are your coach. You also get access to Beachbody's Participant Portal (see screenshot above) and their larger Facebook group. Their groups are broken down into phases which is really nice since the group is quite larger than our private group. Have questions? Email me
These statements have not been evaluated by the Food and Drug Administration. This product is not intended to diagnose, treat, cure, or prevent any disease.