We Tried Beachbody's Unstress – 21 Days of Meditation (Review)
This post may contain affiliate links. All opinions shared are my own. As an Amazon Associate I earn from qualifying purchases. Click to view our full disclosure.
Beachbody's Unstress: 21 Days of Meditation for Relaxation, Calm, and Less Anxiety is a great way to incorporate mindfulness and gratitude into your day. The 10 minute meditations help relieve stress, improve your focus, and promote positivity.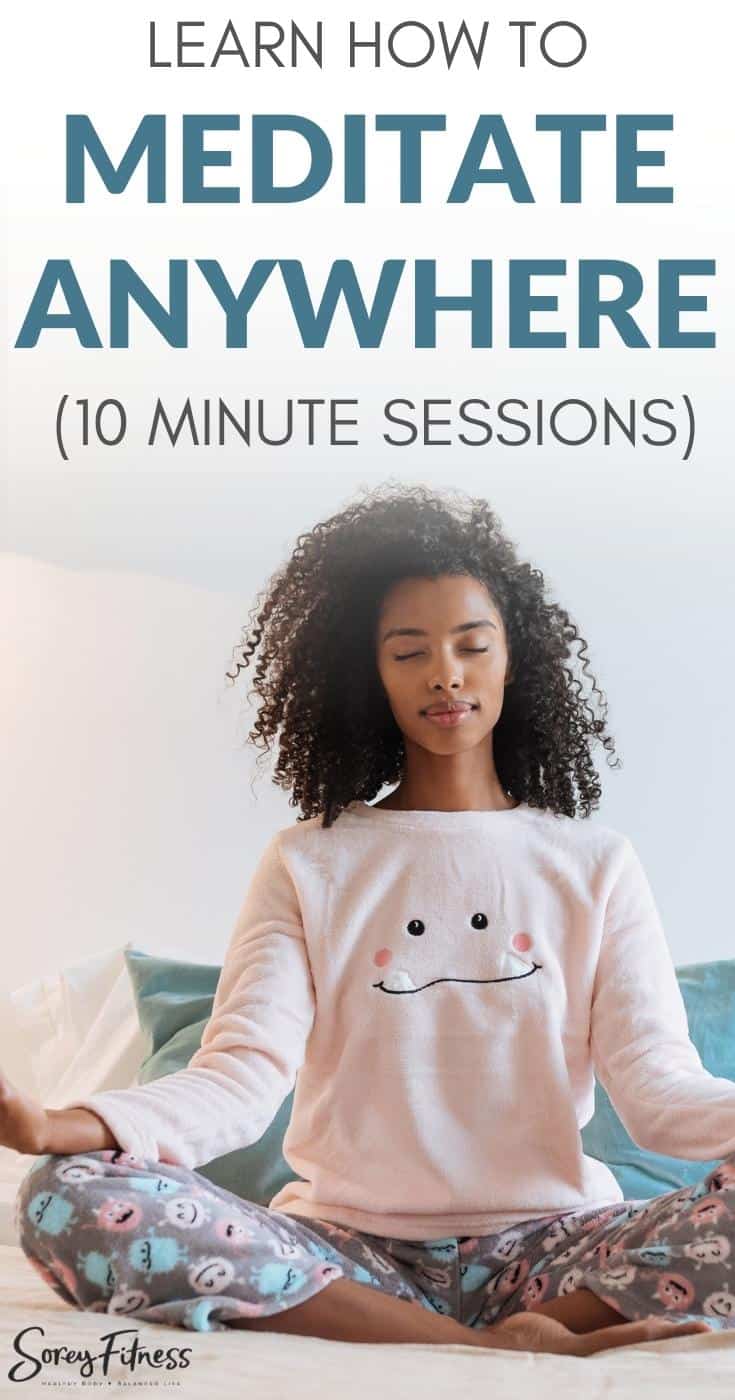 What Is Unstress: 21 Days of Meditation for Relaxation, Calm, and Less Anxiety?
Beachbody's Unstress meditation program is a 3-week series of 10-minute meditations for beginners. The guided meditations are designed to help you feel refreshed, recharged, and refocused.
These streamable meditations are unique because they provide daily accountability to help mindfulness become a daily habit. Plus, the structure and calendar takes all of the guesswork out of starting this new habit.
This modern approach makes mediation accessible even to the Type-A's like us! So whether you are a top CEO or a busy mom with a never-ending to-do list, this program can help you actually relieve stress, regain focus, and recharge for good.

Who is it for?
Beginners wanting to learn to meditate
Anyone looking for more relaxation and calm in their lives
Someone struggling to sleep because of a busy mind (meditation can help!)
Anyone who believes they don't have time to meditate (10 minutes is all it takes!)
People who have struggles to stay consistent with a meditation practice
You'll need to click the 3 Month Option to get the trial.
What We Like About Unstress: 21 Days of Meditation
We love that the meditations are guided and very straightforward. In the past, we've tried meditation apps, and you never knew the quality or teacher very well before just trying it out. With Unstress, you always know the meditations are recorded with high quality equipment, have a specific focus, and are led by experienced teachers.
It was also nice to be guided through a meditation versus being told to just "turn off your brain" or sit for a period of time. This felt much more applicable to our day and goals versus other programs.
The meditations helped us let go of negativity and anxiety (stemming from the news and social media most days), and it helped us refocus on positivity and gratitude.
This one 10-minute habit helped us start living in the present and even be more patient in our relationships!
Another thing we love is that each meditation is within the app and clearly labeled. It's really easy to find each day's meditation and get started quickly.
Finally, we also love that Beachbody's Unstress: 21 Days of Meditation for Relaxation, Calm, and Less Anxiety is included with Beachbody on Demand! So if you are already streaming Beachbody programs, you get access to this for free!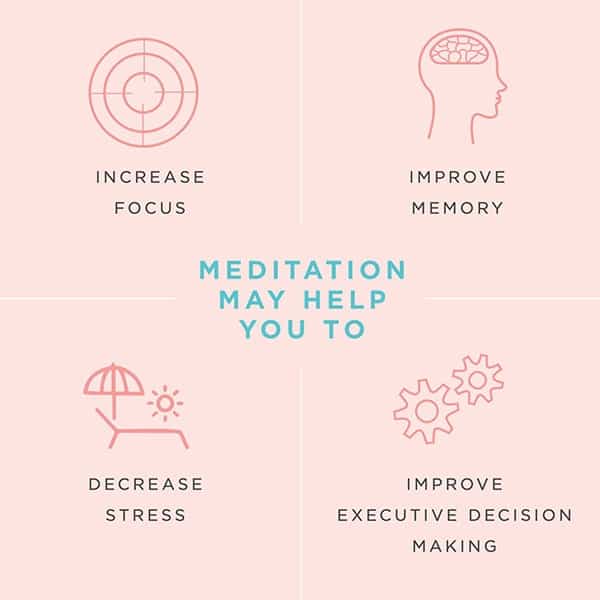 What Are the benefits of Unstress?
The benefits of Beachbody's Unstress meditation program are substantial — improved mood, better focus, a sense of reduced anxiety and calm, and better sleep are on the top of the list!
Daily meditation can help you:
Decrease stress and anxiety
Improve sleep
Improve focus, clarity, and productivity
Increase awareness
Improve mood
Feel happier
Feel calmer and more relaxed
Be more compassionate, to yourself and others
Be less likely to lash out in anger

Beachbody's Unstress Meditation Calendar
The benefits of meditation come when you're consistent, and there is something powerful about committing to a new habit daily.
That's why we love this calendar!
You'll also be able to see what each day's meditation will focus on. While each session is designed to help you reduce anxiety and relax, each meditation is unique and focuses on one thing in particular – like a positive mindset, balance, gratitude, etc.
We liked having the calendar printed so we could mark off our progress each day, but it's not required by any means.
The set-up within the app clearly labels each day.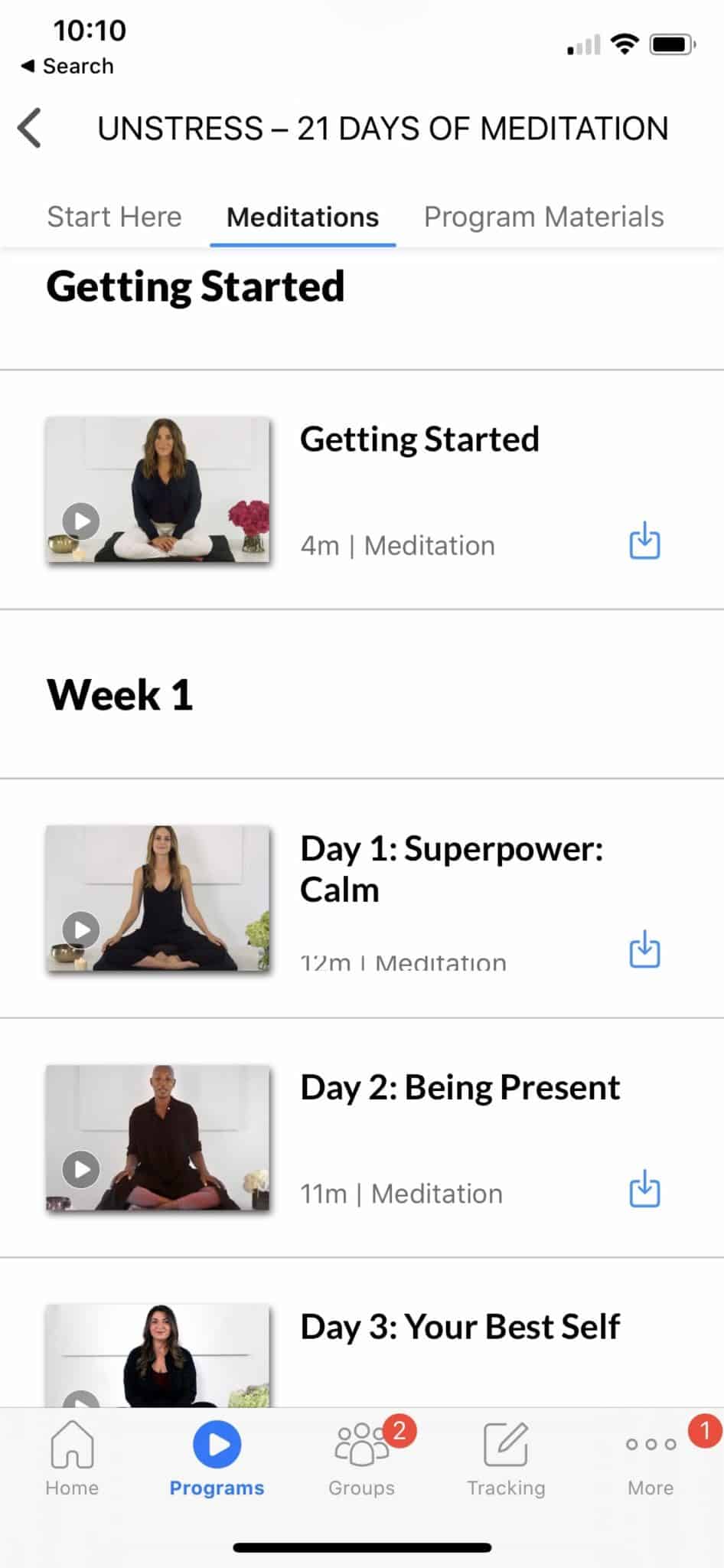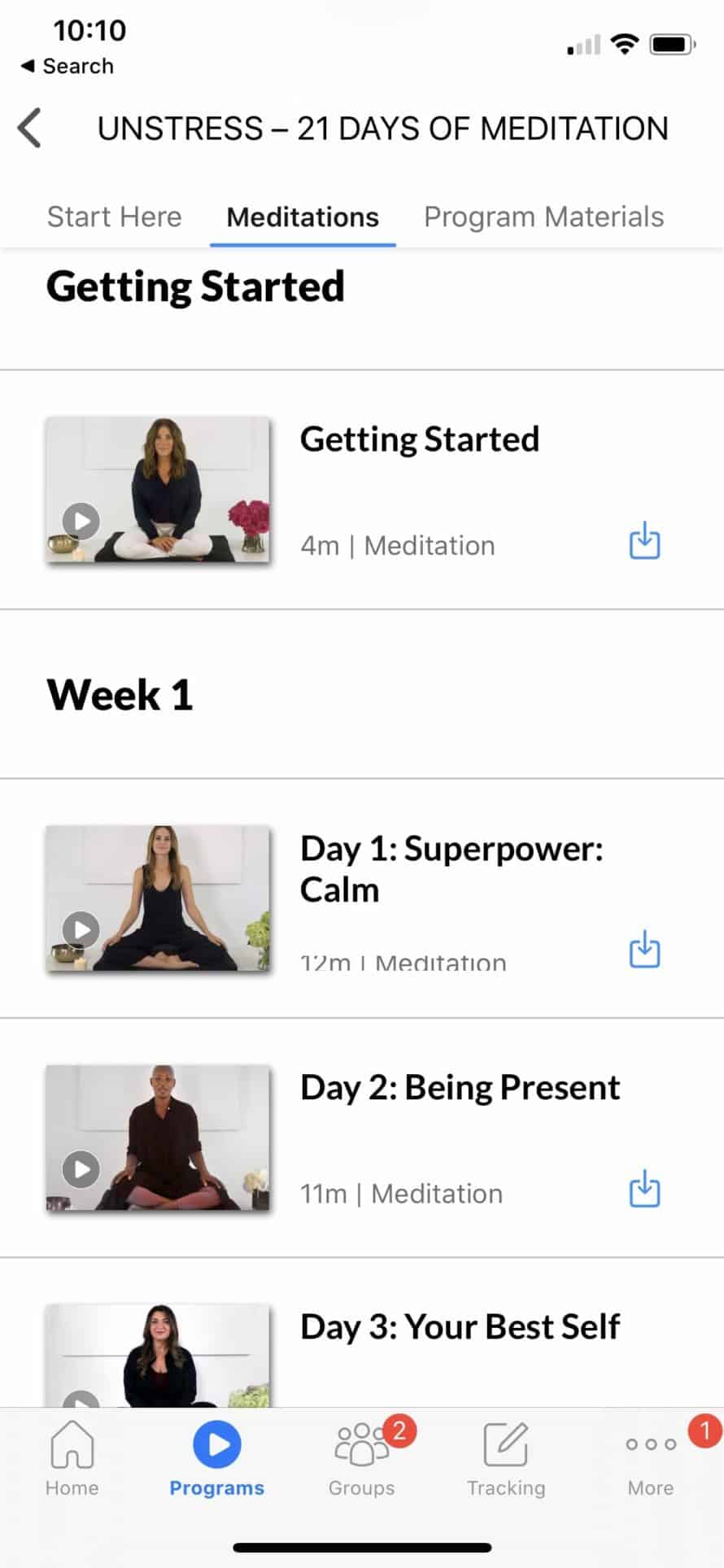 When should you meditate?
You can choose to meditate at any point during your day!
For this program, it's recommended to meditate first thing in the morning so that you set the tone for the day; however, anytime of day is great!
Another optimal time to meditate are after your workout.
Others also suggest meditating when you are feeling stressed or overwhelmed, but in those moments we had a hard time clearing our mind…maybe we need more practice!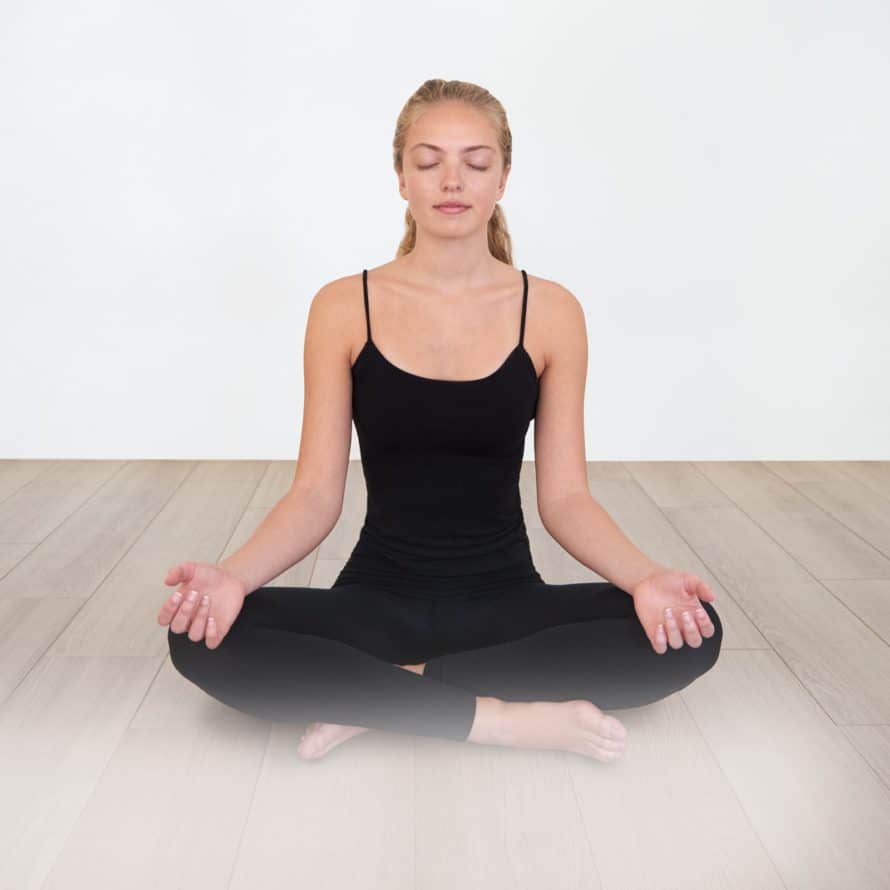 How do I access Beachbody's Unstress: 21 Days of Meditation for Relaxation, Calm, and Less Anxiety?
You'll find access to the full program within Beachbody on Demand — either online or right in the app!
If you don't have Beachbody on Demand already, you can grab a free 14 day trial here!
What's Included?
Along with everything included with Beachbody on Demand, you'll also get access to:
21-days of guided meditations
A Getting Started video
A 21-day daily meditation calendar
How much does Beachbody's Unstress Mediation program cost?
This meditation program is included with Beachbody on Demand! So if you are already streaming at home workouts, you have access to Unstress for free!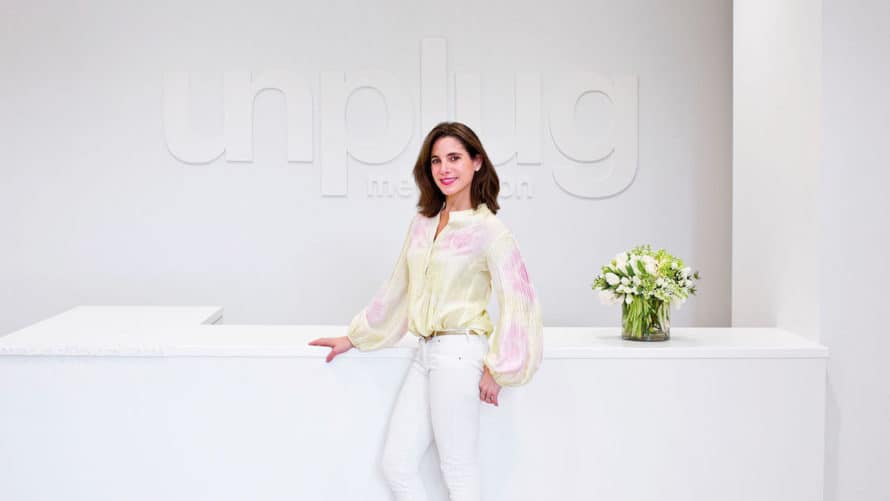 Who is Suze Yalof Schwartz?
It's crazy, but we talked to Suze a few years ago by email! She was launching Unplug Meditation — the first drop-in meditation studio! We fell in love with the app because of the high-quality meditation series included.
Along with creating a top meditation app, she also is the author of Unplug: A Simple Guide to Meditation for Busy Skeptics and Modern Soul Seekers and has worked with women in top positions are Vogue, Elle, Marie Claire, and Glamour magazines.
You may also recognize her from Good Morning America, The Today Show, and CBS This Morning where she's been a correspondent.
The fact that she is so nice, successful, and looks the way she does tells us meditation works and works for real people!
What goes well with Beachbody's Unstress?
Since this program is included with Beachbody on Demand, we also wanted to share a few of our other favorite complimentary programs that are also included for no additional charge.
We absolutely love pairing this program with Beachbody's Ultimate Reset, Barre Blend, or the 3 Week Yoga Retreat!
Each are great programs that incorporate mindfulness with your body. If you're an intermediate or advanced level yogi, you may also like choosing a program from Beachbody's yoga studio.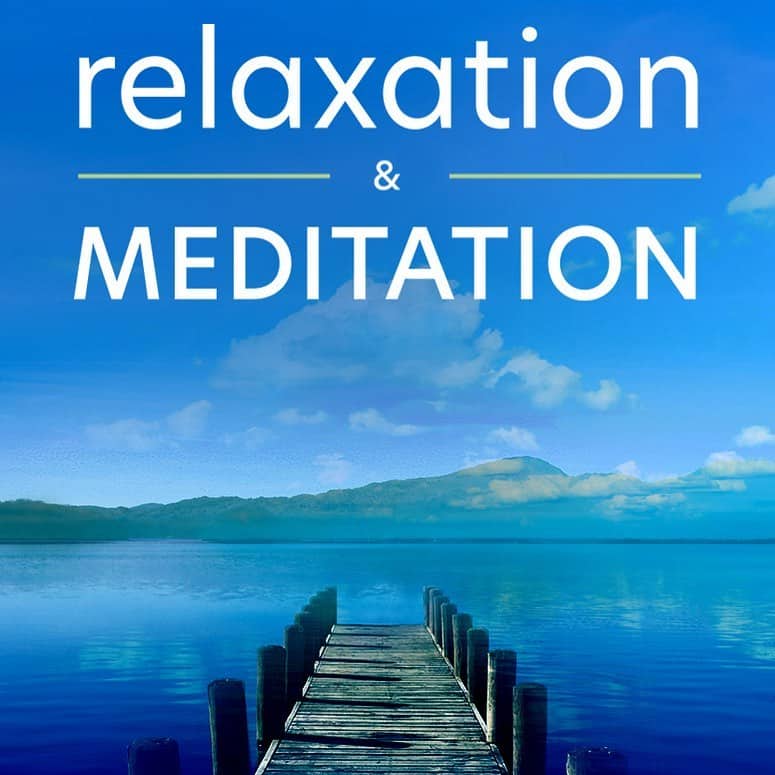 As you begin to meditate, you may also find yourself wanting to meditate a little longer or maybe once in the morning and once at night. The Relaxation and Meditation channel within Beachbody on Demand also includes 60 short meditations from Elise Joan based on her Barre Blend "I Am" affirmations, as well as, additional meditations on specific goals and topics.
You'll need to click the 3 Month Option to get the trial.