Simple 10 Day No Sugar Diet – Eat Up to 6x a Day and Feel Amazing!
This post may contain affiliate links. All opinions shared are my own. As an Amazon Associate I earn from qualifying purchases. Click to view our full disclosure.
If you told us 5 years ago that we would do even a 10 Day Simple Sugar Detox Diet, we would have probably laughed in your face. We're all about eating everything in moderation, but with the number of processed foods out there – a no sugar diet really simplifies things.
In this post, we'll look at who should try a simple sugar detox, what foods you can eat and what to expect!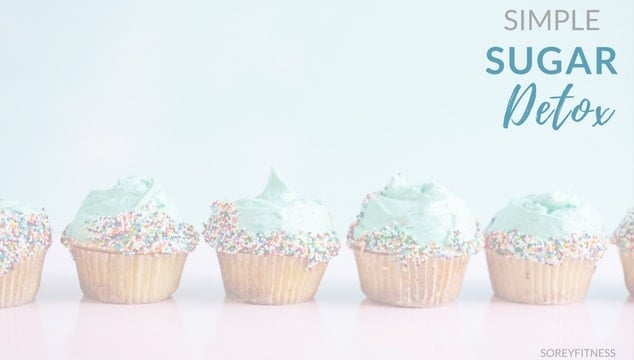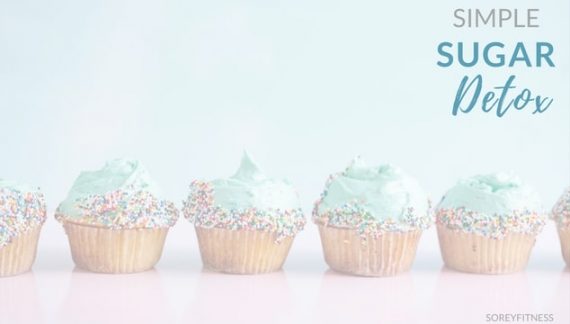 We started with a goal of following the plan of 7 days to start, but we actually found that 10 to 21 days seems to be the sweet spot for feeling the best results (no pun intended).
Who should do a Simple Sugar Detox Diet?
Anyone who is tired of:
Then a 10 or 21 Day Sugar Detox might be the perfect way to start something new and help you get back on track to your ideal weight. After you've done a detox, you can always add in sugar free desserts 1-3 times a week. Get our favorite recipes here.
Why Do a No Sugar Diet?
If you follow a no sugar diet for as little as 7 days, you'll be able to rid your body of any refined or artificial sweeteners. These sugars can prevent the body from using its vitamins and minerals in the best ways.
It's also highly addicting; many sources indicate sweeteners create the same effects in our brain as street drugs. With that said, you might feel like you're suffering withdrawals for the first few days. The results of following a no sugar diet is worth it. Below are just a few of the many benefits associated with a detox.
Sugar Detox Benefits
Improved Energy
Reduced Mind Fog
Glowing Skin
Less Breakouts
Fewer Cravings
Possible Weight Loss
How Do You Decide on How Long to Do a Sugar Cleanse?
It's totally up to you. You can start feeling the results in just 7 days; however, for the full effects, we recommend a 21 Day Sugar Detox. We don't want you to feel deprived though. We actually ate more on a sugar-free diet than when we were eating our normal meals.
You may also like our guide on the hard-boiled egg diet.
What Can I Eat on a No Sugar Diet?
We personally eat 5-6 small meals while detoxing. You'll want a mix of lean proteins, vegetables, complex carbohydrates and healthy fats at every meal. So you could literally choose one from each of the following categories to make 1 meal.
Sugar Detox Food List
Lean Protein
Eggs or Egg whites
Chicken Breast
Turkey Breast
Lean Ground Turkey or Beef
Wild Caught Fish
Lean Steak
Vegetables
Leafy Greens like Kale, Romaine, or Spinach
Green Beans
Brussel Sprouts
Asparagus
Squash
Broccoli
Cauliflower
Bell Peppers
Complex Carbohydrates
Brown Rice
Quinoa
Sweet potatoes
Steel Cut Oats
Strawberries, blueberries, blackberries, and apples
Healthy Fats
Avocados
Nuts
Coconut oil
Avocado oil
Olive oil
Flaxseed oil
Foods to Avoid
A few foods that are branded as healthy can actually contain added sugars. So you may want to skip the following foods during the first few weeks of your journey.
Protein bars and shakes
Nut Butters
Yogurts
Condiments like ketchup
Beverages
Water (1/2 gallon-1 gallon)
Unsweetened tea
Unsweetened herbal teas
Black coffee
Unsweetened almond or coconut milk
Sample No Sugar Meal Plan
Breakfast – 4 egg whites with 1⁄4 c Oats with a Tbsp coconut oil and 1⁄2 cup bell peppers
Mid Morning Snack – 1/2 chicken breast with 1/2 cup sweet potato with 2 Tbsp ghee and 1.5 cups green beans
Lunch – 1/2 chicken breast over 2 cups of leafy greens and a small apple
Mid-Afternoon Snack – 3 hard-boiled eggs with 1/2 cup cashews and 1.5 cup Brussel sprouts
Dinner – 5oz flank steak with 1 Tbsp coconut oil with 1.5 cups asparagus
Tips to Do a Simple Sugar Detox Diet
Skip processed, boxed foods

Look for organic, antibiotic-free meats

It's best to have red meat less than 3x a week

If you have red meat, look for grass-fed beef

Skipped canned tuna

Choose organic vegetables

Skip peas, corn and white potatoes because of their high starch levels

Fruit is not off limits. We recommend berries!

Healthy fats should be at each meal to keep you feeling full!

Skip yogurt – it's higher in sugar than other proteins.

Shop the perimeter of the grocery store for fresh options.

Avoid sugar-free syrups and sweeteners including condiments

Plan your meals ahead of time
Can I Workout on a 10 or 21 Day Sugar Detox Diet?
Yes! You will still be eating about 1200-1400 calories, and you can always increase the size of your meals or portions if you need more calories for your current weight. (Find out how many calories you need here).
I did the 21 Day Fix and a couple other at home workouts while doing a detox, and I still saw awesome results and didn't feel hungry or weak.
Sugar Detox Diet Side Effects
Most of us have a dependence on sugar. If we've more prone to eat processed, boxed foods or hit the drive-through, our dependence might be more like an addiction. So don't be surprised if you feel a withdrawal in the first few days.
On Days 3-5, you might feel:
Tired
Sluggish
Foggy in Your Thoughts
Negative in Your Mindset
Just as our physical bodies are addicted to sugars, our mind is as well. So you might find yourself wanting to go back to old habits or feeling more negative than normal. Journal those thoughts and keep going! It takes 5-7 days to rid your body of the toxins!
After a Sugar Free Diet or Cleanse
We believe in everything in moderation, and we will always have a piece of cake on our birthday. With that said, don't undo all the work you've put into going sugar-free for a set amount of time.
You can always have a treat in moderation, but your meals should look similar to this plan. It should include whole, fresh foods versus processed, boxed options.
When you do indulge, you might find yourself feeling the effects of when you go back to your normal healthy diet.
Have you ever do a 10 or 21 Day Sugar Detox? Do you follow a no sugar diet?
You might also like:
Love this idea? Pin it for later!