The Best 21 DAY FIX RECIPES (Quick & Simple)
This post may contain affiliate links. All opinions shared are my own. As an Amazon Associate I earn from qualifying purchases. Click to view our full disclosure.
The 21 Day Fix workouts are super effective, but your results also come from the portion control meal plan. We're sharing the best 21 Day Fix recipes that are quick and simple to make! All of them are kid-friendly and also can help you lose weight without feeling deprived.
*This post was updated August 26, 2019 to include new recipes and resources.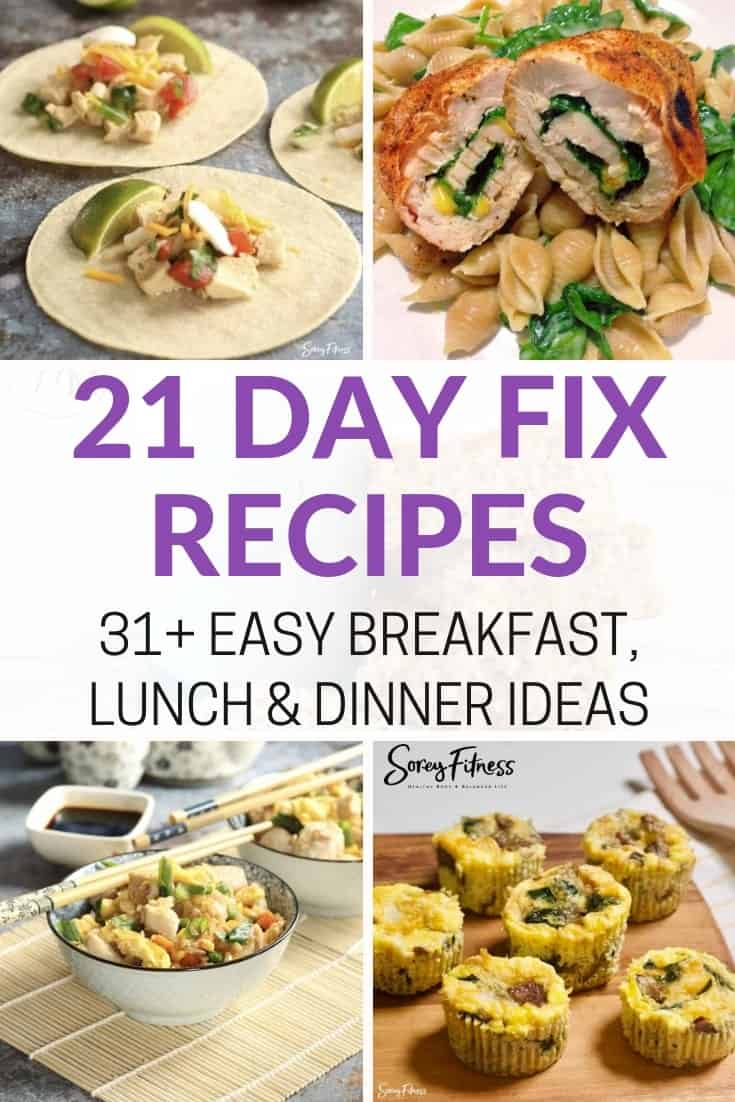 We outline how many color coded portion control containers go into each breakfast, lunch and dinner recipe. We've also linked to our favorite Shakeology and snack recipes to help you see max weight loss from this exercise program.
All of the recipes below can be incorporated into a diet plan. So whether you're using the ultimate portion fix containers or not, you're bound to find something you'd like to eat!
With that said, we focused on 21 Day Fix recipes that also work well with 21 Day Extreme, LIIFT4, 80 Day Obsession and other Beachbody programs.
This post is just a piece of our 21 Day Fix Guide which includes printable calendars, before and after shots, and more!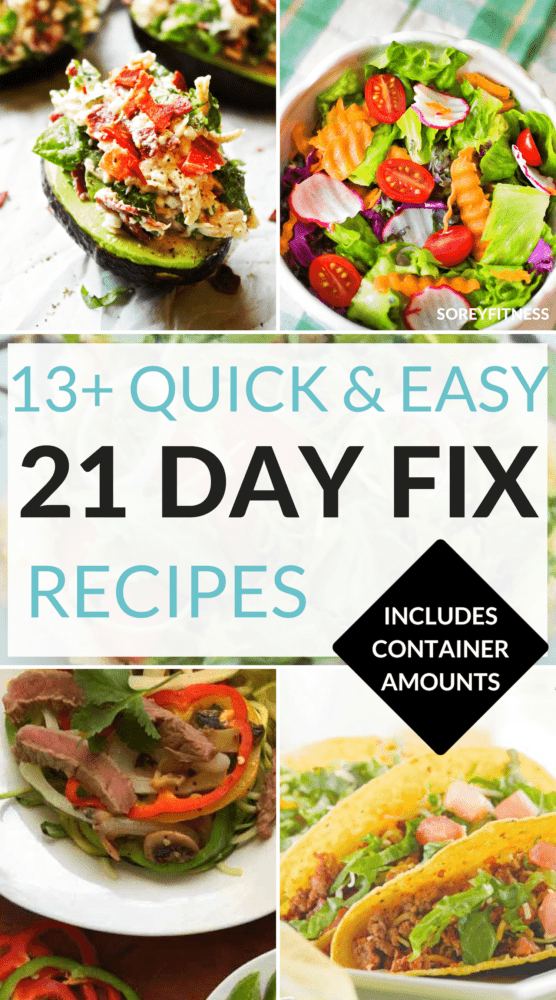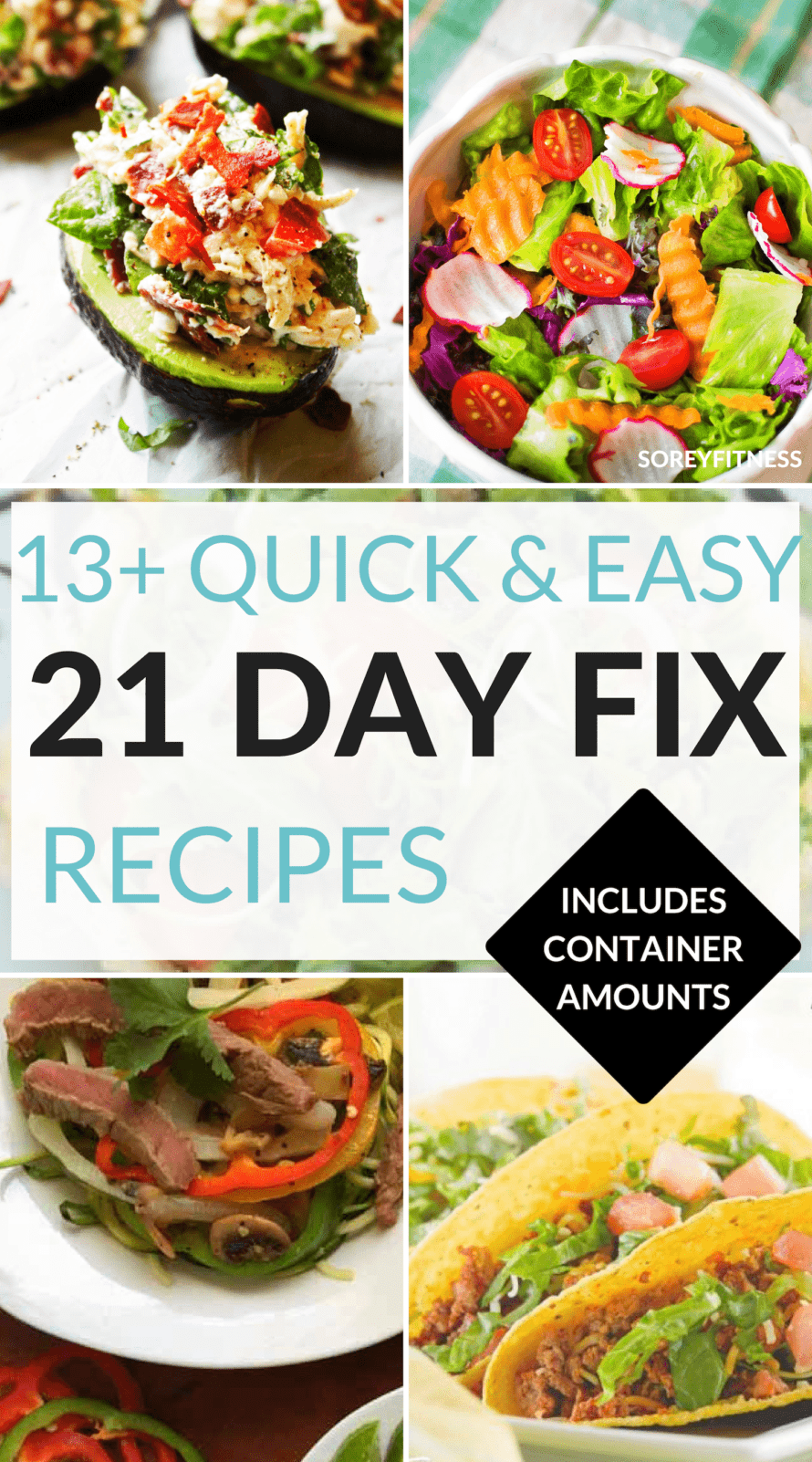 21 Day Fix Recipes
Want to learn Autumn's tips and tricks to max results? Check out her Ultimate Portion Fix!
Breakfast 21 Day Fix Recipes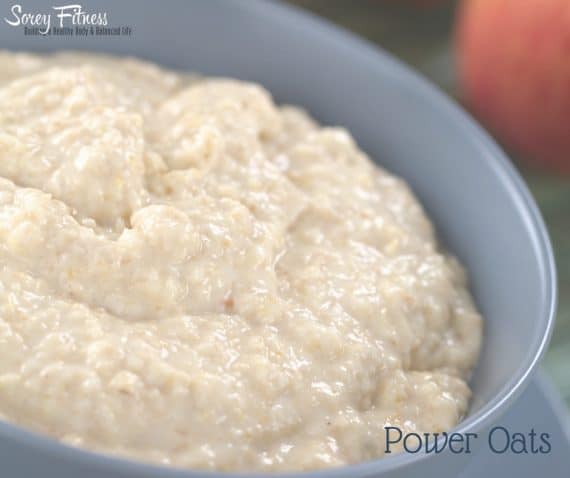 One of my favorite 21 Day Fix Breakfast Recipes is Power Oats!
They're 1 Yellow and 1 Red.
To make Power Oats, you'll blend 1/4 cup cooked oatmeal with 1 egg and 2 egg whites. You also can add fruit on top as a purple container.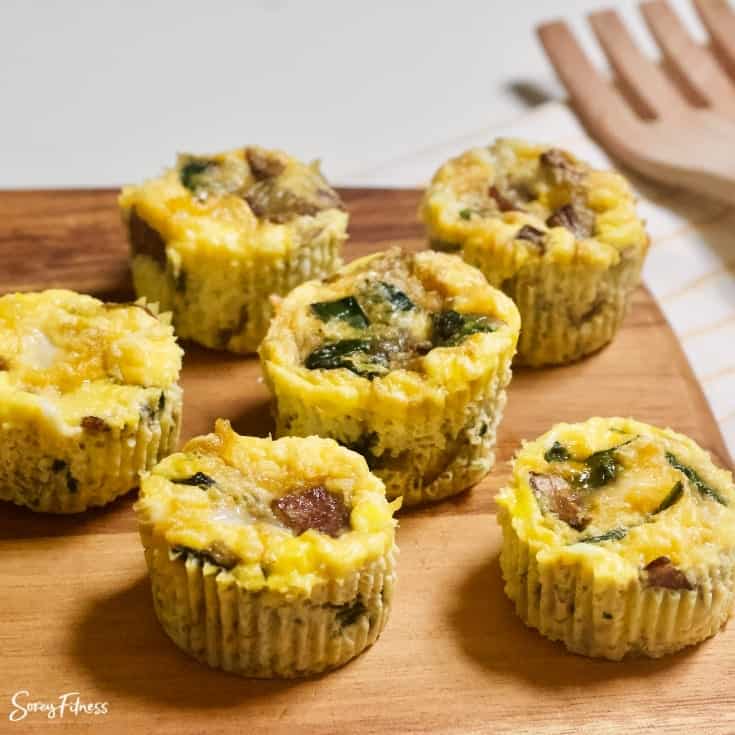 Other 21 Day Fix Breakfast Recipes
Above: Bacon Egg Cups (1 Red, 1 Green)
Overnight Oats (Varies by Recipe)
2-Ingredient Banana Pancakes (1 Purple, 1/2 Red)
Buttermilk Pancakes (1 Yellow for 2 small pancakes)
Lemon Blueberry Muffins (3 Muffins = 1 yellow, 1 purple, 1/2 red)
No Bake Oatmeal Bars (½ Yellow, ½ Red, 1 tsp.)
Homemade Energy Bars (1 Blue, 1 Purple)
French Toast (1 yellow, 1/2 red, 1 Purple, 2 tsp)
Iced Cinnamon Almond Milk Macchiato (1 red and 1 tsp)
Vanilla Shakeology Protein Balls (No Bake Recipe!) (1/2 red, 1/2 yellow, and 1/2 a blue)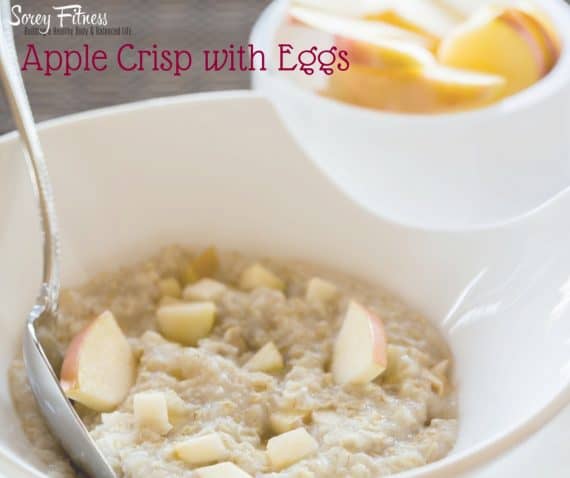 I also love to make an Apple Crisp with 2 Eggs.
It counts as 1 Purple, 1 Yellow, and 1 Red.
To make an Apple Crisp, you'll cook 1/4 cup oats and top with 1 small apple (chopped). Then, add in 2 scrambled eggs and top with cinnamon.
Want more recipes? Grab our favorites healthy breakfasts! These recipes are all healthy, but they're not broken down by container.
21 Day Fix Lunch Recipes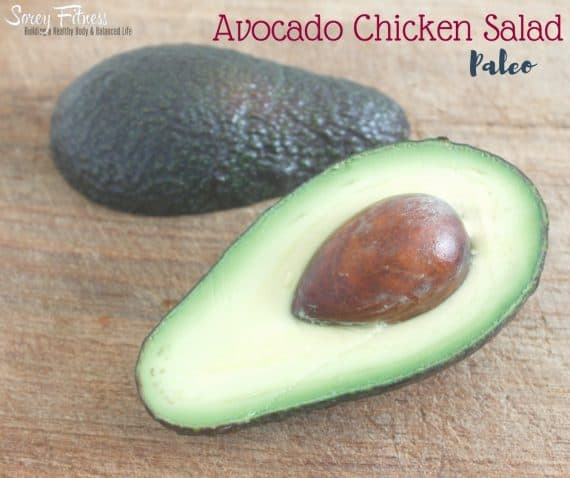 One of our favorite lunches is Paleo Avocado Chicken Salad!
It's 1 Red, 1 Blue, and 1/2 Purple. Grab the recipe here!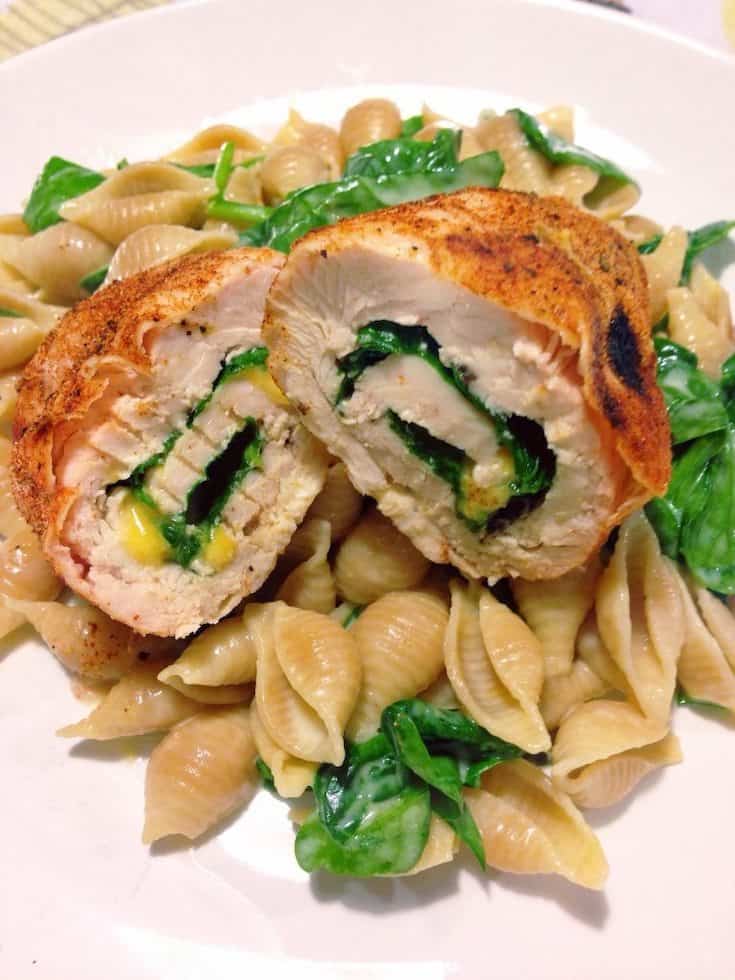 Above: Spinach and Colby Jack Stuffed Chicken Roll Ups (1 1/2 red, 1/4 green, 1/2 blue)
Mini Zucchini Pizzas (1 Green, 1/2 Blue)
Egg Roll in a Bowl (1 Red, 1 Green)

One of our clients, Brenda, actually started getting me hooked on the Green Machine during our February group! The smoothie tastes like strawberries and banana because they are stronger flavors. You seriously cannot taste the spinach, and it gets in one of those veggies each day.
Green Machine Smoothie
This counts as 1 Red, 1 Purple, and 1 Green.
1 Scoop Strawberry Shakeology
1/2 a Banana
1 Green Container of Spinach/Celery
1 tsp coconut oil (1 tsp) optional
12 ounces Water
Ice to taste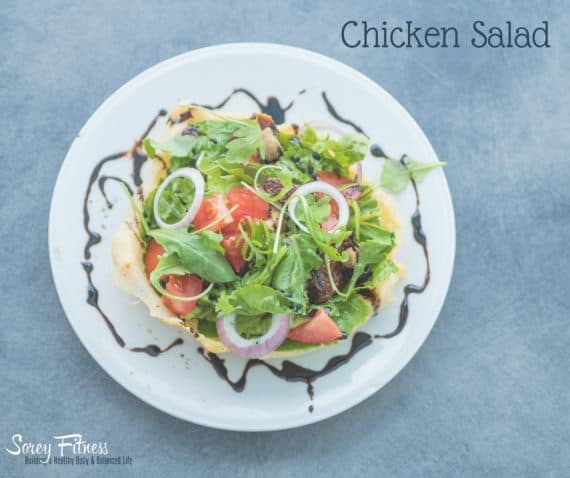 Speaking of salads, this fresh salad with grilled chicken is our go-to 21 Day Fix lunch recipe!
Chicken Salad
This salad counts as a 1 Green, 1 Red, 1 Orange.
Chicken (about 1/2 a breast) in 1 Red container
Lettuce, cucumber, and cherry tomatoes in 1 Green Container
One Orange container of balsamic vinegar and extra virgin olive oil
It's not my most creative use of the containers, but it sure is good!
Want more lunch recipes? Get our favorite lunches here!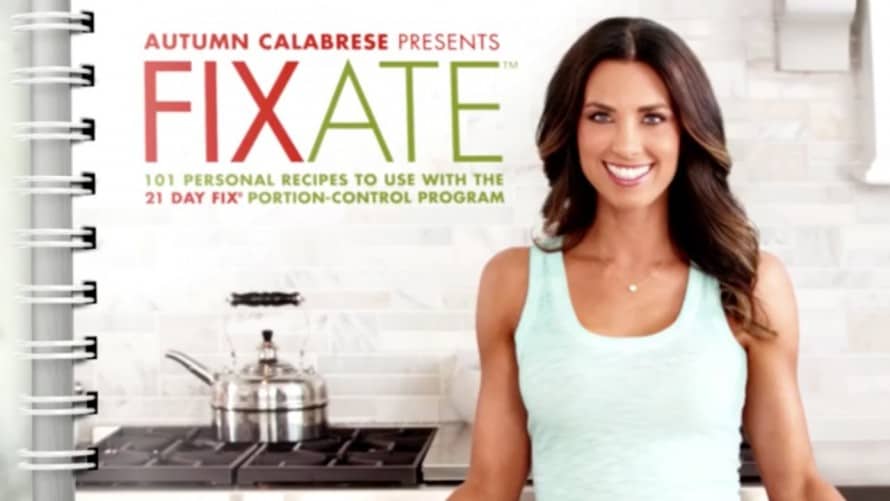 Get Autumn's COOKBOOK for 21 Day Fix Approved Recipes with Container Counts
21 Day Fix Dinner Recipes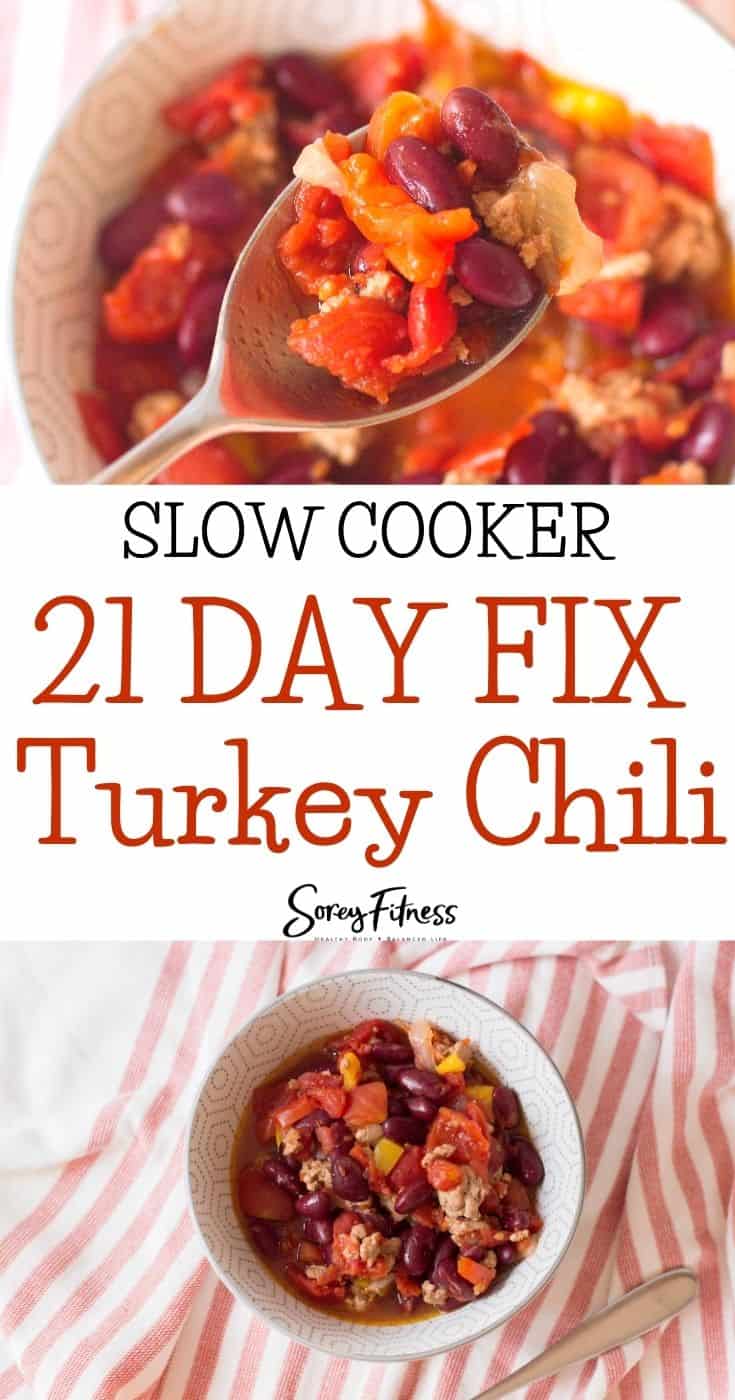 We're obsessed with this easy 21 Day Fix turkey chili crock pot recipe!
On the Ultimate Portion Fix, it's 1 green, 1/2 red, and 1/2 yellow, and it's also low carb!

Healthy Tacos
We have these tacos almost every week! They count as 1 red, 1 orange, and 1 green.
1 Red Container of browned turkey, chicken or beef (based on your preferences)
1 Green Container with a mix of lettuce, tomatoes, and onions
Yellow 1 Corn Tortilla
1 Blue Container shredded cheese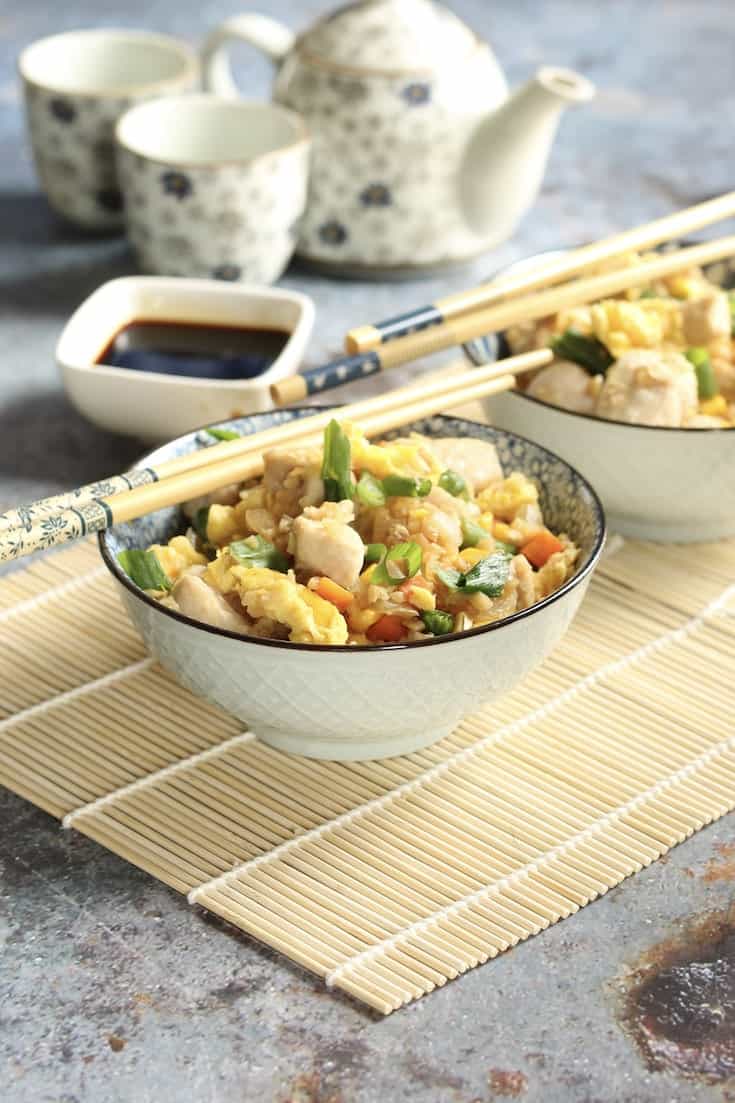 More 21 Day Fix Dinner Recipes
Cauliflower Fried Rice (1 Red, 1 Green)
Turkey Meatballs – 1/2 Green, 1 Red, 1/2 yellow
Cauliflower Cheeseburger Mac ( 1 Red, 1 Green, 1 Blue, 1 tsp per serving)
One Pan Chicken, Green Beans, and Potatoes (1 Red, 1 Green, 1 Yellow)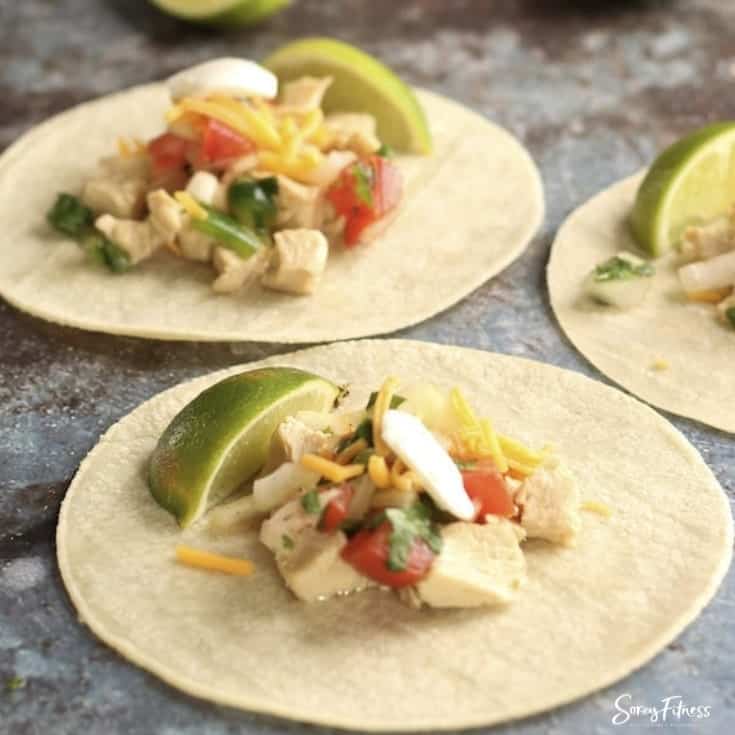 Street Tacos (1 Yellow, 1/2 Red, 1/2 Green)
21 Day Fix Crock Pot Chili Chicken – 2 Green 1 Red (Plus Toppings)
Spicy Vegetable Soup – (1 Red, 1 Green)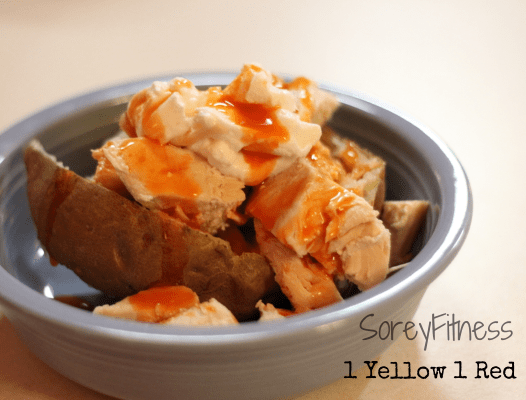 Another quick and easy 21 Day Fix Dinner Recipe is this Buffalo Stuffed Potato!
Buffalo Stuffed Potato
It counts as 1 yellow and 1 red.
Approximately 1/2 Chicken Breast Baked
1/2 baked white potato (1 Yellow)
Top with hot sauce and a little greek yogurt with the room left over in your red container
This is a quick lunch or dinner for anyone. Even Jake, my husband, loves it! Pair it with a salad to get in your green containers.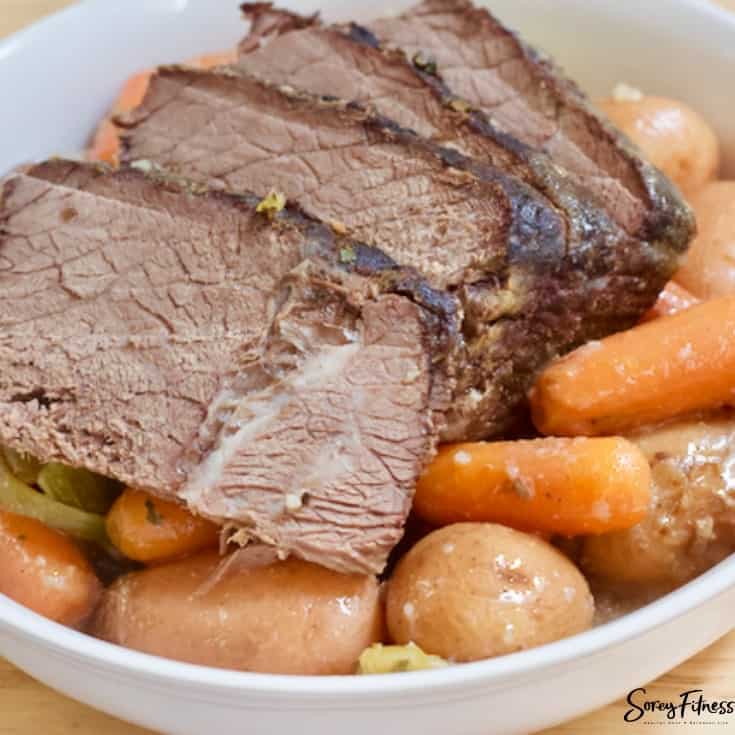 Crockpot Mississippi Roast (1 Yellow, 1 Red)
Buffalo Chicken Chili (1 Red, 1 Green, 1/2 Blue)
Spaghetti Squash Lasagna – (1 1/2 Red, 1/2 Blue, 1 1/4 Green)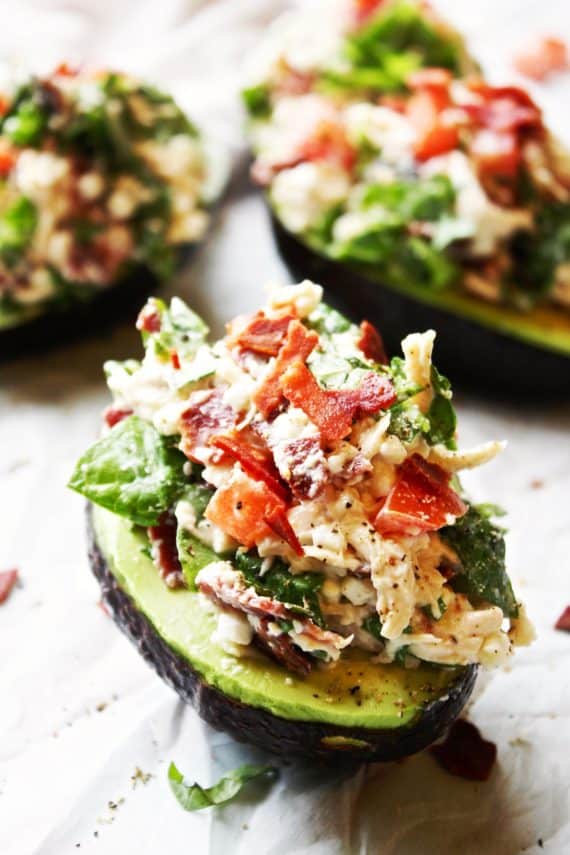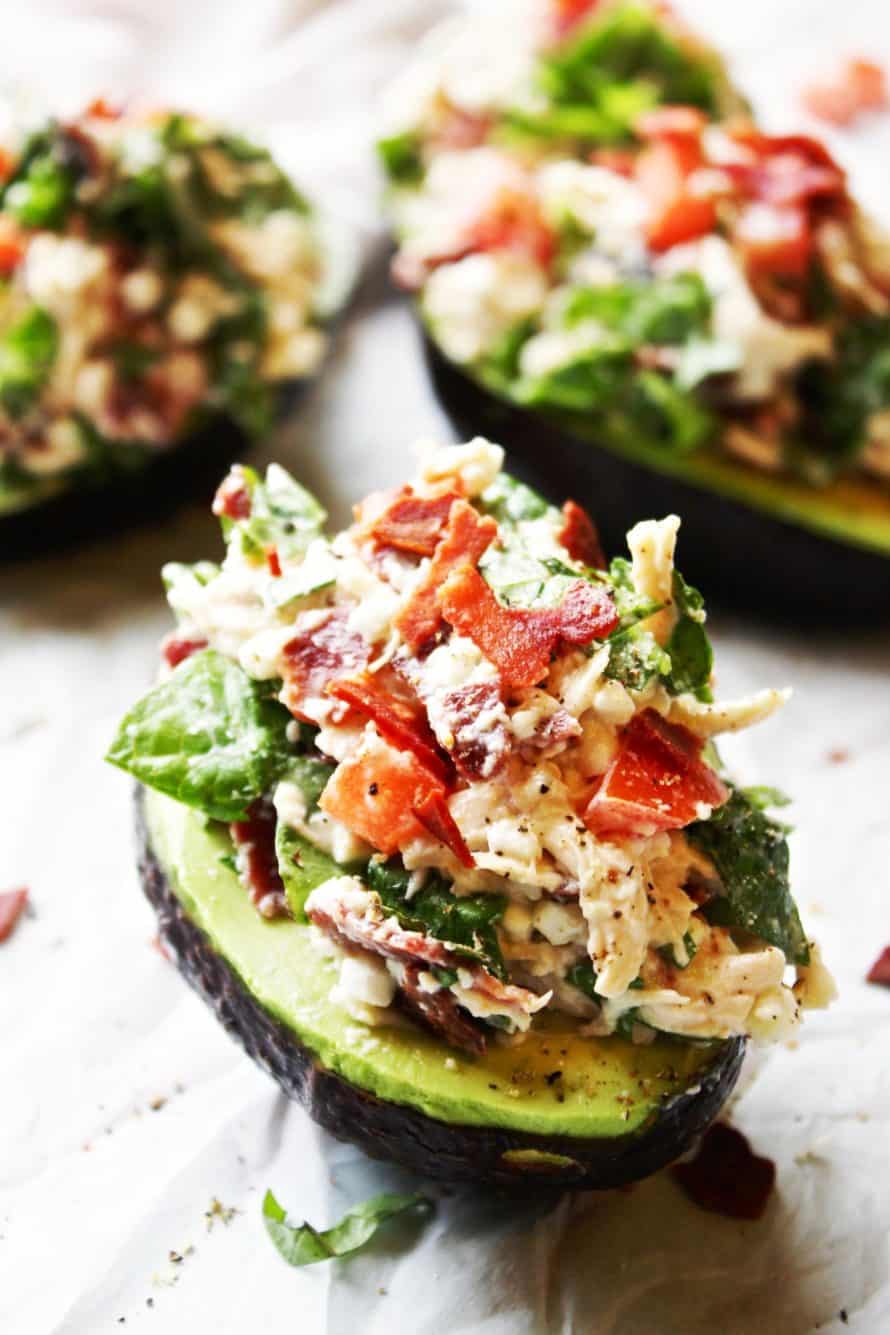 Even More 21 Day Fix Dinner Recipes
Above:: BLT Chicken Salad Stuffed Avocados – (1 Red, 1 Blue, 1/3 Green)
Pad Thai Noodles – (1 Red, 1 1/4 Green 1 Orange, 2 Tsp)
Steak Fajita Bowls – (1 Red 1 Green)
We also have 21 Day Fix Crockpot recipes that you might like!
Want more recipes? Grab our favorites healthy dinners! These recipes are all healthy, but they're not broken down by container.

21 Day Fix Dessert Recipes
Above: Peanut Butter Chocolate Chip Cookies
Gluten Free Chocolate Chip Cookies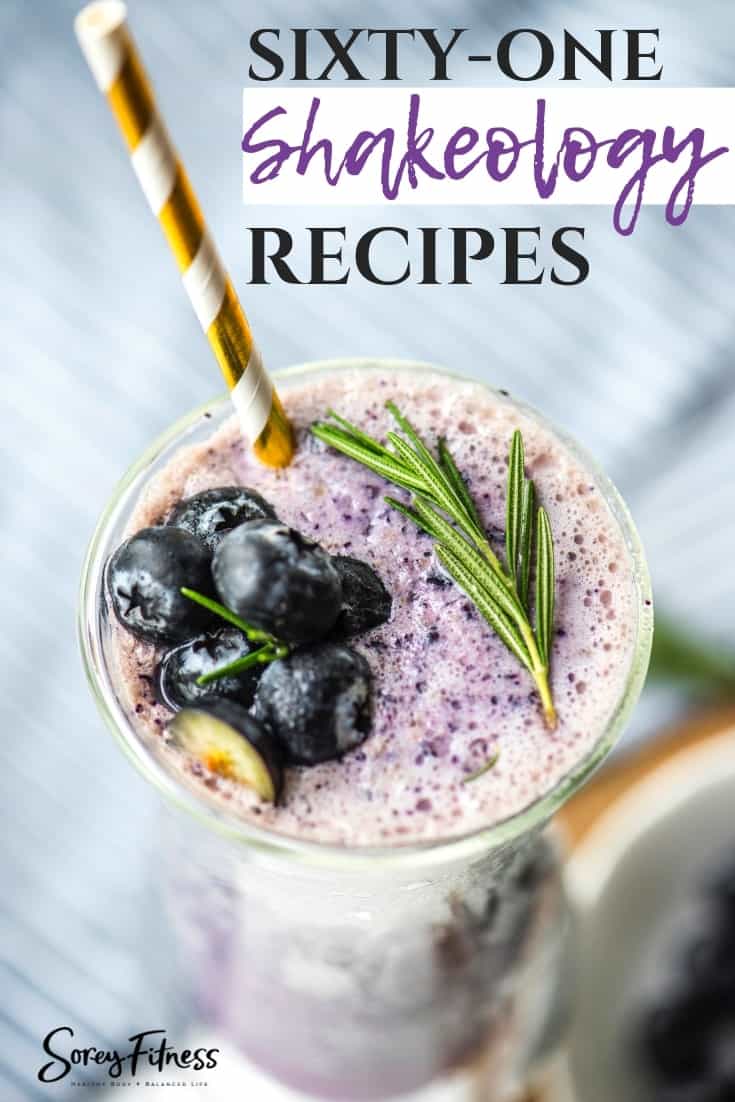 Snacks are a huge part to the 21 Day Fix, too! We outlined some of our favorite 21 Day Fix Snacks to keep you feeling full and satisfied!
These ideas can help you mix things up and avoid just snacking on hard boiled eggs or using peanut butter as your heavy fat.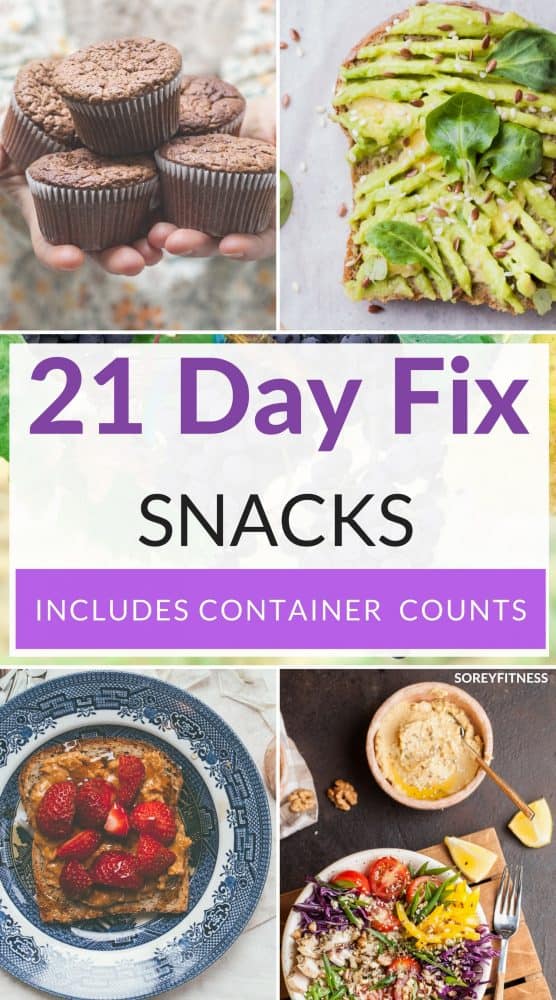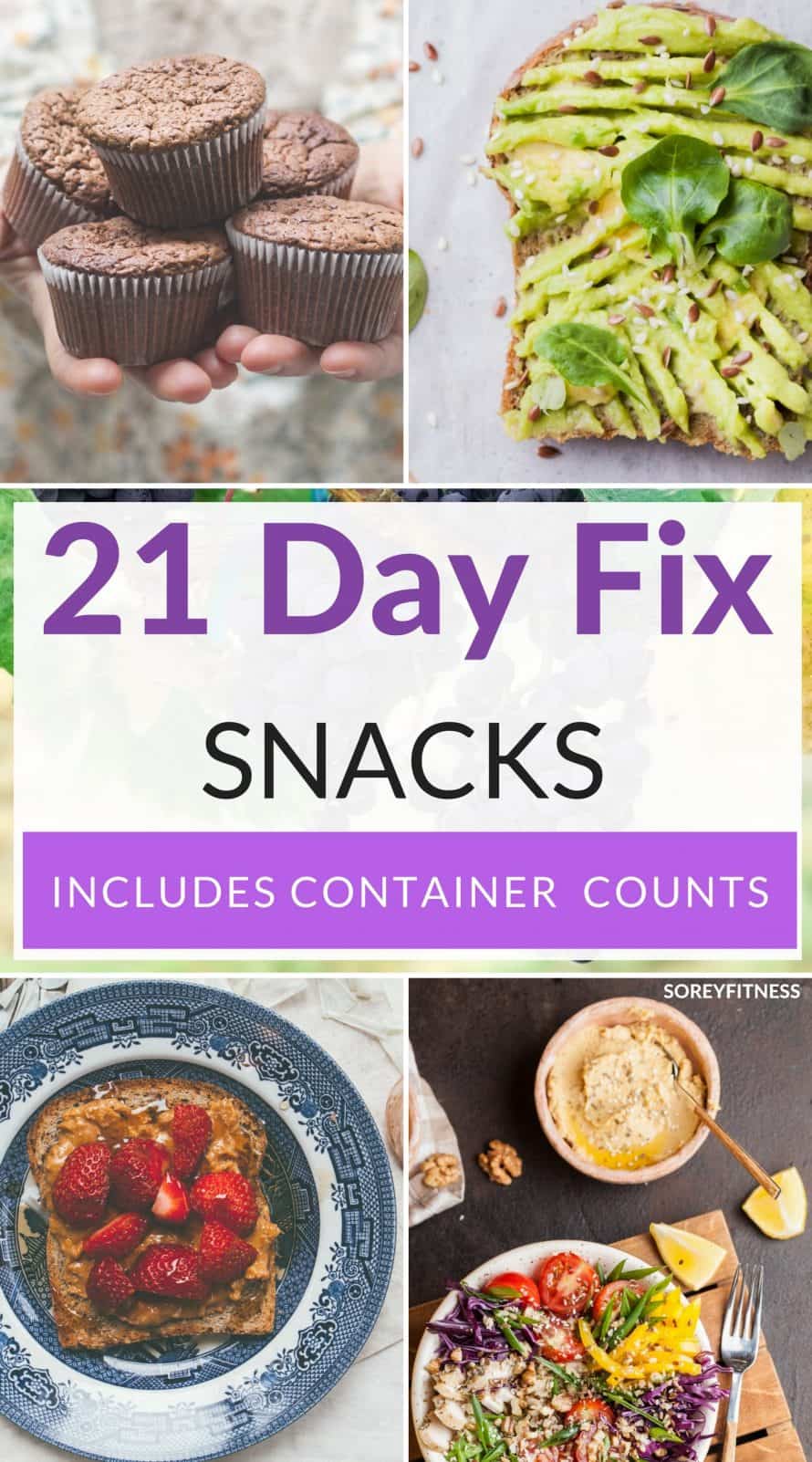 We also have a full 21 Day Fix Nutrition Guide outlined meal-by-meal as well!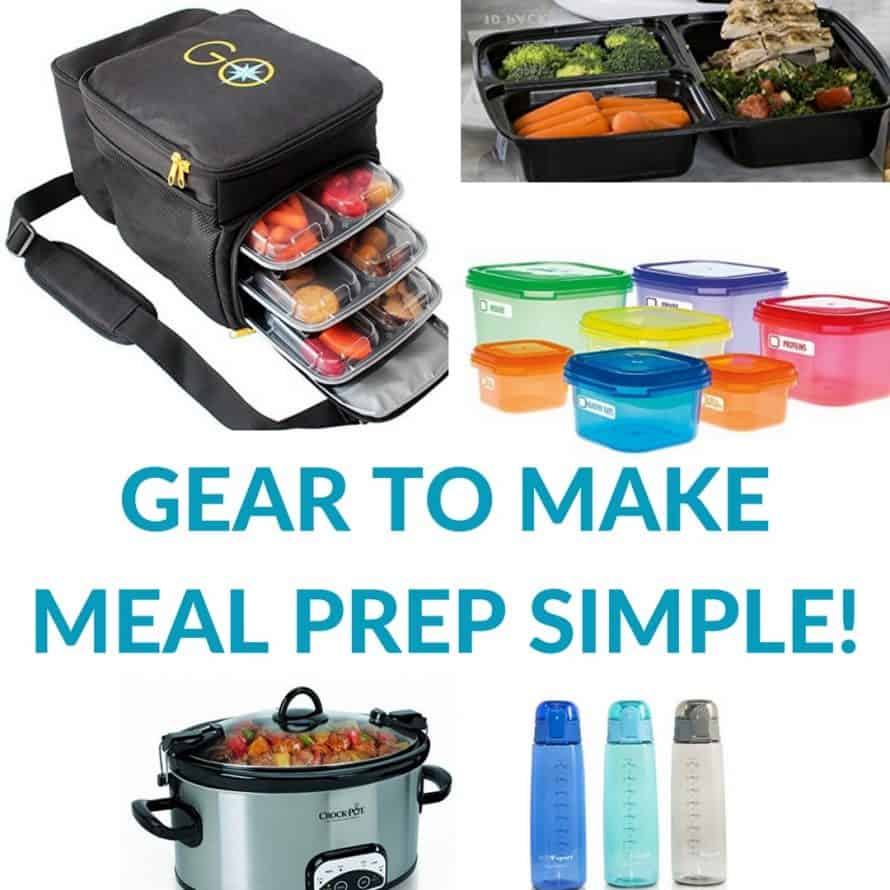 Ways to Pack Your Meals Easily
We know part of the 21 Day Fix is planning ahead and having your meals on-the-go.
We love these larger containers to pack and carry our meals!
Grab all of our meal prep containers and hacks here!


In addition to these 21 Day Fix recipes, Autumn has a new cooking show once a week on Beachbody on Demand.
If you love trying new workouts at home and have good Internet, Beachbody On Demand allows you to stream workouts and have access to her weekly cooking show (also called Fixate).
It's super affordable, and you'll also get access to exclusive bonus 21 Day Fix workouts with the Beachbody on Demand.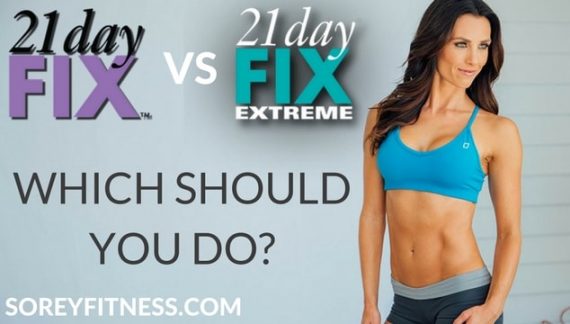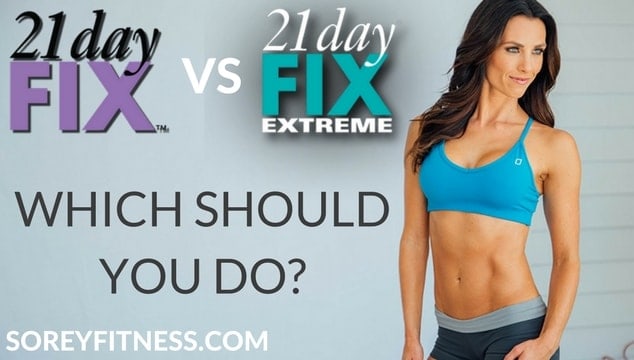 If you've done the 21 Day Fix and love the meal plan but need a BOOST in the workouts – check out 21 Day Fix Extreme.
If you loved the original, the 21 Day Fix Extreme is a great next step, and the Fixate cookbook works with both programs! See my Extreme review here
If you haven't tried the 21 Day Fix or Extreme yet –
The meal plan allows you to eat anything from a long list of healthy foods, and the containers help you watch your portions without having to count calories.
With the Extreme workouts, you don't get a treat though.
Autumn's new Fixate Cookbook is the same setup.
It uses the 21 Day Fix containers, but it also includes the nutritional information as well.
So if you have a family member counting calories – they can see how many calories are in each meal.
It makes it super easy to use no matter what workout program you're doing.
Even if you don't have the 21 Day Fix yet, these simple recipes are awesome for anyone looking for new healthy options! Don't forget about the 3 Day Quick Fix too.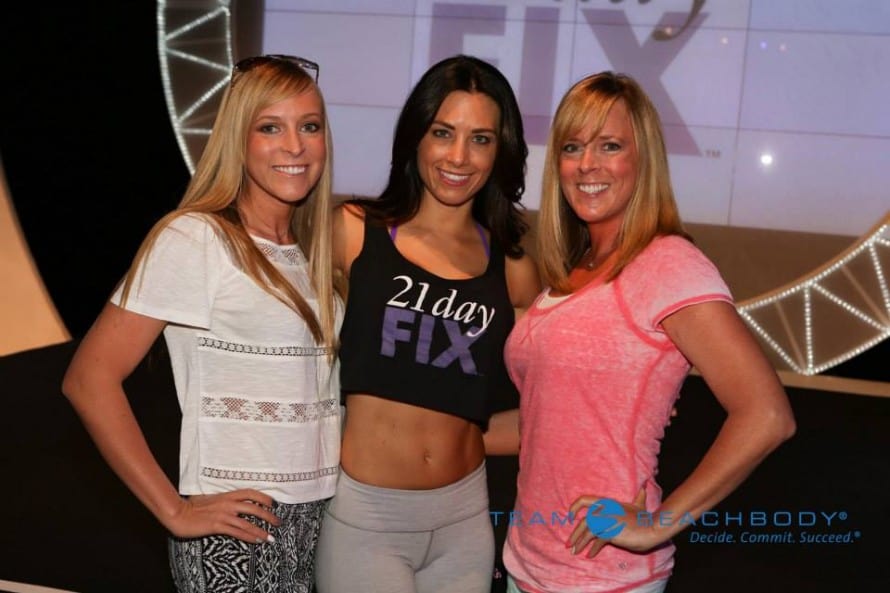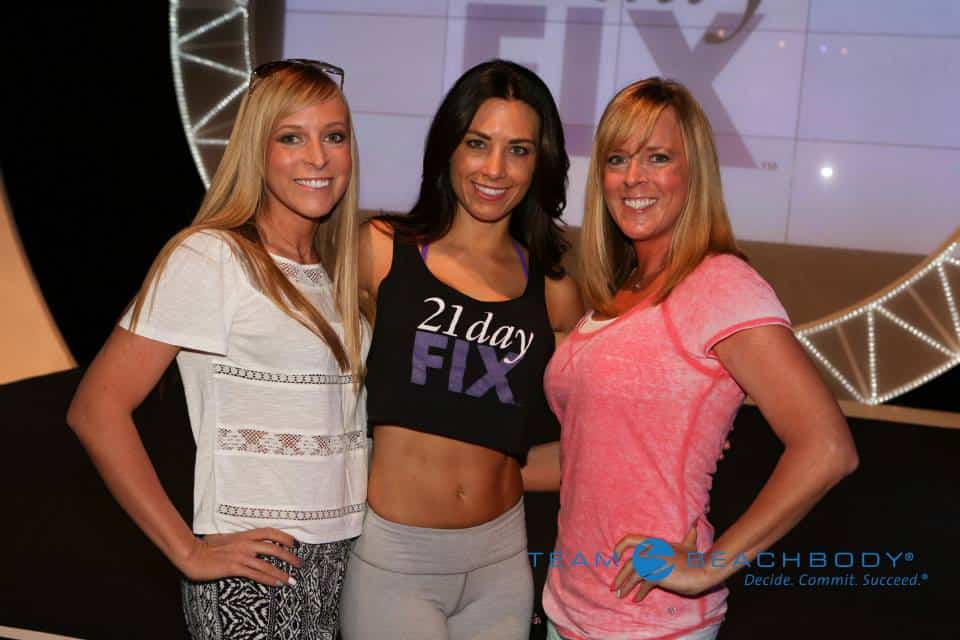 Additional 21 Day Fix Meal Plan Resources

I love and am an affiliate of Carrie Elle's trackers. They make the meal plan so easy!
You can print it or get a light spiral notebook to track your containers.
Have you tried any of these 21 Day Fix Recipes?