Mexican Chicken Street Tacos – A Favorite Healthy Family Recipe
This post may contain affiliate links. All opinions shared are my own. As an Amazon Associate I earn from qualifying purchases. Click to view our full disclosure.
We love Mexican food – especially in the summertime out on our back deck! These chicken street tacos are a healthy dinner that you and your family will love!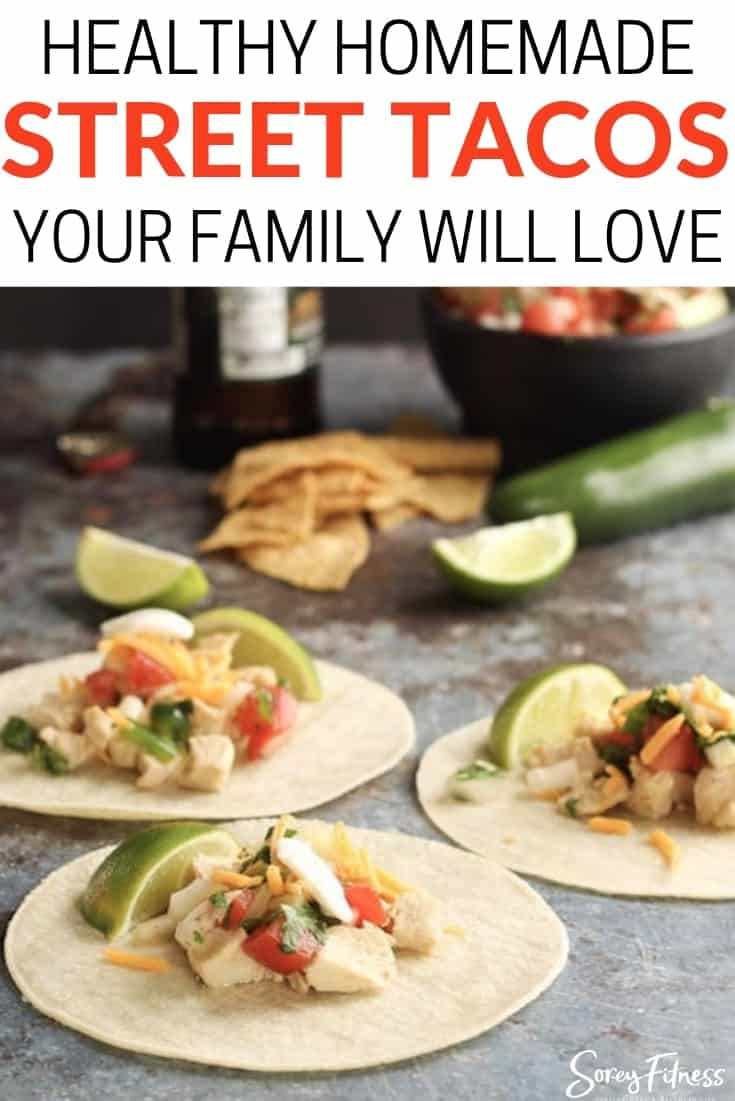 What's a Street Taco?
An authentic street taco is traditionally meat served on a small, soft corn tortilla with a variety of toppings including salsa, beans, cilantro, and lime juice.
Are street tacos healthy?
Depending on the tortilla and toppings, street tacos are pretty healthy and low in calories. A serving is usually 2 small corn tortillas with a combination of meat, vegetables, beans and toppings like cilantro, avocado, and lime.
Are you looking for a keto taco recipe?
If you're looking for a low carb or keto option, you will love our crockpot tacos or our one pan keto taco pie!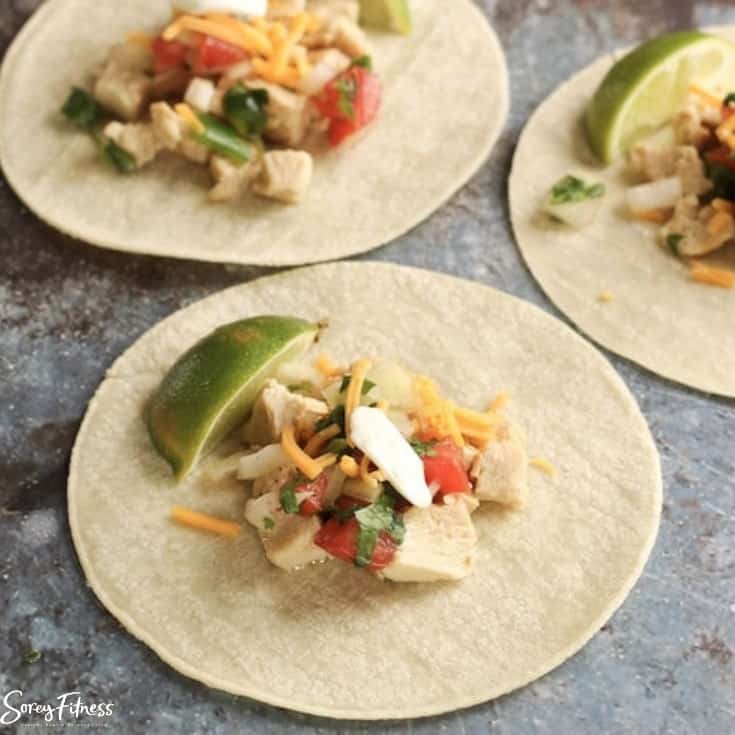 Creating Your Own Healthy Street Tacos at Home
We love making these are home! You can throw the chicken in a marinade the night before, and then it's such a quick and easy dinner to throw together.
Plus, if you have picky eaters they can pick and choose their toppings.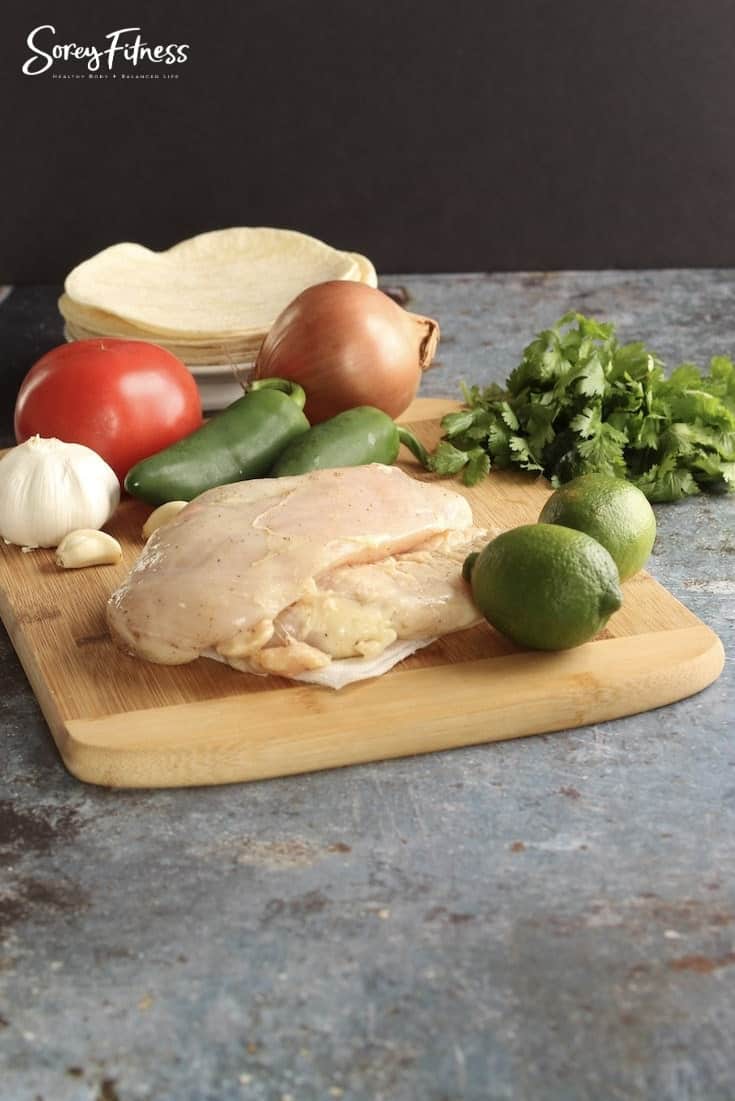 For the meat, you'll need:
boneless skinless chicken breasts

white corn tortillas

salsa

fresh, chopped cilantro

lime juice
You may also want sour cream, avocado or shredded cheddar cheese to top your street tacos with!
For the Marinade you'll need:
apple cider vinegar

lime juice

olive oil

garlic

, minced

jalapeno, diced

salt

black pepper

avocado oil
Honestly, making your marinade is the hardest part. You probably could find something similar at the store. If you're looking for an eat-clean option though, it's best to make it yourself. A lot of the store-bought marinades have added sugars and preservatives.
For the salsa, you'll need:
onion, diced
tomato diced
garlic, minced
jalapeno, diced (or a green pepper for a milder flavor)
lime juice
salt
black pepper
Again, you could probably find a store-bought salsa or pico de gallo. With that said, you can't beat a homemade, fresh salsa!
Making Your Street Tacos
Either the night before or in the morning, make your marinade. Then, place your chicken in it either in a covered bowl or ziplock bag. You'll want it to sit in your refrigerator for at least 6 hours.
Once you're ready to cook your chicken, you'll want to heat a large skillet on medium high and add your avocado oil. Then, turn the heat down to low and add your chicken. You can also choose to grill your chicken.
If you're cooking it on the stovetop, you will want it on medium heat and to cook each side for about 8-10 minutes until the chicken is cooked through.
Then, as your chicken cools – you can make your salsa.
Tip on Your Tortillas
I also like to place my corn tortillas on a baking sheet and place them in the oven either for 5-7 minutes at about 325 or on broil for 1-2 minutes. If you do the broil option – keep an eye on them! It won't take long!
Before putting them in the oven, I like to drizzle a little olive oil and salt on them to make them a little crispy.
Then, you're ready to serve your street tacos! Each serving is 2 small tortillas with 2 tablespoons of meat and topped with whatever you'd like!
Yield: 4 people
Mexican Healthy Street Tacos with Chicken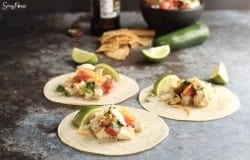 This chicken street taco recipe always is a family favorite! I marinate the chicken the night before, and it makes cooking dinner a breeze! Street tacos are usually a little smaller and served on corn tortillas, and each person can customize their toppings.
Total Time
6 hours
25 minutes
Ingredients
For the Meat
1 lb boneless skinless chicken breasts
10 white corn tortillas , warmed in the oven
1/2 cup fresh cilantro , chopped
1 tsp fresh lime juice
sour cream , optional
cheddar cheese, optional
For the Marinade:
2 tbsp apple cider vinegar
1.5 tbsp lime juice
1/4 cup olive oil
2 cloves garlic , minced
1 jalapeno, diced
1 tsp salt
1/2 tsp black pepper
2 tbsp avocado oil
Salsa
1 medium onion, diced
1 medium tomato, diced
3 cloves garlic, minced
1 jalapeno, diced (can also use green pepper to lessen heat of dish overall)
1 lime, juiced
1/2 tsp salt
1/2 tsp black pepper
Instructions
Make the marinade by mixing all the ingredients in a bowl.
Add chicken to marinade, cover bowl and allow to sit in fridge for 6-8 hours, or overnight. You can also store in a ziplock bag to marinade.
Remove from marinade and heat a large skillet on medium high heat. Add avocado oil to hot skillet.
Heat oven to lowest temperature.
Place chicken in the hot oil, turn heat to medium and cook on each side for 8-10 minutes, until thoroughly cooked.
Allow chicken to fully rest on a plate while you make the salsa and heat the tortillas.
While chicken is resting, after you make the salsa, place the corn tortillas on a baking sheet and place in the oven for 5-7 minutes until fully warm and pliable.
Add 2 Tablespoons chicken to each tortilla, and top with cilantro, salsa, sour cream and cheese as desired.
Nutrition Information:
Yield:
4
Serving Size:
1 grams
Amount Per Serving:
Calories:

486
Total Fat:

25g
Saturated Fat:

4g
Unsaturated Fat:

0g
Cholesterol:

73mg
Sodium:

1038mg
Carbohydrates:

37g
Fiber:

6g
Sugar:

3g
Protein:

29g
So now – I have to ask – do you prefer your street tacos cooked or grilled?
If it's cold, I will do with them cooked indoors, but nothing beats grilling the chicken in the summer!
Looking for more recipes?
Check out our healthy lunches and dinners.
We also have crockpot dinners, Whole 30 dinners, and low-carb meal ideas!