Best Meal Prep Containers, Bags and Lunch Boxes
This post may contain affiliate links. All opinions shared are my own. As an Amazon Associate I earn from qualifying purchases. Click to view our full disclosure.
We outline the best meal prep containers, bags and lunch boxes to help make your healthy eats even easier to enjoy! We keep it simple so you can shop and get going – because meal prep is a time-consuming enough on its own!
Below we outline meal prep containers first, then lunch boxes and fun gadgets!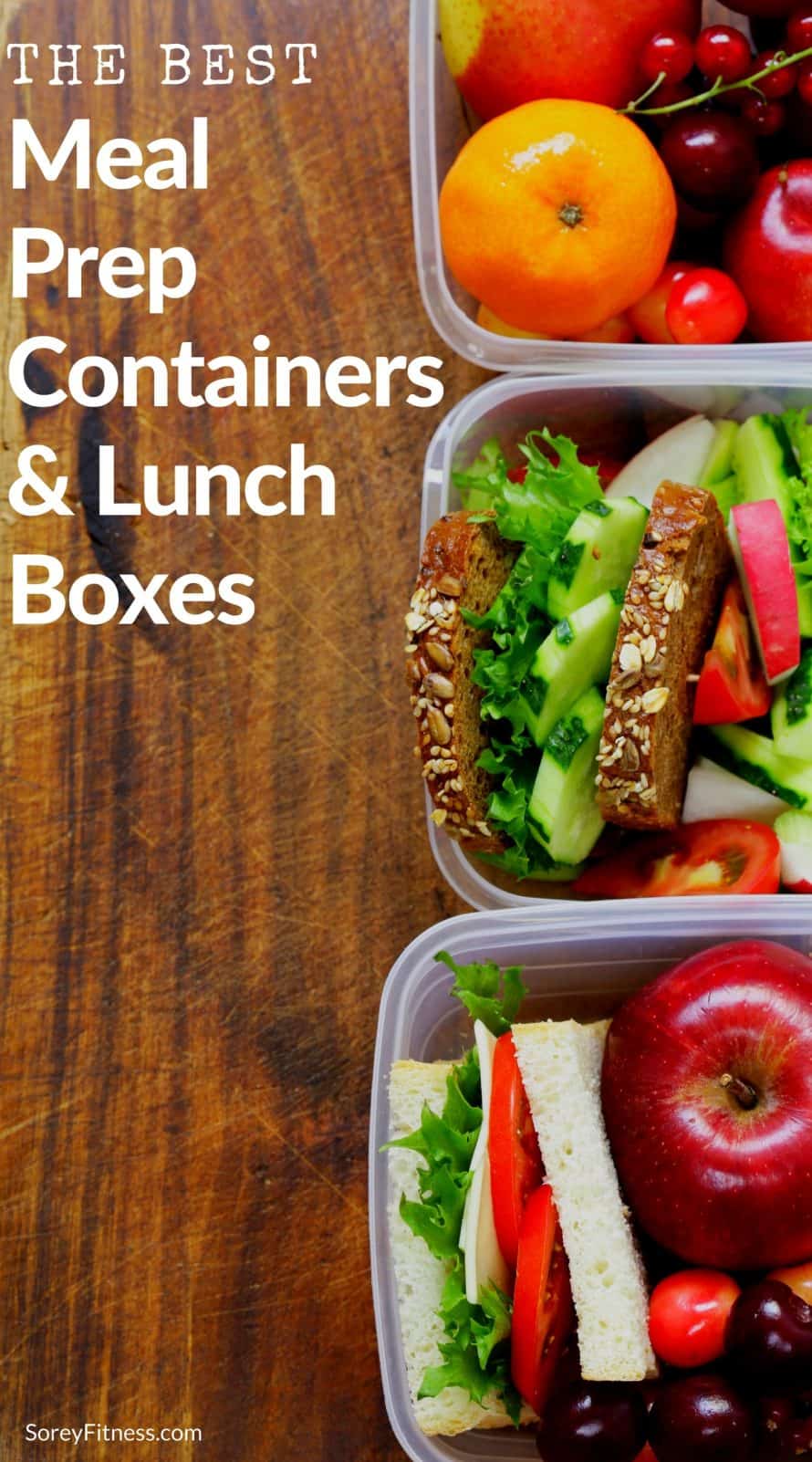 To make the best meal prep containers list, containers…
Don't leak
Don't melt
Easy to Clean
Are Super Durable
We're outlined our favorites and why they make the list below as well, but as a general rule they all met all 4 rules!
Best Meal Prep Containers
In the South, Pyrex is used about as much as Tupperware. It's just a term for a container to grab and go.
With that said, we are going to be traitors and choose Snapware as our top overall meal prep container.
This 10-piece set is Pyrex glass though! They also stack on top of each other easily for storage and their simple to clean!
They are also BPA-Free, microwaveable, and freezer safe. They can also go on the top-rack of your dishwasher!
They also have a air-tight seal for no leaks, and if they do – they include a lifetime warranty!
Extra perk? You can also write on them, and it comes off in the wash!
These collapsable dudes take storage to the next level! They are so convenient!
While they may look flimsy, they are actually really durable. They are oven-,microwave-, and freezer-safe.
They also are BPA free and have leak proof technology in them! So we chose them as your best on-the-go option!
Do you prefer glass only? Check out Meal Prep's compartment containers!
For all our friends who hate food touching, we have you covered too!
Both compartment options are great! If you're looking for one oven-safe, go with the Meal Prep glass ones.
Otherwise both choices are leak-proof, and dishwasher safe (plastic goes on top shelf!).
Best for Keeping Things Warm or Cold: 

LunchBots Thermal
We love that they offer all different sizes and colors too! They keep your hot foods hot for 6 hours and cold food cold for 12!
They are also leak proof and super durable!
Best Meal Prep Bags
Best Ziplock Alternative: Stasher Bags
I hate to think about how many plastic baggies I've used over my lifetime. The Stasher bags are so cool! Not only do they help prevent waste, but you never have to worry about running out of bags or if they're going to seal again!
You can cook, freeze, microwave and bake with these wonderful little bags!
They are self-sealing (pinch them!) and air-tight to keep your foods fresh and from leaking.
They are also reusable! They also contain no petroleum, no PVC, and no latex!
Best Meal Prep Lunch Box
If you like to pack a few meals or a larger lunch (like a sandwich with soup, some snacks and a couple drinks) – the Coleman lunchbox is perfect! It stays cold through ice packs and insulation, and it's also easy to carry! It was also easier to clean than other lunchboxes.
Only flaw — no short strap to carry — if you'd like a hand grip one, check out Muir lunchbox for a few dollars more.
This lunchbox also keeps foods at a great temperature, and its front pocket is an easy place to keep your napkin and utensils clean and dry! It also has an adjustable strap, and the color options are classic and fun!
If you're looking for great containers and a lunchbox in one – this is it! It's freezer, dishwasher, and microwave safe (minus the lid). It also passes our leak proof test!
It's also easy to carry and allows you to keep your food separated all in one container!
For our meal preppers doing the 80 Day Obsession meal plan we recommend this bag by Evolutionize.
It includes 3 containers and an icepack all in one, and it fits snug but not too tight. It's also super durable and insulated to keep your food fresh! We also loved the extra compartments on the side for our water bottle or shaker cup!
They also have a great guarantee – if you don't like it, they'll make it right!
If you're looking for a fun, quirky lunchbox – this waxed canvas bag is cool! It's not the best for insulation or durability, but how cute! It's also washable and better for the environment over the classic paper bag.
Other Neat Meal Prep Tools
Where can I buy food prep containers?
The ones we'll suggest are mostly on Amazon; however, we know without a guide there are just TOO many to chose from! Locally, we'd suggest WalMart, Target or Bed, Bath & Beyond because of their prices and wide selection to chose from. You may find that Amazon is cheaper, but shopping local can give you an idea of what you like as well.
You may also like: