The 21 Day Fix calorie calculator helps you find out exactly how much you should be eating per day of each container.
You'll also find a simple 21 Day Fix Meal Plan Template that fits your lifestyle below!
You should use the 21 Day Fix calculator each time you lose 5-10 lbs to make sure you are still in the same category of containers.
21 Day Fix Calorie Calculator
Below is the formula to finding out how much you would get to eat in 21 Day Fix containers per day.
Here's how to find your target calories if you want to lose weight:
1st Step: Current Weight in Pounds x 11 = Baseline Number
2nd Step: Baseline Number + 400 (Calorie Burn) = Caloric Need
3rd Step: Caloric Need – 750 = How Many Calories You Need to Eat
If you want to maintain your weight, in step 3, add in 400 calories instead of subtracting 750.
If your target calories are below 1200 then you'll want to round up to 1200. That is the lowest you should ever go.
Let's see my example.
My current weight is 125
1) 125 pounds (my current weight) x 11 = 1375 (my baseline)
2) 1375 (my baseline) + 400 = 1775 -> my caloric need
3) 1775 (my caloric need) – 750 = 1025 -> My target Calories
My target calories is 1025…and I need to round up to 1200.
Once you know how many calories you need, you can see how many containers you will get through the day (see picture below). Remember to round up to 1200 if you were below it. If your calories were higher than 2300, you'll still use the 2300 column.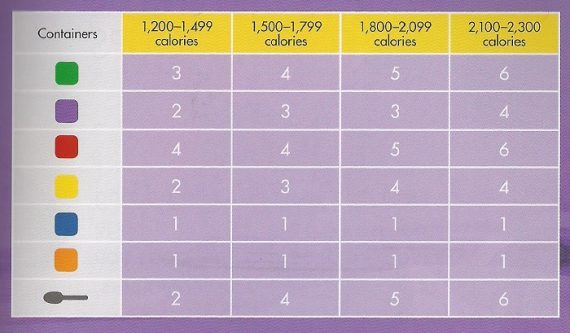 Now you can eat your containers anytime you want! The 21 day fix food list will also help you decide what goes into each container.
Tea, water, and coffee are also allowed on the plan. I aimed for 3 20z cups of water a day.
21 Day Fix dressings do count towards your containers.
Other 21 Day Fix Resources

21 Day Fix Calorie Calculator FAQs
Have questions about the workout schedule or review click here.
1. What if I can't eat all of the food in my containers in a day?
We know how tempting it is to skip a container (or a couple) if you are "serious" about losing weight. Resist that temptation! The 21 Day Fix calculator is designed to make sure you are eating the perfect amount for max weight loss. If you don't eat enough, your body can go into starvation mode and hold onto extra weight as a way to protect itself.
If it's just a LOT of containers, think about how you can mix in things into your current meals.
Have an extra blue? Add in some cheese to your tacos. Have an extra red, purple and green? Consider Shakeology with 1/2 a banana and spinach blended in after a workout. We'll also add in a protein bar when we're in a pinch.
2. How should I space out my meals?
You can fully customize what you eat on this plan with the food list. Autumn suggests eating 6 times a day, so we do 3 meals plus 2 snacks. One snack in the morning, and one snack in the afternoon.
3. Do I eat the total amount of containers every day or at each meal?
The total amount of containers – the numbers you got from the 21 day fix calorie calculator – should be spaced out over the day.
4. How do I get a treat?
On the 21 Day Fix, you can have a treat up to 3 times a week. You need to save 2 yellows for 1 treat. The 2 yellows can be spread across a couple of days if you wanted.
5. What about snacks?
We have outlined 51 of our favorite snacks and also our favorite dressings on the blog.
Looking for something more extreme?
The 21 Day Fix Extreme doesn't allow for treats, but you get MAX results in 3 weeks. There is also a "Countdown to Competition" meal plan that is awesome. You can also read our original 21 Day Fix review here.
Need meal ideas? Check these approved recipes out or look at Fixate for more recipes
21 Day Fix Meal Plan Template
Now that you know how to use the calorie calculator, it's time to find the easiest 21 Day Fix Meal Plan Template! Whether you prefer paper or your iPhone, we have you covered!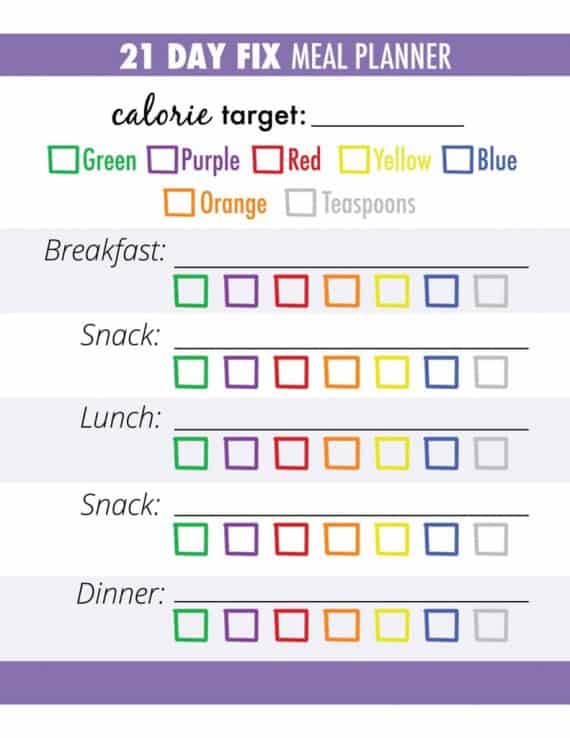 If you prefer to track your containers using pen and paper, this is a printable guide you can download. At the top of the tracker, you'll want to put the number of each container you're allotted from the 21 Day Fix calorie calculator. Then as you eat throughout the day, you can mark off each container.
If you prefer the convenience of tracking from your phone, the 21 Day Fix Meal Plan App is awesome! You can find it in the App Store or click here.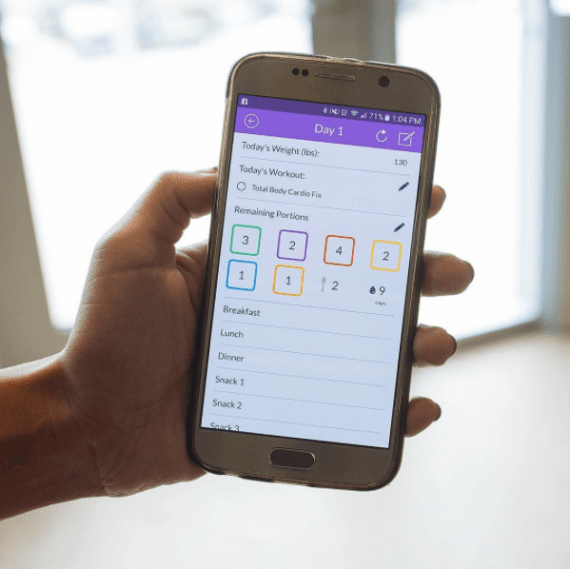 The app also allows you to track your weight and measurements each week which we love!
What is your favorite 21 Day Fix Meal Plan Template – pen and paper or the app?
Did you use the 21 Day Fix Calculator?
You don't have to do the program alone! We'd love to be your personal Beachbody coach to help you get max results! We're the best kind of coach too – free! You can email us at thegirls@soreyfitness.com or apply for our 21 Day Challenge to get in touch.
We can't wait to meet you!!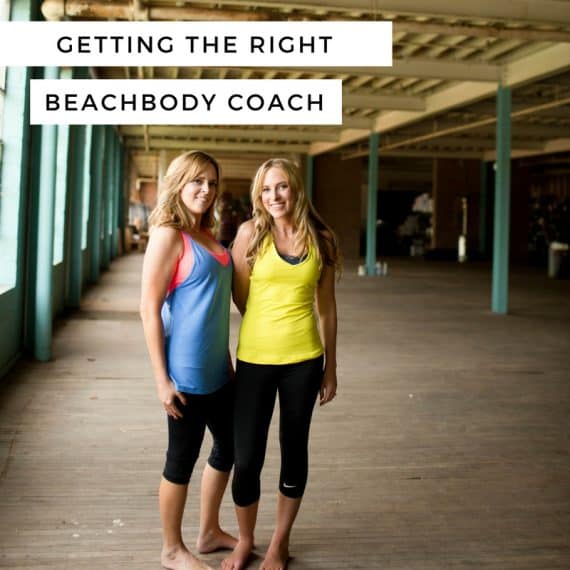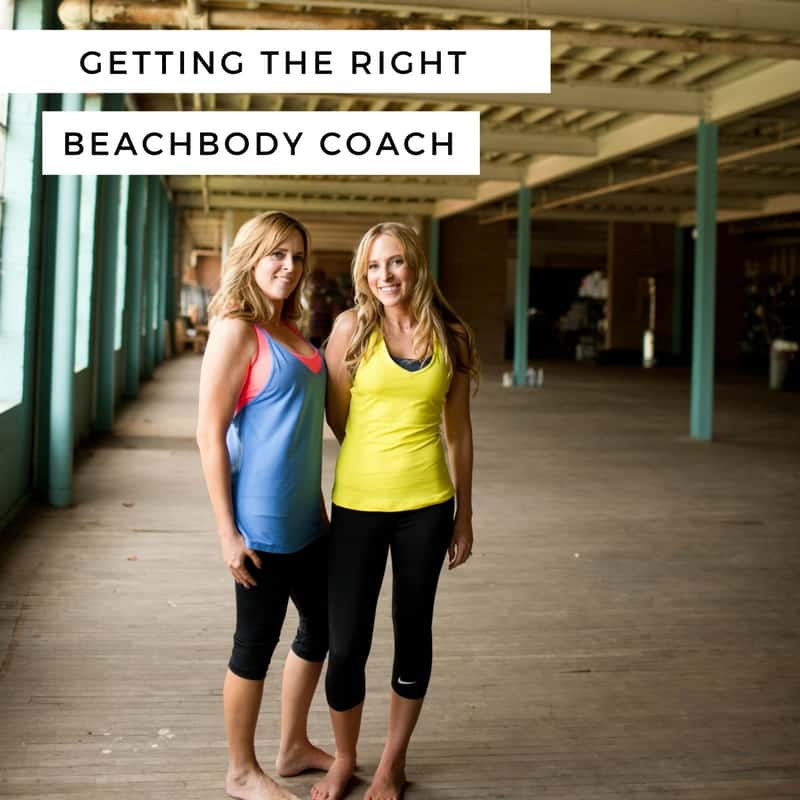 If you've already had amazing results, or you're looking for some extra self-motivation, maybe you should consider becoming a Beachbody coach like us! It's so much fun, and you don't have to be super buff or have a ton of hours to coach.
Need to up your fitness game? The 21 Day Fix Extreme or Hammer & Chisel are both awesome next steps, and both are available to stream now (as well as on DVD) with Beachbody on Demand!
You might also like: