What We Loved & Hated About Hammer and Chisel [Review]
This post may contain affiliate links. All opinions shared are my own. As an Amazon Associate I earn from qualifying purchases. Click to view our full disclosure.
Are you looking for an at-home workout to get sculpted in 60 days? That's what Hammer and Chisel is designed to do.
We'll take a look at the workouts, meal plan, and 60-day schedule.
Autumn Calabrese and Sagi Kalev created the program to improve agility, endurance, and strength to sculpt the body you want.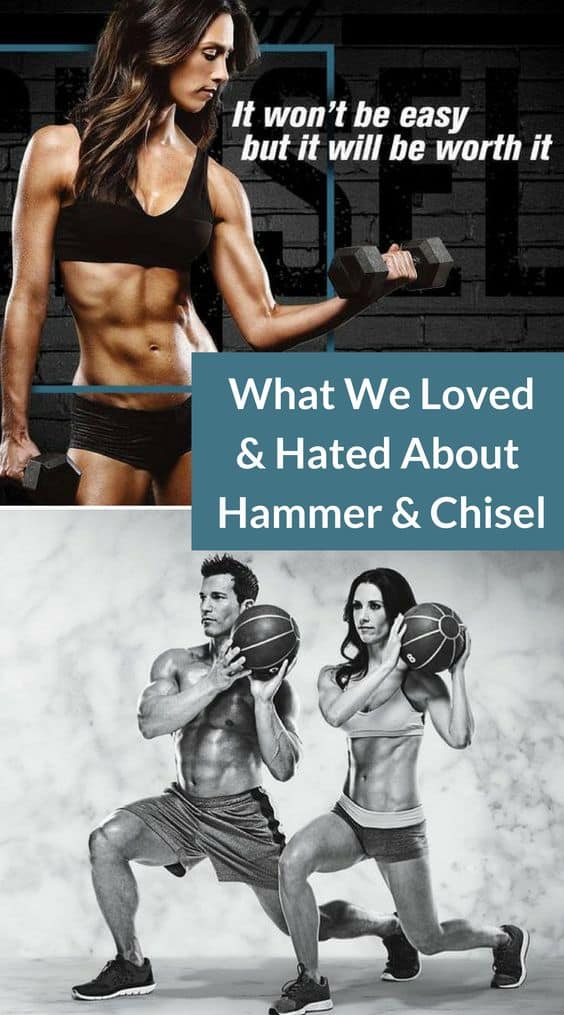 Hammer & Chisel Review
I completed this program after completing the 21 Day Fix Extreme. I definitely think it's more advanced than the 21 Day Fix or Body Beast. It's a similar level as the 21 Day Fix Extreme, but it is heavier in the strength aspect.
What I Liked:
Lots of Variety
There are 18 workouts in the Deluxe Kit! I never felt bored, and I was more sore with this workout program than I had been in years. I completed the original program, and then the Chisel Calendar.
Challenging Total Body Workouts
The Master Chisel (Autumn) workouts were the hardest for me. Each master hammer workout (Sagi's) is still a challenge, but it's because you're lifting so heavy. Autumn's challenged me cardiovascularly and on my balance – which are weaknesses of mine anyways.
Chisel Calendar and Hammer Calendar Included
The program is broken down to do 1 round of Hammer & Chisel, then depending on your goals, you can choose to do a 30-day calendar of just Hammer workouts for max strength or Chisel for a more toned look.
I personally did the Chisel Body Calendar just to improve my cardio while still getting strength in.
I did notice when I was in my 3rd month just doing Chisel workouts I was lifting the same weights at Autumn or even a little heavier!
You may also like 80 Day Obsession (Autumn's new workout!)
Bonus Workout: Master Cardio
The Master Cardio workout was awesome on busy days. It's about 18 minutes, but it will have you huffing, puffing, and burning! It's a GREAT go-to workout! You can tell Master Hammer isn't used to working out at the high level of cardio Autumn does. :P
Simple Meal Plan
I started the 21 Day Fix in 2014, and I have been stuck on that meal plan. It's so easy! The Hammer & Chisel meal plan is about the same as the 21 Day Fix meal plan.
The trial is with Beachbody on Demand. It includes access to every Hammer & Chisel workout plus 700+ other Beachbody workouts!! It's $39.95 per quarter ($13 approx a month) after the trial if you decide to continue.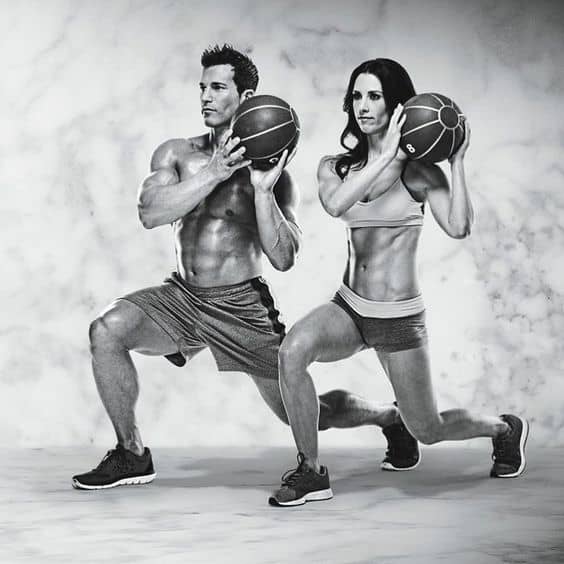 You can order the base kit or challenge pack now. You can also stream all of the workouts and download the meal plan using Beachbody On Demand.
Things I Didn't Like:
Hammer Power Workout
It includes powerlifting which I liked, but I do think the form is hard to master at home without supervision. I had to go with really light weights for proper form, and I worry someone will hurt themselves. I started swapping it out for a Deluxe workout instead.
Watch your bench.
I ordered the exact bench they use, and sometimes mine felt a little wobbly. If you feel ever out of control, modify.
I needed more arm workouts.
Now some may say, you're doing push-ups, pull-ups, and other upper body moves.
In these moves, your shoulders, triceps, and biceps are assisting (aka working), but I really do think it is more of a lower-body focused program.
With that said, you still work those smaller upper body workouts, and it wouldn't stop me from doing this program again.
The Verdict:
I'd definitely recommend the full body program, and I'll do it again too.
The workouts are longer than my normal routine, but the Hammer and Chisel results are well worth it!
The attention to form is great, and I believe this is a program you can continue to grow into.
I do plan on switching out the powerlifting workout for another one though.
If you'll looking for something shorter, check out our Shift Shop Review.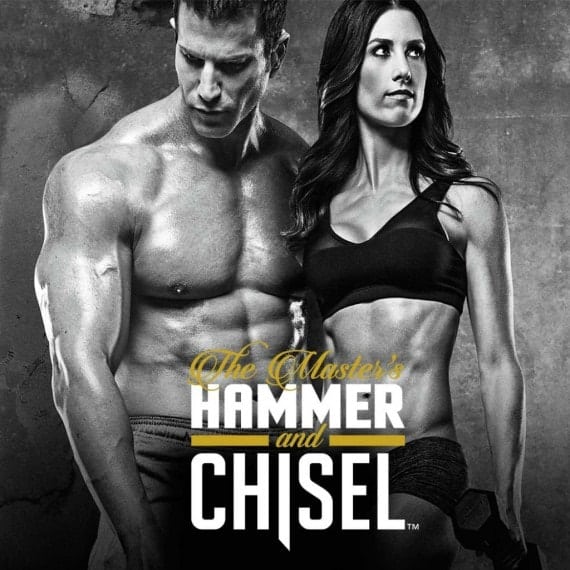 Hammer and Chisel Workout FAQ
The Hammer & Chisel workout is designed to "build powerful muscle, shed body fat, and build a ripped, statue-perfect physique" just like a fitness competitor would do.
Will there be a modifier in each Hammer and Chisel workout?
Yes! There will also be a modifier to help you get started with the program. The modifier also shows you what to do or use if you don't have all of the equipment.
What equipment do you need?
How long is the program?
It's a 60-Day Program. There is only 1 calendar for the program, but once you've completed one round you can choose to do an additional 30 Day "Chisel" or 30 Day "Hammer" schedule to maximize your results.
The Hammer schedule will focus on building more muscle. In contrast, the Chisel schedule will help define your muscles.
Each schedule has you working out 6 days a week.
This is the 60-Day Hammer and Chisel Calendar: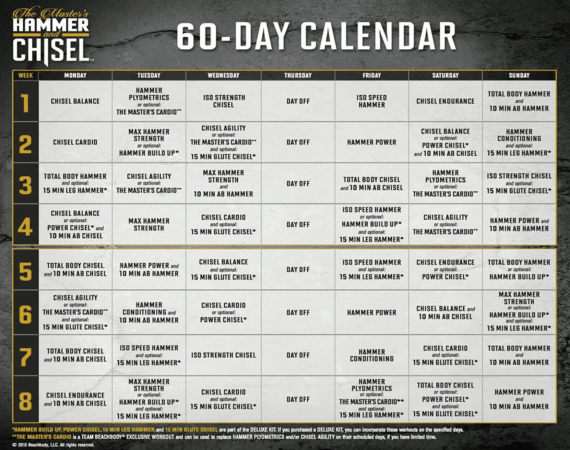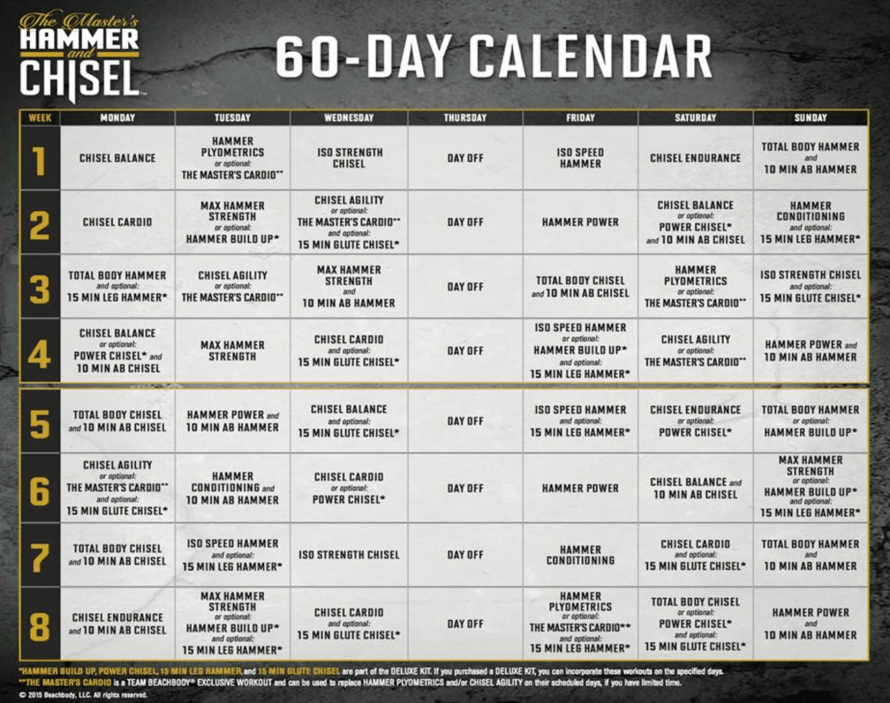 You can also do a 30 Day Chisel Calendar or 30 Day Hammer Calendar.
How long are each Hammer and Chisel workout?
Hammer & Chisel includes 14 workouts on 6 DVDs, and each workout is about 40 minutes. You can also choose the Deluxe Kit for an additional 4 workouts. The workouts are high intensity so we'll be burning a lot of calories and lifting very heavy for a short workout.
| | | | |
| --- | --- | --- | --- |
| 14 Chisel and Hammer Workouts | Length of Time | | |
| Safety Video | 3:17 | | |
| Chisel Balance | 41:05 | | |
| Iso Strength Chisel | 36:39 | | |
| Chisel Endurance | 36:55 | | |
| Chisel Cardio | 39:00 | | |
| Chisel Agility | 38:29 | | |
| Total Body Chisel | 36:04 | | |
| Hammer Plyometrics | 26:29 | | |
| Iso Speed Hammer | 24:11 | | |
| Total Body Hammer | 43:48 | | |
| Max Hammer Strength | 36:53 | | |
| Hammer Power | 39:10 | | |
| Hammer Conditioning | 30:42 | | |
| 10 Min Ab Chisel | 10:56 | | |
| 10 Min Ab Hammer | 12:29 | | |
| | | | |
| BONUS Workout From a Coach Like Us! | | | |
| The Master's Cardio | 17:38 | | |
| | | | |
| DELUXE Workouts | | | |
| Hammer Build Up | 32:59 | | |
| Power Chisel | 30:16 | | |
| 15 Min Leg Hammer | 18:41 | | |
| 15 Min Glute Chisel | 17:53 | | |
What do I need for a Chisel and Hammer workout?
You'll need, dumbbells, a pull-up bar (or a door attachment with exercise band), and either a weight bench or stability ball.
Sagi highly suggests investing in a weight bench and says that is a "mandatory item," but using a stability ball can also help core stability and strength.
You'll also want to use your printable workout sheets (included with the program) so you can track your progress.
Can you use Fixate and the 21 Day Fix container system? What does the meal plan look like?
Yes, you'll be able to use both! The Hammer & Chisel workout program will incorporate the containers, and it will also have a path for building muscle mass and one focused on getting shredded. Here's our review of Fixate if you haven't heard about Autumn's cookbook.
View the 21 Day Fix approved foods here.
Is there a sample meal plan?
Yes, it is included within the nutritional guide. If you choose to order Hammer & Chisel from us on this page, you'll also receive our sample plan in our challenge group!
Here's a glimpse at what I ate: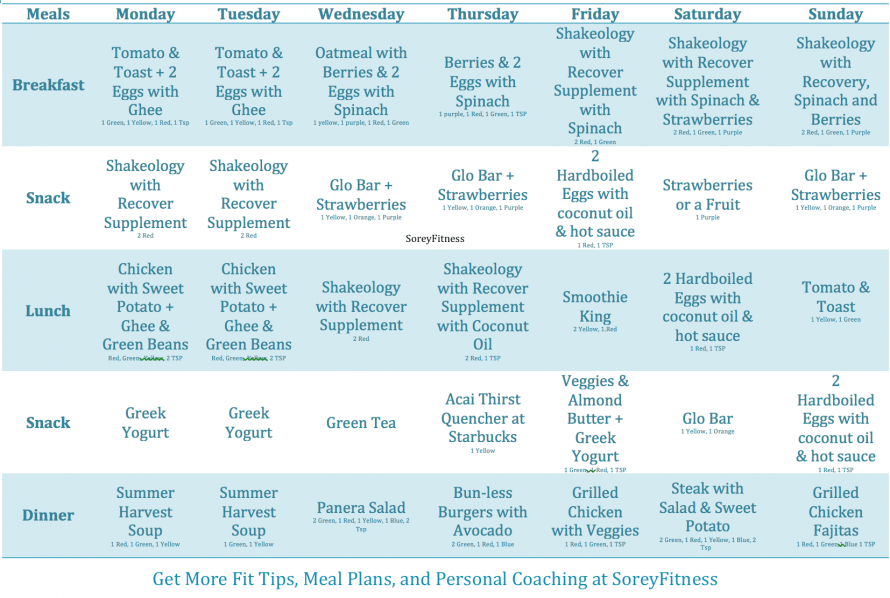 How many calories are you eating?
When you order Chisel and Hammer, the Quick Start guide has a breakdown to decide your caloric intake based on your gender, activity level, and current weight.
I'm eating 1200-1,499 calories as a sedentary woman at 117lbs wanting to maintain my weight.
The plan is broken down into containers though for ease and max results….it's best to do the containers so you know you are hitting all of your macronutrients!
Update: Since Hammer & Chisel came out, Autumn also launched her Ultimate Portion Fix. We love this program because you can tailor in your nutrition even more with timed nutrition and carb cycling!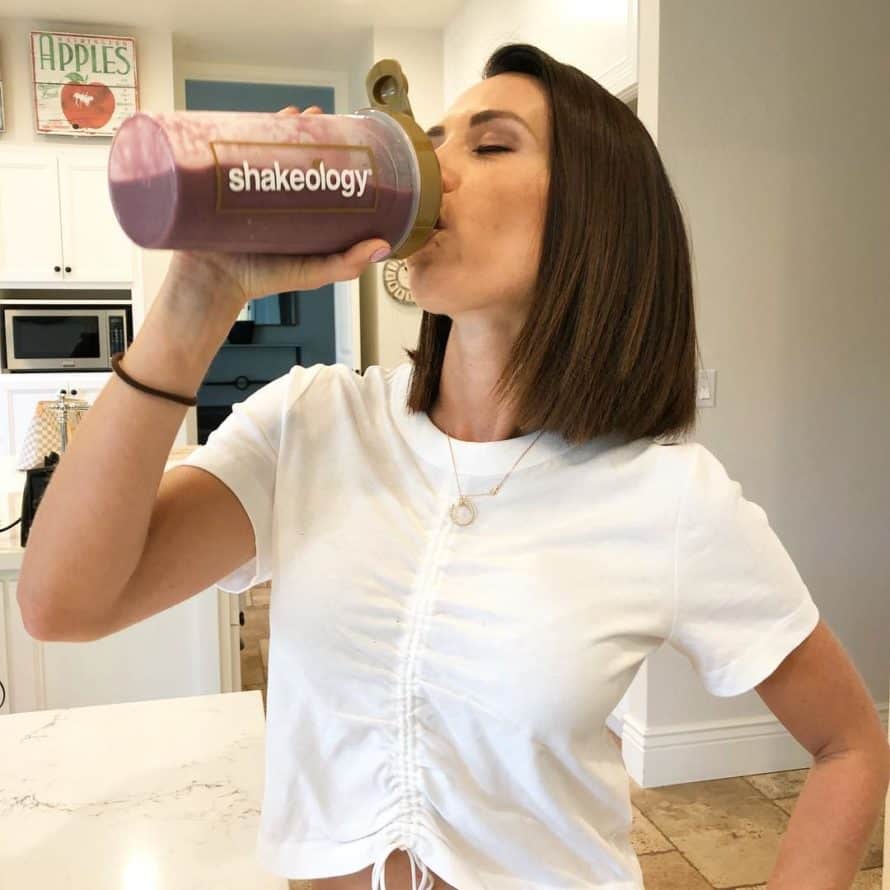 Do I need Shakeology or Workout Supplements?
We personally used Energize, Recover, Recharge, and Shakeology for these workouts. It's totally up to you whether or not you want to use the supplements though.
We loved Energize before our workouts to give us extra energy, and Recover and Recharge helped us with muscle development and soreness.
Shakeology was great for us because we hate to meal prep! You can read in our Shakeology review why we drink it and how it's helped us as well!
Learn more about Beachbody's workout supplements or grab our favorite Shakeology recipes!
What will you gain with the program?
You'll look good, and also able to perform and be an athlete. You'll gain endurance, balance, agility, flexibility, and powerlifting for your strength.
I'm so excited for this pair to really kick up my results. Both are so focused on intensity and proper form, but they also keep it fun and motivating.
Is Hammer and Chisel good for weight loss?
Absolutely! This program combines intense cardio with strength training and an easy-to-follow nutrition plan so that you see a transformation in 60 days! Whether you're looking to lose weight or build lean muscle, Hammer and Chisel can help you achieve your goal.
Here are a few before and after photos to help show how effective the program really is!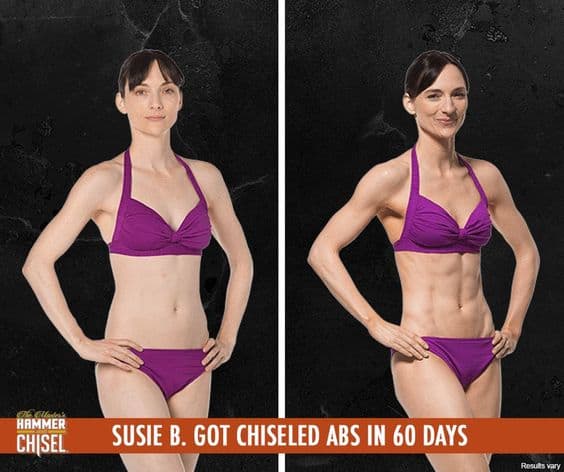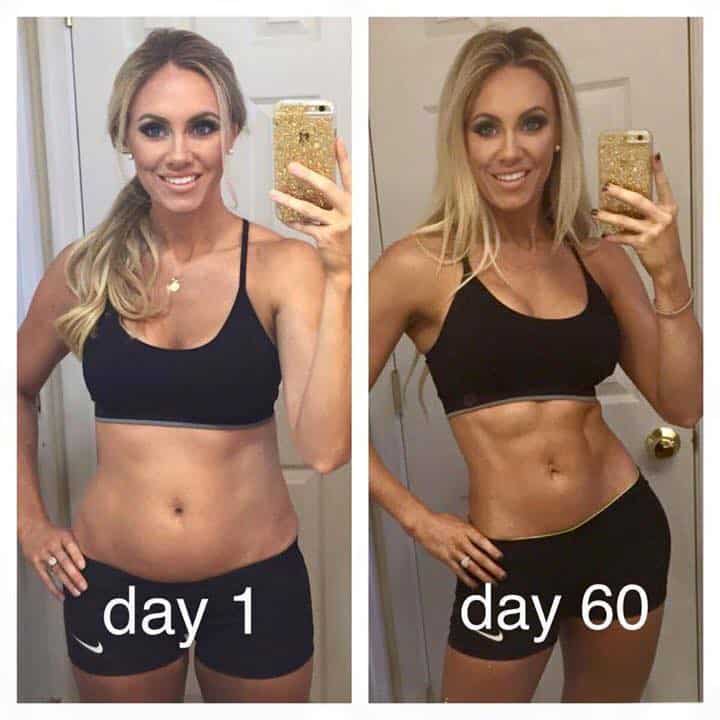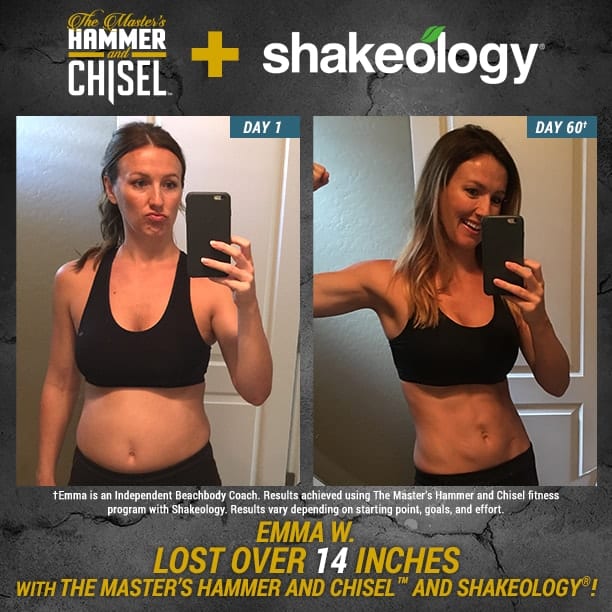 How much does Hammer and Chisel cost?
If this post helped you, make sure it says Kalee at check out or look up 1001548. :)
1. DVDs (89.95) – It includes 12 workouts, your color-coded containers for max nutrition results, your quick-start guide and calendar for the workouts, and also 2 10-minute ab workouts. PLUS an additional cardio workout when you buy from a coach like us.
All 4 options are great; the best deal money-wise is either Challenge Pack. If you have a question on any of them email me at thegirls@soreyfitness.com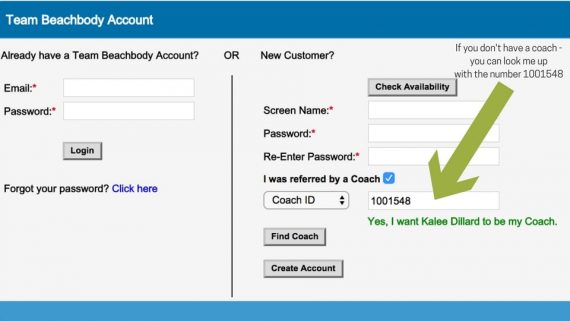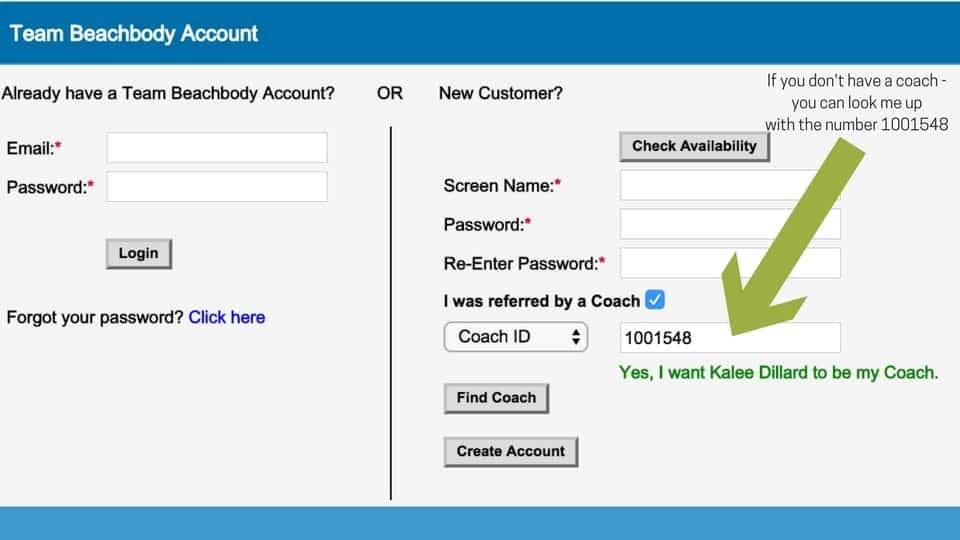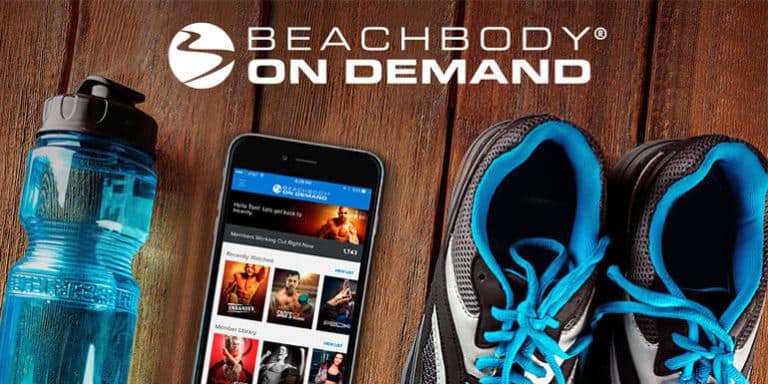 Stream Hammer and Chisel Workouts on Beachbody on Demand
You can also stream this program on Beachbody on Demand. If you're not familiar with the streaming service, it gives you access to 100s of workouts and digital materials.
It's super simple to stream any workout, including Hammer & Chisel, and it allows you to try new workouts throughout the year. It's actually cheaper than buying some of the DVD-based kits as well.
To get the trial, just select the 3 month option from the dropbox. It's $39.95 per quarter ($13 approx a month) after the trial if you decide to continue.
Who are the trainers?
Besides creating 2 of the most popular workout programs separately, Autumn and Sagi have won fitness competitions for years. Sagi has named Mr. Israel twice and appeared on Muscle & Fitness over 10 times. Autumn is a national-level bikini competitor and also a sought-after celebrity trainer.
Hammer is the Beast's part of the program (weights) and Chisel is Autumn's. It's 2 different programs in one for max results. They worked out together and built the program together.
Read more on Autumn here or check out Body Beast for Women here.

Along with a 60 Day money back guarantee, you'll also have access to our Challenge Group!
It includes support, meal plan options, recipes, tips, and even prizes!
Just use the link below and then email thegirls@soreyfitness.com to get your private invite!
Also, if you need a coach – it will say Kimberly Sorey is your coach when you check out or email us at thegirls@soreyfitness.com to make sure to be a part of our Challenge Group!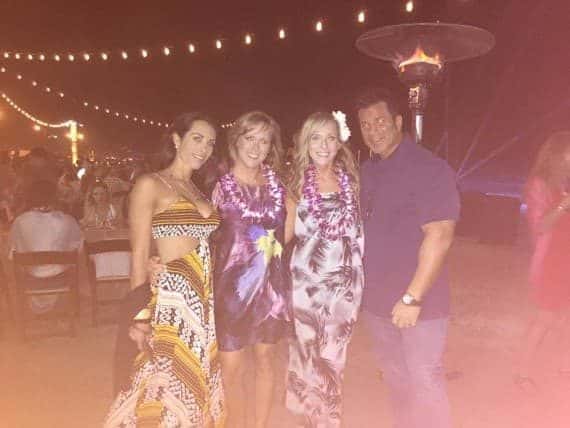 What other questions do you have now?
We'd love to help you find the best workout and nutrition plan for your goals and busy life! Feel free to leave a comment below with your email, and we'll get in touch within 24 hours!
We are also Elite Beachbody coaches and coach full-time. If you're interested in joining our Beachbody coaching team check out this guide.
You may also like: