What the 21 Day Fix 3 Day Quick Fix is and If it Really Works
This post may contain affiliate links. All opinions shared are my own. As an Amazon Associate I earn from qualifying purchases. Click to view our full disclosure.
The 3 Day Quick Fix is included in Autumn Calabrese's 21 Day Fix workout and nutrition program. Now, if you're like me you are probably saying isn't 21 days pretty quick anyways much less 3 days? How much of a difference can this make?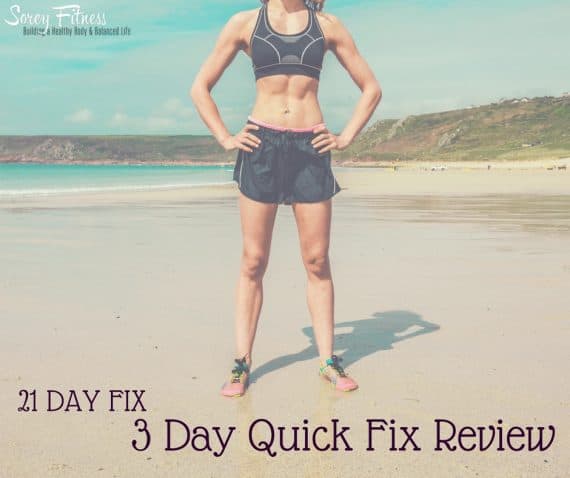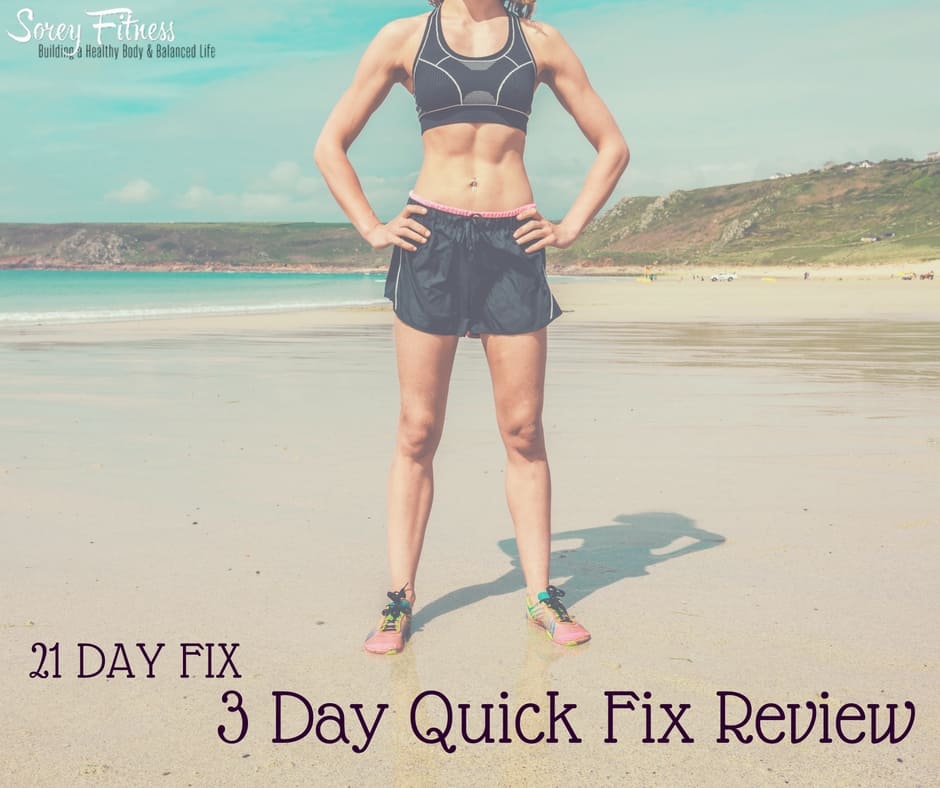 The 3 Day Quick Fix Diet promises to help you get ready for a photo shoot or competition just like Autumn though. So you know I was tempted. Plus it includes 6 meals a day and looked easier than the 3 Day Refresh I had tried before.
What does the plan look like?
high protein
low carb
high healthy fat
What Foods Are Allowed?
Steamed Vegetables
Lean Proteins (no red meat)
Oatmeal
Sweet Potatoes
Limes, Lemons, Seasonings (excluding salt)
Lots and Lots of Water
Not allowed:
Shakeology
Fruit
Salt
Anything except for the list above really
Another sneaky turn is that you have to have your oatmeal and sweet potato before noon. This is because you want to give yourself time to burn off the energy the carbohydrates give you. I found it worked well for me because my workouts were in the morning, but if you workout at night…good luck missy!
View the Full List of Foods Allowed on the 21 Day Fix
Meal Prep Ideas & Grocery List for the 3 Day Fix
As I mentioned above, the list of approved foods is very small. The reasoning behind it is that the body can process the lean, white protein easily, the healthy fat keeps you full and skin glowing, and the carbs help get in your energy and fiber.
Here's a list of what you'll need:
organic, steel-cut oatmeal
2 yams/sweet potatoes
egg whites
chicken breast
cod or white fish
extra-lean ground turkey
extra-virgin coconut oil
your choice of green veggies: broccoli, asparagus, green beans, and/or bell peppers
Optional foods:
lemons and limes
vinegars
no-salt spices
nutmeg
cinnamon
stevia
coffee and/or teas
Water, Water, Water
Along with the food, you'll also want to drink about a gallon of water a day to flush out toxins and rehydrate your body. Drinking a gallon will help diminish any bloat you have. Fitness competitors are known to drink a gallon most days and 1.5-2 gallons a DAY before a show. I don't recommend doing it forever, but drinking plenty of water in those 3 days does help reduce bloat and clear the skin in my experience.
I recommend purified water because of the amount you are drinking. We live in an area where even a filter doesn't purify it completely. I use a Zero Water Filter now, and I'm pretty obsessed with it and testing water.
So much coconut oil
You'll see even in the 21 Day Fix eating plan Autumn uses coconut oil a lot. It's because of 2 reasons. One you can cook with it without it turning into a transfat. Even extra virgin olive oil can turn into a transfat when heated. Second the body doesn't break down coconut oil into fatty acids. It actually turns into medium-chain fatty acids that allow your body to use them for energy more than other oils.
You can cook with it, put it on top of meats, or if you're brave just take a tablespoon right to the mouth.
You May Also like: Simple 10 Day No Sugar Diet – Eat Up to 6x a Day and Feel Amazing!
Sample 3 Day Quick Fix Meal Plan
Breakfast: 1/4 cup Steel-cut oatmeal, 6 Egg whites, 1 Teaspoon coconut oil
Midmorning: 1 red container grilled chicken, 1 yellow container steamed yams
Lunch: 1 red container steamed fish, 1 green container steamed veggies
Afternoon: 1 red container grilled chicken, 1 green container steamed veggies, 1 Teaspoon coconut oil
Dinner: 1 red container steamed fish,1 green container steamed veggies, 1 Teaspoon coconut oil
That Dreaded 6th Meal: 1 red container ground extra lean turkey, 1 green container steamed veggies, 1 Teaspoon coconut oil
What if I'm Vegan or Vegetarian?
You can modify the plan, of course, to keep all animals safe! Look for low-sodium protein like tempeh, tofu, and vegan Shakeology.
Do you starve?
Heck no! The food is pretty darn boring, but you won't starve. I actually struggled to get in my last meal every day because it's 6 meals. You are supposed to space them about 2 1/2 hours apart, but I wasn't even up that long one day. So I aimed for 1.5 hours. By 7 pm I was stuffed with food and didn't want the last meal.
You may also like Lose 10 Pounds in 2 Weeks – 5 Easy Tips
When should you do it?
The book outlines to do it starting on Day 19 through Day 21. I think this is a good time because your body has started to adjust to the normal meal plan and can handle the shock a little better. I also think it's a great thing to do between rounds so if you're planning on jumping back into the 21 Day Fix again it's an awesome way to break it up.
I also have used it over and over again for events. Since the food choices are limited, the meal prep is a breeze. I cook all of my meat and veggies in one day. I boil my eggs and eat the egg whites that way. It's such a simple plan and really does help shed that last little bit of water weight and bloat.
You may also like 5 Low Carb Diets – Which One Works for You?
When shouldn't you do it?
Always if in doubt, ask your doctor. It's also not intended to be a "normal, healthy diet." This is an extreme 3 Day Quick Fix…this is not an everyday kind of diet. If you were to eat like this forever you'd be getting in too much protein which is hard on the kidneys and not enough of the other food groups.
Can you work out?
Yep! If you're following the 21 Day Fix schedule you'll actually be doing doubles during the 3 Day Quick Fix.
What are the typical 3 Day Quick Fix Results?
For me, I lost 11lbs with the 21 Day Fix in my first round. I didn't weigh but on day 1 and day 21 so I'm not 100% sure on my weight loss. I know I did see more definition though. I just wish I had a picture to show ya'll. Expect to drop the bloat, water weight and maybe a little bit of "real" weight too. I know I wore a TIGHT pair of jeans to a Justin Timberlake concert the next night after finishing it just because I could get into them comfortably. :P
Was it worth it?
It totally was for me. I wanted to knock my 21 Day Fix results out of the park, and I know this helped me kick it up a notch. I also was never hungry and actually was too full for meal 6 two of the three nights.
It's also so easy to prep! Now if you hate eating the same things, it might be a challenge for you. For me, I loved knowing all of my meals were prepped and ready to go! I definitely suggest cooking and prepping everything at once since it's just 3 days and you're eating so often!
Have you tried the 3 Day Quick Fix? If so, how did it go?
If you're planning on doing the 3 Day Fix without the 21 Day Fix, I really feel like you're doing yourself a disservice. I know you can use the sample meal plan above for 3 days and see results because you're eating well, but it's just 3 days. It's not a lifestyle. There are no healthy habits being created. No workouts to tone your body. And you're missing major food groups this 3 days (not to mention wine or chocolate!) No one should have to live that way.
The 21 Day Fix really is a simple approach to nutrition, fitness, and healthy living. It's balanced living which is why I love it so much. No food is ever off limits, and you get in cardio, strength, and flexibility all in 30 minutes a day. You need very little equipment, and if you hate it you can send it back and get your money. So what's not to like about it?
Other Posts You Might Like