We've done the 3 Day Refresh once every 3 months for about a year now. We are hooked on the whole foods detox because it's simple, includes 3 meals and a snack, and the results are really great.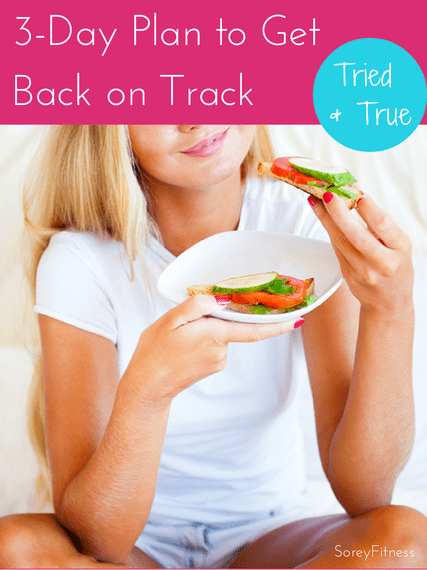 Kim, my mom, tried the 3 Day Refresh first right after I got married. She lost 6.2lbs total in 3 days! The really cool thing is that she has kept it off too! (view her full review here)
Let me preface – we are not about quick fixes.
Even the 3 Day Refresh won't work for you if you are eating junk before and after the detox. The 3 Day Refresh is just a simple way to get back on track. For us, we love to do it after a vacation or holiday. Another good time is right before or after we start a new workout program.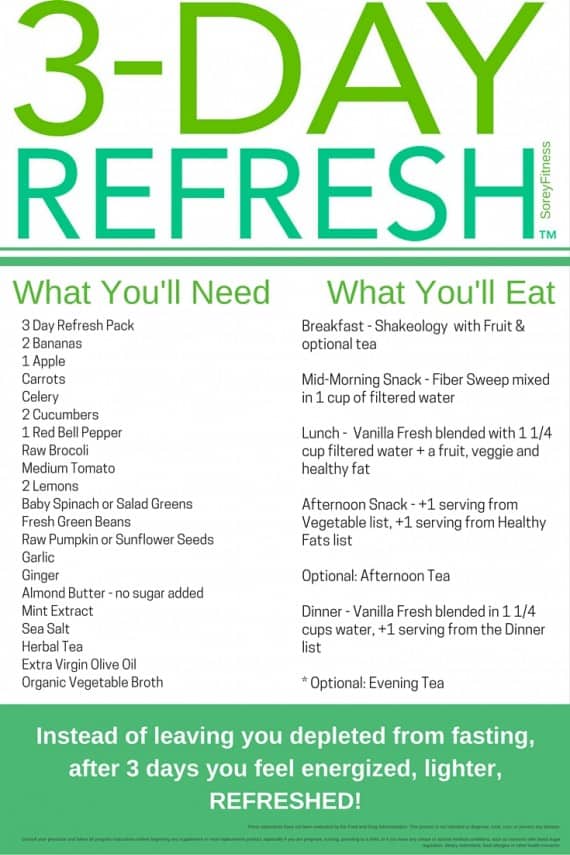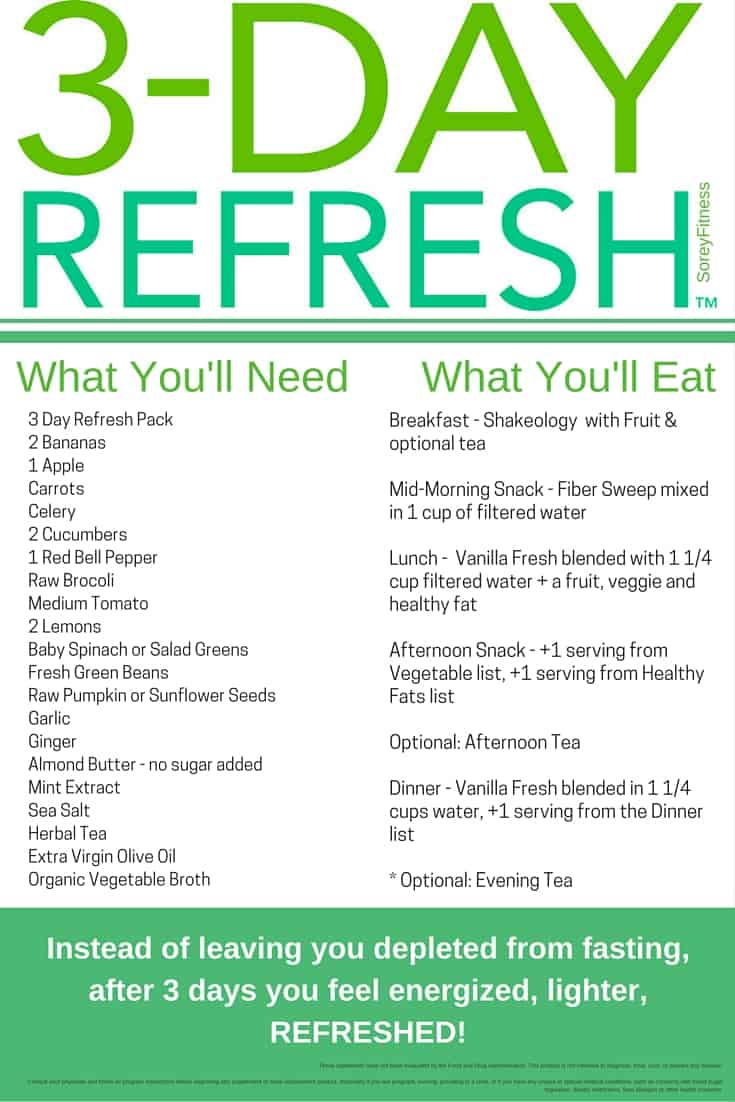 What does the 3 Day Refresh look like?
For breakfast, you have a Shakeology which is a protein packed with vitamins and a piece of fruit. You can also have tea.
Mid-morning, you get a tasty snack called "Fiber Sweep." Okay – it's not tasty, but it's doable. It's just 3 days and it's not gag-worthy by any means. You also won't find yourself in the bathroom after. It's not a laxative.
For lunch, you get a customized Refresh shake with a fruit, veggie and a healthy fat.
In the afternoon, you get another snack including a veggie and a healthy fat.
For dinner, you have another Refresh shake with veggies and a healthy fat.
Can I Have Coffee?
Yes, but only black. Sorry guys! You can mix in Stevia into tea though so if you wanted to sneak it in we wouldn't judge.
Will I be Hungry On The 3 Day Refresh?
Everyone is different, but some people actually feel more full than normal. They are actually eating more and more often than when they aren't planning out their meals.
Can You Workout?
You can choose to workout, but I wouldn't recommend during anything extreme since you are at a lower calorie intake. You also want to refresh your thoughts and stress during the Refresh so yoga or a low-impact workout would be a great choice.
How Will My Digestion Be Affected?
Again, everyone is different. We've hosted several 3 Day Refresh groups since it came out though, and most people will say that are more bloated versus having diarrhea. The bloat does dissipate in the 3 days and its just caused by the increase in fiber.
What do I do if I bloat?!
Drink your water and trust the process. Aim for at least eight glasses of water a day.
What Should I Do After?
The 3 Day Refresh isn't a total lifestyle re-haul. It's not teaching you new habits or going to change your overall health. It's just a kickstart. You really need to find a meal plan and workout schedule that works for you. We'd love to help you do that (without having to spend an arm and a leg) with our 21 Day Challenge which includes things you can use for years. You can get the info on it here.
Can I Order the 3 Day Refresh & Be Included In The 21 Day Challenge After?
Definitely – it's actually cheaper that way. Message us at thegirls@soreyfitness.com and we'll help you find the best workout for your goals, preferences, and time available.
Have other questions? Email us at thegirls@soreyfitness.com