3 Day BluePrint Cleanse Review – What It's Like Drinking Only Juice
This post may contain affiliate links. All opinions shared are my own. As an Amazon Associate I earn from qualifying purchases. Click to view our full disclosure.
Have you ever considered a juice cleanse? We went a little crazy and ordered the 3 Day Beach Ready Detox to do a BluePrint Cleanse Review! While it was pricey, we have to say – drinking just juice for 3 days wasn't bad! *Update – BluePrint has closed, but Raw Generation has similar cleanses!*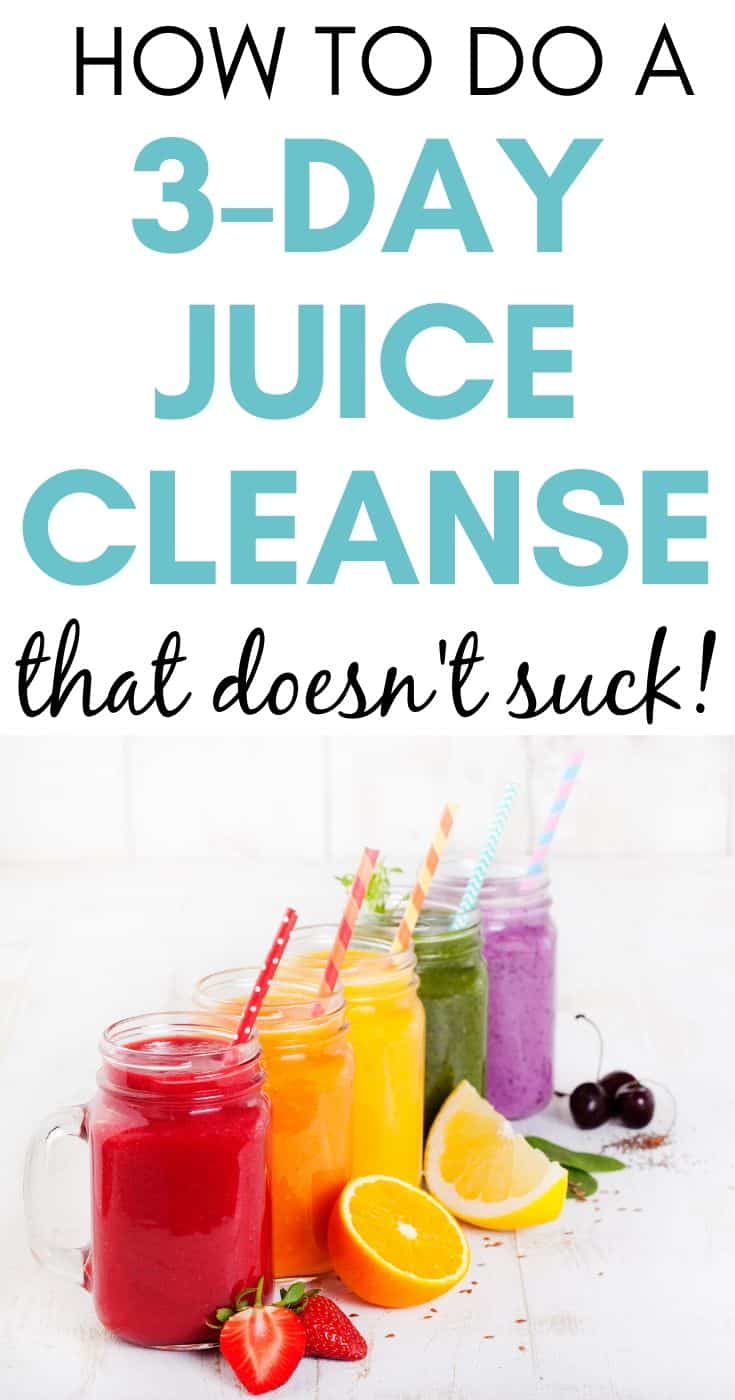 Is BluePrint cleanse good for you?
While the science is out on a BluePrint (or any juice cleanse) being good for you, our Beach Ready Detox was designed to help fight bloat and help us reset to feel great all Summer.
Also, giving your body just juice for a couple of days can give your digestion system a break and help reduce any foods in your system that you may have an allergy to (until you eat them again).
The BluePrint 3-Day Beach-Ready Detox is:
USDA Certified Organic
Vegan
Dairy-free
Nutrient-Dense
Includes fruit and veggie blends, tonics, SuperBoosters
*Update – BluePrint has closed, but Raw Generation has similar cleanses!*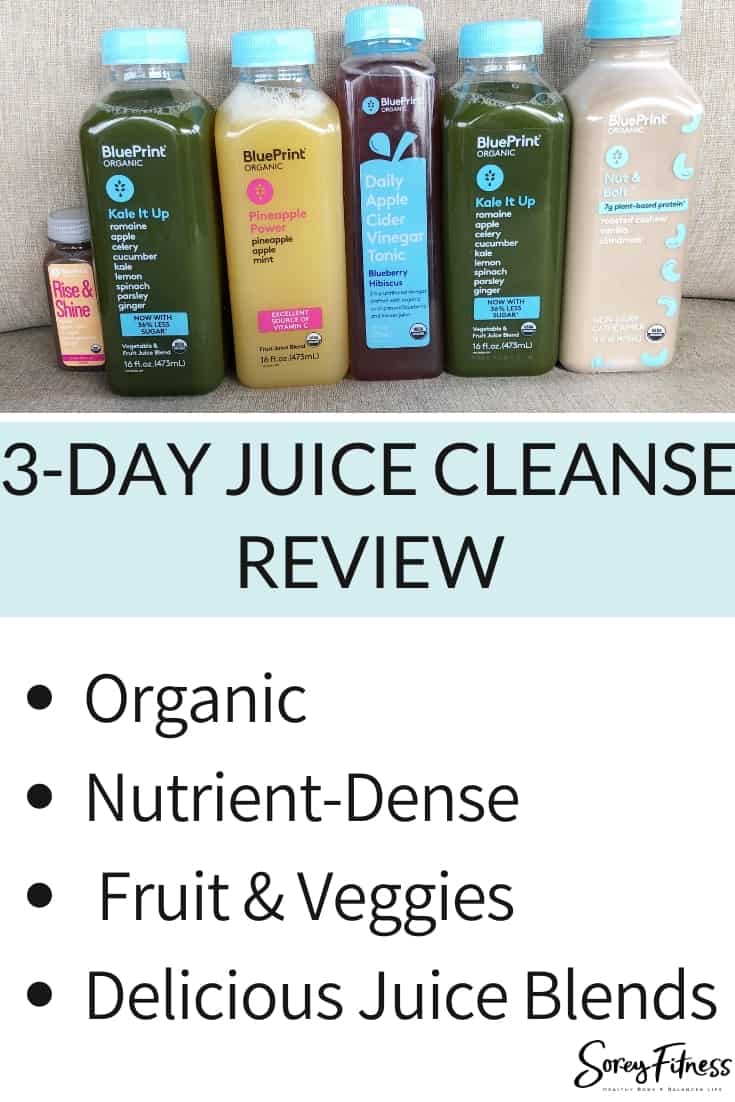 How does the BluePrint Cleanse work?
BluePrint does a great job outlining all of your juices, tonics, and SuperBoosters for the day. They also number them so you know when to drink what.
All of the products tasted really good, and we loved that they were rich in vitamins and nutrients without being packed with sugar.
What We Drank Each Day
First Thing: Our Choice of a 2oz SuperBooster of choice (Look Alive, Rise & Shine, and Let it Glow)
Mid-Morning: Kale it Up Juice – Romaine juice*, apple juice*, water, celery juice*, cucumber juice*, kale juice*, lemon juice*, spinach juice*, parsley juice*, ginger juice*.
Lunch-Time: Pineapple Power Juice – Organic pineapple juice, organic apple juice, water, organic mint juice. 81% juice.
Mid-Afternoon – Vinegar Tonics of choice (Turmeric Tonic, Ginger Maple Tonic, Blueberry Hibiscus Tonic)
Dinner-Time: Kale it Up Juice again
After Dinner (About 6:30 for us) Nut & Bolt – an organic cashew milk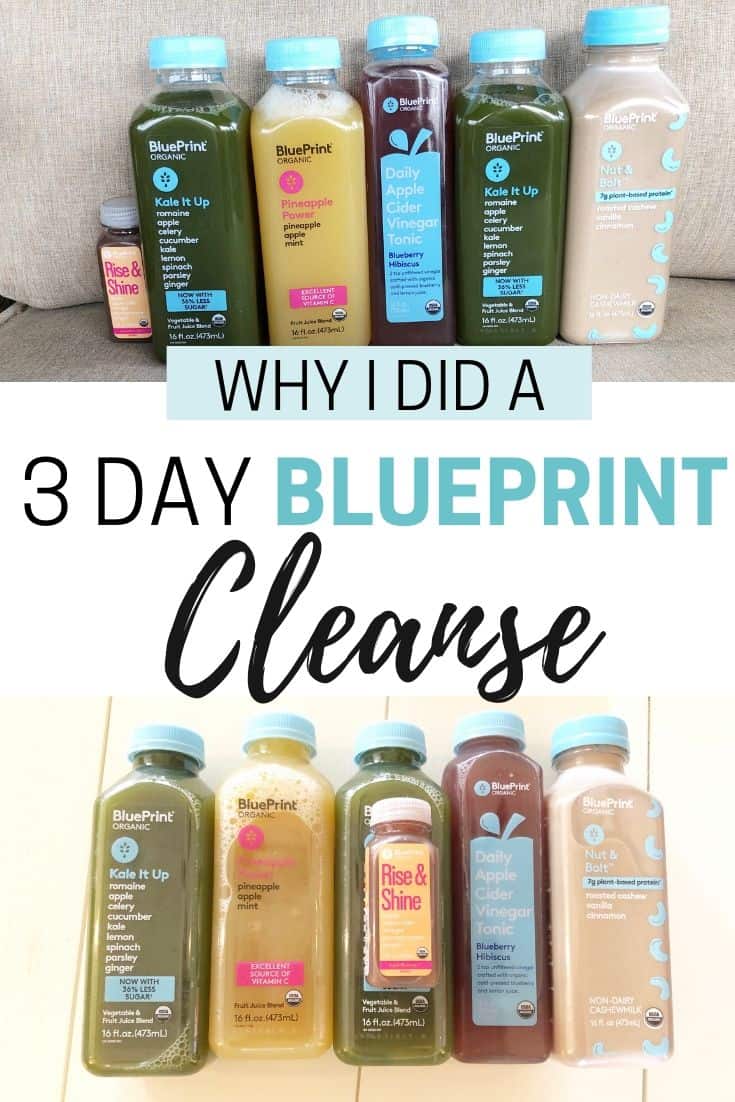 Do you lose weight on BluePrint Cleanse?
Yes, we both lost 4lbs in 3 days on the cleanse. While we fully expected the weight to come back a week to two after, it didn't!
We actually continued to work towards our weight loss goals. We are both down another 1-2lbs a week after the cleanse.
We are following a macro-based diet now.
How do you do a juice cleanse?
While you could make your own juices or go with another juice company, we chose to do a BluePrint Cleanse review because they offered high-quality juices and created all of the blends for us. It was just super easy to purchase and follow! Plus, they knew what fruits and vegetables go together to make the juice taste great.
Is the BluePrint cleanse available at Whole Foods?
While you can buy BluePrint juices at Whole Foods, the only place to get their full cleanses are online as far as we know.
Can you workout during it?
Yes, but you'll want to go with a mild workout during your cleanse.
We did a regular workout on Day 1 because we still had energy from the previous day's meals, but we took it easier on days 2 and 3.
Light exercise like yoga or a brisk walk are recommended during the cleanse if you want to work out.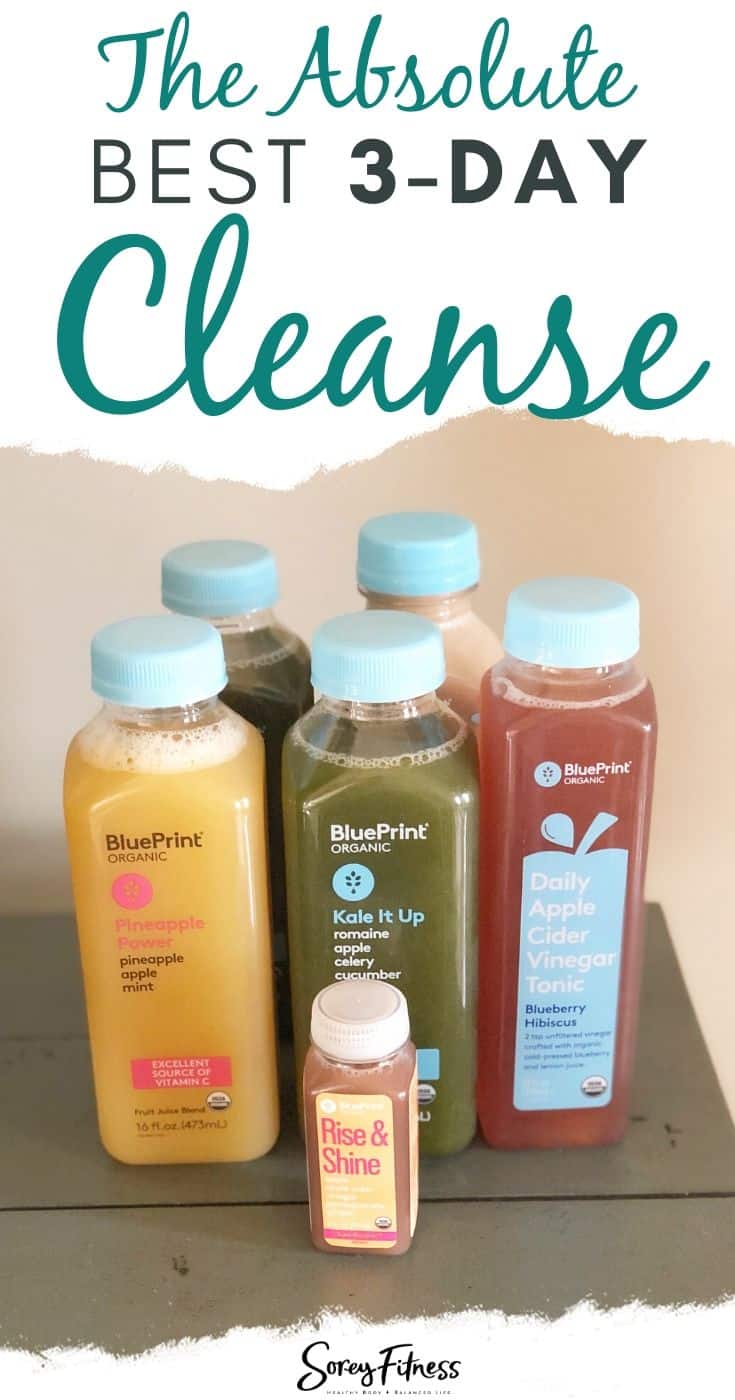 Our BluePrint Cleanse Review
Here's a brief recap of our energy and progress each day of the cleanse!
Day 1
We both weighed in initially at 124.4 lbs and 124.2 lbs. While this is considered a normal weight for our height and frame, it's not our normal weight. Typically we weigh 117-120 lbs.
But between Christmas, birthdays, and just the occasional extra pizza night, we had gained and kept on some extra pounds.
The first day was pretty easy, and all of the juices tasted good! Sure, we would have preferred 2 pineapple drinks over the two kale ones, but all of them were easy to enjoy.
Kalee also added a small side salad at dinner with just vegetables. This wasn't technically allowed, but she tends to pass out if she doesn't eat enough — so better safe than sorry.
Day 2
Both of us felt more energy and clarity on day 2, but we were admittedly hungry.
We also both lost 2lbs.
The hunger was worse during the middle of the day, and it wasn't so bad in the evening. The Nut & Bolt cashew milk felt like a treat at the end of the day because it's so creamy and almost chocolate-y.
We also both had a small side salad for dinner.
Day 3
We both felt less hungry on Day 3 than the 2nd day. The cravings weren't as bad, but we still could have drank another Nut & Bolt if it had been offered to us.
We were both down to 121.7 on Day 3 and enjoyed another small side salad.
Day 4 – The Final Weigh In (For the Cleanse)
We both weighed in at 121!
We were both happy with this number, but we knew some of it had to be water weight and just the fact nothing was in our system.
It did help us stop craving so many sweet and salty foods though. We were actually craving what we had been eating before — like oatmeal, Greek yogurt, berries, and a salad with chicken on it!
So it definitely helped us reset – whether it was mentally or physically – and the extra weight coming off was nice too!
We never experienced any laxative effects — which we were thankful for!
*Update – BluePrint has closed, but Raw Generation has similar cleanses!*
Would we do the BluePrint Cleanse again?
We would absolutely do another BluePrint Cleanse again because it was easy to follow and the juices tasted great.
The only complaint we had was the shipping cost can be a bit crazy. I think ours was $40!
I understand why the juice is expensive, but it looks like they could figure out a way to offer free or cheaper shipping someway.
With that said, the juices did arrive nice and chilled and the packaging was nice. We just hate it cost so much to ship them.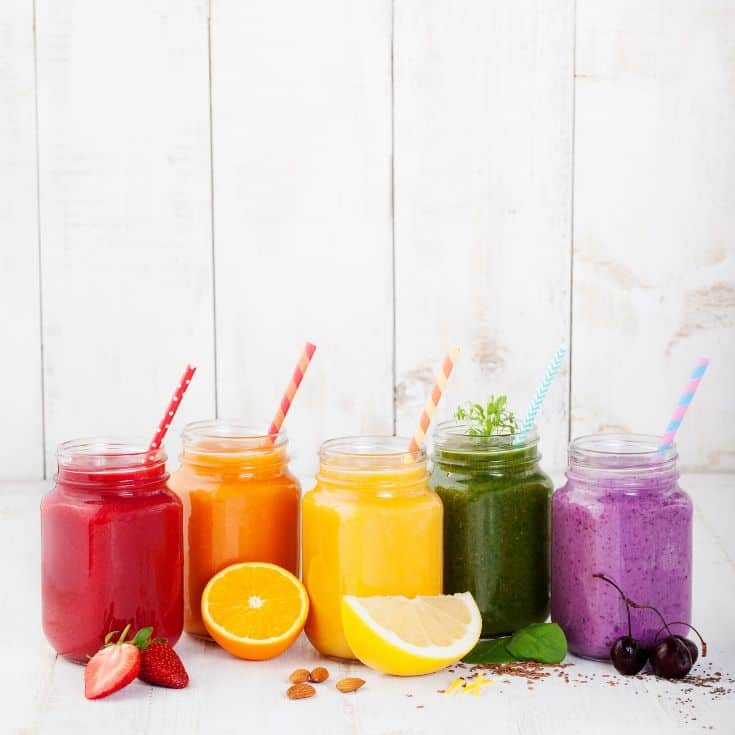 Tips for Doing a Juice Cleanse
1. Do the cleanse with someone
I don't know if either of us would have enjoyed (or even followed through) with the cleanse if we hadn't committed to doing it together. Having someone to talk out any questions, cravings, or goals really helped us stay motivated and even excited to try the other juices.
2. Don't advertise what you're doing
While we usually tell people to share their goals with others for accountability, we recommend not telling everyone and their brother that you're doing a juice cleanse.
The reason? People may judge, critique, or tempt you during the process, and you don't need that negativity.
3. Pick a time that makes sense
We looked at our calendar and purposely chose to have the cleanse delivered 2 weeks after we ordered it because of our calendar.
We chose a time that we wouldn't have dinners or get-togethers to go to and that felt pretty stress-free.
4. Boost your results
We used the 3 day cleanse as a time to refocus on our habits and goals. We made time in our planner to mediate, pray, look over our goals, and even do something for our endocrine system everyday. We dry brushed, took a bath in epsom salts, or jumped on a rebounder every day for a few minutes to help boost our cleanse results and give us mental clarity.
5. Commit to the Pre and Post Cleanse Tips
We'll get into what to do before and after your cleanse, but it's important to look over this information before you decide when you'll do the cleanse.
You don't want to have a huge cheat meal and drink alcohol leading up to your cleanse. It will make it miserable! We definitely recommend following BluePrint's prep and post plan outlined below.
6. Remove Temptation
If your pantry is full of Oreos or fridge is full of wine, it's time to move that stuff OUT of the house!
Don't eat it all before the cleanse – just give it to a shelter, freeze it, and put it out of site and out of reach.
Whatever you have to do – just remove the ability to eat junk before, during, and right after your cleanse.
7. Know Your Limits
If you know you don't do well with cleanses or need something to eat because you're feeling weak, woozy, etc. eat more fruits and vegetables like we did with the side salad for dinner.
*Update – BluePrint has closed, but Raw Generation has similar cleanses!*
What do you before the cleanse?
BluePrint recommends phasing out caffeine, sugars, refined starches (bread, pasta, rice), meat, dairy, and alcohol 3 days before you start your cleanse.
They also encourage you to eat more fruit, greens, and vegetables 3 days before.
What can you eat after BluePrint Cleanse?
After your cleanse, you may be tempted to eat anything and everything. But you want to start adding solid food slowly into your diet.
During the first 2 days after the cleanse, you'll want to have water-based fruits (melon, citrus, etc) and vegetables (cucumbers, celery). We also included our Lemon Ginger Cayenne Water and Kettle & Fire's broths.
Days 3-5 you can start mixing in more non-starchy vegetables like tomatoes and bell peppers, as well as, leafy greens.
Finally on day 6 or 7, you can incorporate more dense foods like starchy vegetables (example: sweet potato), whole grains (like oats), and steamed fish.
There is also an organic BluePrint 1 day cleanse you could do instead if you feel like 3 days is too long for you.
Another popular options is the BluePrint balancing act cleanse. The balancing act cleanse, also known as the foundation cleanse, is the most intense juice cleanse they offer.
For that reason – we chose to do the Beach Ready Detox instead. It included yummier juices compared to the foundation cleanse.
But to each their own.
*Update – BluePrint has closed, but Raw Generation has similar cleanses!*
* Organic † Contains 16g sugar per serving
reduced from 25g in previous recipe
86% juice.