Kettle & Fire Bone Broth Review: What Make It The Best?
This post may contain affiliate links. All opinions shared are my own. As an Amazon Associate I earn from qualifying purchases. Click to view our full disclosure.
A few years ago, we started drinking Kettle & Fire bone broth for our joints, digestion and skin. We love how convenient it is before a meal or first thing in the morning.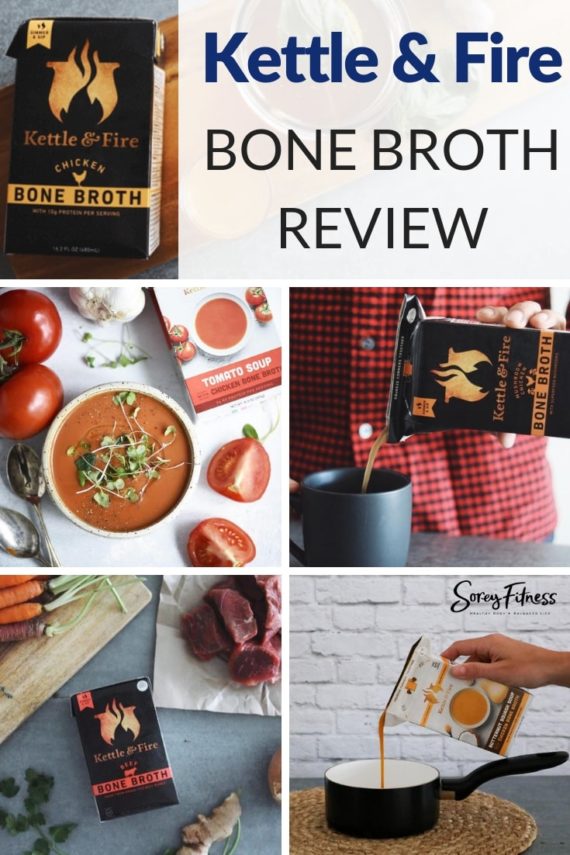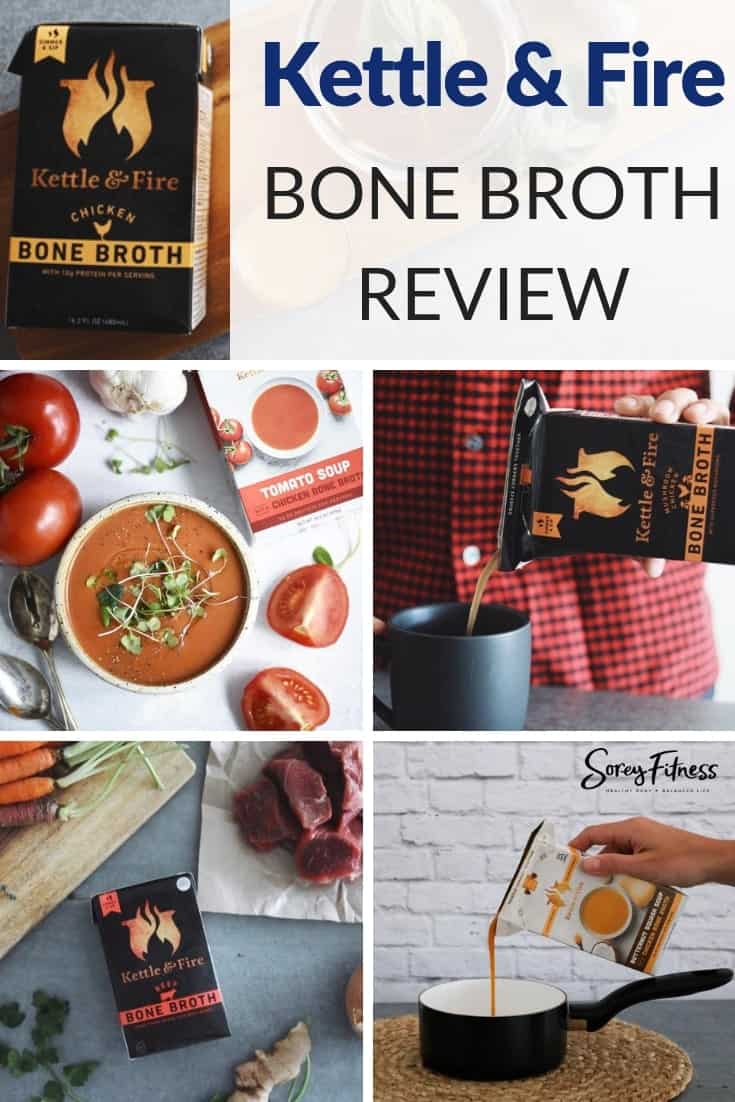 What is Kettle & Fire Bone Broth?
Kettle & Fire focuses on creating convenient, delicious, sustainable and healthy bone broths and soups.
They use the best quality ingredients including only grass-fed beef bones.
Their products are also Whole 30 Approved, Gluten-Free, Soy Free, and Non-GMO.
Bone Broth Details in Under 2 Minutes
Kettle & Fire Currently Offers:
Beef Bone Broth
Mushroom Chicken Bone Broth
Chicken Bone Broth
Tomato Soup
Butternut Squash Soup
Miso Soup
Grass-Fed Beef Chili
Thai Curry Soup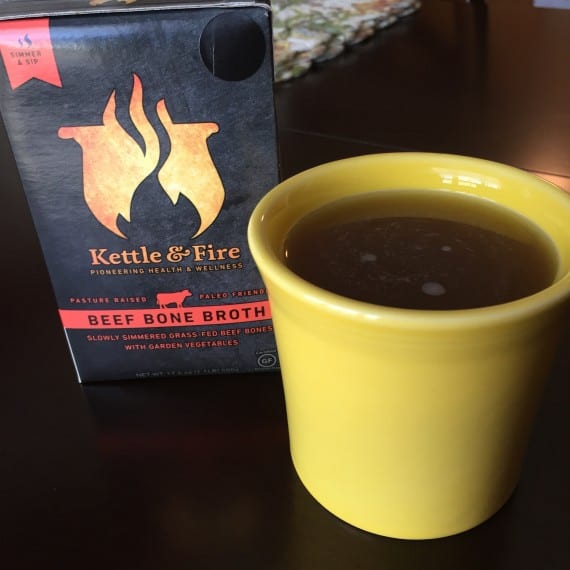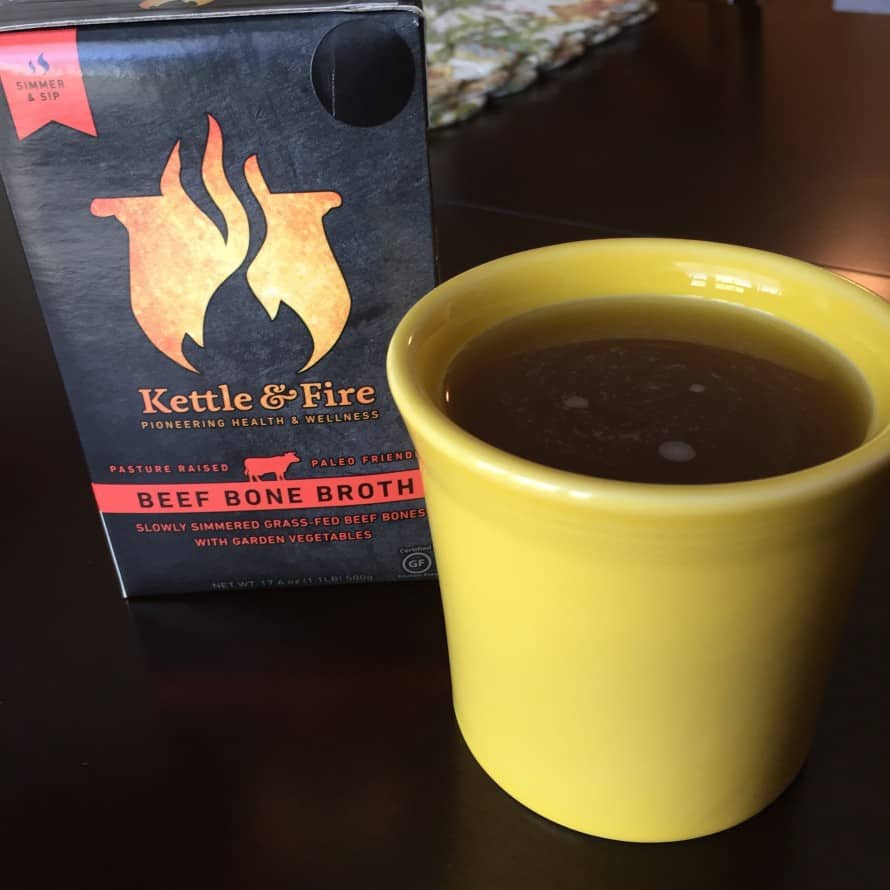 My Kettle & Fire Review
We personally loved the benefits of bone broth, but we also wanted it to be something simple to incorporate in our day.
It didn't make sense for us to get cow or chicken bones and go to town simmering them. We didn't want the hassle, and we didn't have the room in our refrigerator to store all of it.
That's when we found Kettle & Fire! It was about the same price as if we made it ourselves, high-quality and super convenient with a 2-year shelf life!!


Kettle & Fire Products Contain No:
additives or preservatives
antibiotics or hormones
artificial ingredients
extra sodium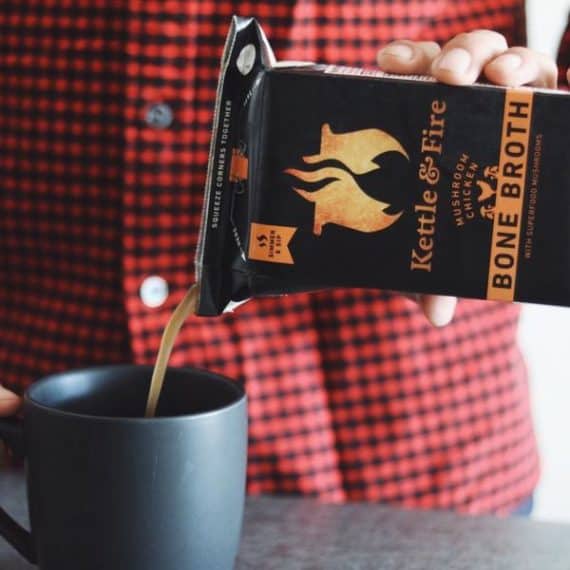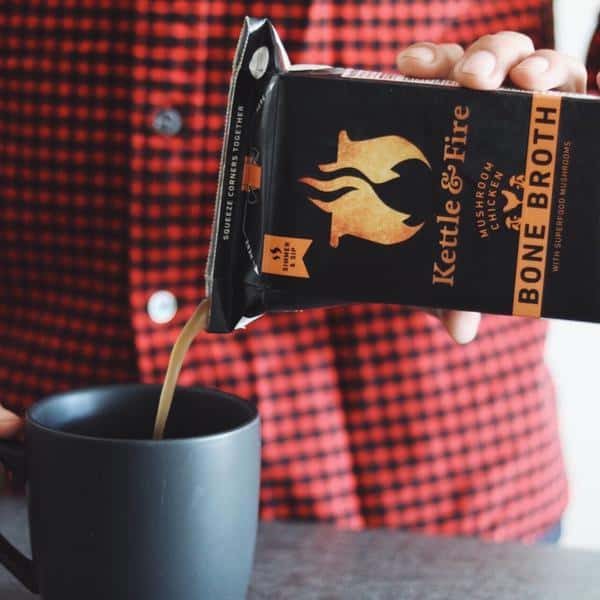 Bone Broth Benefits Can Help:
Heal Your Gut
Improve Digestion
Calm Inflamed Joints
Weight Loss
Improve Hair, Skin & Nails
You Sleep Better
People on a Keto & Fasting diet

Is Kettle & Fire Organic?
Yes! They only use organic ingredients.
The cattle are raised humanely and contain with no antibiotics or hormones. They're also 100% grass-fed and grass-finished.
The vegetables that the bones are simmered with are also 100% organic. They also only use reverse-osmosis purified water.
What Does it Taste Like?
If you've ever had chicken or beef stock for soup, it's very similar to that. It doesn't taste bad. It's kind of like a bland soup if you drink it on its own.
If you're worried you won't like it, maybe you could start with their soups.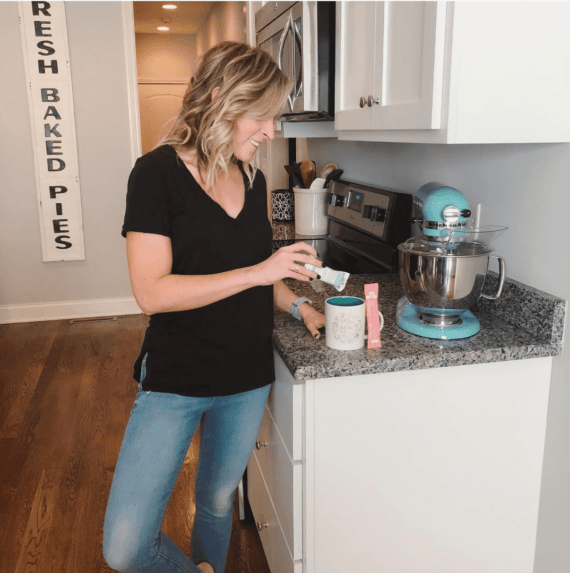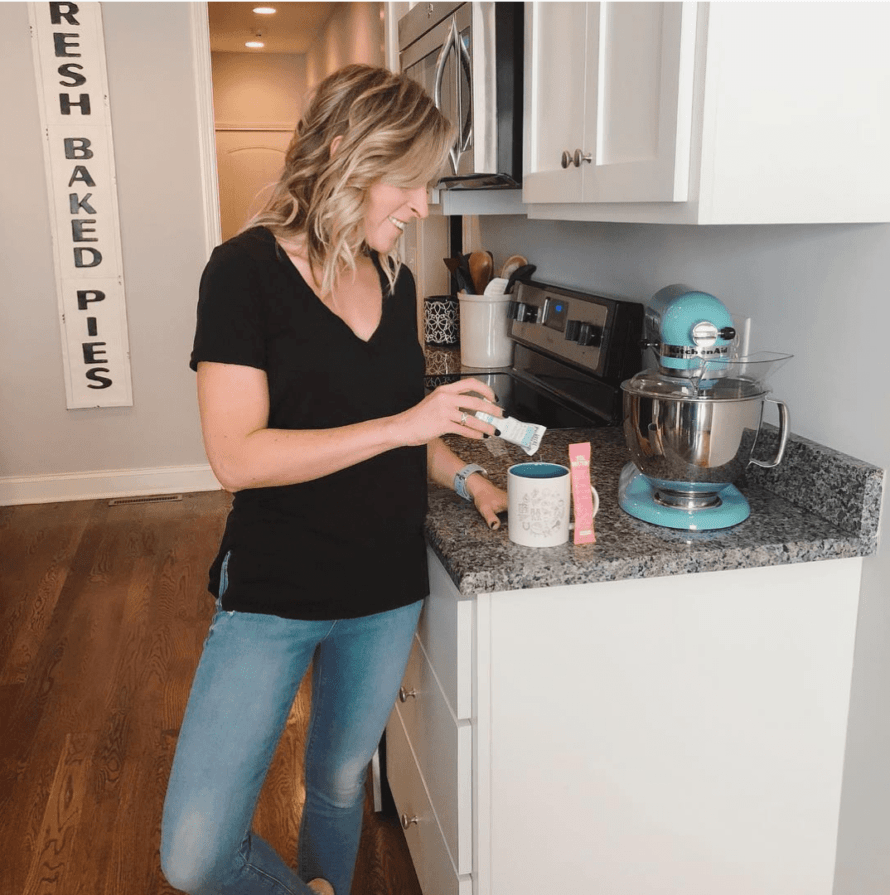 If you're still not sure – you could look at Vital Protein's Collagen Peptides. You won't get the added minerals offered from bone broth, but you'd see the collagen benefits. It can be mixed into anything and has no taste.
Kettle & Fire Ingredients
Each product's ingredients will vary a little bit. With that said, they use the highest-content bones like the knuckle, patella, femur and feet. They also use organic vegetables, sea salt, and herbs for taste.
Where Can I Buy Kettle & Fire Bone Broth?
You can buy it from their website and save by starting a subscription or through Amazon.
We've updated, changed and even cancelled (due to a move) our subscription before, and it's always been super easy!

Is bone broth Keto-friendly?
In short – yes, because of the macronutrient breakdown and the benefit of the electrolytes.
We went into details about bone broth and the keto diet here.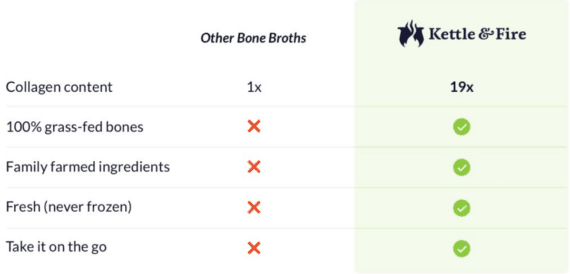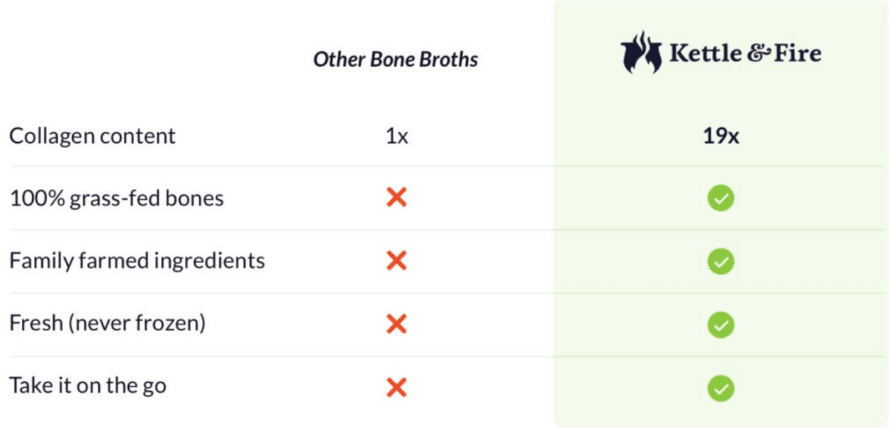 Why This Brand Over Others?
Above you'll see the chart sharing a few reasons we like Kettle & Fire over other brands.
We also love their customer service and story. The company is ran by two brothers that are really passionate about their mission.

Do You Just Drink Bone Broth?
You can drink it or use in recipes. You can learn more about how much to drink and when here.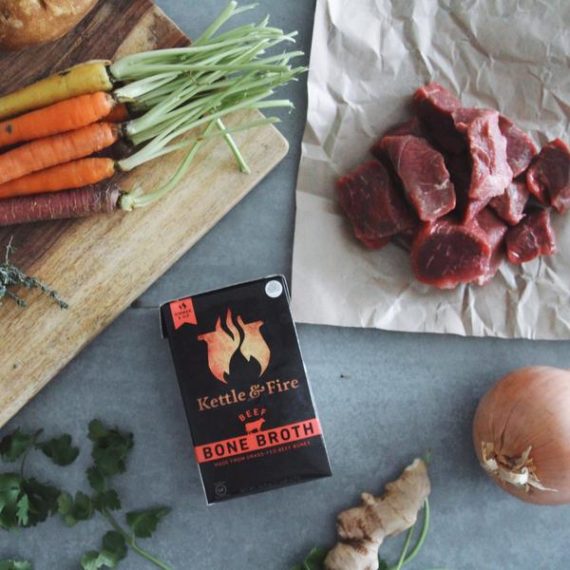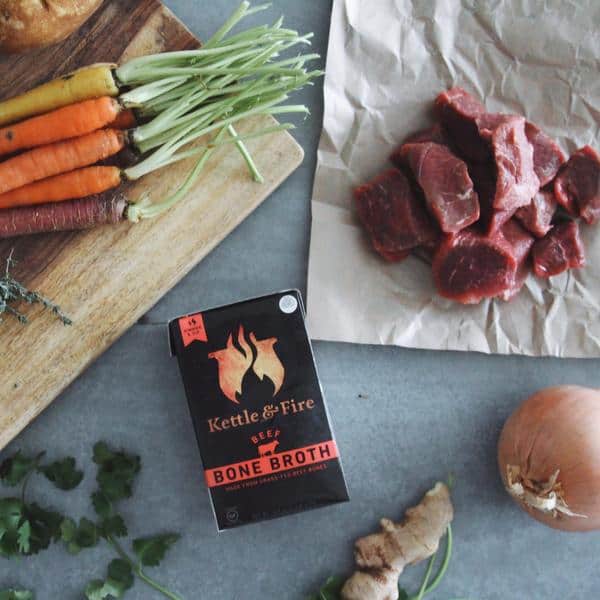 You might also like:
Are you trying Kettle & Fire?
**The Food and Drug Administration have not evaluated these statements. This product is not intended to diagnose, treat, cure, or prevent any disease.